Can I use Quick Assist Android?
"I would really like to be able to assist someone remotely. Can I use Quick Assist on Android?"
-Question from Technibble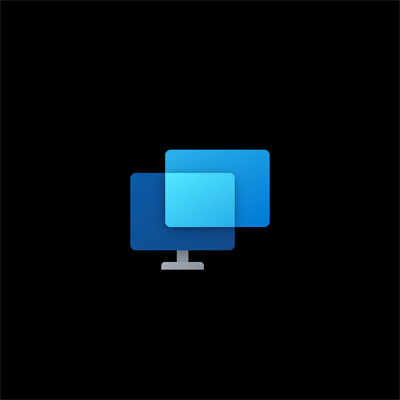 The answer is NO!
Unfortunately, there's no such Microsoft Quick Assist Android for you. There's no Quick Assist iPhone either. You are unable to use Quick Assist on mobile devices, regardless of whether you are using an iPhone or an Android.
Quick Assist is only available on computers running Windows 10 version 1607 or later. Simply put, you can only provide remote assistance to a Windows computer from another Windows computer. Both computers must have Windows 10 version 1607 or later.
A free & easy alternative to Quick Assiston Android
Are there any remote assistance apps for Android that would allow users to provide remote support to computers from their Android phones? Luckily, there is remote assist software for computers and phones.
AnyViewer is the best remote control and support application for Windows and Android. It enables users to control their PCs remotely from their Android devices at any time and anywhere. Let's see some of its advantages.
★Advantages of AnyViewer:

It supports remote support on a local network or across the internet, whether the computer and Android phone are on LAN or not.
It allows one to provide remote support to an unattended computer.
It is easy to set up, without any specific configurations even if the two devices are across the internet.
It offers fast and smooth remote connections, making the remote support runs smoothly.
It supports multiple monitors. If the computer has 2 monitors, you can see them both on your Android phone.
It is widely compatible with multiple Windows versions. You can use your Android phone to support computers even if they are running Home and Standard editions, this is not possible for Microsoft Remote Desktop Android.
By the way, AnyViewer also has an iOS version, allowing you to remotely access a PC from iPhone or iPad. And the operating process of iOS is pretty much the same as Android.
Part 1. Set up AnyViewer on the PC you want to control
Step 1. Download and install AnyViewer on your computer.
Step 2. Go to Log in, and then Register now. (You can log in directly if you have already signed up on its official website)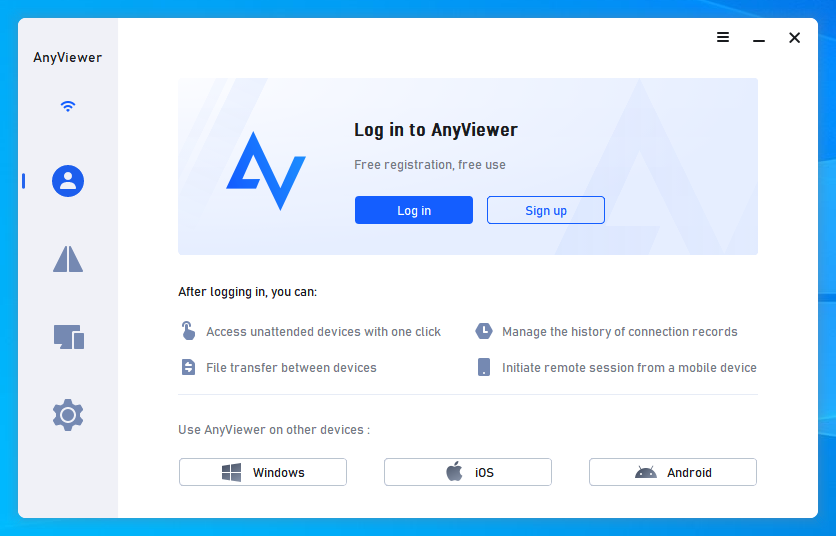 Step 3. Complete the sign-up form.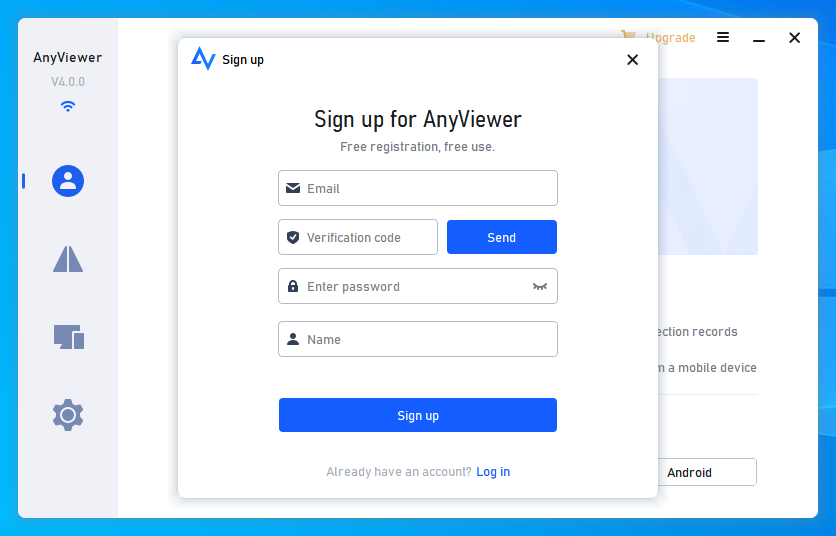 Step 4. You have successfully logged into AnyViewer now. Your device will be automatically assigned to the account to which you have logged in.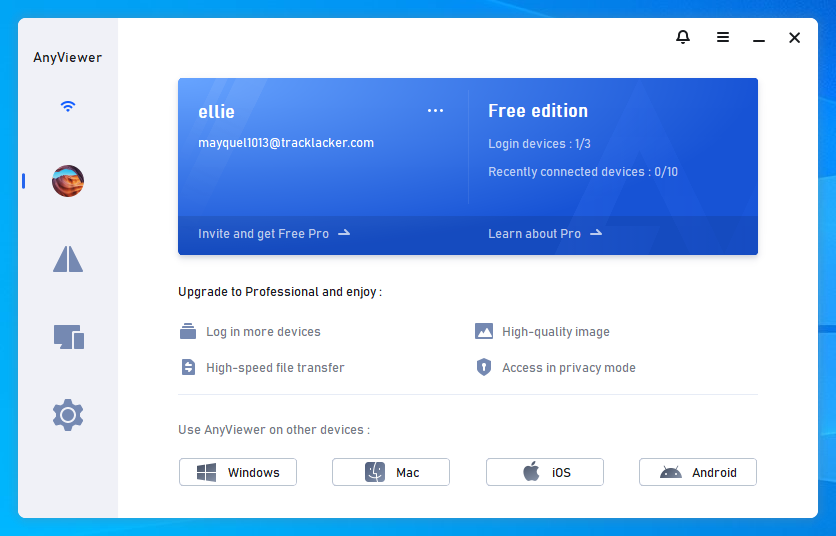 Part 2. Start control on your Android phone
Step 1. Install AnyViewer for Android on your Android device.
Step 2. Log in to the account you created above.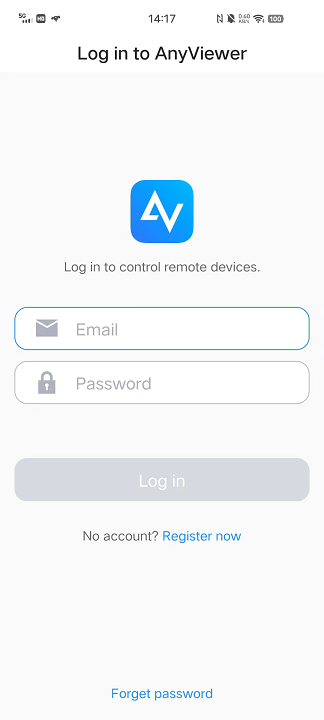 Step 3. The My devices list will show the devices that have been logged into the same account.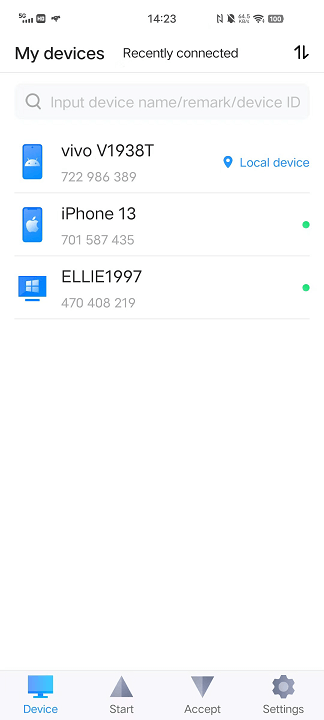 Step 4. Tap your target PC and then One-click control to connect to it quickly.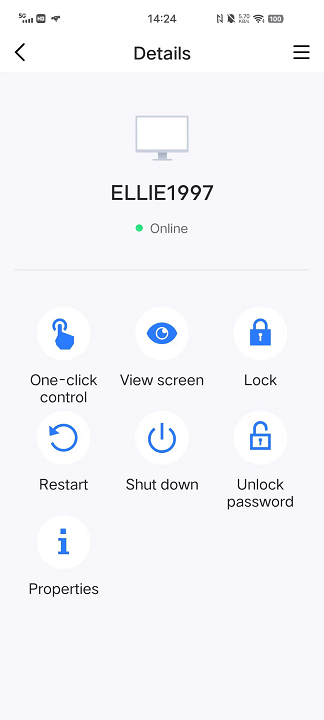 Step 5. The Android device can then take full control of the remote PC. There's a virtual mouse and virtual keyboard that would allow you to better control your computer. Just tap the first icon on the right-bottom corner to turn on the virtual mouse and the second icon to open the virtual keyboard.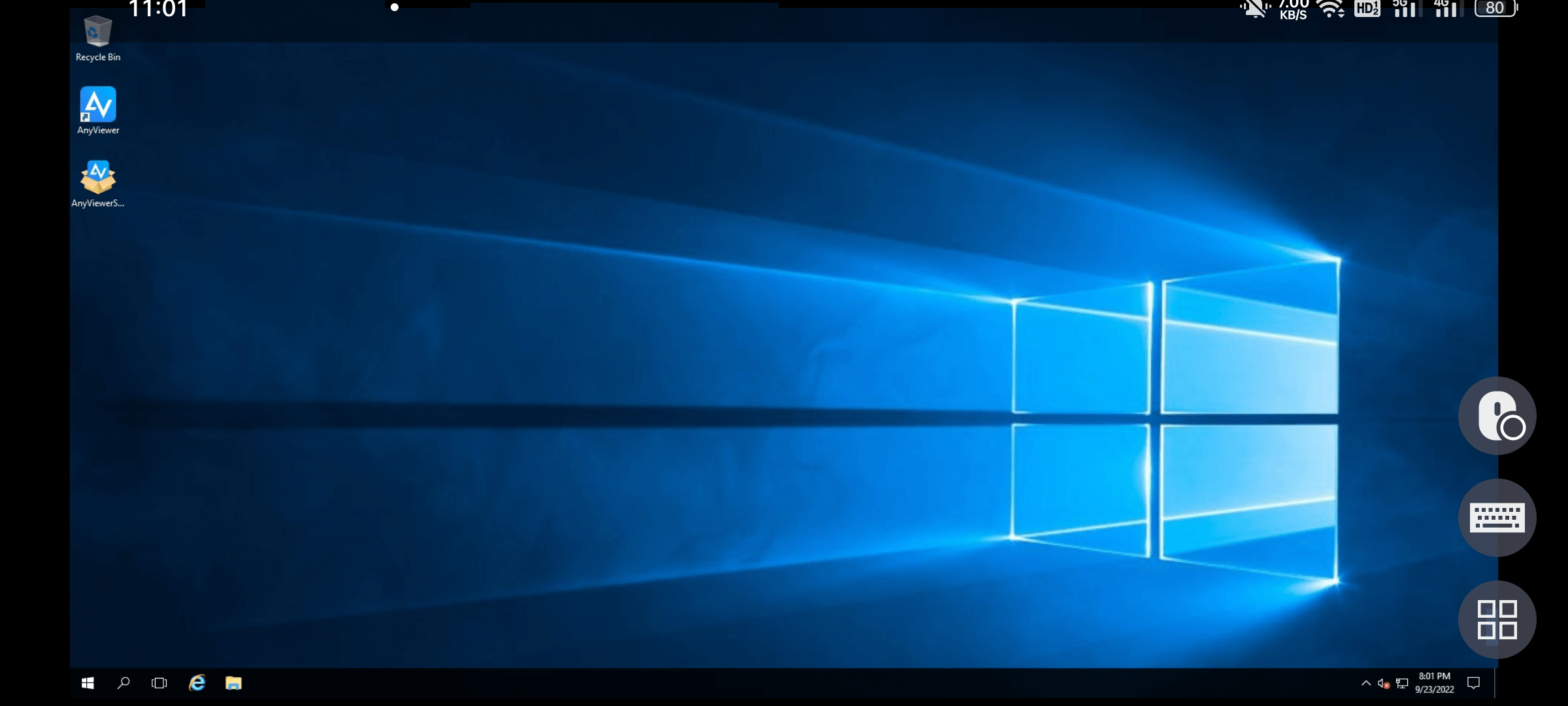 Step 6. If you want more options, tap the third icon. You can rotate the screen, hide the desktop wallpaper, restart or shut down the computer, and so on.
The bottom line
This post has primarily uncovered the answer that there is no such Windows 10 Quick Assist Android that would allow users to provide remote support to a computer from their Android phones. Because Quick Assist is only designed for remote support between Windows computers.
Luckily, you can use AnyViewer instead. AnyViewer is a professional remote support tool for Windows and Android. Its advantages are illustrated in this post. You can give it a try if you're looking for a way to remotely support a computer from an Android phone.