What are enterprise remote access solutions?
I use free remote access software for personal use. Recently I notice that there are several paid plans for remote access, maybe I can have one for enterprise use. What are enterprise remote access solutions for Windows?"
- Question from a user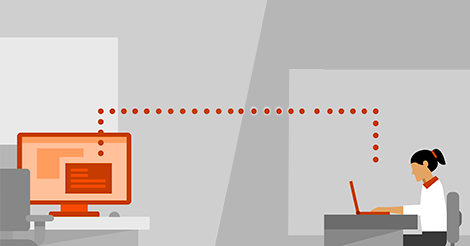 Best enterprise remote access software [easy & secure]
Why need remote access solutions for enterprise? The requirement for remote access to local firm resources may arise for many employees and administrators. Business IT administrators must have access to monitor and troubleshoot employee devices. Clients or consultants may also need to access these in-network resources.
Looking for enterprise remote access solutions? The ideal option for you may be to use the specialized remote access software for Windows AnyViewer with an enterprise account to meet all the aforementioned requirements.
Why choose AnyViewerfor enterprise?
As a professional enterprise remote access software, AnyViewer enterprise plan is highly appreciated for the following reasons:
Convenient. AnyViewer enterprise account can enjoy 100assigned devices and achieve 10 simultaneous unattended remote sessions.
Efficient. AnyViewer offers you several shortcuts of operations, you can open Task Manager, run CMD, etc. with one click. Besides, an enterprise account can transfer unlimited large files at high speed.
Secure. Secured by Elliptic Curve Cryptography (ECC) encryption, AnyViewer protects your data from leakage. Besides, an enterprise account can access other devices in privacy mode to keep privacy and safety.
User-friendly. AnyVieweroffers an intuitive interface and easy operations without any technical knowledge. Besides, it supports text chat in session and it won't lock the host PC during connection.
iOS supported. It also supports iOS devices. You can remotely access Windows PC from iPhone or iPad.
How to get remote access via AnyViewer
After installing AnyViewer on your computer, let's get started to learn how to get enterprise remote access.Before operations, you need to create a new account and buy AnyViewer enterprise plan on the website.
Step 1. Launch AnyViewer on your devices, go to Log in interface on the left pane, and click the blue Log in button.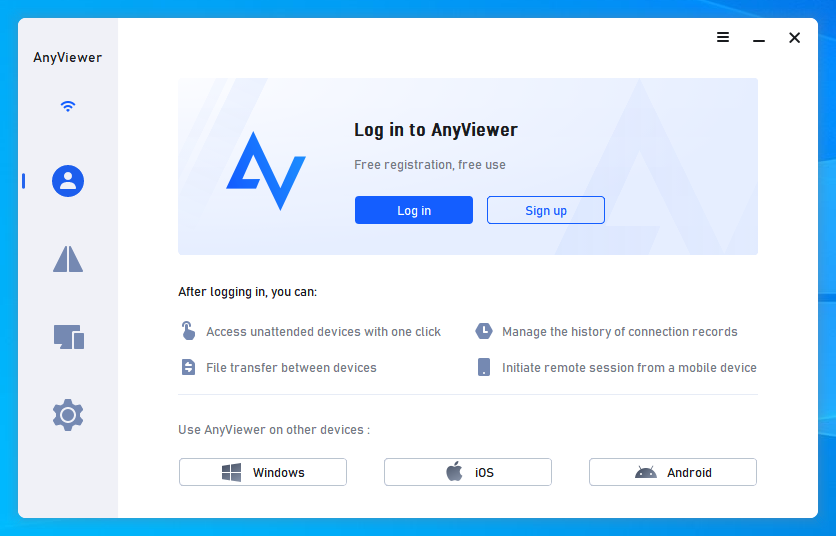 Step 2. Log in your AnyViewer enterprise account, and then your devices will automatically be assigned to the account you've logged in to.
Step 3. Log in to the same AnyViewer enterprise account on the other devices, go to the Device interface to select the target remote PC, and click One-click control. Tick Connect in privacy mode at the bottom if necessary.
Note: On the Device interface, you can also use the following remote options directly.
♦View the screen: Only view the screen of the remote device.
♦File Transfer: Transfer files between PCs directly through a file transfer dialogue box.
♦Lock: Lock the remote PC within one click.
♦Properties: Check the properties like the Device Name of the remote computer.
Step 4. Now you can remotely control another PC. Besides, there are several quick operations on the upper toolbar for you to choose from. For example, resize the resolution, open the Task Manager, use CMD, chat during the connection, etc.
AnyViewer also supports direct file transfer by clicking Files on the toolbar. For an enterprise account, you can transfer unlimited files up to 10 MB/s with a maximum size of 1 TB per file at once.
When you click Files, a File Transfer dialog box will appear. The host PC is displayed there on the left of the box, while the client PC is displayed there on the right. To send the selected files to the client PC, click the right arrow after selecting the files you wish to send, and vice versa.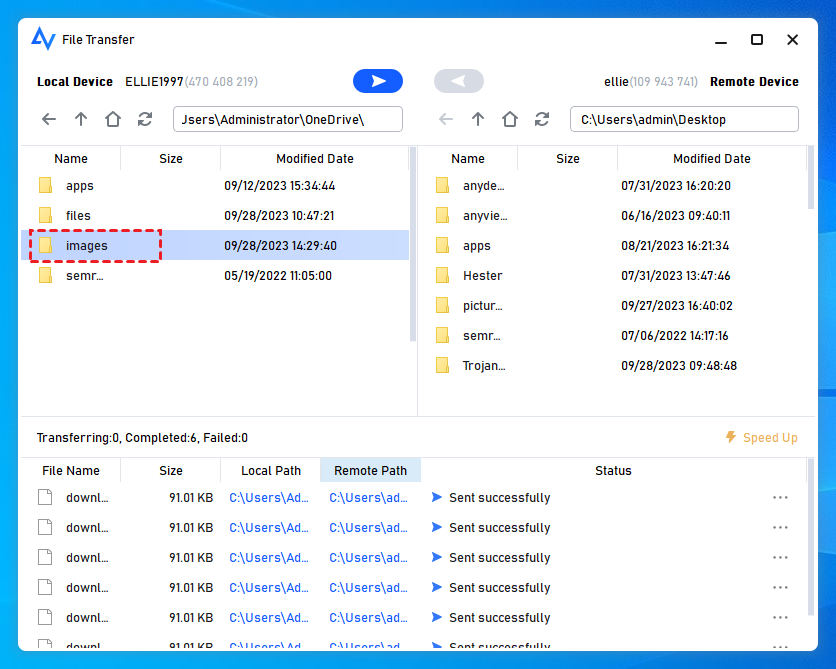 The bottom line
If you are looking for enterprise remote access solutions, considering the efficiency and security, the AnyViewer enterprise plan could be the ideal option for you. You just need to create an enterprise account and then you can enjoy all the benefits mentioned above. What's better is that there is a discount activity on the AnyViewer pricing website, which means you can enjoy the enterprise plan at the lowest price. Don't hesitate and get AnyViewer right now!