Remote Assistance vs Remote Desktop
Nowadays, remote work has become more and more popular. Both Remote Assistance (RA) and Remote Desktop (RDP) are useful utilities in Windows Windows 11, 10, 8, 8.1, or 7. for remote work. Many users may confuse them with each other. Actually, Remote Desktop and Remote Assistance are different in many aspects.
Control authority level: Windows Remote Assistance gives partial control of the host computer for instant technical support. Remote Desktop enables you to take full control of the host computer.
Connection way: Remote Assistance connect to a remote computer via an invitation file and password, which requires that a person create an invitation file and send it to you. Remote Desktop remotes into the computer via IP and password, which enables you to access an unattended computer.
Visibility of the host computer screen: When the remote computer is controlled using Remote Desktop, the remote computer will be in a locked status and the people sitting in front of the remote PC can't see what is happening to the computer. And if the remote connection is established via Remote Assistance, both the remote computer and the local computer can share the same screen.
Network environment: To use Remote Desktop, both computers should be in the same network (LAN); if not, you need to use a VPN or forward ports on your router. And Remote Assistance can establish a remote connection between two computers under different networks without doing extra operations.
Supported operating system: To connect to a computer via Remote Desktop, the computer that will be controlled should be running Windows Professional Edition or higher edition; otherwise, you'll unable to connect to the remote host computer. While Remote Assistance is still available even the host computer is running Home Edition.
How to use Remote Assistance and Remote Desktop
After reading the content about Remote Assistance VS Remote Desktop, you should realize which one to choose in different situations. In the next text, you can see the detailed guides on how to use Remote Assistance to offer technical assistance and use RDP to control another computer.
Use Remote Assitance to troubleshoot PC issues remotely over the internet
Here take using Remote Assistance in Windows 10 computer as an example.
Step 1. On the host computer, hold "Windows" and"R" simultaneously to open Run box, type" sysdm.cpl" and click "OK" to access System Properties.
Step 2. Go to "Remote" tab, and check" Allow Remote Assistance connections to this computer" under "Remote Assistance".
Step 3. After that, you can open Run box, type" msra" and press Enter to open Windows Remote Assistance.
Step 4. Choose" Invite someone you trust to help you" and click" Save this invitation as a file". Save this file on the desktop and a pop-up window that contains a password will appear.
Attention: Please do not close this pop-up window. Once you close this pop-up window, the connection will be canceled and you need to do those operations again.
Step 5. Send this invitation file and the password to the client's computer (the computer that is used to offer technical help).
Step 6. On the client's computer, double-click the invitation file and type the password in the entry bar.
Step 7. After clicking OK, a pop-up window will appear on the host computer. "Yes" should be chosen and the host computer can share its screen with the client computer.
Step 8. On the client computer, on the top of the window, click Request control to send a request to the host computer, and then another pop-up window will appear on the host computer. After your friend click Yes, you can control his computer.
If you can't use Windows Remote Assitance, you can refer to: How to Fix Remote Assistance Not Working in Windows 10
Use Remote Desktop to take full control of another computer
Here takes using Remote Desktop in Windows 10 to connect a Windows 10 Professional computer in the same network as an example.
Step 1. On the host computer, press Windows key and R to open Run box, and type" sysdm.cpl" in the entry bar.
Step 2. Go to Remote tab first and then make sure" Allow remote connections to this computer" is checked to enable Remote Desktop.
Step 3. On the client computer, to open Remote Desktop Connection, press Windows key and R, type" mstsc" in the Run box, and press ENTER.
Step 4. Type the IP address of the host computer and click Connect.
Step 5. Enter the user name and password of the account that you want to log in to and click OK to remote into the host computer.
A remote access tool with merits of Remote Assistance and Remote Desktop
Remote Assistance vs remote desktop, how are they different from each other? Surely you have got your own idea. If you are looking for a better remote access solution, AnyVeiwer is recommended as these unmissable highlights:
Security: It adapts end-to-end Elliptic Curve Cryptography encryption to ensure data safety for both sides.
Connection ways: It supports unattended remote access via security code or account and attended remote access via remote control request.
Network environment: Supposed that your two computers are under different computers and you want to take full control of one computer from another computer without VPN or forwarding ports.
Click the following button to download the freeware.
Notes:
Step 1. Install and run AnyViewe on both the local PC and the destination PC. Create an AnyViewer account and sign in to the same account on both computers.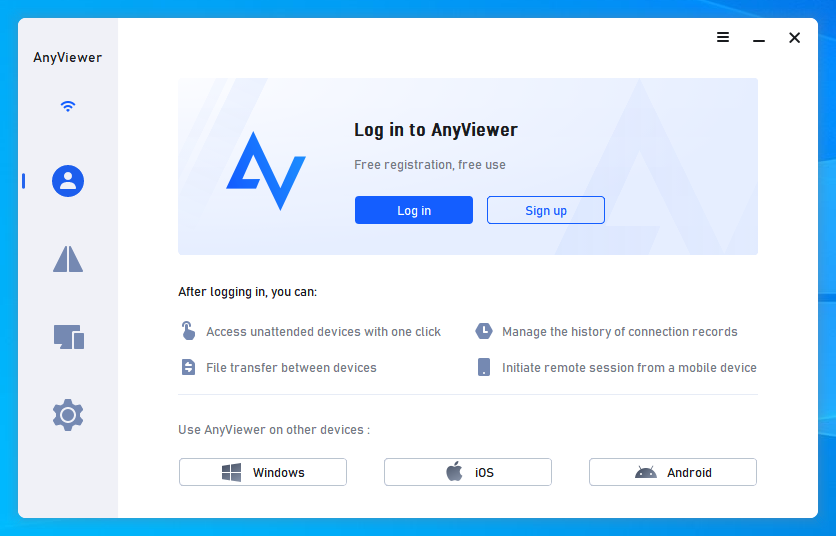 Step 2. On the local computer, click "Device", find out the target computer on "My devices" list, click it and choose "Remote Control".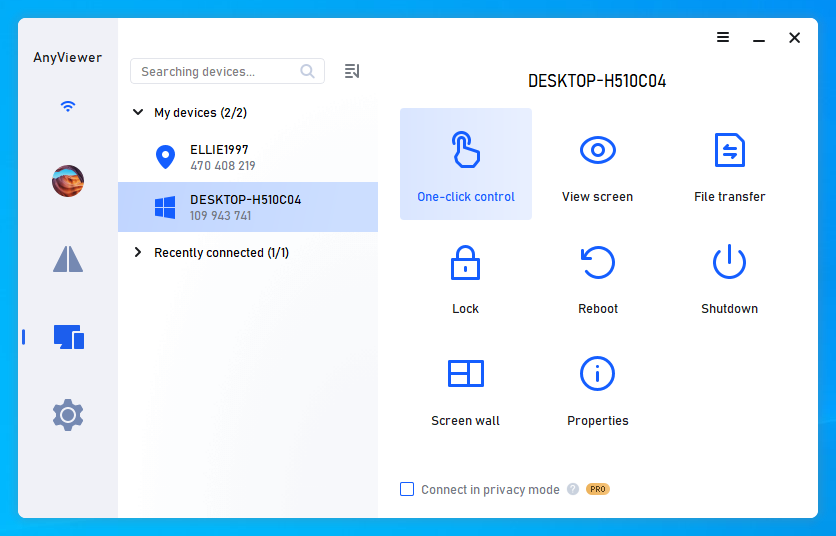 Step 3. Then, you can control the remote computer from your local computer.