Overview: Chrome Remote Desktop vs Microsoft Remote Desktop
Microsoft Remote Desktop (RDP) is a Windows built-in feature developed by Microsoft that allows us to connect to the remote server without any extra installation. Within RDP sessions, users can access the remote server and get resources like apps and files on another computer with a Graphical User Interface (GUI).
Chrome Remote Desktop is a free remote access software that is developed by Google, allowing users to remotely access any PC from the Chrome browser. It provides cross-platform compatibility and sometimes is seen as an alternative to RDP.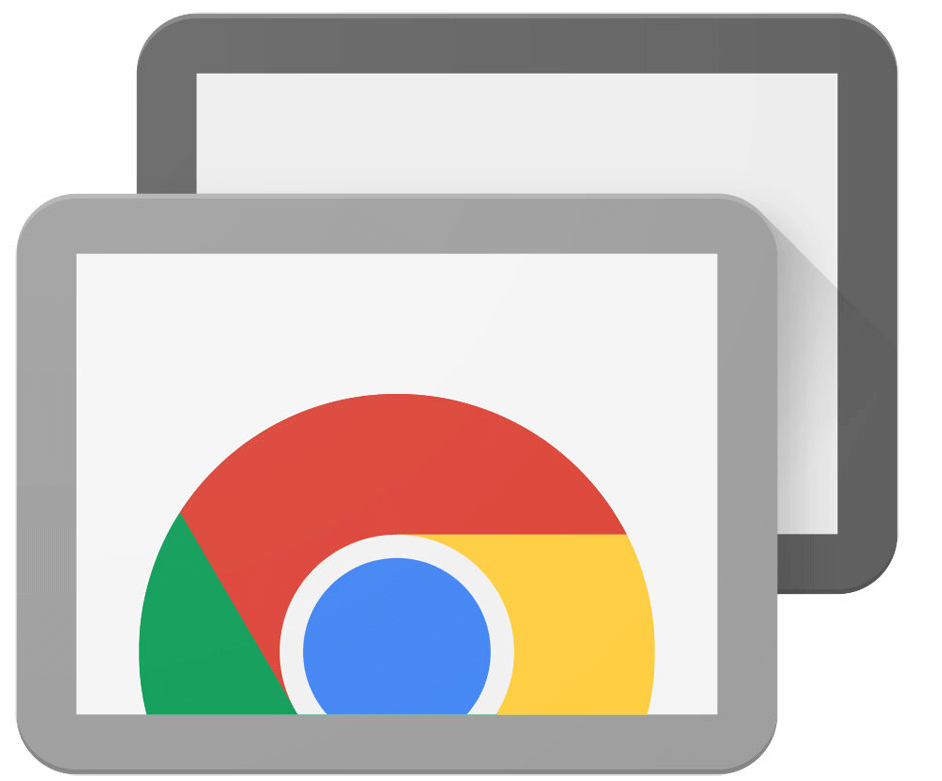 Detailed comparison: Chrome Remote Desktop vs Microsoft Remote Desktop
According to some users, they are thinking about Google Chrome Remote Desktop vs Microsoft Remote Desktop, what are the differences, and which one is better? This part will list detailed comparisons between them and guide you to make a choice.
Operating system
RDP is a Windows built-in remote access tool. But it does not only works on Windows. For RDP clients, they exist for most versions of Microsoft Windows (including Windows Mobile), Linux, Unix, macOS, iOS, Android, and other operating systems. While RDP servers are built into Windows operating systems, Unix, and OS X only. Additionally, Windows 10 Home doesn't support Remote Desktop. That is to say, you can't use RDC to access a remote computer whose OS is Windows 10 Home edition.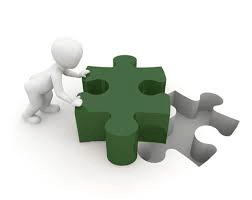 Unlike RDP, Chrome Remote Desktop provides cross-platform compatibility. For instance, it's workable for Raspberry Pi, iOS, OS X, Chrome OS, Android, Windows, and Linux.
Security
RDP uses the RC4 encryption technique, encrypts data using a 128-bit secret key, and supports TLS (transport layer security). Every inbound connection must be checked for security flaws. By adding contacts to the trusted list, users may regulate who has access to their computer. And many users are also prone to disabling RDP in order to ensure its security when it is not in use.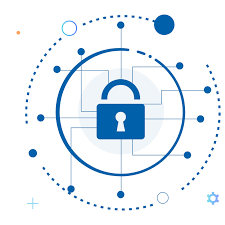 Chrome Remote Desktop is secure enough. During the remote session over Chrome Remote Desktop, all data will be sent directly from the client to the host, unless in some special circumstances. That is to say, even Google can't see the transferred data. And it adopts an encrypted combination protocol and AES encryption algorithm to protect data security.
Features
Remote Desktop provides more features. Microsoft RDP allows for remote file accessing, easy printing and sharing, no matter the distance between a server and a client computer. While CRD lacks many features that other competitive software offers. Let's see a table.
Pricing
Basically, RDP and Chrome Remote Desktop are both free. It can cost nothing to experience remote access. But if you need to connect to multiple computers simultaneously via Remote Desktop, you need to buy an RDS Cal license from a qualified supplier. Chrome Remote Desktop doesn't support multiple sessions at all.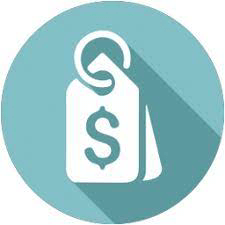 Account requirement
RDP session doesn't need an account. What you need to do is find the IP address and the credentials of the remote PC. But it needs to be mentioned that 2 devices should be on the same network, otherwise you need to perform port forwarding.
When it comes to Chrome Remote Desktop, it does need the same Google account logged on 2 devices when you need to remote access a PC.
Pros and cons
Both Chrome Remote Desktop and Microsoft Remote Desktop have their pros and cons.
Microsoft Remote Desktop
Pros:
Fully free
No need to install
No need to sign up
Cons:
Limitation on Windows versions
No remote reboot option
Remote users are unable to see their own screens during remote sessions
Chrome Remote Desktop
Pros:
Fully free
Fully trans-platform
Updates often
Works even when the host user is logged off
Remote users are able to see their own screens during remote sessions
Cons:
Unstable connection
No chat capability
Needs Google Chrome web browser
Consumes a lot of resources
How to use Chrome Remote Desktop and Remote Desktop
Chrome Remote Desktop vs RDP, what are the differences? After knowing the analysis between them, let's get more about how they work respectively.
How to use Chrome Remote Desktop
Step 1. On the host PC, open the Chrome Remote Desktop download page. Click on "Remote Access" and then click the blue download button.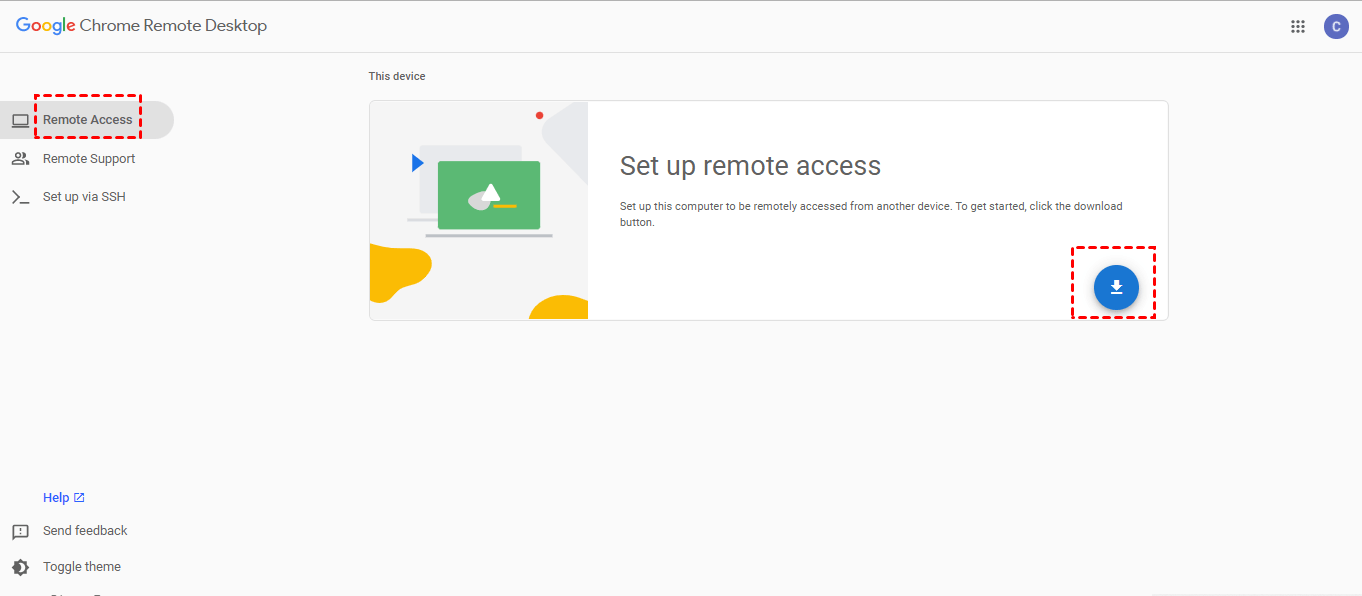 Step 2. Then the window will jump to the chrome web store, click "Add to Chrome".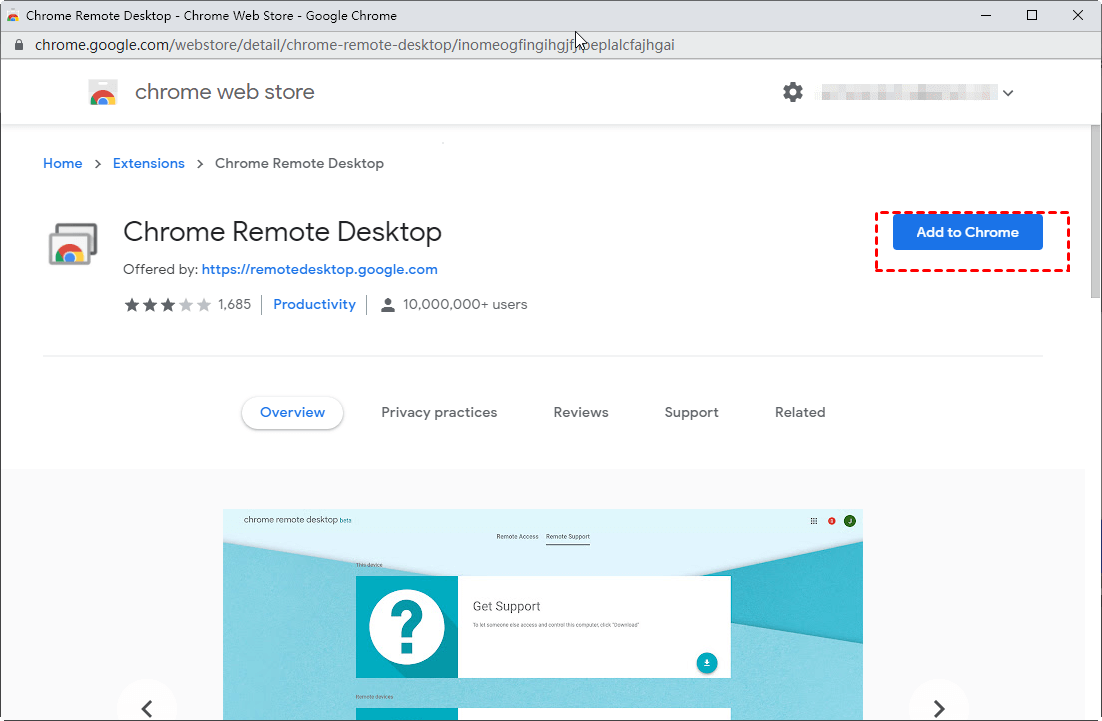 Step 3. Click on "Accept & Install" to install it.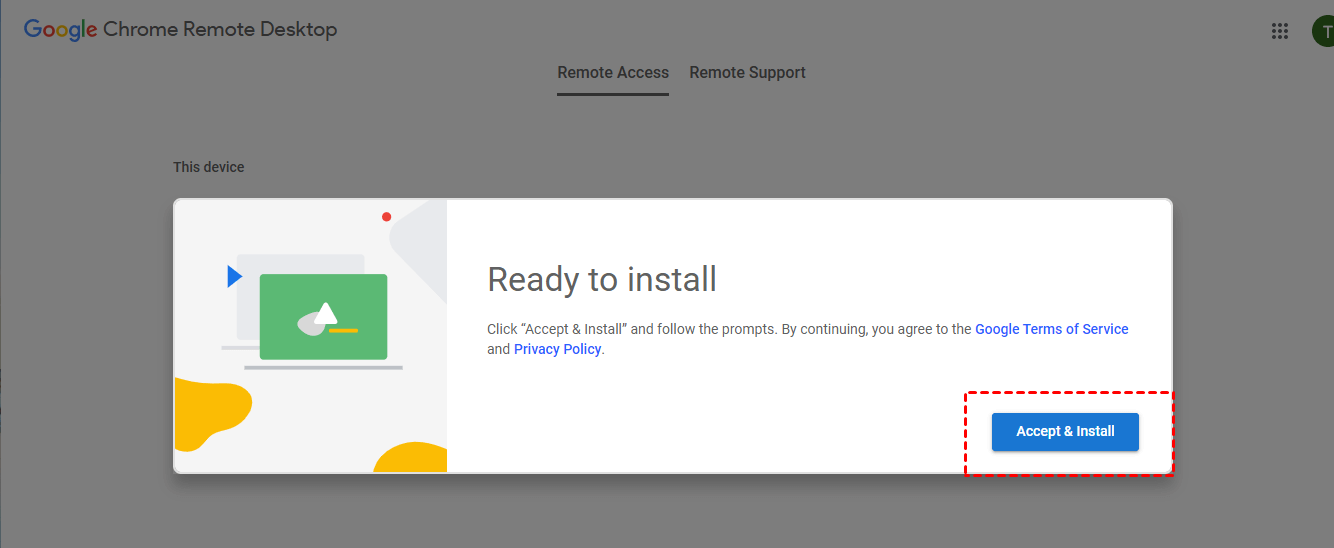 Step 5. Enter a name and then click "Next".

Step 6. Choose a PIN with at least 6 numbers, and then enter it twice to start the program.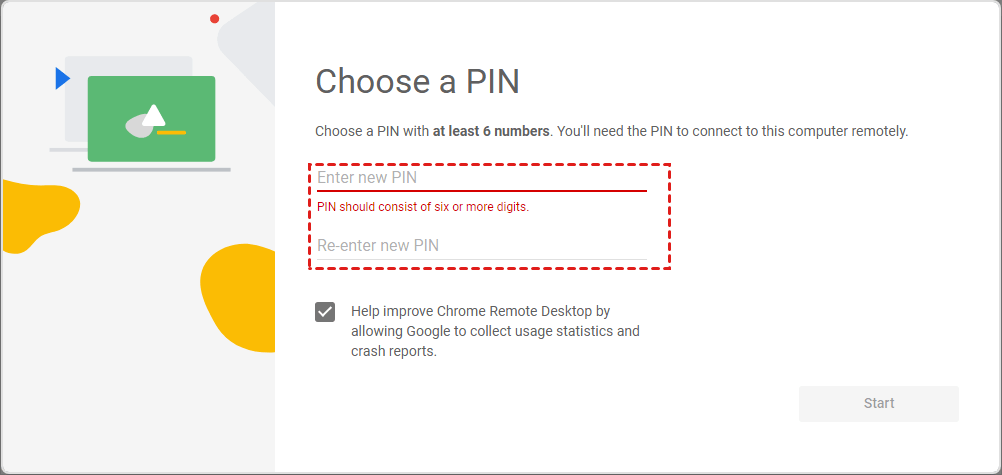 Step 7. On the local PC, open the Chrome browser and navigate here. Then log in to the same Google account. Once logged in, you can see the available computers.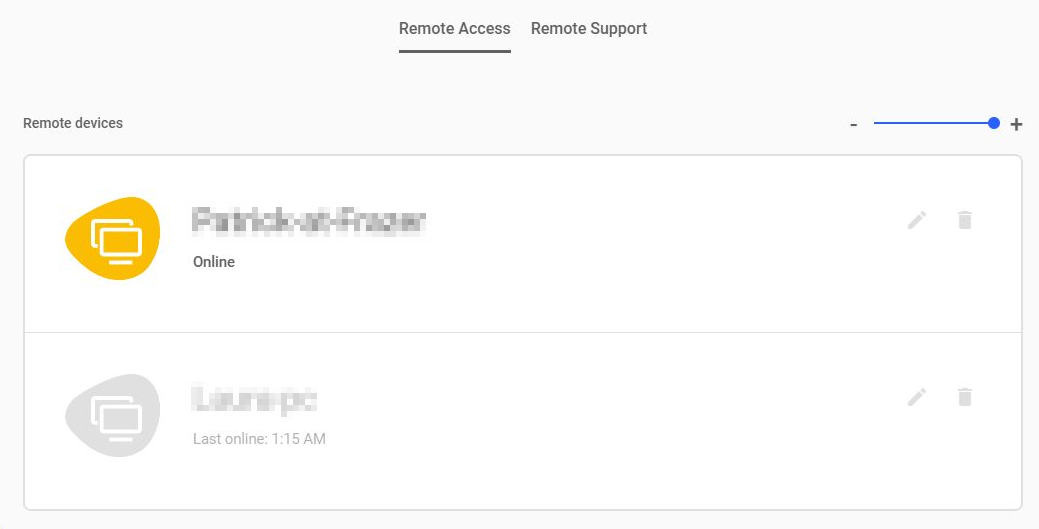 Step 8. Click on the computer set up previously, and enter its PIN. Then you could start your remote control.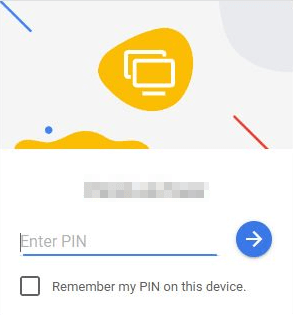 Step 9. Now the connection is been established successfully.
How to use Microsoft Remote Desktop
Step 1. On the host computer, right-click "This PC" and select "Properties". Then click "Remote Desktop" in the left sidebar, and switch the Enable Remote Desktop option to On.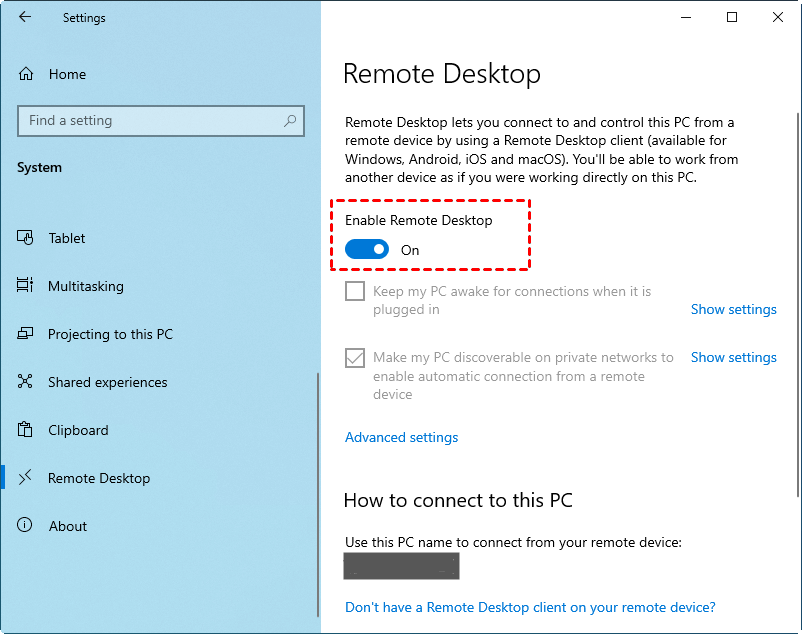 Step 2. Find "User accounts" and click "Select users" that can remotely access this PC.
Step 3. After opening the Remote Desktop Users window, click "Add to add" users who are allowed to access this computer.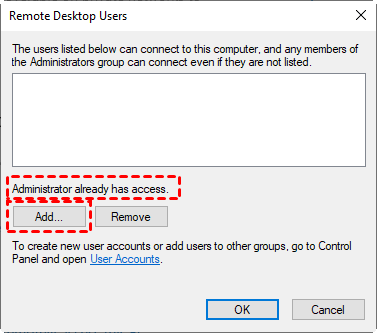 Step 4. On the client computer, search for "Remote Desktop Connection" in the Search box. And then open it.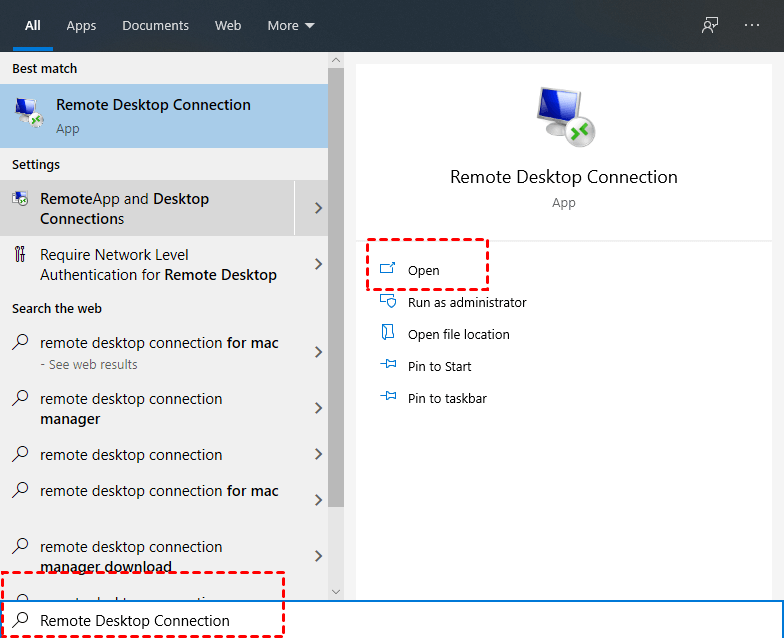 Step 5. Enter the IP address and User name in the Remote Desktop Connection interface to achieve connection.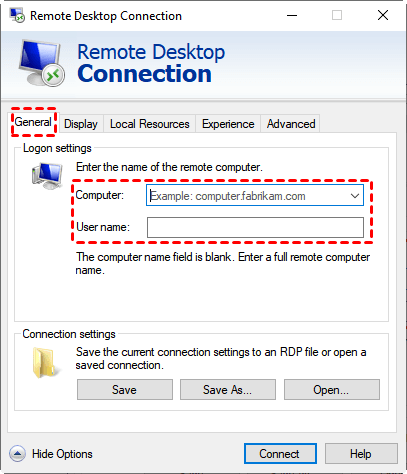 Step 6. In the pop-up Windows Security window, find the user name you just entered and enter the power-on password. If there is no power-on password, click "OK".
Step 7. In the authentication pop-up window, click "Yes" directly to realize remote access.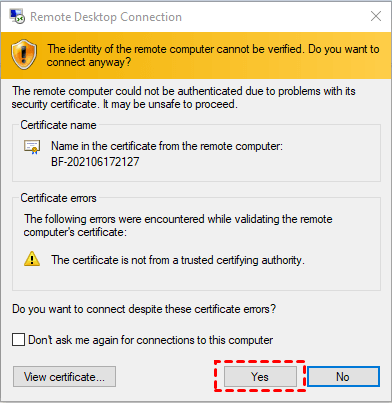 AnyViewer: Get remote access without any limitations
After the comparison between Chrome Remote Desktop and Microsoft Remote Desktop, you must have a thorough understanding of them. However, RDP sessions will be limited at the same LAN while the Chrome Remote Desktop just can be operated in Chrome Browser. Is there any way to get remote access without any limitations?
Actually, it is. Here we recommend a free & secure remote access software-- AnyViewer to help you get remote access without any limitations.
★Tips:

AnyViewer is easy to set up and the operation is fairly simple.
You can get remote access with one click after logging into the same Anyviewer account.
It's workable for multiple versions like Windows 11/10/8.1/8/7 and Windows Server 2022/2019/2016/2012 R2.
It is secured by Elliptic Curve Cryptography (ECC) encryption, protecting your data from leakage.
With the AnyViewer iOS version, you can control a PC with iPhone or iPad.
Step 1. Download, install and launch AnyViewer on both computers.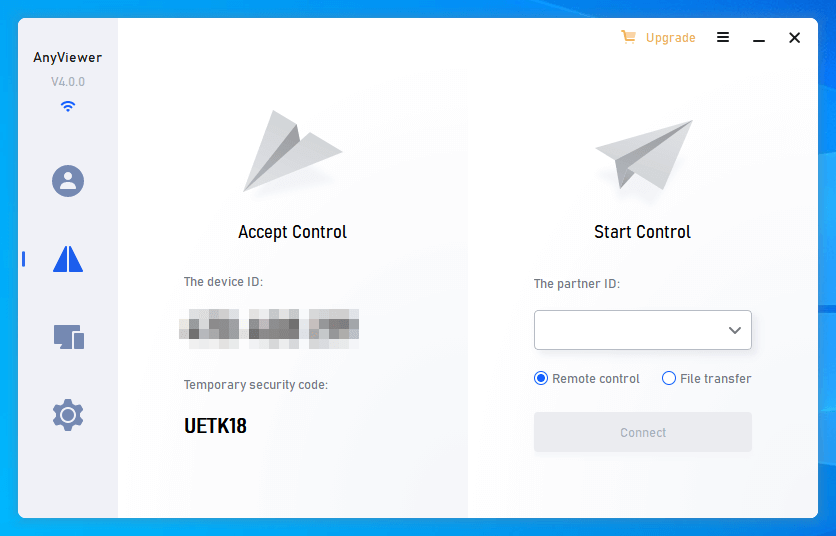 Step 2. Go to Log in, and then click Sign up. (If you already have signed up on its official website, you can log in directly.)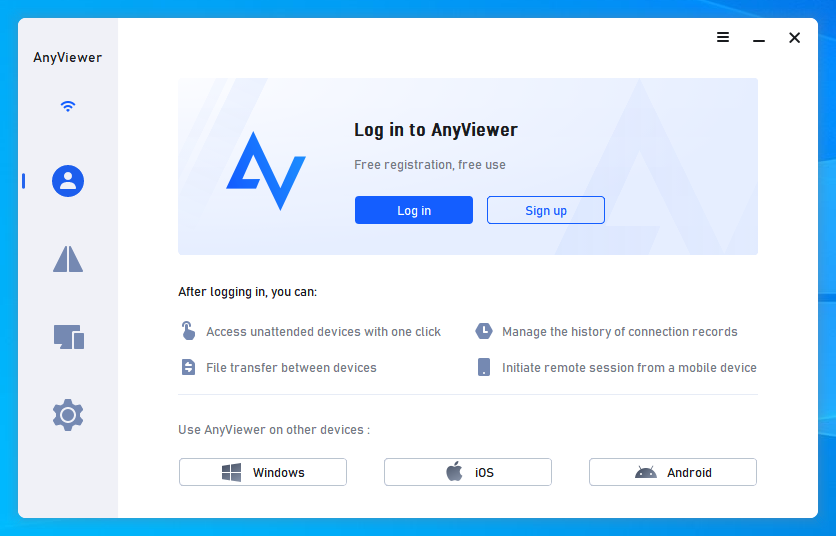 Step 3. Fill in the signup information.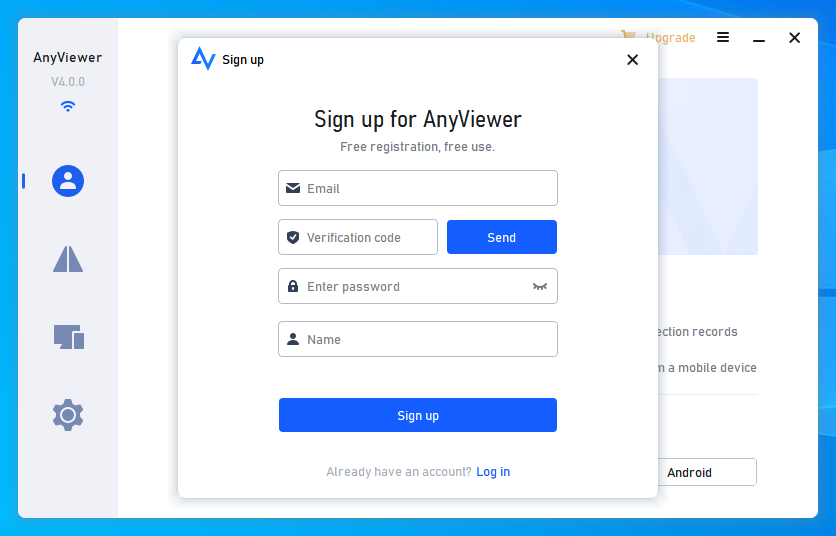 Step 4. Then you can see you successfully logged in to AnyViewer. Your device will automatically be assigned to the account you've logged in to.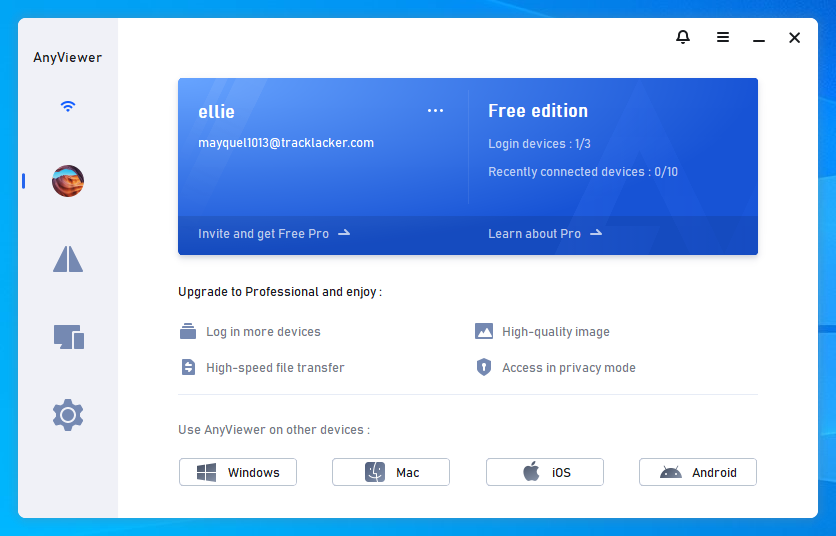 Step 5. Log in to the same AnyViewer account on the two devices, then you can achieve a direct connection by clicking One-click control.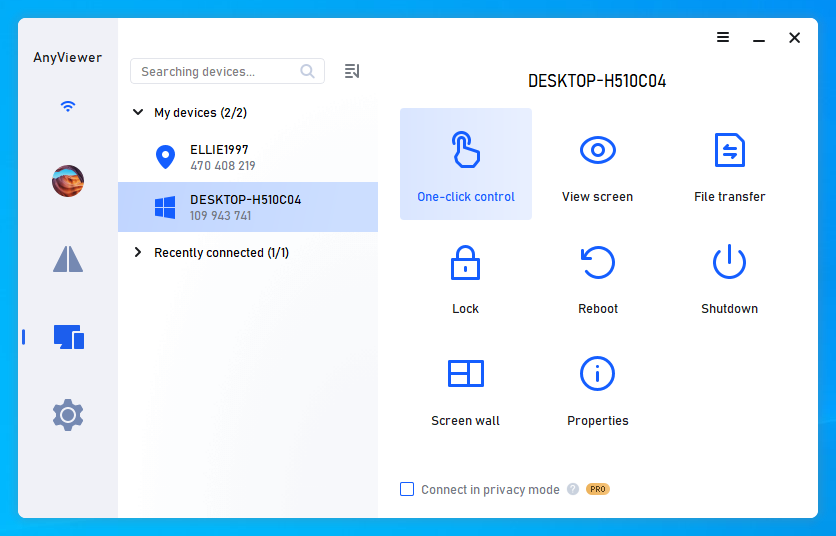 Notes:✎...
It is recommended to upgrade your account to
a Professional or Enterprise plan
. What can a professional or enterprise plan brings to you:
More devices can be assigned to the same account for unattended remote support.
Initiate more concurrent remote sessions.
Connect in privacy mode to protect your privacy. This means the Controller can black out the remote PC screen and disable the remote keyboard and mouse click.
File transfer speed will be increased. Transfer speed is 500 KB/s for a free account and up to 10 MB/s for a paid account.
Conclusion
Google Chrome Remote Desktop vs Microsoft Remote Desktop, what are the differences and which is better? From the comparison from the aspect of operating system, security, pricing and account requirement, you must know more about them and you can choose as your needs. But if you are looking into remote access software without any limitations, AnyViewer can be your best choice.