Are there best free alternatives to Zoom?
The answer is certainly yes. Zoom serves as a versatile video conferencing platform accessible on both computers and mobile devices. It facilitates online connections for video conferences, webinars, and real-time chat sessions. Notably, Zoom's Desktop Client incorporates a remote control feature that permits users to initiate or grant remote control capabilities during screen-sharing sessions. This functionality adds an extra layer of interactivity to the platform.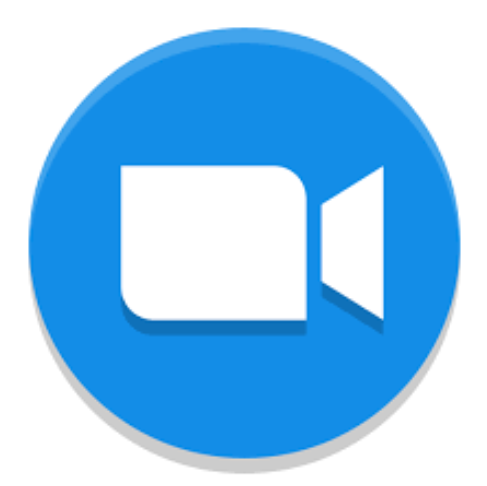 However, users often encounter a lot of problems while using Zoom remote control, such as large Zoom file transfer limitations, sound not working, and so on. This makes them look for an easy-to-use and effective Zoom alternatives free.
Top 5 Zoom alternatives free
Now that we've gained a fundamental grasp of Zoom, selecting the right alternative from the myriad of remote desktop tools available can be a daunting task. Fortunately, in this section, we'll introduce you to five user-friendly remote access tools that serve as alternatives to Zoom free. Keep reading to discover your options!
Option 1. AnyViewer
The most recommended is AnyViewer. AnyViewer is a comprehensive, free remote desktop software that not only allows users to perform remote attended access but also allows unattended remote access. It can perfectly meet users' various remote access needs. AnyViewer offers free plans for both personal and commercial use, with enough features and permissions to meet user needs. AnyViewer provides secure remote access and remote support for nearly all versions of Windows, including Home and Standard editions, as well as iOS and Android. It is the best alternative Zoom free.
In addition to the most basic remote access functions, AnyViewer also provides many excellent features, including one-click control, unattended file transfer, remote sound, mirror iPhone screen, text chat, multi-monitor support, etc. AnyViewer is easy to use without any duplicate settings or operations.
Step 1. Download, install, and launch AnyViewer on your devices.
Step 2. Go to "Log in" and click "Sign up" to register an AnyViewer account.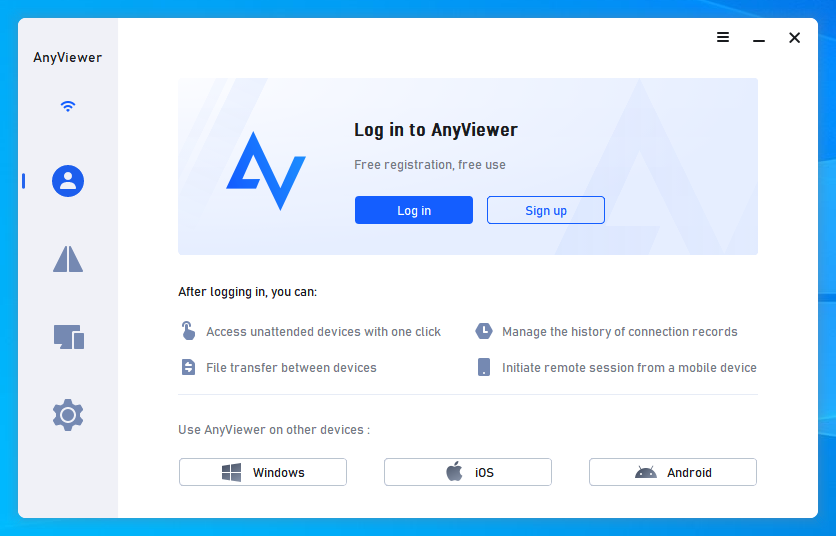 Step 3. Sign in to the same account you just created on all your devices. Your device will be immediately linked to the account you used to log in when you have successfully logged in.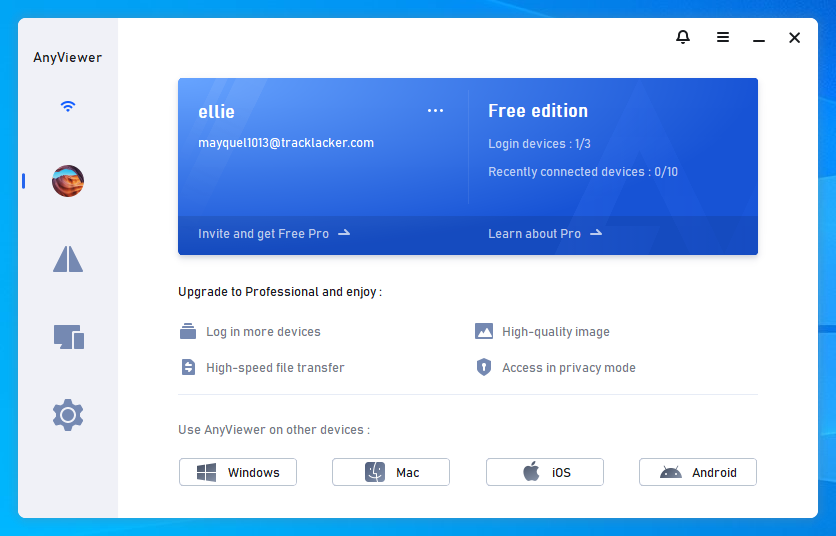 Step 4. On your local device, go to "Device" and choose the target device you want to connect to, then click "One-click control" to achieve connection.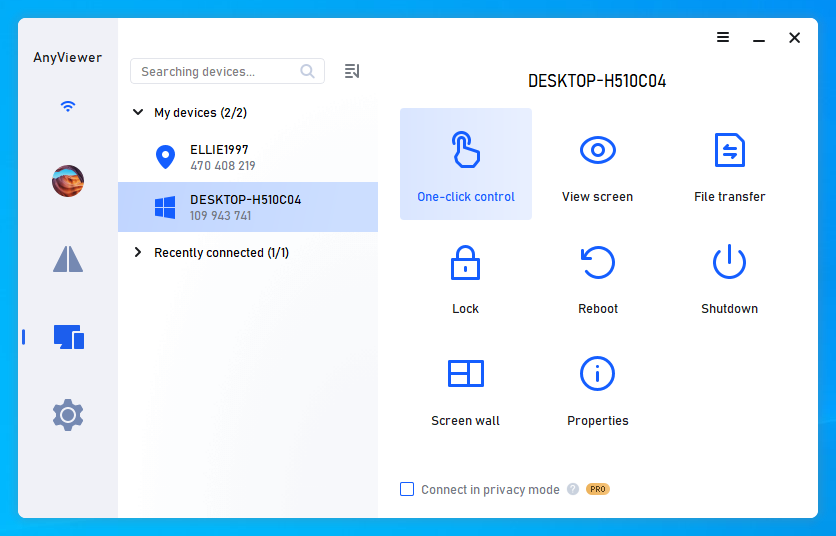 ★Tips: You can upgrade your account to a professional or enterprise plan to receive additional benefits:

Secure one-click remote connections by associating multiple devices with the same account.
Simultaneously control numerous devices from a single computer.
Maintain privacy with Remote Connection in Privacy Mode.
Benefit from unrestricted file transfers, with a capacity of up to 1 TB per file.
Experience enhanced file transfer speeds for greater efficiency.
Optimize device management for organizations by creating groups for streamlined control of large device numbers.
...
Option 2. Microsoft Remote Desktop
Microsoft Remote Desktop is an excellent tool for accessing a remote PC from anywhere. With remote desktop technology, users can effortlessly view the computer screen, control the mouse, and access files and software. This function is the Windows operating system comes with and is available for free.
But if devices on different networks want to connect remotely, very complex settings and operations are required. This is very difficult and inconvenient for users.
On the remote computer:
Step 1. Navigate to "Settings", then proceed to "System", and within that menu, select "Remote Desktop". Here, you can activate the "Enable Remote Desktop" switch.
Step 2. Choose "Control Panel", then go to "System and Security", and within that category, access "System". In the System section, click on "Remote Settings".
On the local computer:
Step 1. Simultaneously press "Win+R", then in the Run dialog box, type "mstsc" and hit Enter to open the Remote Desktop connection.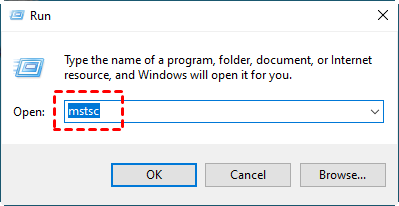 Step 2. Click on "Show Options", enter the IP address of the target PC, and then select "Connect". Follow the on-screen prompts to finalize the remote access process.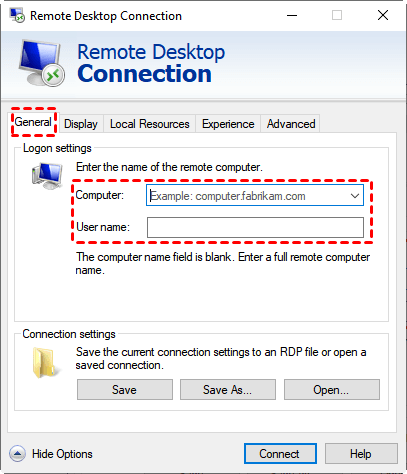 Option 3. Chrome Remote Desktop
Chrome Remote Desktop is a cost-free remote support application created by Google. Similar to Microsoft Remote Desktop, it's entirely free. You can incorporate it into your Google Chrome browser as an extension and simply log in with your Google account to utilize its features.
However, users often encounter many problems when using it, such as Chrome Remote Desktop audio not working. There is no chat function in the Chrome Remote Desktop session, multi-session is not supported, and the remote computer cannot be restarted.
Step 1. Open Google Chrome on your computers and ensure that you are logged in using the same Google account.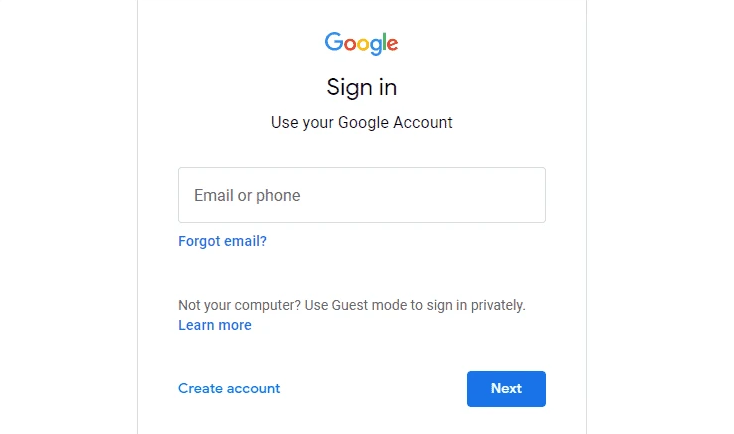 Step 2. Locate Chrome Remote Desktop in Google Extensions and click "Add to Chrome".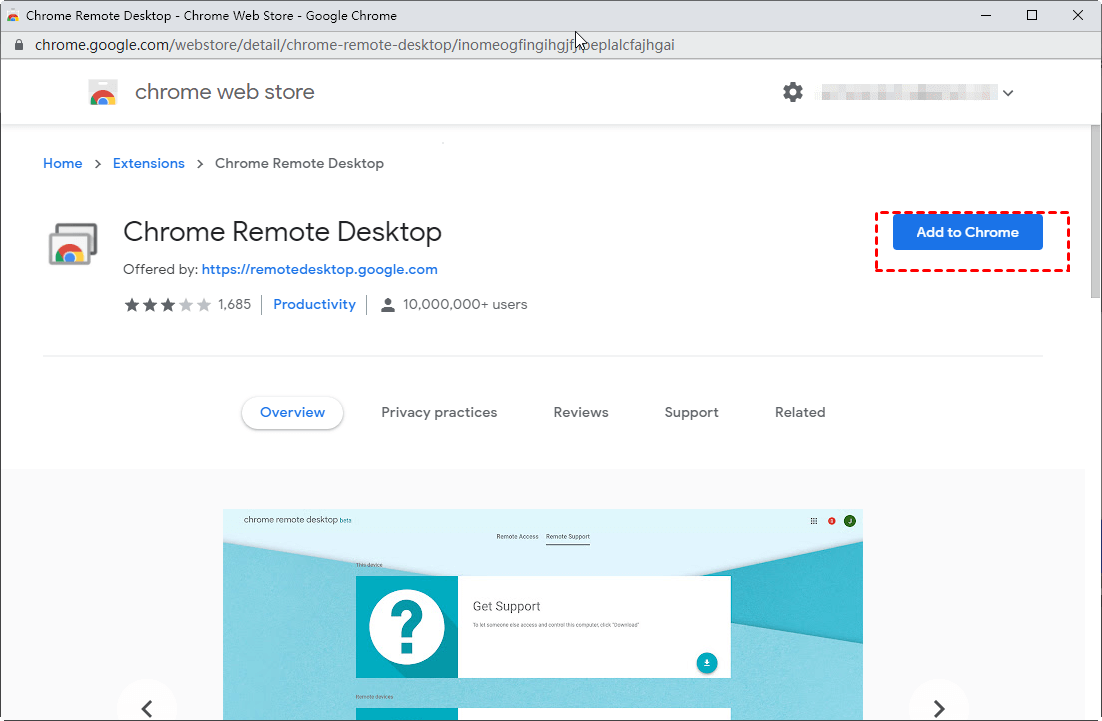 Step 3. Once added, go to the Remote Access tab, click on the Download button, and complete the installation.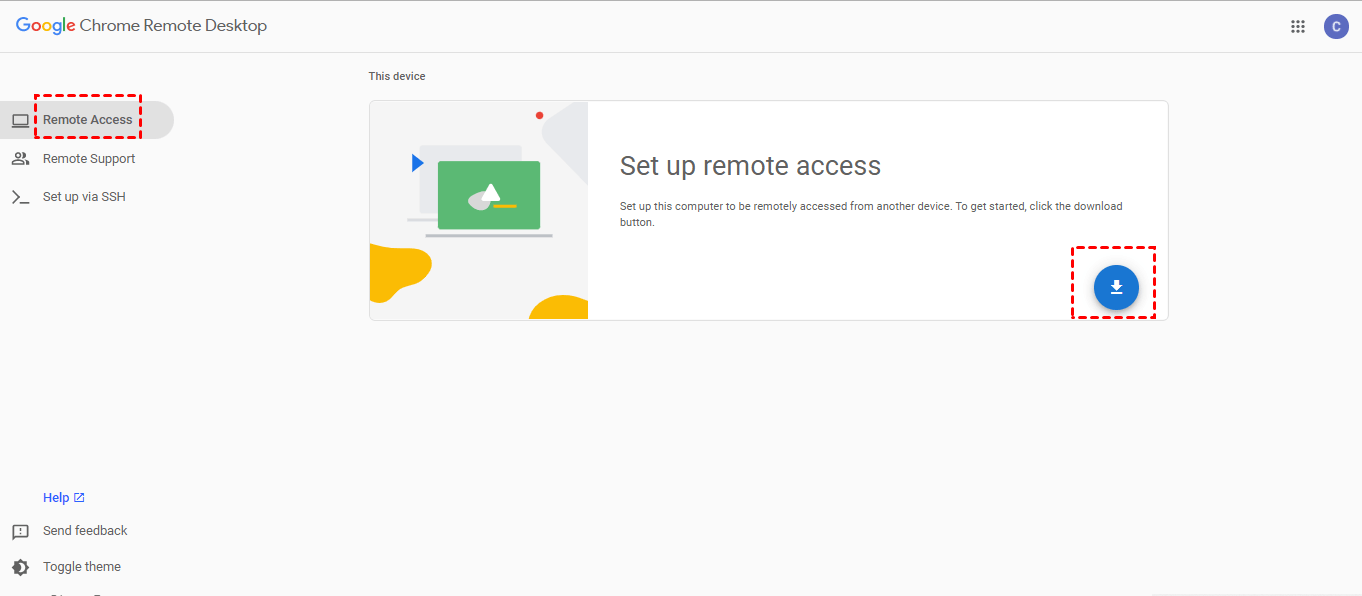 Step 4. After giving your computer a name, click "Next".

Step 5. Select a PIN with a minimum of six digits, and enter it twice to initiate the program.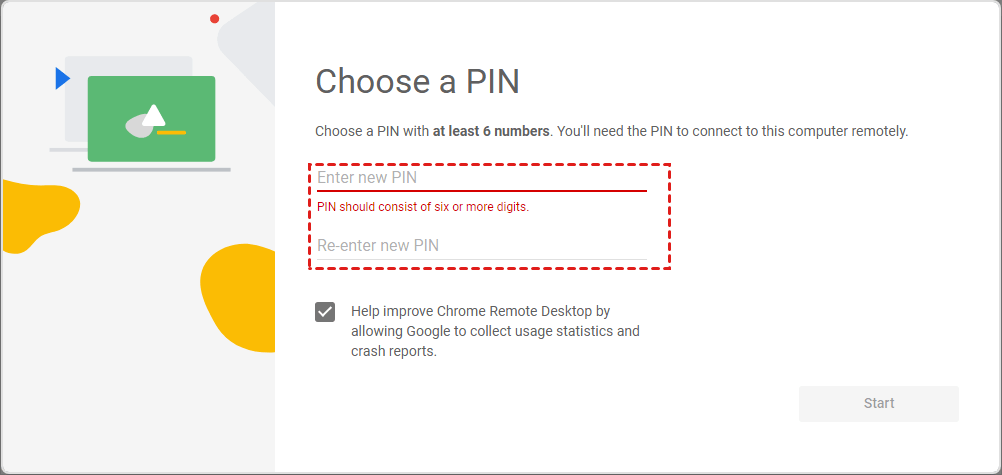 Step 6. Once both computers have successfully generated their PINs, you can view the list of available computers on the client computer. Simply click on the computer you wish to connect to.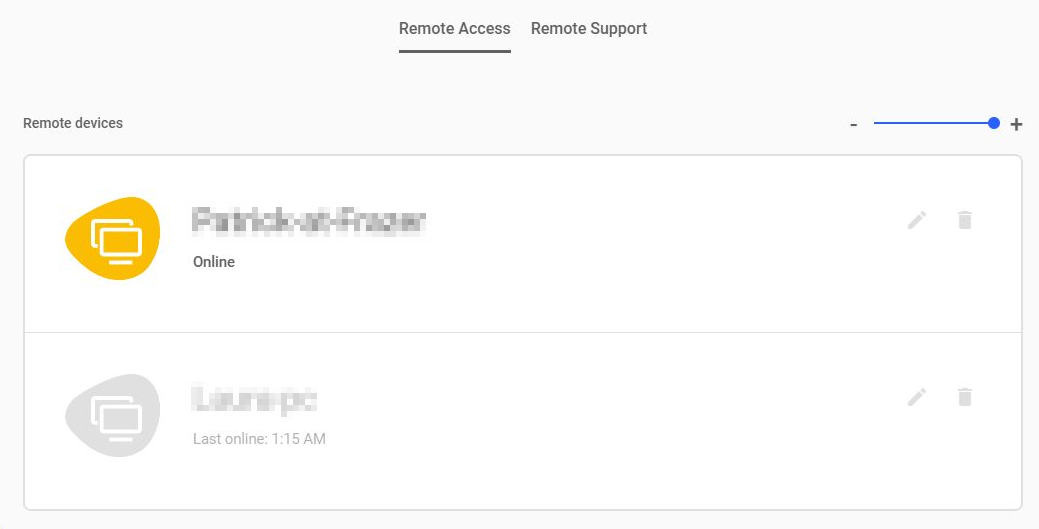 Step 7. Enter the PIN of the host computer, and then click the blue arrow. You can now commence controlling it.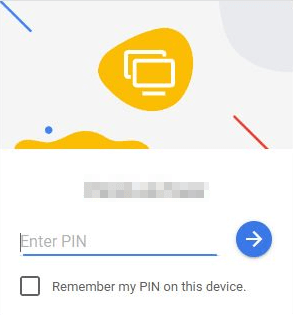 Option 4. TeamViewer
TeamViewer is another remote control application, offering a free version for personal use alongside paid versions for business purposes. However, it's worth exercising caution when using the free TeamViewer version. Some users have reported instances of being wrongly flagged for commercial usage, resulting in blocked connections even when that's not the case. Consequently, if you require a dependable remote work from home solution, TeamViewer might not be the most suitable choice.
The bottom line is that TeamViewer is expensive. All TeamViewer pricing plans are more expensive than other remote support software and can only be paid on an annual basis.
Step 1. During installation, select the purpose for downloading the software (commercial or personal). Here we take the free version for individual users as an example.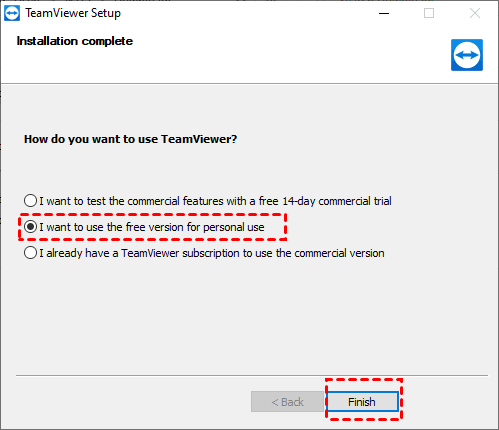 Step 2. Launch TeamViewer on both computers and in the main interface, and select "Login". If it's your first time using TeamViewer, you'll need to create your own TeamViewer account. Click "Next" to finalize the account registration process (note that account verification may be required before use).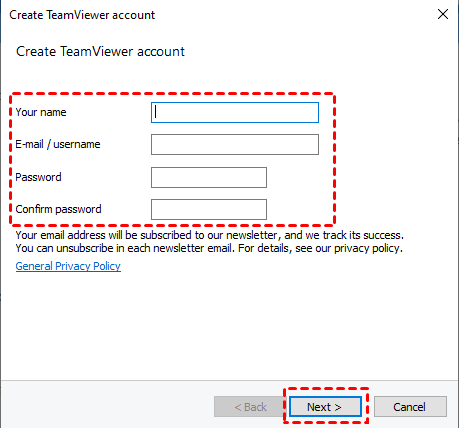 Step 3. On the client computer's TeamViewer main interface, select "Remote Control" from the left side. Then, enter the ID of the host computer in the "Partner ID" field and click "Connect".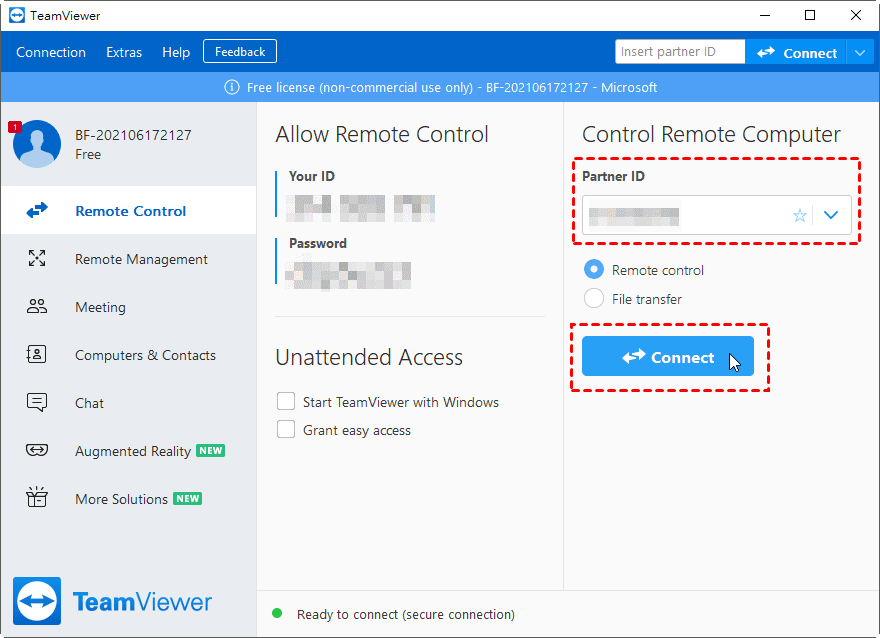 Step 4. In the TeamViewer Authentication window, input the password of the host computer to establish the remote control connection.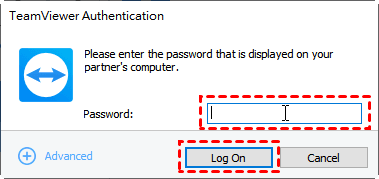 Option 5. AnyDesk
AnyDesk is a rapid and dependable remote support software option. Similar to TeamViewer, it offers a free version for personal use as well as paid versions designed for commercial purposes. It's important to note that activities such as offering IT support to customers, monitoring and maintaining computers, or managing high-performance machines in a business context may trigger detection as professional usage, requiring the purchase of a paid license.
Furthermore, the AnyDesk free version comes with notably limited features. For instance, capabilities such as remote restart, text chat, and phone support are not accessible in the free version. It's worth mentioning that these features are available in the AnyViewer free version.
Step 1. On both of your devices, download and install AnyDesk.
Step 2. After starting AnyDesk, enter the connection password of the host on the client, and then click "Connect". Once the host agrees, the connection is successful.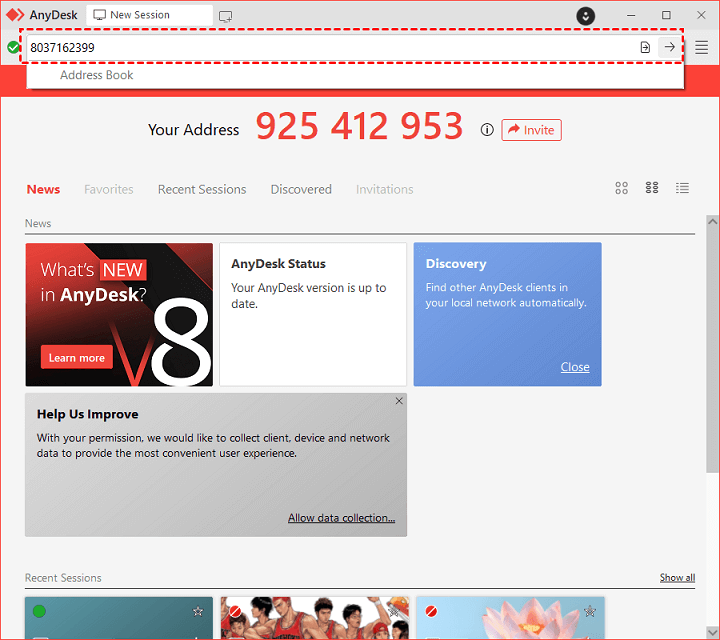 Conclusion
This article lists five Zoom alternatives free for you. You can select based on what you need. However, it is not difficult to see that AnyViewer stands out among many competitors. It not only offers a free plan for personal as well as commercial use but also has enough features and permissions to meet user needs. And AnyViewr has a strong team to ensure your safety. All in all, AnyViewer is the best choice if you need the best alternative Zoom free.