How do I fix TeamViewer black screen?
I am trying to use TeamViewer. When I connect to my friend's Windows 10 computer it just shows a black screen. My cursor shows up sometimes. But the black screen doesn't go away. We tried connecting several times. But the issue is still there. How do I fix TeamViewer black screen Windows 10? Thanks in advance."
- Question from TeamViewer Forum
How to fix TeamViewer black remote screen [5 solutions]
When connecting to TeamViewer, you may occasionally see the Teamviewer black remote screen. There are various causes for this issue, including improper TeamViewer service operation, a blocked TeamViewer connection, an active RDP that is running on the remote side, etc.
Whatever situation you are in, the following available solutions can quickly resolve the problem.
Solution 1. Restart the remote computer
When TeamViewer remote interaction show black screen, try to restart the remote computer and then re-establish a connection. Make sure you enabled start with Windows option.
On TeamViewer main interface, click Options > General > enable Start TeamViewer with Windows.
During TeamViewer remote control session, click Actions on the toolbar and click Remote Reboot.

Solution 2. Check Firewall setting
Windows Defender Firewall may sometimes block applications to work properly, therefore, check whether TeamViewer is in the exception list of the Firewall.
Open Control Panel, then click Windows Defender Firewall > Allow apps, click Change settings, and check TeamViewer Remote Control Service.
Solution 3. Check Windows Remote Desktop not running
When you run TeamViewer, make sure the Windows Remote Desktop is not running, which can also be a cause for TeamViewer black remote screen. If it is, you need to end a Remote Desktop session.
Press Ctrl + Shift + Esc to open the Windows Task Manager, locate and right-click Remote Desktop Connection > End task.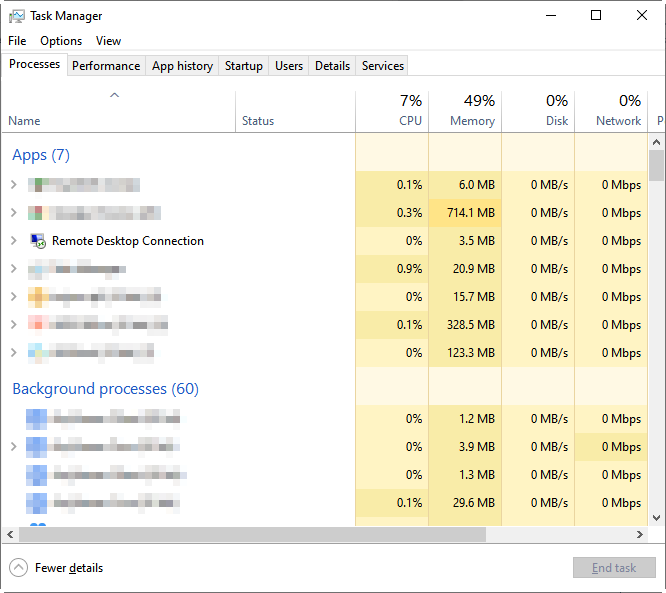 Solution 4. Restart TeamViewer service
Completely restarting the TeamViewer service can also help you troubleshoot the problem.
Step 1. Press Win + R, type"services.msc", and click OK.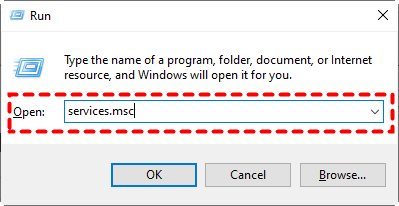 Step 2. Find and right-click TeamViewer from the list, and click Restart.
Solution 5. Switch to TeamViewer alternative
If all the solutions above do not solve your problem, don't worry, you can switch to the TeamViewer alternative.To fix this issue and prevent it happen again, we advise you to use another reliable remote access software. In this case, AnyViewer could be the prior choice for you.
Why choose AnyViewer?

It is developed by a strong technical team, ensuring you a stable & fast remote connection without errors.
It has a completely free version without time limitations.
It supports flexible ways to remote access and transfer files between devices.
It offers several considerate built-in features, you can chat, change image quality, etc.
It released mobile versions, allowing iOS/Android remote access.
Step 1. On the remote computer, click Log in from the left pane, and click Sign up.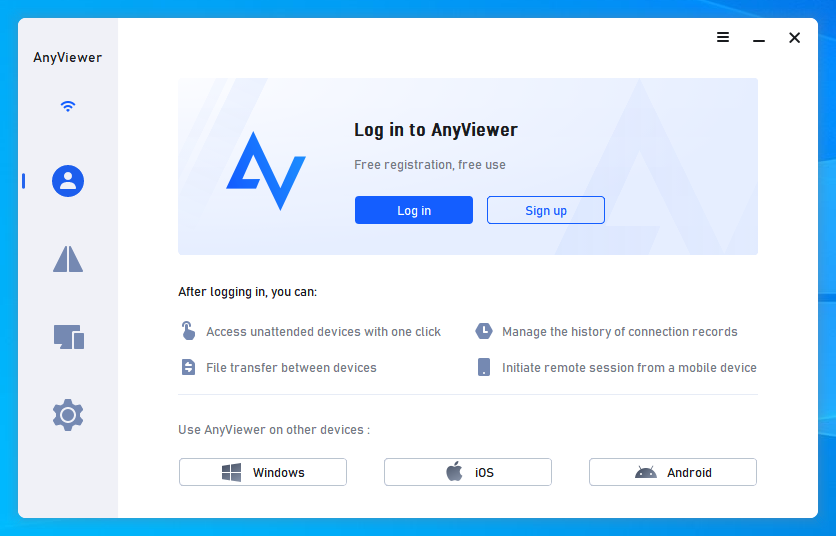 Step 2. Fill the information and click Sign up.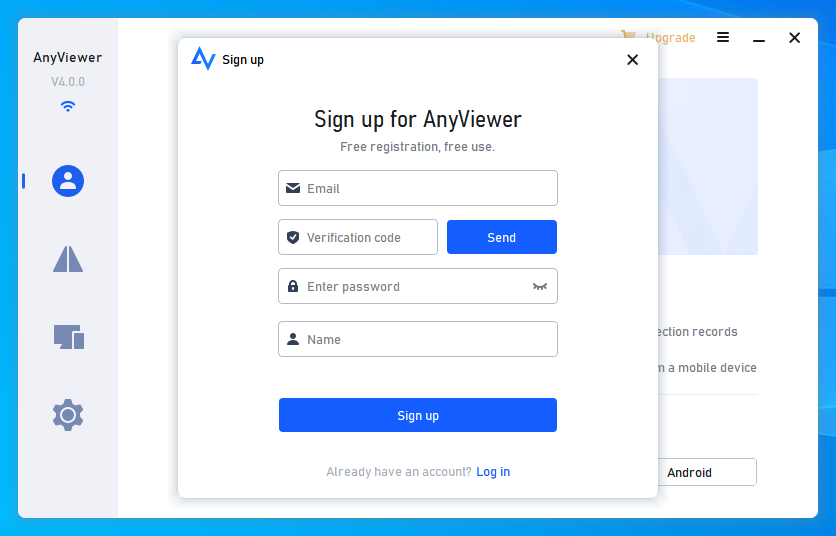 Step 3. On the local computer, log in to the same account and then you can see the assigned devices.
Tips:
You can upgrade to
Professional or Enterprise plan
to assign more devices at once, which is more convenient for you to manage these devices with one click.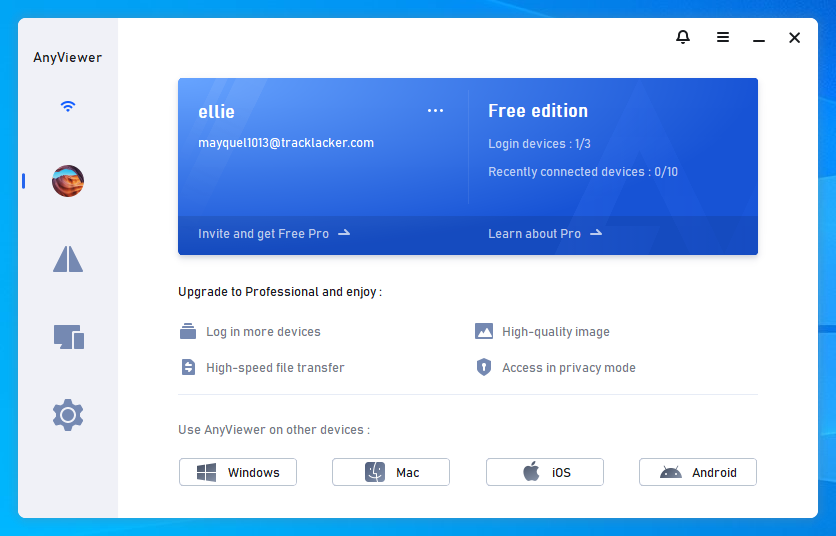 Step 4. Go to Device interface, select the target computer you want to connect to, and click One-click control to perform unattended remote access.
You can also tick Connect in privacy mode to strongly protect your data by blackening the remote computer and disabling the remote keyboard & mouse click when in remote sessions.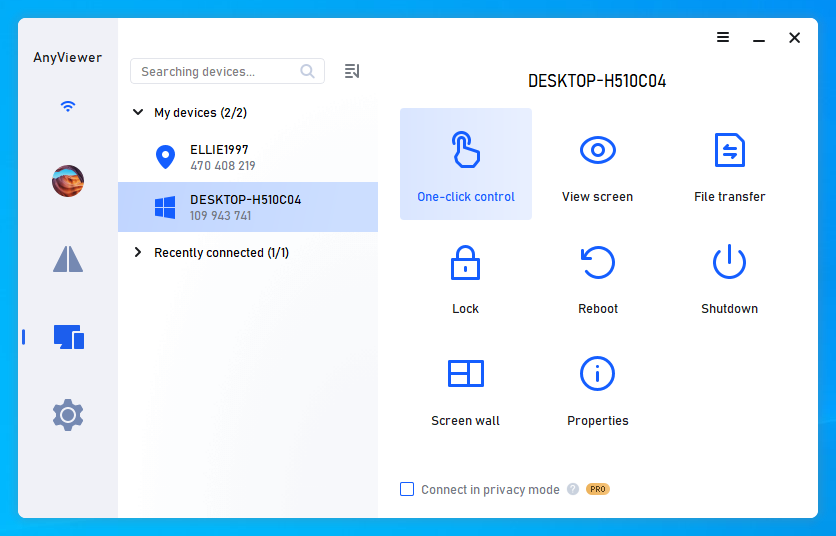 Then you can remote into the computer and directly control it.
As we said, AnyViewer offer you flexible ways to remotely access another computer. If you don't want to share you account with someone else, you can still establish remote connection with partner ID.
Go to Connect, enter the partner ID and click Connect. Then you can achieve the connection by Send a request to your partner or Input security code.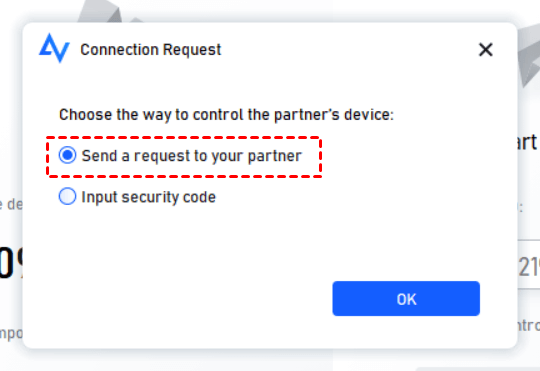 Conclusion
This post introduces how to fix "TeamViewer black remote screen". We offer you five tested solutions and I believe you have already resolved the problem. However, according to user feedback, this is not the first time they encountered errors when using TeamViewer. Therefore, we recommend you switch to a reliable remote desktop tool like AnyViewer to avoid such errors.