What is Remote Desktop Session Host?
Remote Desktop Session Host (RDSH) is apart of the role in Remote Desktop Services (RDS). RDSH can host Windows session-based apps and desktops that can be shared with users remotely.
Users can gain access to a remote server via a web client on a compatible browser or a Remote Desktop client, which is available for Windows, macOS, iOS, and Android devices.
RDSH can be used for a variety of purposes, for example, accessing files on a remote desktop from a distance, installing applications on a remote desktop, etc. This can be helpful for businesses that, for instance, need to assist employees with installing a necessary application while they are working remotely.
Attention: RDS Client Access License is required when multiple users access the server simultaneously. In this case, we need a Remote Desktop Host configuration to use that license manager.
How to perform Remote Desktop Session Host configuration
In this part, we will instruct you how to set up Remote Desktop Session Host Configuration on Server 2019/2016/2022.
Step 1. Press Win + R and enter "gpedit.msc" to open the Local Group Policy Editor.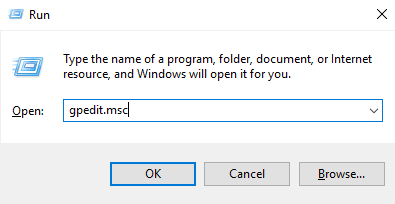 Step 2. Select Computer Configuration > Administrative Templates > Windows Components > Remote Desktop Services > Remote Desktop Session Host, and double-click Licensing from the right pane.
Step 3. Locate and double-click Use the specified Remote Desktop license servers.
Step 4. Tick Enabled. Enter the server IP address in License servers to use. Then click Apply > OK.
Step 5. Back to Licensing setting, click Set the Remote Desktop licensing mode.
Step 6. Tick Enabled. Under Options, select Per User/Per device according to your operating system. Then click Apply > OK.
✔️Tips: For Windows Server 2016, select Per User. For Windows Server 2019/2022, select Per User (domain setup)/Per device (if a workgroup server).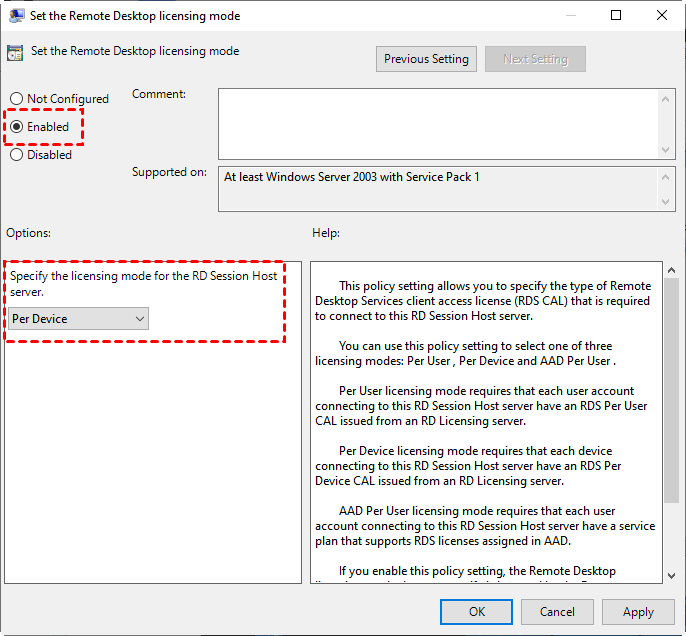 Step 7. Close all open windows, search "PowerShell" in the start menu, and select Run as administrator.
Step 8. Enter "gpupdate /force", the Remote Desktop Session Host configuration completes when you see the message "Computer Policy update has completed successfully."
An easier way to set a remote desktop connection
For most users, RDS is a convenient tool that allows them to achieve remote connection without extra downloading. However, it requires quite a lot of complicated settings and configurations, which are not friendly for those who lack related experience. In this case, you may look for another easy-set-up remote access tool, there we recommend you use AnyViewer.
Compared with Microsoft Remote Desktop, AnyViewer has the following benefits you can't miss:
✍️It is easy to set up; you can access an unattended remote computer, transfer files, and remote lock/shutdown/reboot PC with only one click.
✍️It supports over-Internet connection without VPN or port forwarding.
✍️It allows you to establish multiple sessions simultaneously without buying more licenses per user.
✍️It offers several operation shortcuts in a remote session, you can directly run CMD, open Task Manager, etc. Besides, other features like chat and change image quality are also available.
✍️ It is compatible with all editions of Windows 11/10/8.1/7 and Windows Server 2022/2019/2016/2012 R2.
Note: It is compatible with OS, and Android as well, which means you can also access Windows computer remotely from iOS/Android mobile.
Step 1. Download, install, and fire up the tool on both devices. On the host PC, go to Log in interface, and click Sign up to create an AnyViewer account.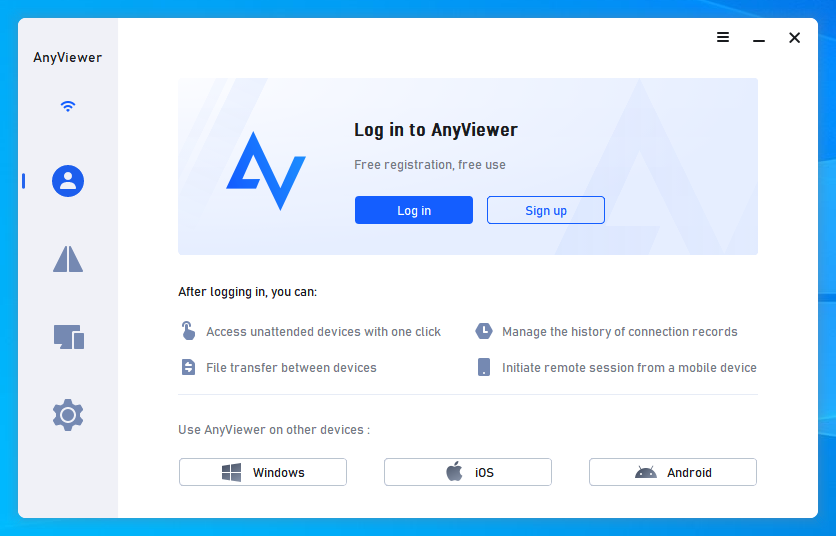 Step 3. On the client PC, run AnyViewer and log in to the same account. Once logged into the account, the device will be assigned atomically to the account. A free account can assign up to 3 devices; to assign more devices, you can upgrade to an advanced plan.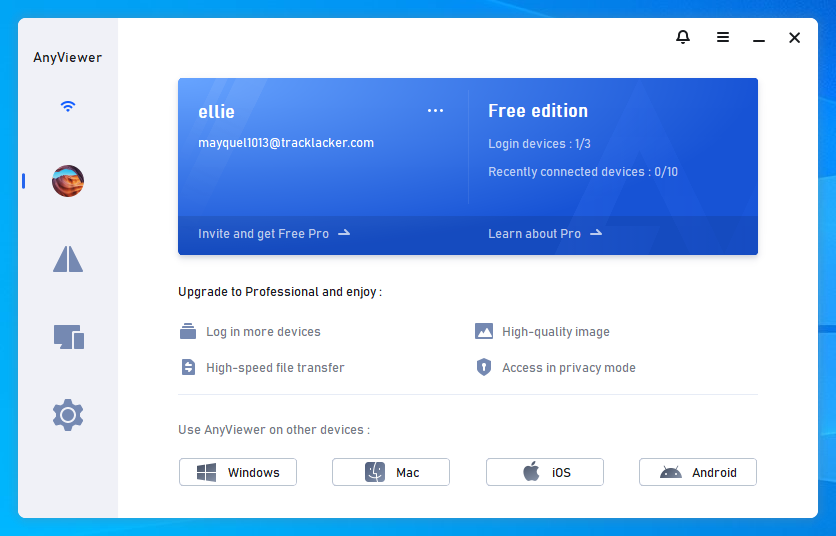 Other advantages of advanced plans:
➤More connection channels. The Enterprise version allows 10 channels. That means, when multiple devices are logged in, there are 10 devices allowed to start remote sessions simultaneously.
➤More simultaneous sessions. Professional version allows one computer to control 5 computers at the same time and Enterprise version allows one computer to control 10 computers at most.
➤Connect in privacy mode. It will better protect your privacy by blacking the remote PC and disabling the remote keyboard & mouse.
➤High-speed file transfer. Transfer unlimited files at once at a higher speed of up to 10 MB/s.
tep 4. Go to Device, select the target PC, and click One-click control to achieve unattended remote access.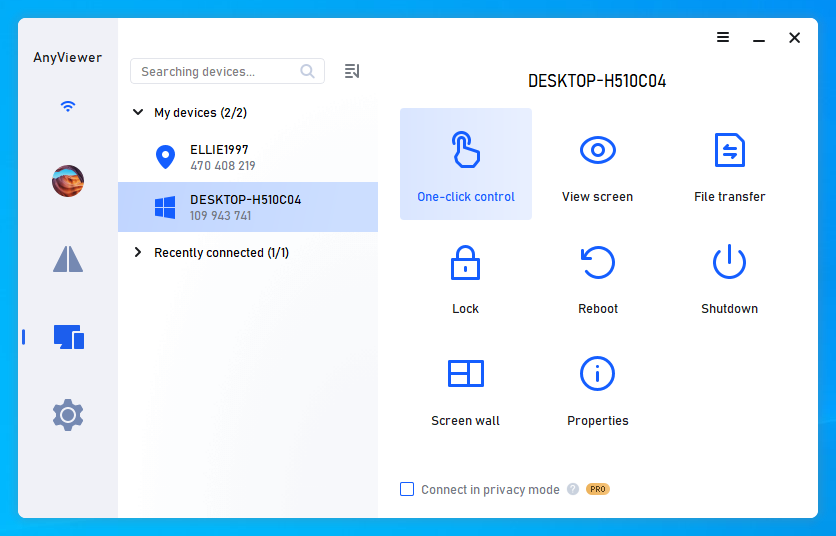 Conclusion
This post introduces how to perform Remote Desktop Session Host configuration. It is very significant if you need to establish multiple sessions via RDS. Also, there is still an easier way to remotely access other computers without complicated settings, try AnyViewer.