Can you have multiple Remote Desktop connections in Server 2019, 2022?
Hello. I have purchased one Windows Server 2019 for work use. And my colleagues and I need to use it remotely to handle the teamwork. But it troubles me that we can't get remote access to it simultaneously, which is quite a loss of time. Can you have multiple Remote Desktop connections in Server 2019?"
- Question from Quora
The answer is obviously YES! But you have to notice that just 2 sessions that are free with a Windows license for multiple Remote Desktop connections in Server 2019. It means that if there is a computer to have someone use locally and only one more person is available to get remote access to the computer at the same time. Otherwise, you need to purchase more CALs (Client Access Licenses) to license your RDS deployment to access more devices.
How to allow multiple Remote Desktop connections Server 2019, 2022?
How to enable multiple Remote Desktop in Windows Server 2019/2022? In this part, we will offer you detailed steps to set it up. You can also enable multiple Remote Desktop sessions on Windows Server 2016 with similar steps.
To allow multiple Remote Desktop connections Server 2019/2022, you need to edit group policy.
Step 1. Type in"Edit group policy" or "gpedit.msc" in the search box and open it.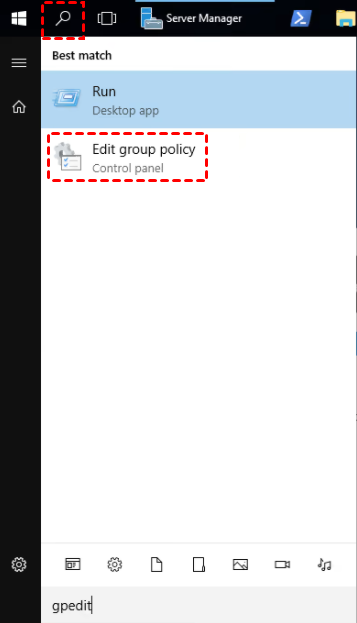 Step 2. Navigate to: Computer Configuration > Administrative Templates > Windows Components > Remote Desktop Services > Remote Desktop Session Host > Connections.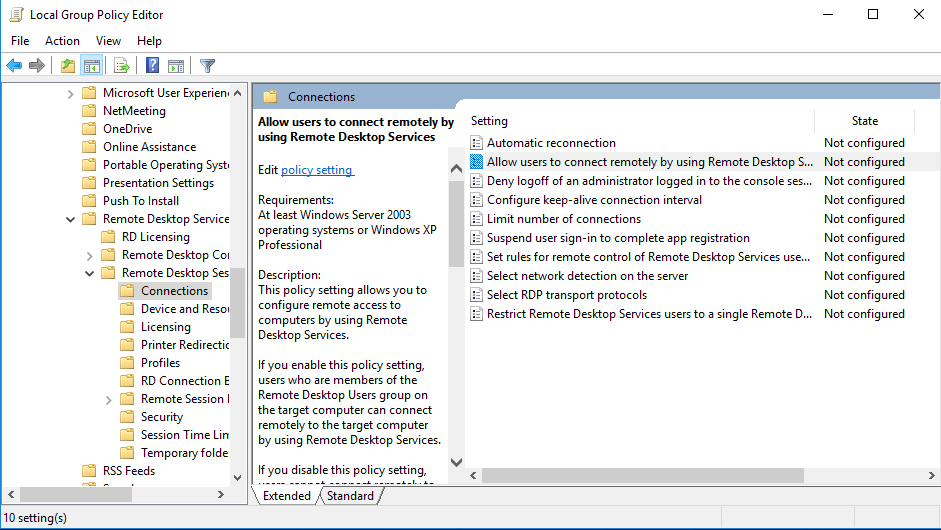 Step 3. Double-click Restrict Remote Desktop Services users to a single Remote Desktop Services session on the right pane.
Step 4. Tick Disabled to allow simultaneous remote connections.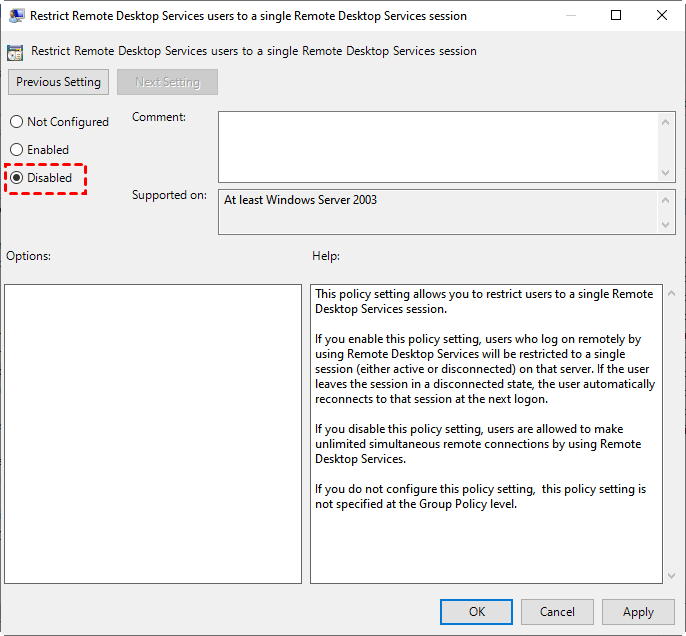 Step 5. Back to the Connections interface and double-click Limit number of connections to set the limit number of connections.
Step 6. Tick Enabled and enter the number of maximum connections based on your need.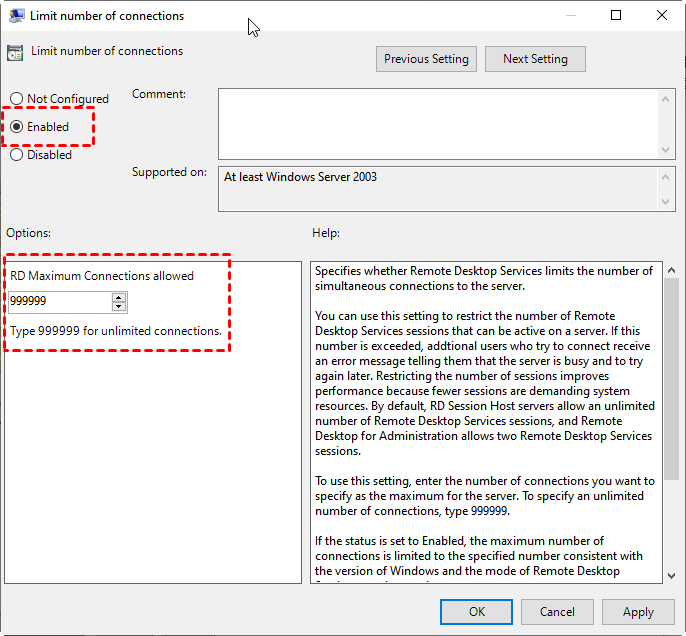 Step 7. Restart the computer to apply the settings and then you can allow multiple Remote Desktop connections Server 2019/2022.
AnyViewer: The easiest way to achieve multiple remote connections
It's not an easy task to enable multiple RDP sessions, for example, only 2 devices are allowed for free multiple connections at once, and sometimes you may face the error "the license server is not available," etc.
Due to the limitations, we recommend you a third-party remote desktop software AnyViewer to achieve multiple remote connections for the following reasons:
Easy-to-use. Compared with Microsoft Remote Desktop, AnyViewer is much easier to set up and it has more simple operations.
Compatible. It supports several operating systems, including Windows Server 2022/2019/2016/2012 R2.
Efficient. It ensures your stable connection that is supported by a strong technical team.
Multi-function. In addition to multiple connections, you can use AnyViewer to transfer files from PC to PC directly, and you can get attended remote access to several devices with the functionalities of sharing screen, playing computer games, or managing another computer remotely whenever you want.
User-friendly. It offers a chat box for text communication and it won't lock the host PC during connection.
After download and installation on all the devices, follow the next steps to establish multiple remote connections via AnyViewer.
Step 1. On the host PC, go to Log in interface and click Sign up to create a new AnyViewer account (you can log in directly if you have already signed up.)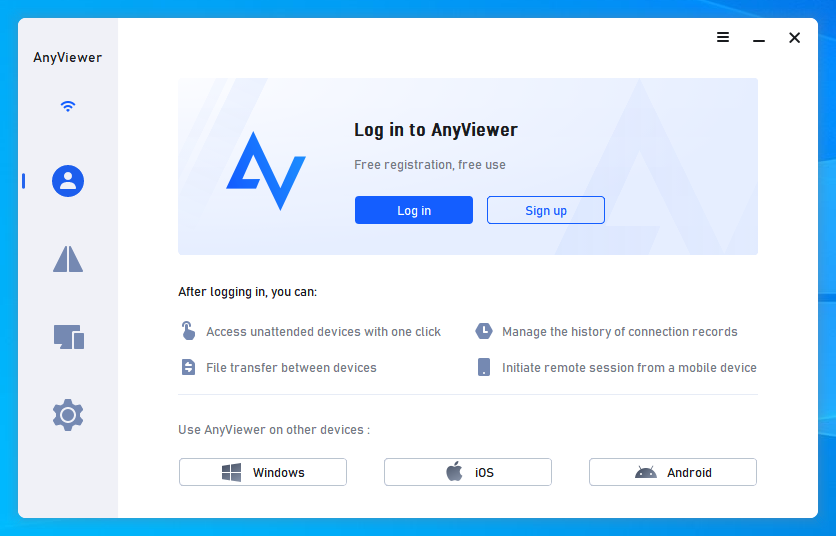 Step 2. Fill in the sign up information.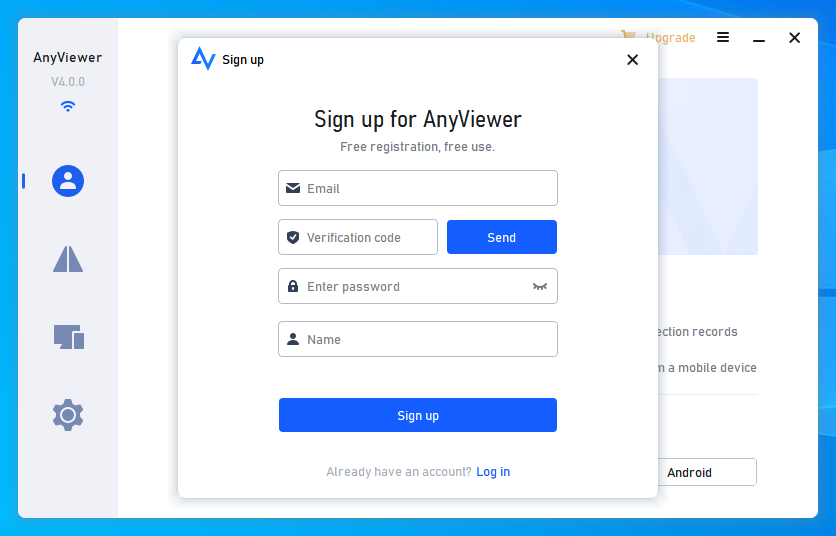 Step 3. When you successfully logged in to AnyViewer, you can see a list of devices are automatically assigned to the account you've logged in to.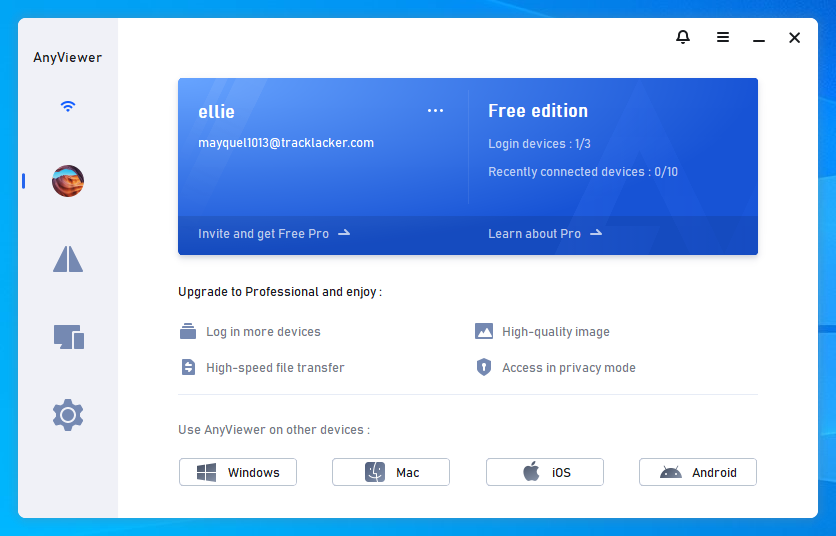 Step 4. Log in to the same host account on the client PCs and click the Device interface to view the devices that have been assigned to the account. The two client PCs can simultaneously gain unattended remote access to the device by selecting the one you want to connect to and clicking One-click control.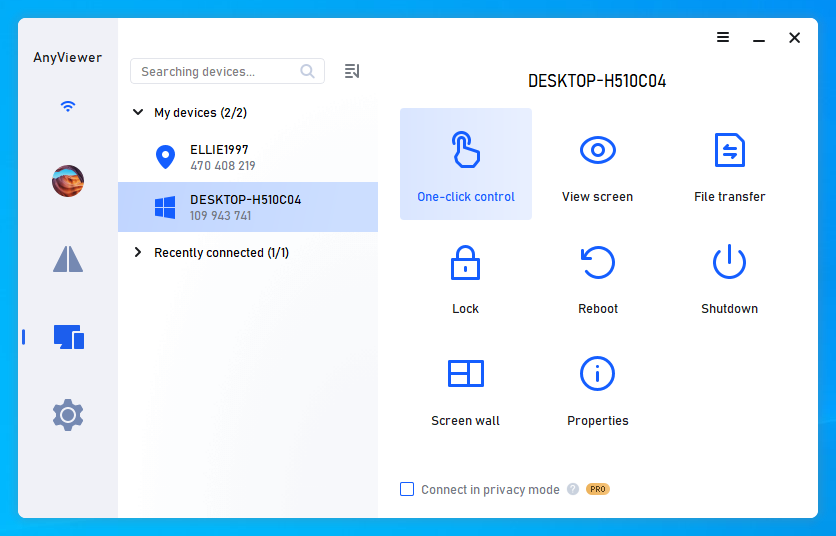 ✍Notes:

You can also upgrade to a Professional or Enterprise plan then the following rights will thereafter be yours:

Assign more devices to achieve multiple remote connections.
Enjoy more concurrent connections. Only 2 channels are allowed for free and professional use. Therefore, we recommend you to upgrade to enterprise version to have 10 channels.
Connect to other devices in privacy mode to protect your data and privacy during the connection.
Transfer unlimited files at once at a higher speed up to 10 MB/s.
Conclusion
This post introduces how to allow multiple Remote Desktop connections Server 2019/2022, however, it is obvious that it is complicated and unreliable to establish multi remote connections via Microsoft Remote Desktop. In this case, you can try AnyViewer to enjoy the easiest way to achieve multi connections.