What are VNC and RDP?
Sometimes we need to access a computer from afar for many reasons, for example, retrieve work files and documents or provide remote support to colleagues. Luckily, these could all be possible with the help of remote desktop tools. When it comes to remote desktop tools, there are two options for you, VNC and RDP. Before comparing VNC vs RDP, let's learn what VNC and RDP are.
What is VNC?
VNC (Virtual Network Computing) is a cross-platform screen sharing system that was created to remotely control another computer. It uses the open remote framebuffer (RFB) protocol to access other devices remotely and can be used across Mac, Windows, Linux, Raspberry Pi, and other platforms. Once installed VNC on both the client and the server, the client can see the screen and control the keyboard and mouse of the server from a distance.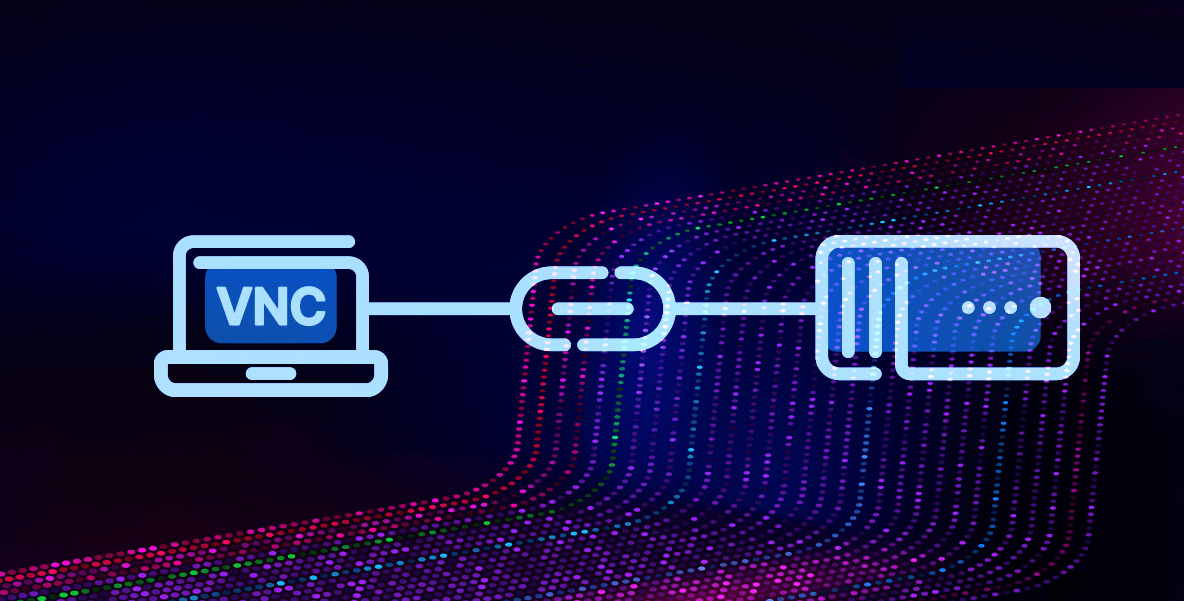 What is RDP?
RDP (Remote Desktop Protocol) is a pre-installed remote desktop program that is specific to Microsoft Windows and very commonly found on PCs. It creates a graphical interface that connects two computers or devices to enable remote access and remote support. As a Microsoft proprietary protocol, the RDP server works only with Windows systems, while the client is available for other operating systems.

What are the similarities and differences between VNC and RDP?
If you are weighing these two options, Here's a comparison of VNC vs RDP, including their similarities and differences.
VNC vs RDP: Similarities
Both as remote desktop tools, VNC and RDP have a lot of things in common:
The purpose. Both RDP and VNC are graphical access programs that allow users to see the screen of a remote computer and control the distant machine's keyboard and mouse from a local computer.
Peer-to-peer networking. Direct peer-to-peer communication is used in both technologies. It means that the local user computer can communicate with the remote computer directly.
Client and server side software. To enable communication protocols, both RDP and VNC technologies require client and server software. .
Pre-installed software. RDP and VNC are both pre-installed on some platforms, making them quicker to set up. Almost all versions of Windows, for example, come with an RDP server pre-installed. In addition, several Linux distributions come with a VNC server pre-installed.
VNC vs RDP: Differences
VNC and RDP also have lots of differences:
VNC vs RDP screen sharing feature. VNC supports screen sharing. It is an ideal solution for handholding sessions, such as educational demos, remote customer support, etc. However, users with RDP won't be able to share screens as the screen automatically locks when connection succeeds.
VNC vs RDP platforms. VNC servers work on a variety of platforms, allowing you to share screens and keyboards between Windows, Mac, Linux, and Raspberry Pi devices. RDP server is proprietary and only works with one operating system.
VNC vs RDP performance. RDP provides a better and faster remote connection. The reason for this is that RDP has a limited set of instructions, which means it uses less bandwidth than VNC when transferring pixels. RDP, in the end, improves network efficiency. But you can also make VNC faster through some ways.
VNC vs RDP security. RDP employs Secure Sockets Layer/Transport Layer Security (SSL/TLS). While prior versions were vulnerable to man-in-the-middle attacks, RDP's security is improved with each version. While some VNC software employs Secure Shell (SSH), which is less secure. And VNC also provides users with full access to connect to remote devices.
Alternative to VNC and RDP
When it comes to remote desktop tools, there are many options available. But the point is how to find a fast, stable, and secure remote desktop tool to avoid sudden breakdowns or malware attacks during remote sessions.
As an alternative to VNC and RDP, AnyViewer uses Elliptic Curve Cryptography (ECC) encryption, which is one of the most powerful cryptography, to protect your data safety. Developed by a strong technical team, it also provides you with a fast and stable connection for connecting to single or more remote computers simultaneously.
Step 1. Download, install, and launch AnyViewer on both computers.
Note: AnyViewer also has an iOS version, you are also able to remotely control your PC from your iPhone or iPad.
Step 2. Go to Log in, and then click Sign up. (If you already have signed up on its official website, you can log in directly.)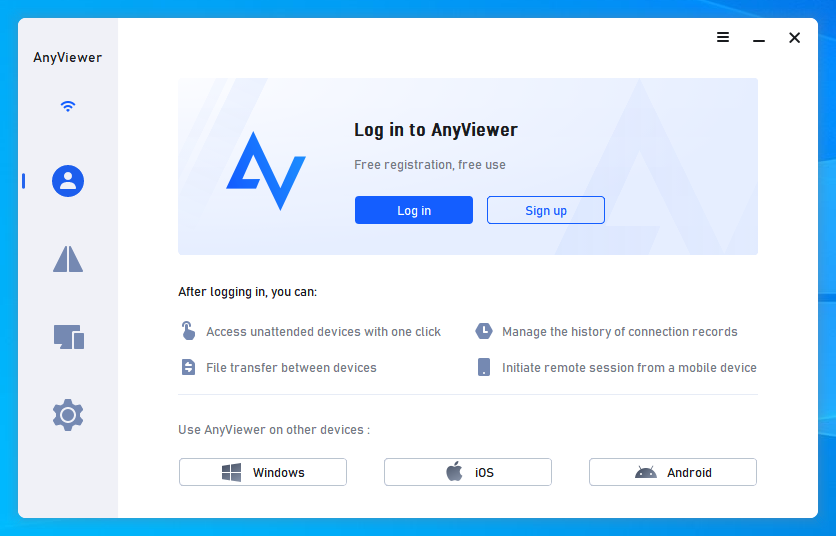 Step 3. Fill in the signup information.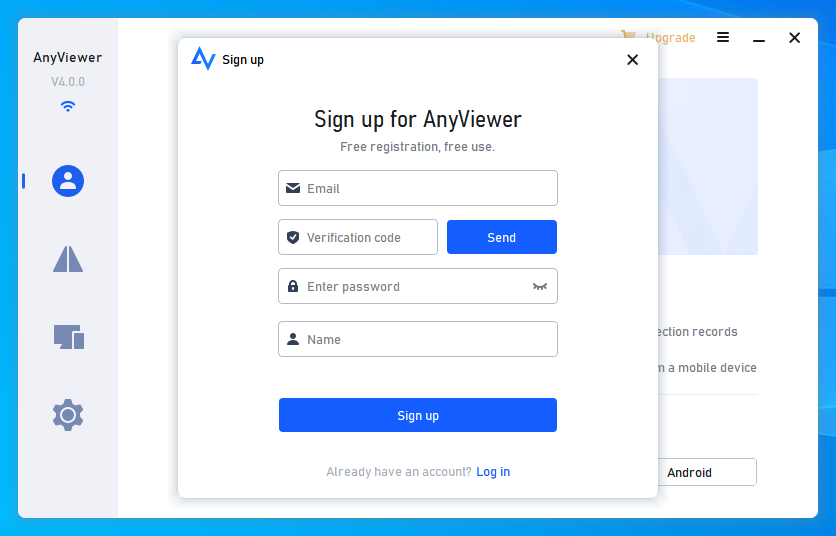 Step 4. Then you can see you successfully logged in to AnyViewer. Your device will automatically be assigned to the account you've logged in to.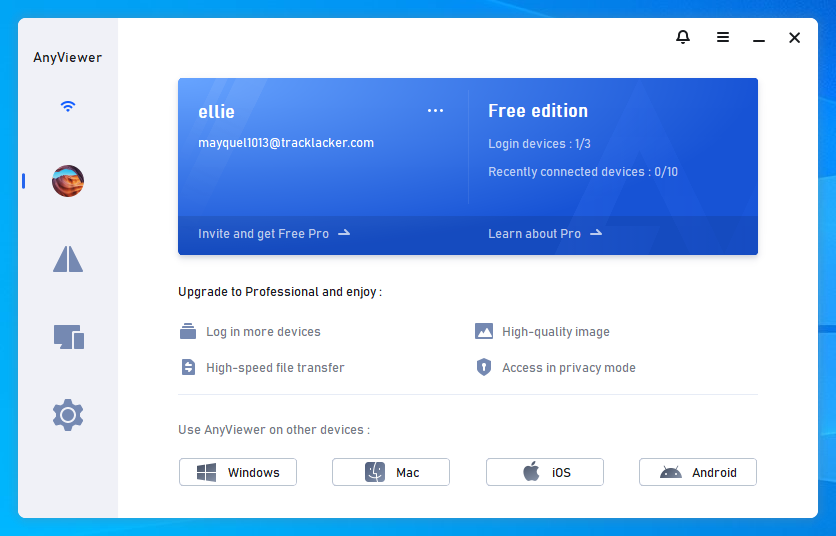 Step 5. Log in to the same AnyViewer account on the two devices, then click One-click control to achieve unattended remote access.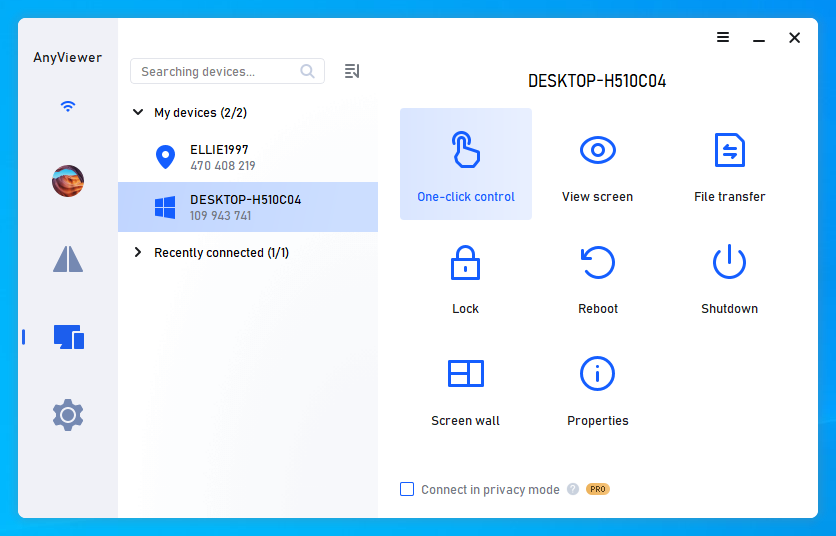 Note:
If you want to assign more devices to achieve unattended remote access, then you can upgrade your account to a Professional or Enterprise plan.
Also, you can connect to another computer in privacy mode, which means you can black the screen and block the mouse and keyboard of the remote computer.
In addition, AnyViewer also provides you with screen sharing feature, which is not supported by RDP.
Of course, you are also free to not sign up for AnyViewer if you're just trying to remotely access others' computers for once. You can send a control request to your partners and ask for their permissions, or input a security code to achieve a direct connection.
Conclusion
VNC vs RDP, which is the best remote desktop tool? There's no exact answer. You'll have different answers from different perspectives. For example, the VNC server supports more platforms than the RDP server, while RDP provides a faster remote connection than VNC. You can also use AnyViewer, which is the finest alternative to VNC and RDP if you need remote desktop technology other than VNC and RDP.