VNC on Windwos is very slow
Hello all, We have been using TightVNC and LanSchool to log in to our computers to work on systems remotely for our teachers and have had problems with the remote connection 'blacking out' after just a few seconds. This is extremely annoying and is happening on most of our computers. Why is VNC very slow on Windows? Any suggestions on how to make it faster?"
- Question from Reddit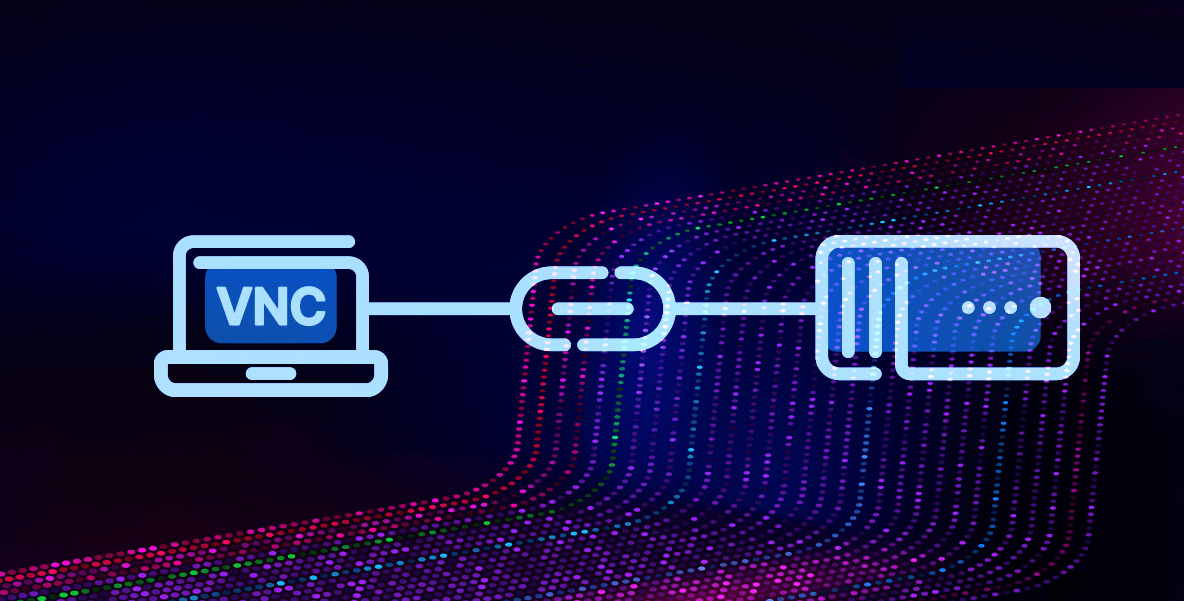 Why is VNC so slow?
You may wonder why VNC is slow. VNC operates by capturing multiple screenshots from the VNC Server, compressing them, and transmitting them across the network to the VNC Viewer. It's important to note that VNC's data transfer method differs from streaming video. Video streaming generally involves transmitting pre-compressed video streams over the network, often using the H.264 encoding for HD streams.
With VNC, your host computer must capture screenshots, compress them, and then send them over the network. However, this approach comes with several limitations:
CPU demands with strong compression: Utilizing robust compression puts a considerable load on your CPU. For instance, encoding a 90-minute high-quality movie in H.264 could take more than 4 hours on hardware like the Athlon X2 4450e server. This level of compression isn't well-suited for real-time applications like remote control due to the processing demands.
Network bandwidth and compression balance: Opting for weaker compression requires more network bandwidth. This could pose problems on low-bandwidth connections, such as the Internet, where a compromise between compression strength and bandwidth availability is essential.
These limitations contribute to the perceived sluggishness of VNC.
How to VNC very slow [4 ways]
Discover four tried-and-true methods to address the issue of VNC very slow. If you're eager to boost the speed of VNC, continue reading for valuable insights.
Solution 1. Change the encoding options on the local PC
It is said that changing the encoding options to "Tight" when the PC is working over constrained bandwidths will make the VNC faster.
Step 1. Open VNC and then locate "Connection Options".
Step 2. Under the "Format and Encodings" tab, change the Preferred encoding to "Tight". Click on "OK" to apply.
Note: If the VNC Server is on your LAN, we recommend you to use "Raw", which may be better and faster.
Solution 2. Turn on JPEG compression on both 2 PCs
When you use VNC, the host PC has to take screen snapshots and compress them, which needs a lot of CPU power so that the VNC is slow. According to some users, the "VNC very slow" can be fixed by using JPEG compression.
Step 1. Open VNC and then find or directly enter the IP address of the host PC.
Step 2. Tick "Use JPEG Compression" and then select "Connect".
Step 3. Now the connection can be faster
Solution 3. Change the resolution settings on both PCs
To a large degree, the higher the resolution the more bandwidth and CPU power needed to send updates. For this reason, changing the resolution of VNC on the two PCs can speed up the VNC.
Step 1. Go to VNC, and then find "Display Preferences".
Step 2. Change the "Resolution" to the lowest. And then click on "Apply".
Solution 4. Disable scaling and adapt to network speed
It's recommended to change the scaling to "No scaling"; then the CPU power will have more space to improve your remote connections, which means the speed of VNC will be highlighted.
Step 1. Go to VNC and choose Options.
Step 2. Under Scaling, tick "No scaling" and then choose "Adapt to network speed". Click on "OK" to apply the settings.
A fast & free VNC-based remote desktop software: AnyViewer
After trying the solutions above, is your VNC still very slow? According to the feedback of some users, they found that VNC is still laggy even though they take much effort into fixing it. Here, we recommend using a free yet fast VNC-based remote desktop software - AnyViewer.
AnyViewer has the following advantages:
Free. AnyViewer provides completely free services for individuals and businesses.
Easy to use. Compared to VNC, the operation and installation of AnyViewer are easier and more time-saving. Its unattended access even enables one click connection.
Fast & stable. The fast connection speed and high responsiveness of AnyViewer on both two PCs will guarantee the best feelings for the users.
Safe. AnyViewer is secured by Elliptic Curve Cryptography (ECC) end-to-end encryption.
Compatible. AnyViewer is workable for Windows, iOS, and Android, which means it supports PC-to-PC, iOS-to-PC, and Android-to-PC remote access.
Feature-rich. It addition to remote control, AnyViewer also supports file transfer, screen sharing, remote reboot, etc.
Click on the Download button to get AnyViewer.
Step 1. Install and launch AnyViewer on both computers. Go to Log in, and then click Sign up. (If you already have signed up on its official website, you can log in directly. Fill in the signup information to create an AnyViewer account.
Step 2. Then you can see you successfully logged in to AnyViewer. Your device will automatically be assigned to the account you've logged in to.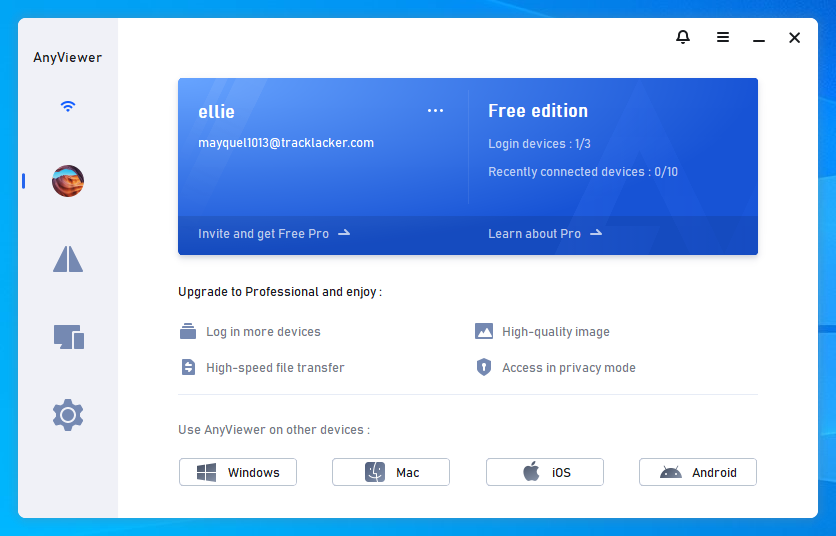 Step 3. Log in to the same AnyViewer account on the two devices; then you can achieve a direct connection by clicking One-click control.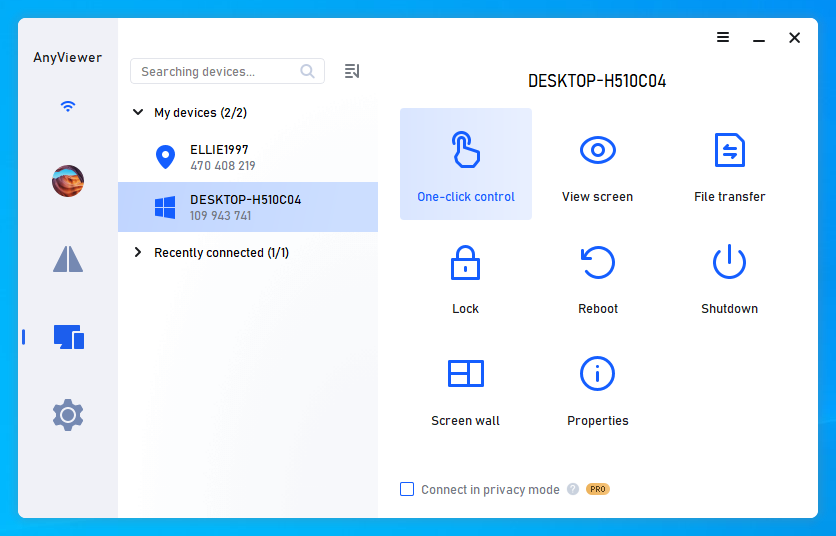 After successfully connecting to another computer, you can enjoy a fast connection, and it's available to remotely view files, access programs, open browsers, etc. Besides, AnyViewer also allows you to remotely access multiple computers simultaneously without any lag and delay.
★Tips

It is recommended to upgrade to a Professional or Enterprise plan, boasting:

Increased unattended access device management.
Simultaneous handling of multiple remote sessions.
Seamless file transfers.
Integrated privacy mode for heightened security.
...
Conclusion
Are you still encountering "VNC very slow" on Windows 10, 11, 8, and 7...? By changing some settings in light of the solutions above, such as changing the encoding options and resolution, the performance of VNC should be improved. But if you are still running into "VNC very slow" when you start your remote session, I think AnyViewer is the best one that is suitable for you.
FAQs
Q: Is RDP safer than VNC?
A: RDP vs. VNC, RDP is more secure than VNC as VNC doesn't encrypt the entire session.
Q: Why is VNC slower than RDP?
A: RDP uses Windows' drawing graphic primitives, while VNC is a raster/pixel protocol. The data through VNC is transferred across the network in what is essentially called an image exchange, which makes VNC slower than RDP.
Q: What is faster than VNC?
A: RDP is typically faster than VNC.
Q: Does VNC use a lot of bandwidth?
A: Yes. VNC needs more bandwidth than RDP as it's oriented at duplicating the pixels of the remote display.