VNC Viewer connection problem: Too many security failures
After attempting a few connections to a RealVNC Server, I get an 'Authentication Failure - Too many security failures'. Why does this occur, and how can I fix it?"
- Question from Reddit
What causes VNC "Too many security failures"?
VNC "Too many security failures" happens to VNC Viewers of TightVNC, TigerVNC, RealVNC, etc. It indicates that the IP address from which you are connecting has been making lots of connections to the VNC Server that didn't end up being successfully authenticated.
The problem is caused by the VNC built-in blacklist policy. This security feature is designed to prevent DOS and Brute Force attacks on servers by preventing machines from making large numbers of connections to a server over a short period.
The error message is triggered by five failed authentication attempts, at which point a 10-second lockout is applied before the next attempt is permitted. The next failed attempt causes the timeout to be doubled.
How to fix VNC "Too many security failures"
Don't worry. Here is a tested solution to fix "Too many security failures" on VNC. Follow the steps below.
Step 1. Find VNC Server on the toolbar, right-click it, and choose Options.
Step 2. Go to Expert, and set the BlacklistThreshold and BlacklistTimeout values to the minimum.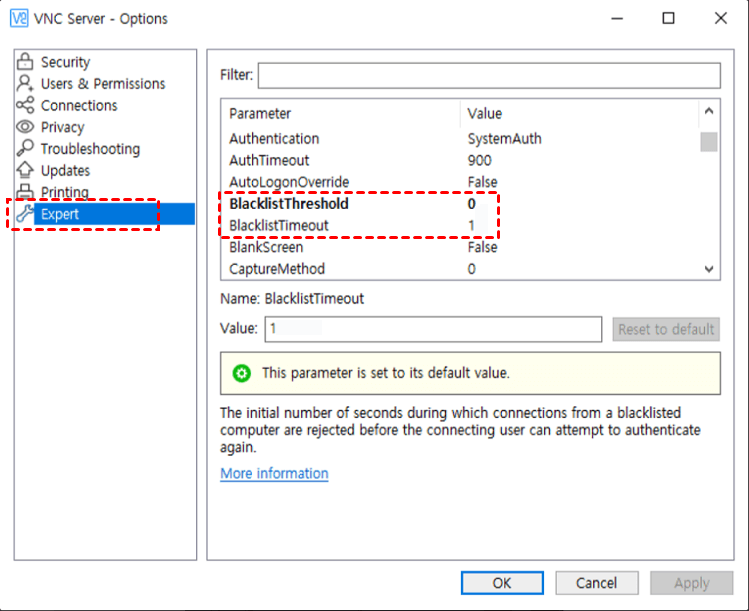 Step 3. The problem will still exist if the user does not have connection permissions. Therefore, go to Users & Permissions, and click Add.

Step 4. Users and groups can be selected using the Object Picker UI.
Step 5. Once the user has been added, permissions can be set for that user/group, and users should now be able to authenticate successfully.
Bonus tip: Free & safe VNC alternative - AnyViewer
It is recommended to try a VNC alternative. AnyViewer is highly suggested. It is a free remote desktop program providing safe and stable remote access services for Windows, iOS, and Android. AnyViewer keeps all your data secure with end-to-end encryption via strong 256-Bit Elliptic Curve Cryptography (ECC) algorithm. Besides, it also offers many practical features:
Unattended remote access. It allows you to connect to an unattended device with one click.
File transfer. It allows file transfer between devices.
Multiple sessions. It supports multiple concurrent remote sessions.
Instant chat. It allows text chat between devices.
…
AnyViewer is relatively easy to install and use. There will be no connection failures if properly configured with the following steps.
Step 1. Launch AnyViewer after downloading it to both machines. Go to Sign up and then Log in on the Controller computer (you can log in directly if you have previously registered on the website).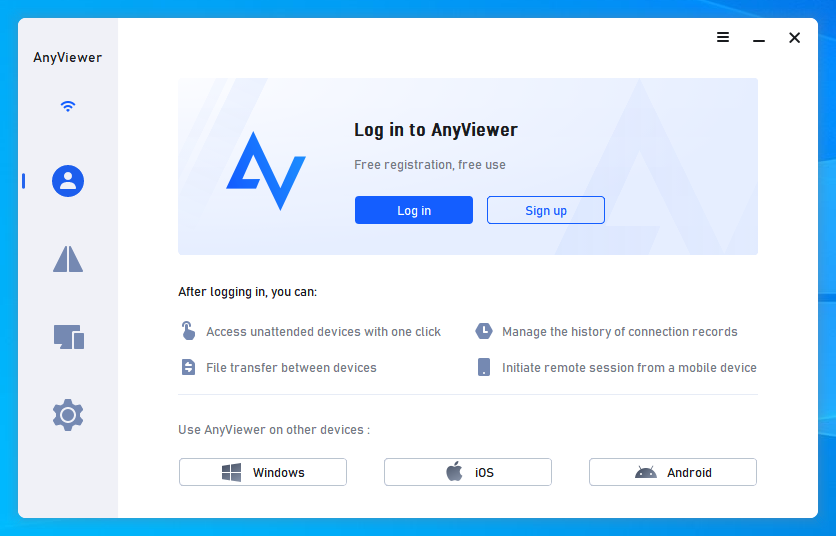 Step 2. Fill in the signup information.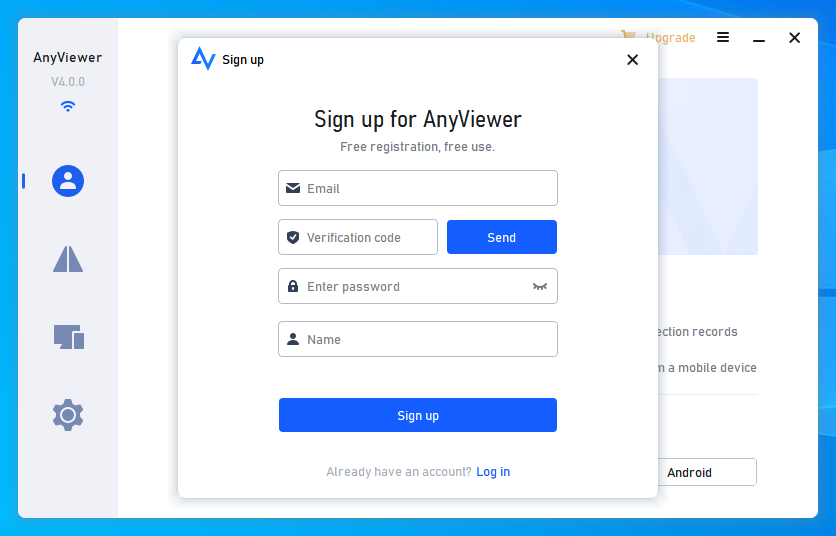 Step 3. The account you've logged in to will be automatically assigned to your device.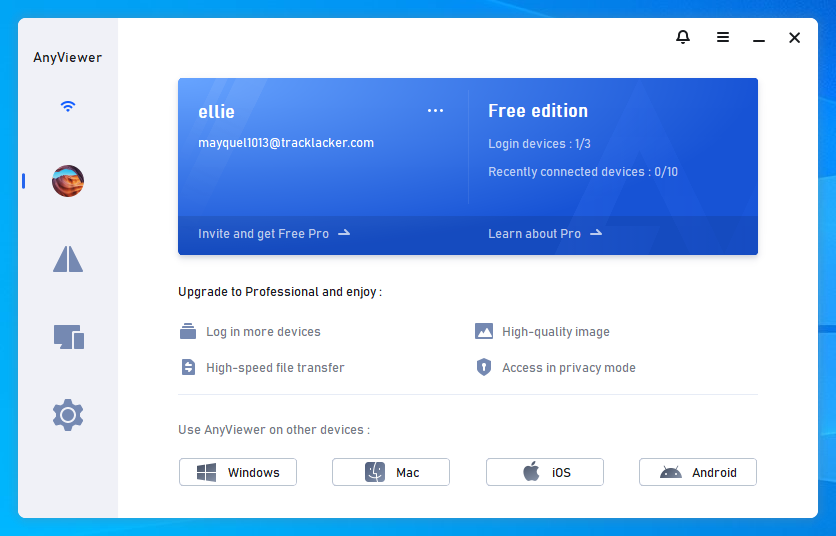 Step 4. A direct connection can be established by selecting One-click control.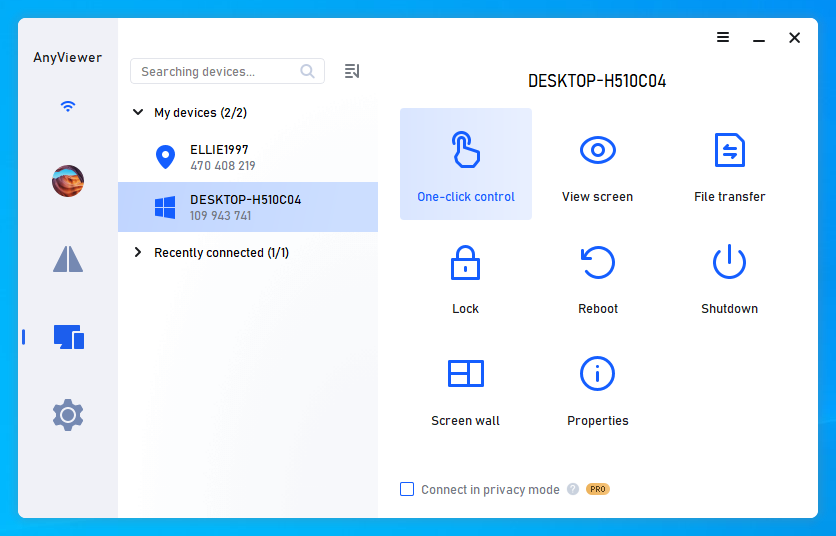 Notes:✎...

Additionally, it is recommended to change your account's plan to a Professional or Enterprise one. What a business or professional plan can provide for you is:

More devices will be allowed to assign to the same account for unattended remote access.
More connection channels for more devices to be able to start remote connection at the same time.
One device can connect to more devices simultaneously.
Black the remote PC screen and disable the remote keyboard & mouse click to protect privacy.
Transfer 1TB files at 10 MB/s.
The bottom line
This post provides a tested way to fix VNC "Too many security failures" issue caused by the VNC built-in blacklist policy. It is easier to resolve the error after knowing its reason. If you strictly follow the solution steps, this problem will be solved.
If the problem still exists, you are recommended to use the VNC alternative, AnyViewer. It is an error-free remote desktop tool. Try it right now.