What is remote access?
Remote access refers to the ability to use another device or computer from a local device, at any time, andfrom anywhere. When you have remote access software installed on your computer, you can remotely access it from another device and use all of its files and programs just as you were sitting in front of it.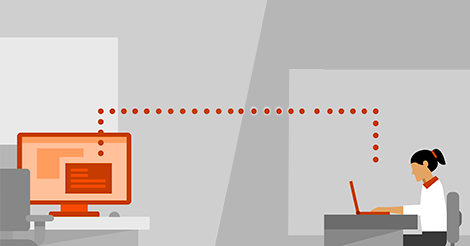 Remote access advantages and disadvantages
Nowadays, most businesses, including both huge corporations and small enterprises, consider remote access as a wonderful choice. Since remote access for business, education, and other fields has such a big impact, it also has certain drawbacks. We will discuss the advantages and disadvantages of remote access in this section.
Advantages of remote access
The following are the primary advantages of remote access.
►Flexibility
The first and perhaps most important benefit of remote access is flexibility and ease. For example, whenever you have teamwork, your team can stay connected from the comfort of their own homes, meaning tasks can continue being accomplished without missing a beat.
Besides, remote access offers more flexible working hours for employees, which can be a godsend to those who are night owls, or to those who have small children. This freedom is invaluable for companies looking to stretch their working hours with a limited staff.
►Shared resources, greater efficiency, and collaboration
Remote access is also changing the way people work, as well as their overall productivity and job satisfaction.
On a network, team members will develop accustomed to how simple it is to exchange and transfer information, making cooperation easier and more fluid than ever. Many professionals report that working from home, on their preferred devices, in a pleasant environment, increases their productivity and job happiness.
Even if they are working at the same place, they will still benefit from the advantages of having a remote access net work to simply share all the resources on the network and keep the tasks going.
►Cost savings
Remote access can save many expenses as well. Take businesses as an example, remote teams enable businesses to rent smaller office spaces or even move to a remote, cloud-based operation completely. This saves organizations money on rent, utilities, and other office supplies.
►Universal talent pool
Instead of being limited to a single place, remote access enables organizations to access a larger global talent pool. There are two gains in this situation. On the one hand, it implies that brilliant individuals living in remote areas can obtain prosperous and fulfilling job opportunities. Companies, on the other hand, no longer need to confine their searches to a certain radius to find the proper personnel.
Disadvantages of remote access
While remote access has its advantages, it also has its disadvantages.
►Security risks
Numerous remote desktop tools allow users to control any PC remotely. However, remote access poses a range of security risks. For example, you can infect your partner's network with a virus if your computer has one. Remote access networks are more susceptible to privacy invasion. When you use them, you put the remote computer information at risk of being stolen by hackers. Therefore, it is very necessary to choose a reliable remote access tool.
►Network dependency
Remote access is only as good as your network. You need a stable Internet connection to maintain your workflow. Otherwise, even the slightest downtime can potentially affect your productivity.
►Hardware issues
For businesses that choose to use remote desktop connection software,where your home computer acts as a remote control for your office computer, you can run into the frustrating issue of sudden and unexpected hardware issues on your office computer.
If the office computer freezes up and requires a hard restart, it might be completely impossible to fix this issue remotely. Certain hardware issues will always require on-site solutions, meaning you should always have a Plan B to work around remote desktop connection limitations.
►Complex software and hardware
It's never simple to set up a remote access service, especially if your team lacks any IT experts. There are numerous hardware and software alternatives to consider, and understanding the differences between them is the best approach to create a remote access setup strategy for your team.
Bonus tip: Reliable remote access software for Windows
After learning about remote access advantages and disadvantages, you may wonder how to find reliable remote access software. In this case, AnyViewer could be the best choice for you.
Easy-to-use. It offers an intuitive interface and is dead-simple-set-up, which means a green hand can get started with this tool within no time.
Secure. It is secured by Elliptic Curve Cryptography encryption. Besides, it supports an automatically lock interface when you forget to, and you can enable this feature from settings.
Fast & stable. It offers a fast and stable connection in different networks without any complicated settings.
Multi-function. It also allows you to share screen, transfer files, establish multiple sessions etc.
User-friendly. It supports drag and drop, copy/paste, chat during a remote session. Besides, you can also use several considerable operation shortcuts from the toolbar.
Compatible. It supports Windows, iOS, and Android, which means you can also remote control Windows PC from Android or iOS devices.
Download AnyViewer on both of your devices and let's get started with the following remote access tutorial.
Step 1. On the client computer, click Log in and click Sign up (log in directly if you have already signed up).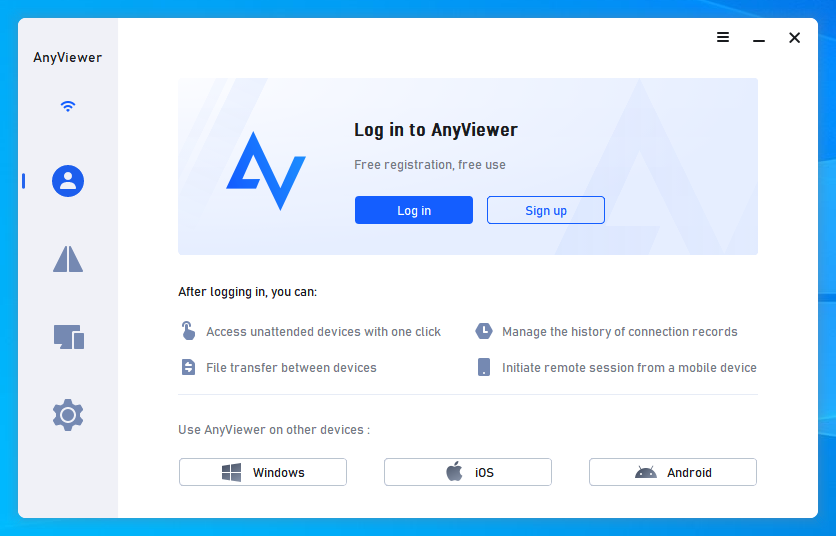 Step 2. Fill in the information.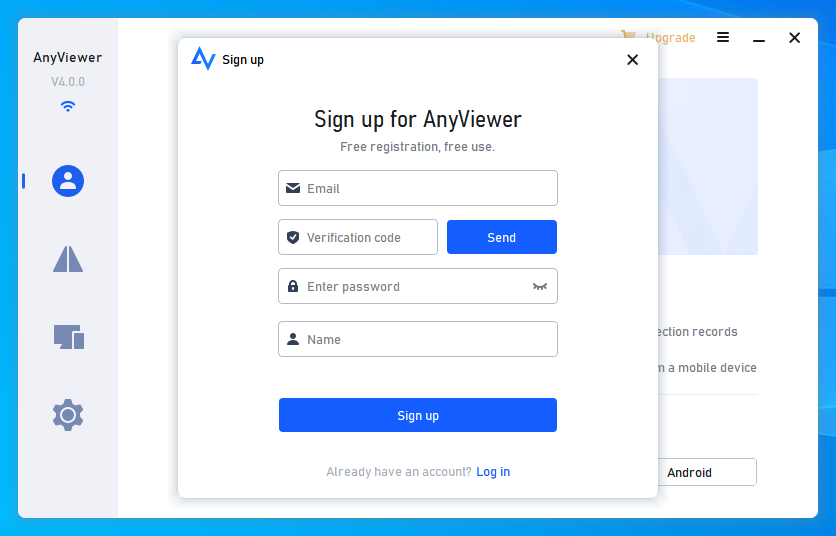 Step 3. When you successfully log in to AnyViewer, you can see your assigned devices.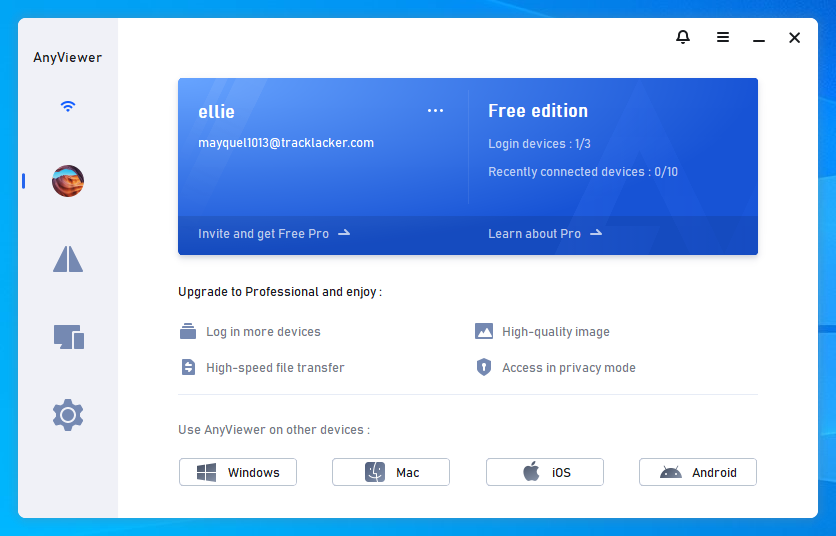 Step 4. Log in to the same account on the host PC, then click One-click control to achieve unattended remote access.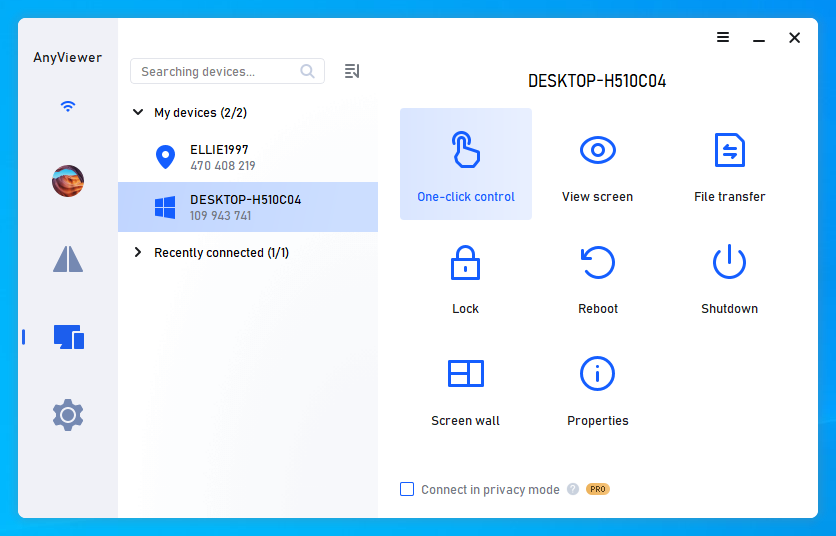 Notes:✎...

Additionally, you can upgrade to a Professional or Enterprise plan, which will grant you the following rights:

Add more devices to establish remote connections.
Enjoy more concurrent connections at once. We advise you to upgrade to the Enterprise accountin order to take use of 10 concurrent connections since only 2 channels are permitted for free and professional use.
Transfer as many files as you want at once at a faster speed of up to 10 MB/s.
Enjoy high quality image during remote sessions.
Wrapping up
This post introduces remote access advantages and disadvantages. With these insights, you can now plan your remote access strategy for your work or something else. And if you are currently looking for remote access tools, be aware of the security levels.