How do I share my Windows screen with another computer?
I have to work together with my team on a few projects, however, it's difficult for us to provide training sessions online because we don't discuss the same progress. Therefore, I believe that continuing the sessions on the same computer screen could be the solution to this issue. Can somebody offer me advice on how to share a screen?"
- Question from Reddit
How to share screen with another computer [4 ways]
Screen sharing between computers and screen sharing between iOS devices and computers are necessary for teamwork. How do I share my screen with another computer? Here in the post, we offer you 4 ways to share screen with another computer. Choose one that fits your needs most.
Way 1. Share screen between PCs without limitations via AnyViewer [recommended]
AnyViewer is a remote desktop software that allows you to share the screen with another computer. It is highly appreciated because of the following reasons:
Easy-to-use.It has easy operations to establish screen sharing without limitations.
Compatible. It supports several operating systems, including Windows computers and iOS devices, allowing you to share screenbetweencomputers andbetweeniOS devices and Windows computers.
Multi-function. In addition to screen sharing, you can transfer files, play computer games, or manage another computer remotely via AnyViewer.
Free & Stable. It is free remote desktop software and is developed by a strong technical team to ensure your stable and fast connection.
User-friendly. It offers a chat box for text communication and it won't lock the remote computer during connection.
After download and installation, follow the next steps to achieve screen sharing via AnyViewer.
Step 1. On the host computer, go to Log in interface on the left pane, and then click Sign up to register a new account (log in directly if you have already signed up).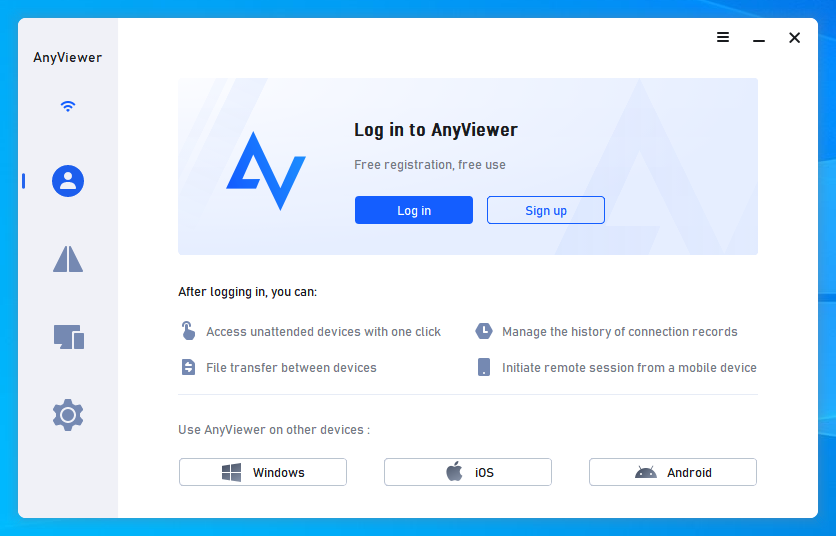 Step 2. Fill in the sign up information.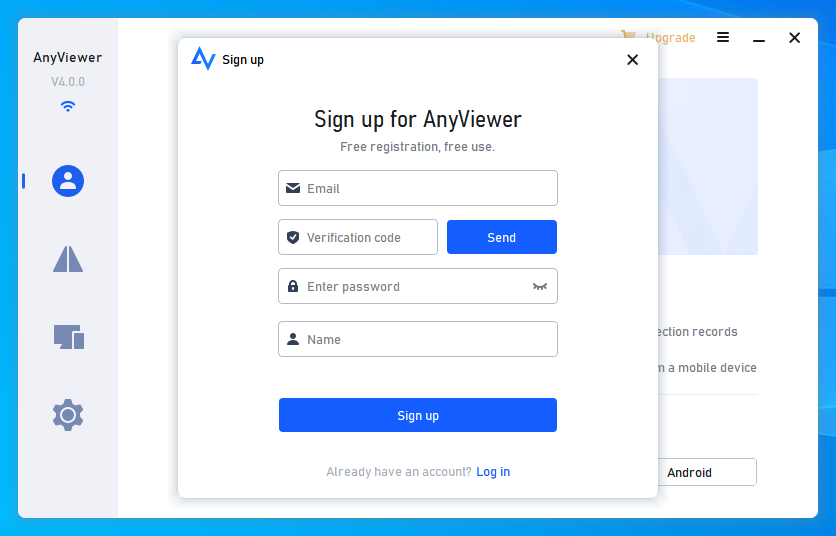 Step 3. When you logged in to AnyViewer successfully, you can see your devices automatically be assigned to the same account you've logged in to.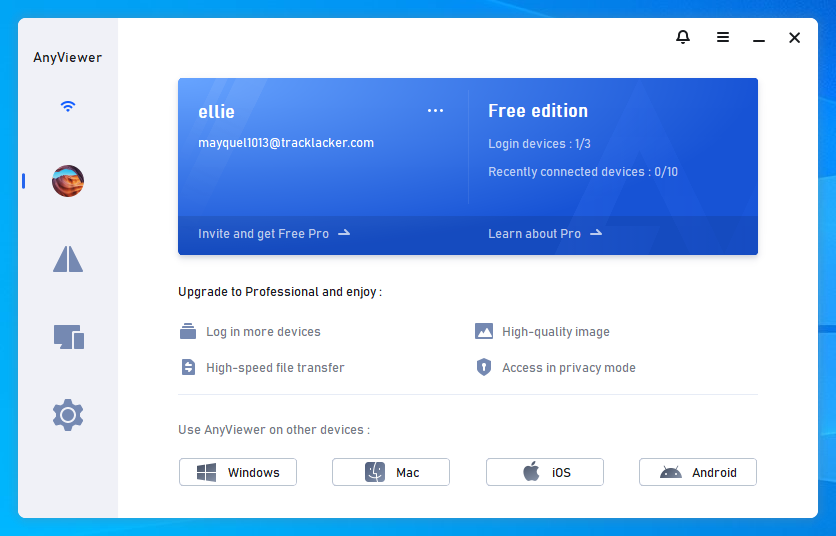 Step 4. Log in to the same account on the devices, and then click One-click control to achieve screen sharing.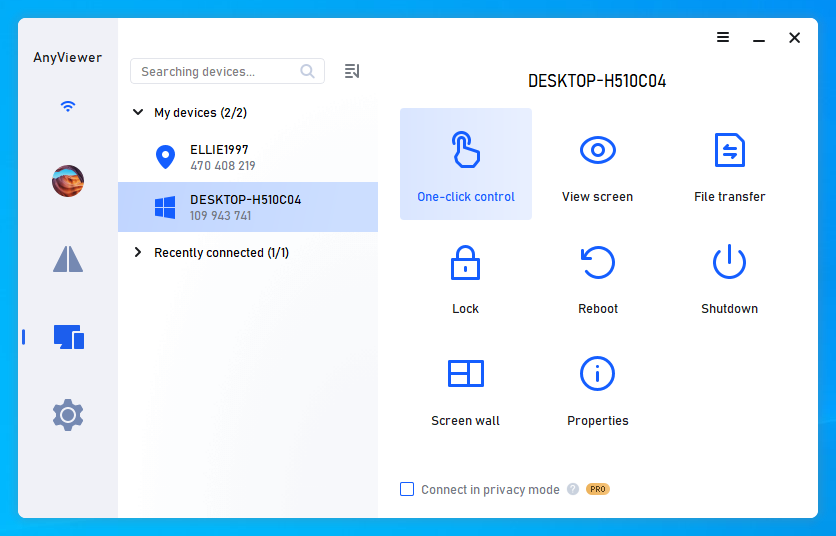 Step 5. Click View the screen to see the screen of the host computer.
You should note that remote control operations are not allowed in View the screen session, but other operations are still available, for example, changing screen resolution, transferring files, etc.
Notes:...

you can also upgrade to a Professional or Enterprise plan then the following rights will thereafter be yours:

Assign more devices to achieve screen sharing.
Connect to the host computer in privacy mode so that you can block the remote device's keyboard and mouse and black its screen to secure your data safety.
Transfer multiple files all at once at a higher speed up to 10 MB/s.
Way 2. Use Chrome Remote Desktop to share screen between devices
Google developed Chrome Remote Desktop, a free remote access tool. Additionally, you can utilize it to share screen with another computer. Before operations, here are some tips you need to know:
Tips:
Chrome Remote Desktop only supports for Google Chrome browser.
Make sure you have a Google account.
Step 1. On both devices, sign in to the same Google Account and open the Chrome Remote Desktop download page. On the host PC, select Remote Support on the left pane and then click the blue download button.
Step 2. Click Add to Chrome to add Chrome Remote Desktop in your Chrome browser.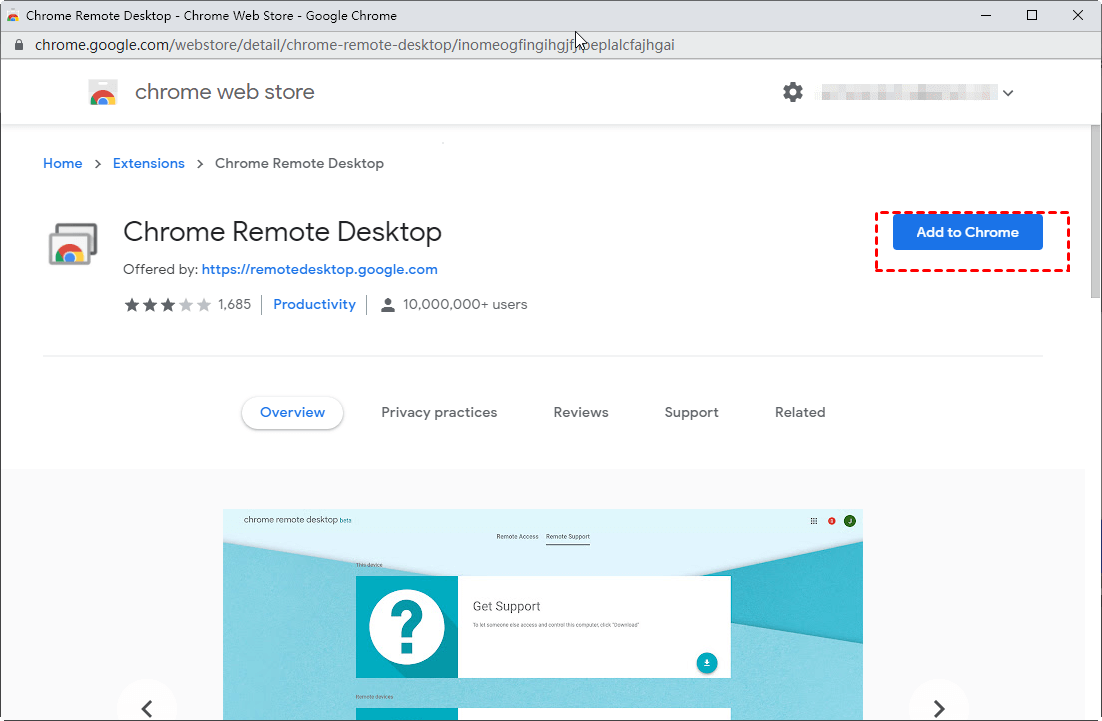 Step 3. Click Add extension in the pop-up window to confirm the download.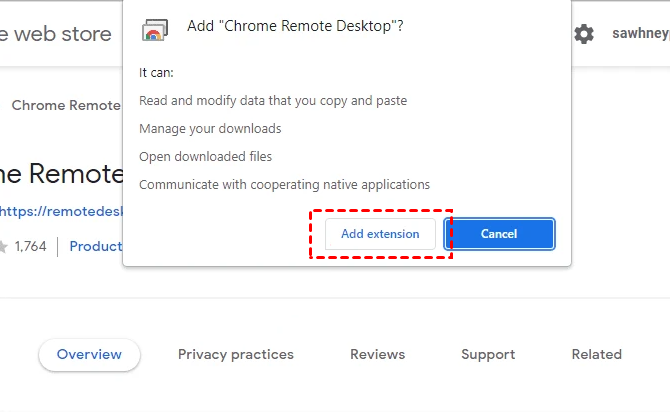 Step 4. After adding the Chrome Remote Desktop extension, click + Generate Code.

Step 5. Send the generate code to the client PC (the code will expire in 5 minutes).

Step 6. On the client computer, enter the access code of the host PC and then click Connect.

Step 7. A request will appear on the host PC and click Share to establish screen sharing.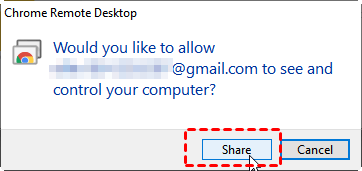 Way 3. Share screen with another PC using Windows Quick Assist
How to share my screen with another computer? Quick Assist can handle this duty. Quick Assist is also a Windows built-in feature that allows screen sharing through a remote connection between PCs. Make sure both your PCs are Windows 10/11 before you start the following operations.
Step 1. On the client PC, type in "Quick Assist" in the search box and open it. Click Assist another person in the main interface.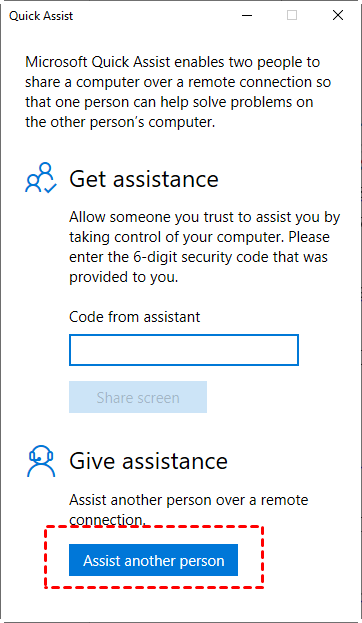 Step 2. To get the share security code, enter your Microsoft account and click Next. And then input the password and click Sign in. Then the security code will appear and it's valid only for 10 minutes.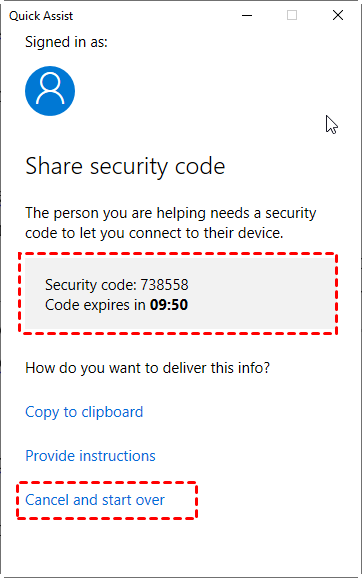 Step 3. On the host PC, open Quick Assist and input the security code, and then click Share screen.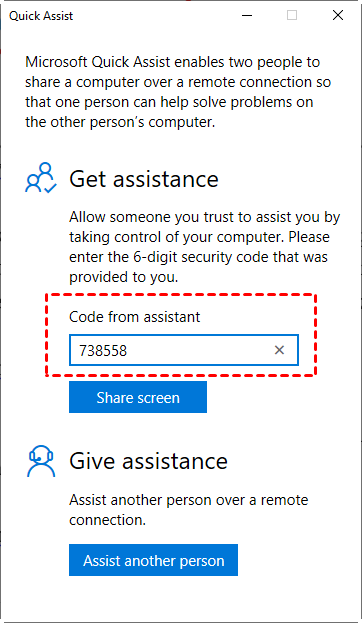 Step 4. Choose Full Control or View Screen based on your own need, and click Continue.
Step 5. Click Allow to share your screen with another computer.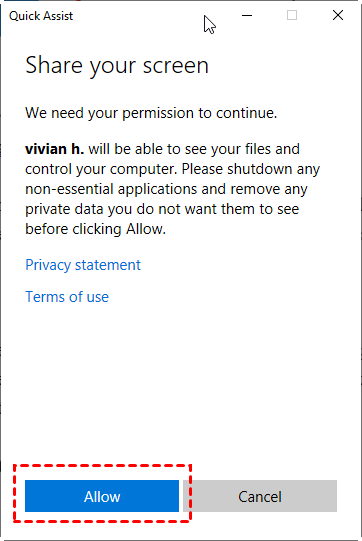 Way 4. Share your screen using WiFi via Windows Miracast
Miracast is a built-in feature available on Windows 10/11. It only allows connection via WiFi and not all the devices support Miracast.
Check whether or not your PC is Miracast compatible
Step 1. Press Win + P to evoke the projection options.
Step 2. If you see an option at the bottom that says "Connect to a wireless display," your PC is Miracast compatible.
Share screen via Miracast
Before using Miracast, make sure both computers are connected to WiFi network.
Step 1. Open the Action center in the right bottom corner of the desktop.
Step 2. Click Connect to see your devices.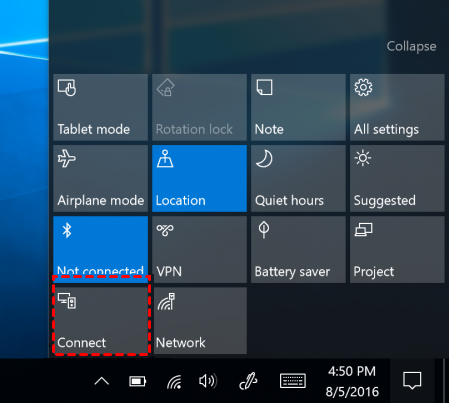 Step 3. Select the receiving device to establish screen sharing and wait for the devices to pair. You need to try again if the connection fails.
Step 4. Tick Allow input if you want to let the receiving computer control your PC.
Step 5. Click Change projection mode to select a mode that fits your needs.
Step 6. Click Disconnect when you want to end your screen sharing.
Conclusion
Now you must have grasped how to share screen with another computer. However, almost every tool has its limitations. For example, Windows versions are limited in using Quick Assist, and Miracast is only allowed with a WiFi network. Therefore, if you are seeking a convenient tool for screen sharing, try AnyViewer.