Can I control my Windows 10 from my Android phone?
I have an Android phone and a windows 10 desktop PC. I will be 500 km away from home for a while. The thing is, I want to be able to browse some stuff on my PC from far away. I want to know how can I can remote control Windows 10 from Android from 500 km away. Any info is appreciated thanks in advance."
- Question from a user
How to remote control Windows 10 from Android [3 methods]
Microsoft allows mobile access to Windows PC via Bluetooth, WiFi, network traffic, Internet connection, etc. We'll explain how to perform Android control Windows 10/11 with a working Internet connection in this post. You may complete any task on your Windows 11/10 PC from your phone using the tools listed below, and you can do it from your home, your car, or even while camping.
Method 1. Microsoft Remote Desktop
RDP allows users to control any PC remotely. In this part, we'll introduce how to control windows PC from Android via RDP.
Pros & Cons
✔Pros:
▷It is a Windows built-in feature, which means you can use it without downloading.
▷It allows for safe and secure access to files and documents.
▷Its client-side support multiple operating systems, including Windows, Mac, Linux, etc.
✘ Cons:
▷It can only be used when the two devices are connected to the same Internet or WiFi.
▷It only supports Windows Pro, Business, or Ultimate versions as the server side.
▷It doesn't allow rebooting the remote computer and it locks the remote screen during the session.
▷It has an unstable connection. The entire remote desktop connection may break down if you don't have a working and reliable network connection.
✍Part 1. Preparation work on Windows PC
Step 1. Enable Remote Desktop on your PC. Press Win + R to invoke the Run dialogue box, type in "sysdm.cpl" and hit OK.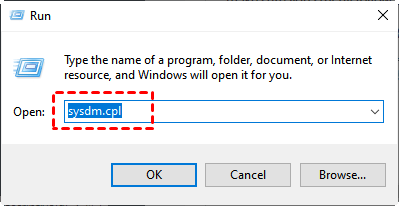 Step 2. Go to the Remote interface, and ensure that "Allow remote connections to this computer" is checked. And then click OK.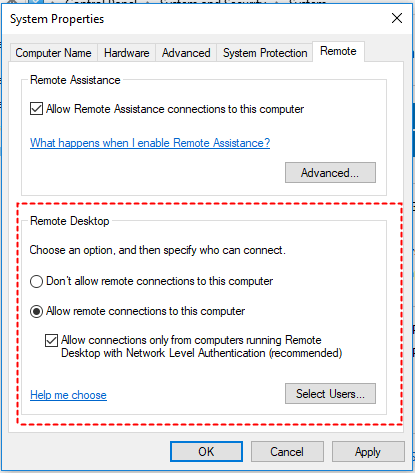 Step 3. Press Win + R, input "cmd" and hit OK to open Command Prompt. Then type in "ipconfig" and press Enter. Now you can see a list of IP addresses, keep in mind the IPv4 Address.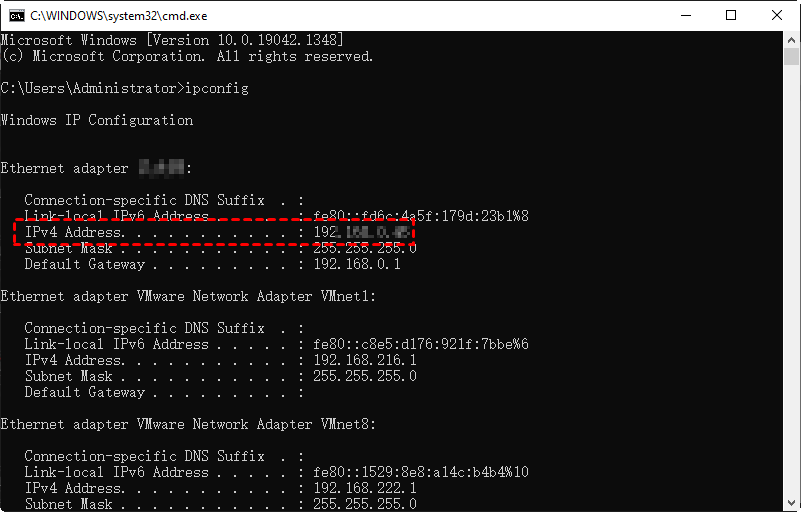 Step 4. Then type "query user" and note down the username.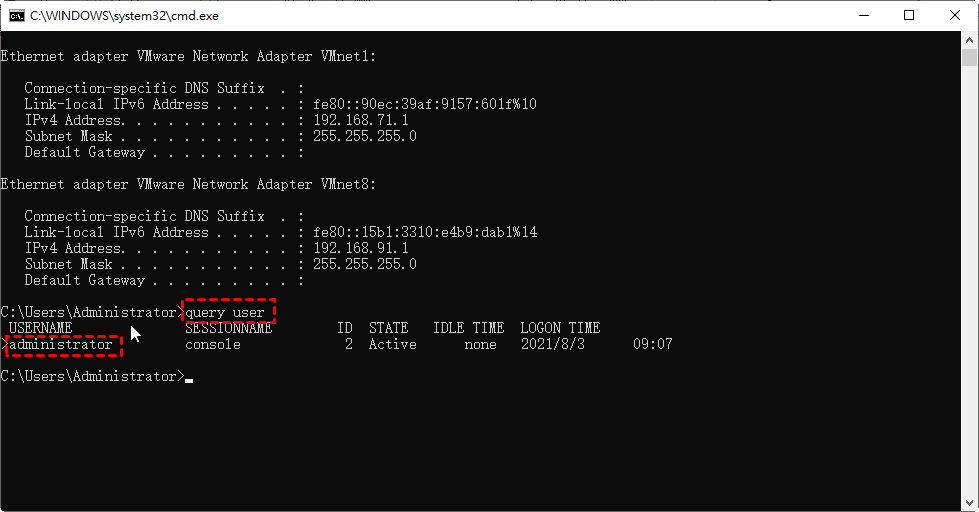 ✍Part 2. Remote control Windows PC from Android
Step 1. On your phone, download, install, and launch the Microsoft Remote Desktop for Android app. Tap the "+" icon and wait for the software to search for connected PCs. If you are unable to locate the target PC from the list, select Add manually. Enter the necessary details, then hit Save.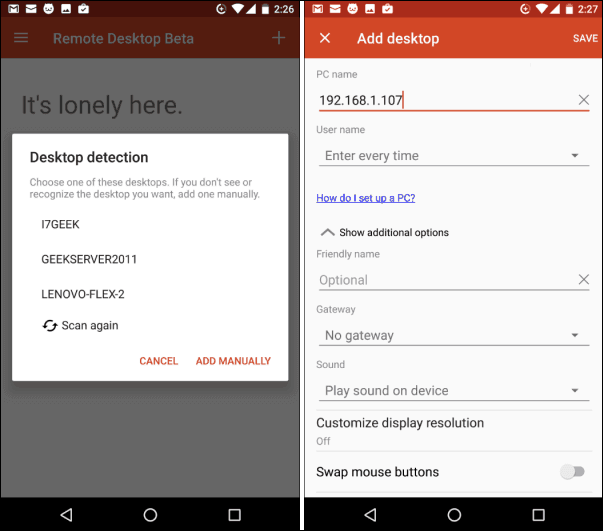 Step 2. After you tap the target device for remote connection, a security dialog will appear. Tick Never ask again for connections to this PC to connect to the PC directly later, and then tap Connect. Type your logon information to achieve the connection.
Step 3. Then you can remote control Windows 10 from Android.
Tips: RDP also supports iOS devices, you can Remote Desktop an iPhone to Windows 10/11.
Method 2. Chrome Remote Desktop
If you have a Google account and a Chrome browser on both of your devices, you can also use Chrome Remote Desktop Android version to control Windows PC from Android.
Pros & Cons
✔Pros:
▷It's quick to set up if you have the Chrome browser installed.
▷It works fine for short-term individual use.
✖ Cons:
▷It only works with the Google Chrome browser, and a Google account is required to use the program.
▷It may cause security issues because it has a dubious safety level and an unknown encryption algorithm.
▷The connection is unstable, and it has limited features. For example, no chat box, no resolution scaling, etc.
✍Part 1. Setup Chrome Remote Desktop extension on computer
Step 1. Launch the Chrome browser and search for the Chrome Remote Desktop website. Click Remote Access on the left panel and click the download button.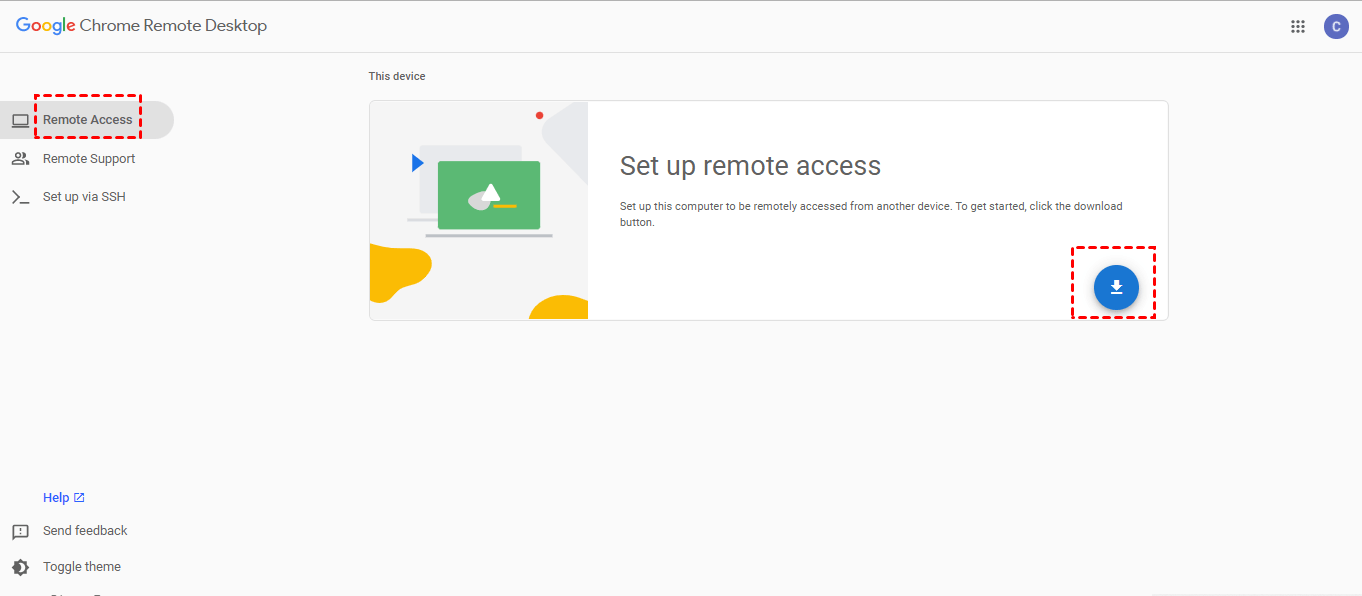 Step 2. Click Add to Chrome to add the Chrome Remote Desktop extension to your Chrome browser.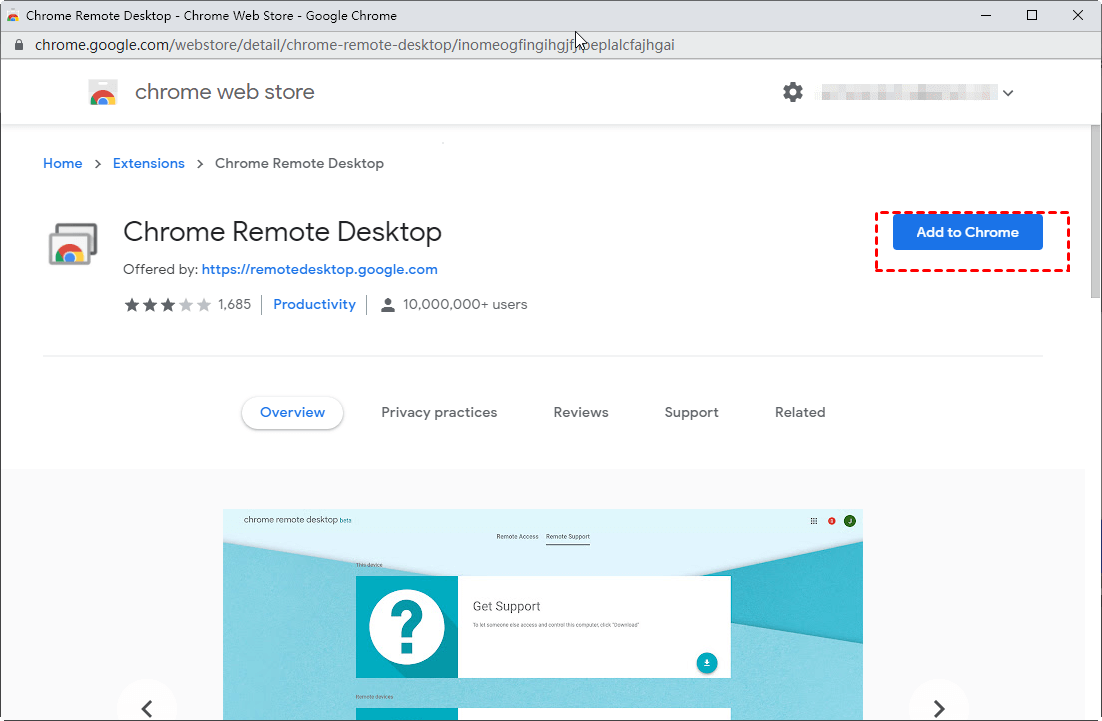 Step 3. Click Accept & Install to install this program.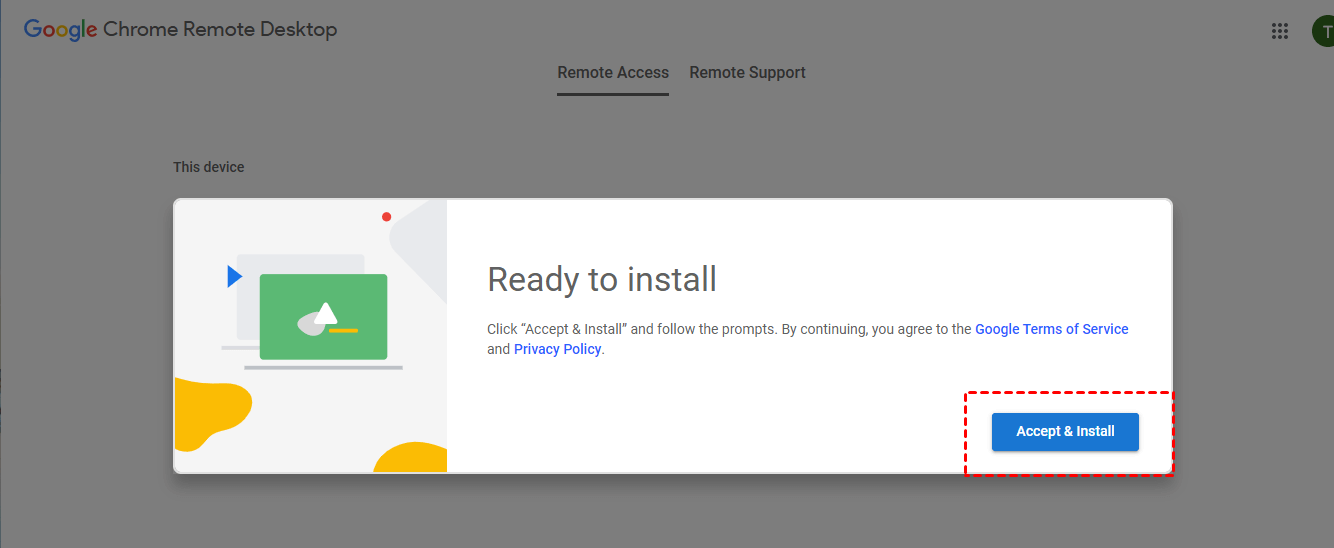 Step 4. Choose a name for your computer and click Next.

Step 5. Enter and re-enter a PIN with six or more digits.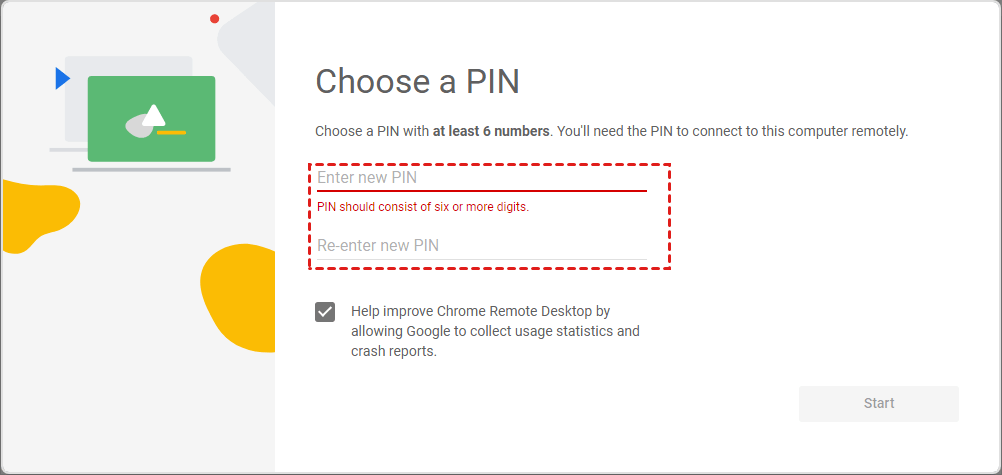 ✍Part 2. Achieve remote connection on Android phone
Step 1. Download the Chrome Remote Desktop Android app, then install and open it.
Step 2. Use the same Google account you logged on to your computer. From the list of computers, tap the target one you want to remote control.

Step 3. Enter the PIN for the remote computer.
Step 4. Now you can control your computer from your Android phone.
Method 3. Free remote desktop software [recommended]
Due to the limitation of the tools mentioned above, many users may seek third-party remote desktop software to have an efficient and secure remote connection. In this case, AnyViewer could be the best choice for you.
✔ Pros & Cons
Pros
▷It supports remote connections in different networks.
▷It is compatible with Windows OS and Windows Server OS, including Windows Home editions.
▷It supports remote access to an unattended computer with the same account.
▷It is secure and stable.
▷It offers several considerate features. For example, virtual mouse and keyboard, hide desktop wallpaper, rotate the screen, etc.
✖ Cons:
▷Remote print between PC and Android isn't supported.
✍Part 1. Preparation work on remote computer
Step 1. Download AnyViewer on your Windows computer, install and open it after that.
Step 2. Go to Log in and click Sign up. (Log in directly if you have already signed up.)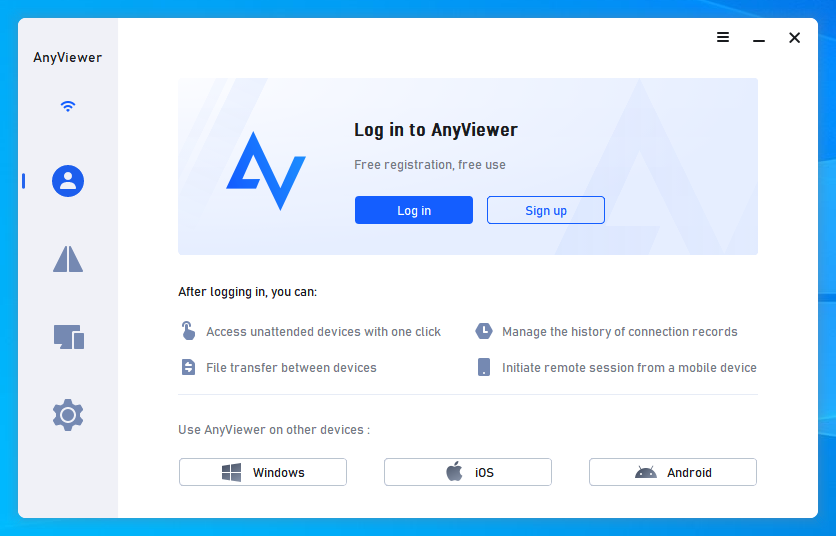 Step 3. Fill in the information and click Sign up.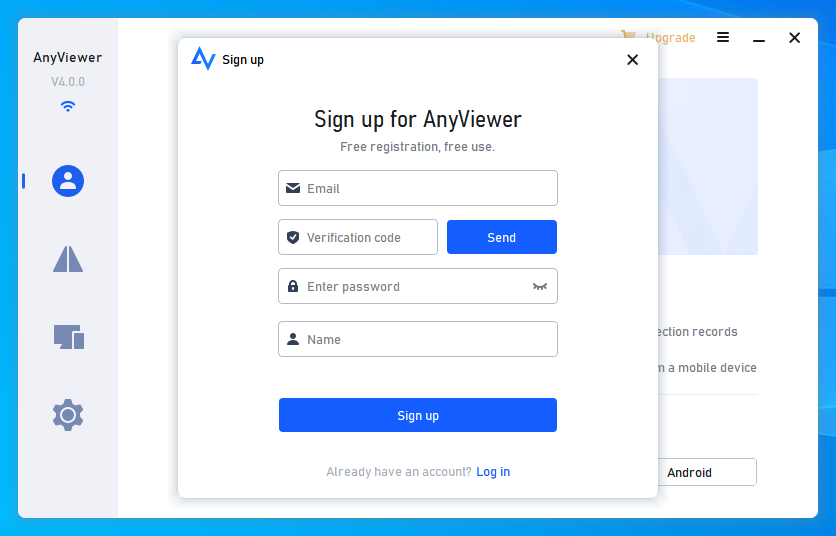 Step 4. When you logged in to AnyViewer successfully, you can see the assigned devices.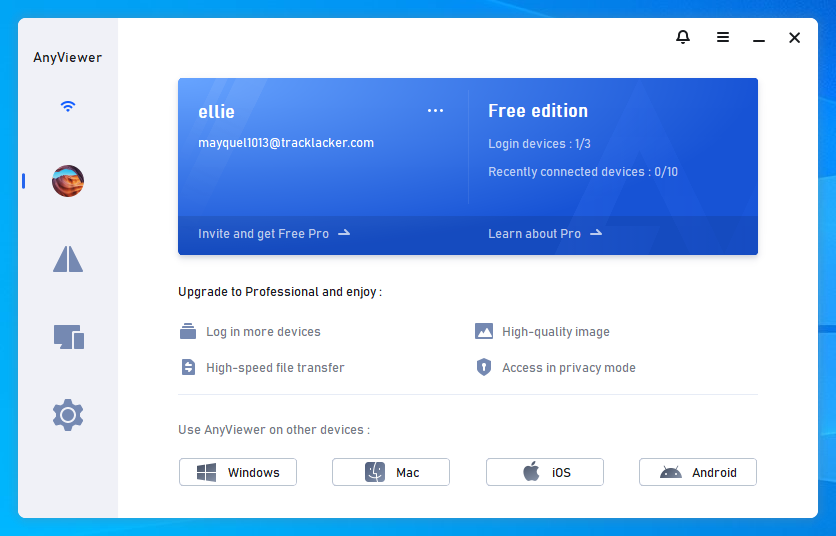 ✍Part 2. Control computer from Android phone
Step 1. Download, install and open AnyViewer for Android
Step 2. Log in to the same AnyViewer account you used on the computer.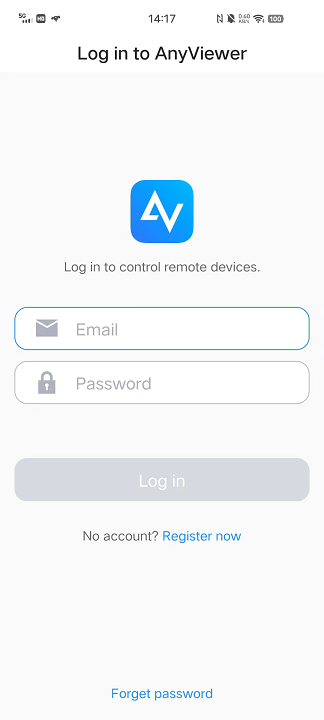 Step 3. Go to the Device interface and tap the target computer you want to control.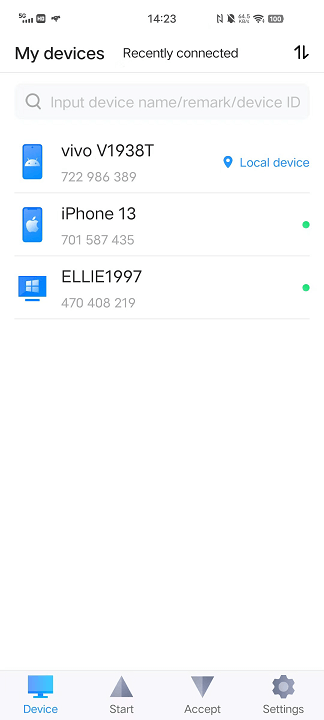 Step 4. Tap One-click control option to achieve an unattended remote connection.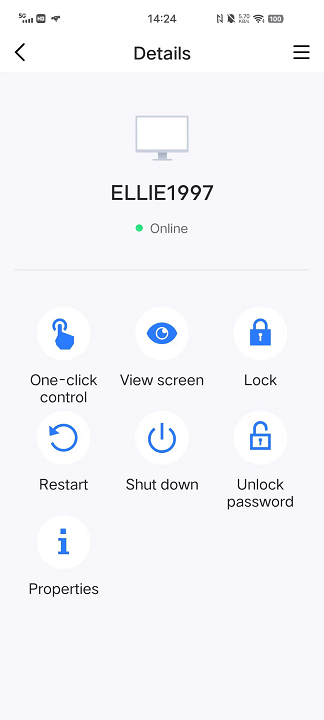 Step 5. Then you can control Windows PC from Android. Besides, there are three operation options at the bottom right corner you can use.
The first button: Turn on/off the virtual mouse.
The second button: Open the virtual keyboard.
The third button: Open the shortcuts menu, then you can rotate the screen, hide desktop wallpaper, etc.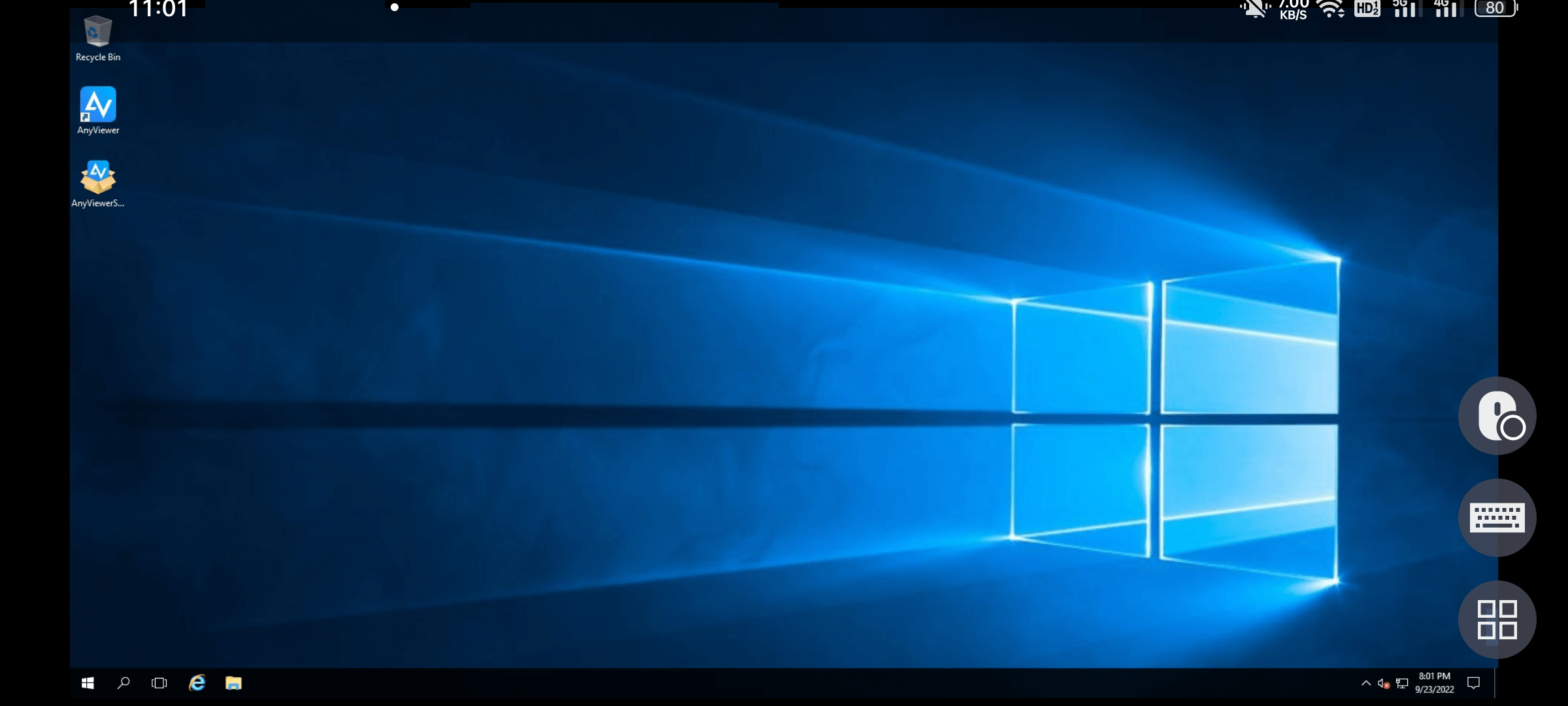 Wrapping Up
This post lists three ways to remote control Windows 10 from Android. We also present the pros and cons of these tools respectively, which can help you better understand the tool for the first time. Among these three programs, we recommend you use AnyViewer to have a fast & safe connection.