Why need to reinstall Remote Desktop Windows 10?
Remote Desktop Protocol (RDP) enables users to control the host PC from another device remotely for file transfer or technical support ( On Windows 7 and later OSes, RDP means Remote Desktop Connection.). Nevertheless, there are chances that you fail to use Remote Desktop in Windows 10 and receive a message like "Remote Desktop can't connect to the remote for one of these reasons…" or "Remote Desktop can't find the computer …".
There certainly are various possible reasons that can cause the Remote Desktop connection failure and you can troubleshoot the issue through some methods, including enabling Remote Desktop, disabling WDDM in Group Policy Editor, and so on. If you can't fix the problem effectively, resetting and reinstalling Windows 10 Remote Desktop might be a helpful solution.
How to reinstall Remote Desktop on Windows 10/11
In Windows 10/11, reinstalling Remote Desktop can be easily completed within a few clicks. Let's get through the following guide.
Step 1. Press Windows + R key combination and input "sysdm.cpl" to open System Properties window.
Step 2. Go to the Remote tab, check the box before "Allow remote connecton to this computer" and click "OK".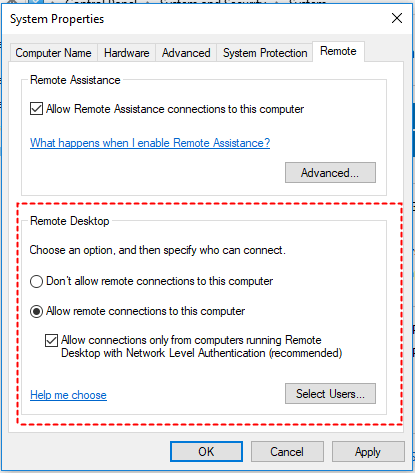 Step 3. Reboot your computer and Windows 10 will reinstall Remote Desktop automatically.
Free alternative to Remote Desktop in Windows 10/11
If you still can't connect to another computer after reinstalling Remote Desktop in Windows 10/11, why not consider a free and easy-to-use alternative to Remote Desktop, AnyViewer. Compared with Remote Desktop, it's more simple to use. And it is compatible with all versions of Windows 11/10/8.1/8/7 while Remote Desktop isn't available in Windows Home Edition. Download it and you can use it to connect one PC to another effortlessly via these steps:
☞ Note: To connect one PC from iOS /Android device, you need to download AnyViewer for iOS/Android on your iDevice or Android device.
Step 1. Locate the installation package, double-click it, and do as it prompts to complete the installation.
Step 2. Launch the remote access utility on the two computers; create an AnyViewer account and log in to the same account on the two PCS. After login, the computer will be assigned to the account automatically.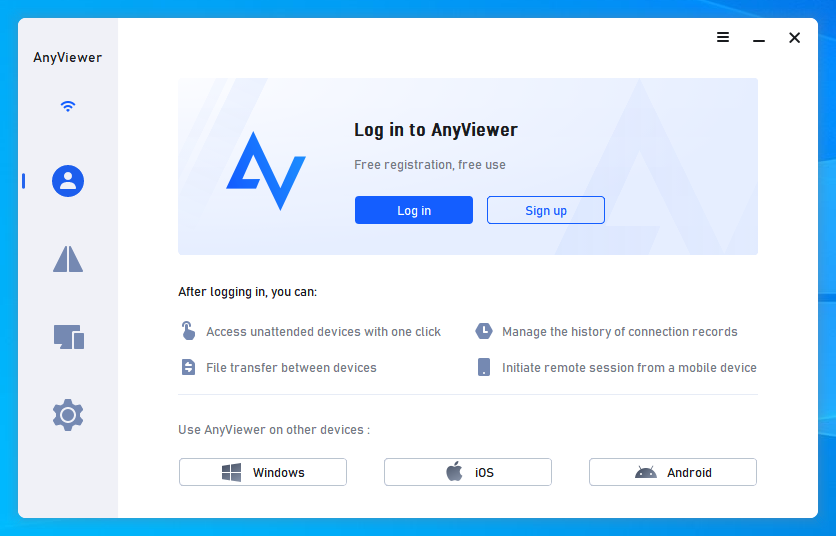 Step 3. Then, go to "Device", click the remote computer and click "One-click control" to access the remote comptuer.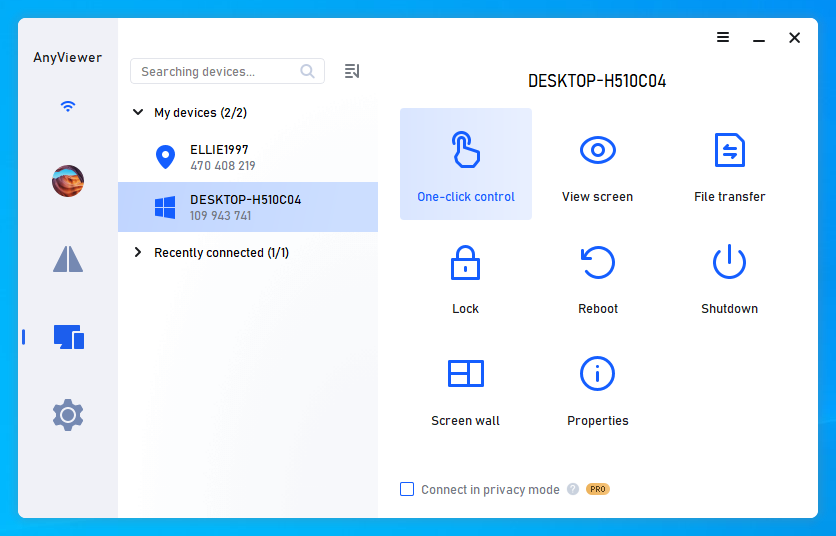 Step 4. Once the connection is complete, you can make operations like viewing files, running CMD, etc. on the host PC with the client computer.

Wrap things up
It's simple to reinstall Remote Desktop Windows 10. Actually, the steps are suitable for reinstalling Remote Desktop on Windows 11, Windows 8.1, Windows 8, and Windows 7. If RDP reinstallation can't repair it, it's time to try third-party remote access utility, AnyViewer.