Why do you need remote viewing?
Did you encounter such a situation where you need to remotely view or transfer computer files from another position? For example, if you are working from home for some reason, like bad weather, and you need to check an important contract stored on your office computer. Or you are already off to school, and you need to see the speech draft that you prepared last night stored on your home computer. These needs have brought life to much remote access software. It greatly breaks the time and space limitations, at the same time, ensures work productivity. It brings great convenience to users' work and life.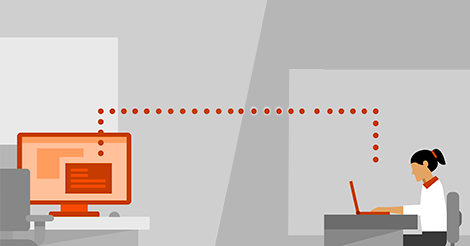 How to remote viewing free using AnyViewer
There is much remote access software that allows users to remotely view files. With these free and commercial options on the market, you can easily remote access another computer from your devices. If you prefer remote viewing free, in Windows, you can use Remote Desktop, a free remote access software developed by Microsoft. It is equipped with your computer if you are using a Windows system. Bu there are some things you need to note before using RDP.
Notes:✎...

You need to check your Windows versions, get the IP address and computer name of the remote computer, and enable Remote Desktop on the remote computer before getting started, which is very complicated.
If the two computers are not on the same network, for example, if you want to access your work computer from home, you must request remote access to the network through VPN or forward ports on your router, making the process even more complicated.
RDP is not very stable, sometimes you may encounter a lot of problems during a remote session, for example, Remote Desktop not working after Windows 10 upgrade, resulting in connection failure.
So is there an easier way to do remote viewing for free? Absolutely yes! Here we recommend you a much more easy-to-operate remote access software AnyViewer.
Brief introduction of AnyViewer
AnyViewer is a free and dependable remote access software for Windows. Here are some features and functions of it:
It allows you to remotely view your important files, folder, or apps on a PC from different places, for example, from home, from school, or from a foreign country, as long as both computers are turned on and set up for remote connection.
It supports various Windows versions, including Windows 11/10/8.1/8/7 and Windows Server 2022/2019/2016/2012 R2, providing you with a broad range of choices.
It is developed by a strong technical team and secured by Elliptic Curve Cryptography (ECC) encryption, which can provide you with a completely stable and fast remote connection and protect all the information on the files that you're viewing from leakage.
It offers you the easiest way to achieve unattended remote access.
It not only allows you to remote view your files, but also transfer files between remote computers.
Before you officially use AnyViewer to remotely view computer files, you need to set it up on both client and host computers. The steps are very easy to follow.
Step 1. Download, install and launch AnyViewer on both computers.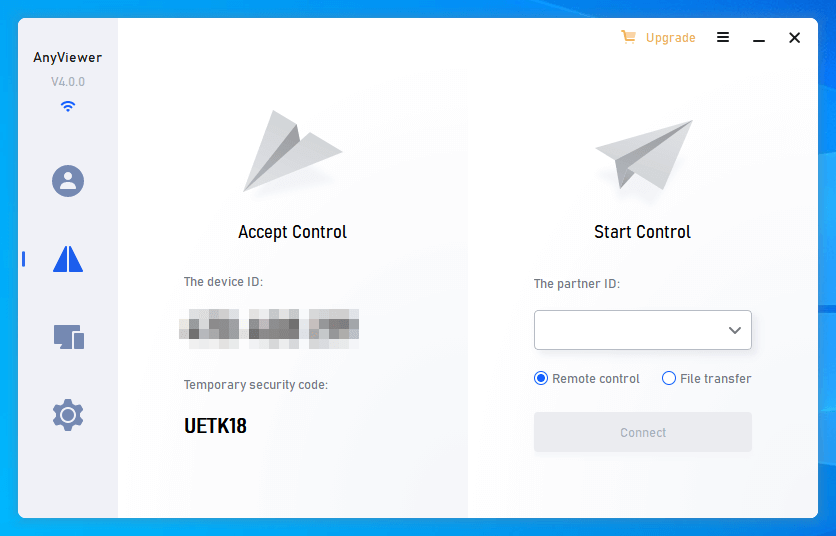 Step 2. Go to Log in, and then click Sign up. (If you already have signed up on its official website, you can log in directly.)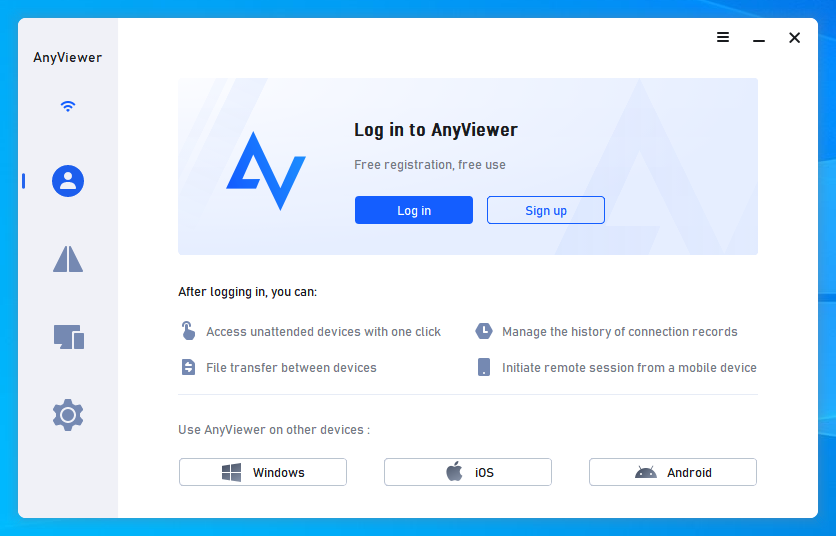 Step 3. Fill in the signup information.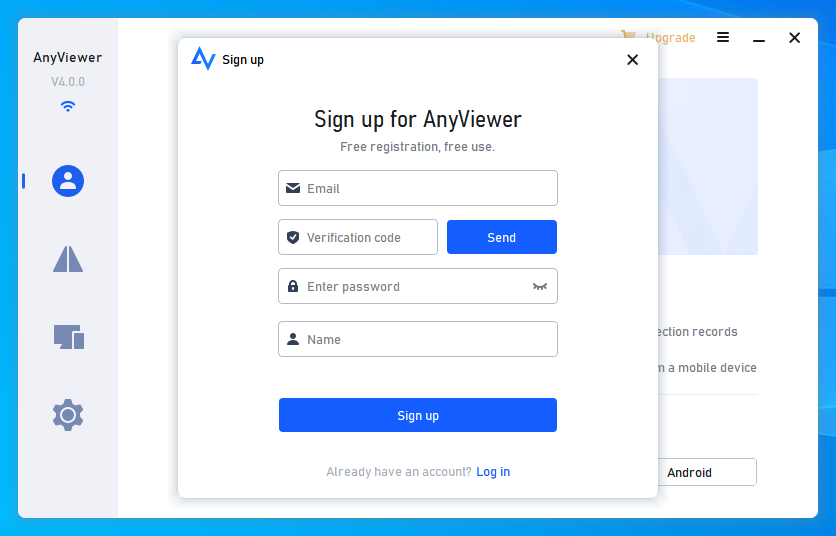 Step 4. Then you can see you successfully logged in to AnyViewer. Your device will automatically be assigned to the account you've logged in.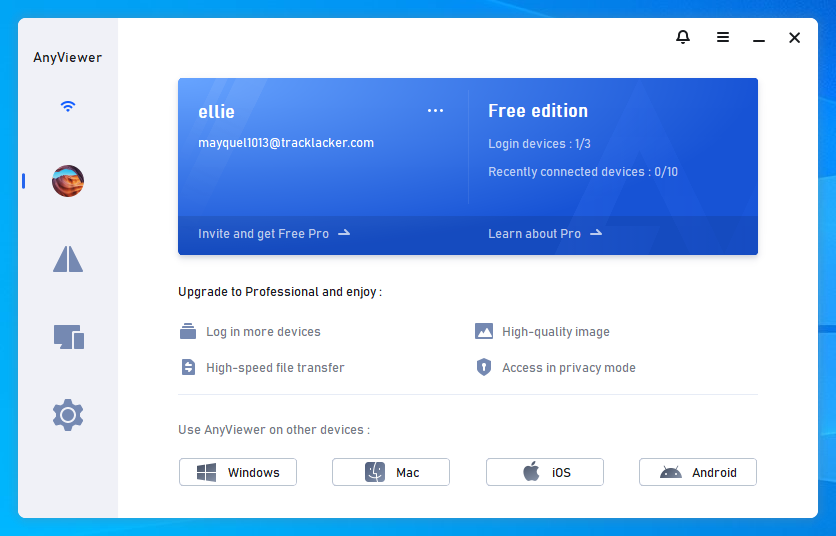 Step 5. Log in to the same AnyViewer account on the two devices, then you can achieve a direct connection by clicking One-click control.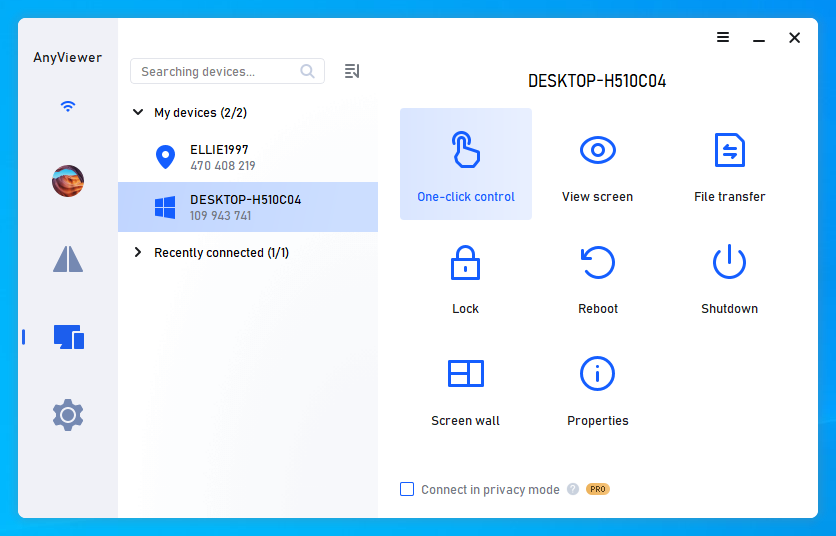 Tips: Upgrade to a Professional or Enterprise plan to enjoy more rights!
Faster transfer speed. Transfer speed for a free account is 500 KB/s, and for a paid account is up to 10 MB/s.
Increasing number of files transferred in a single time. The maximum number of files that can be transferred per time for a free account is 100.
Larger size of a single file that can be transferred. The maximum size of a single file that can be transferred for the free account is 100 MB.
More devices can be assigned to the same account for unattended remote access.
More Currently connected devices are displayed for management.
Connect in privacy mode to protect privacy.
Until now, you've already successfully connected to the remote computer. You could see the desktop of the host computer. Click any folders or files that you want to view, then you could see it on the client computer like you are just sitting in front of the remote desktop.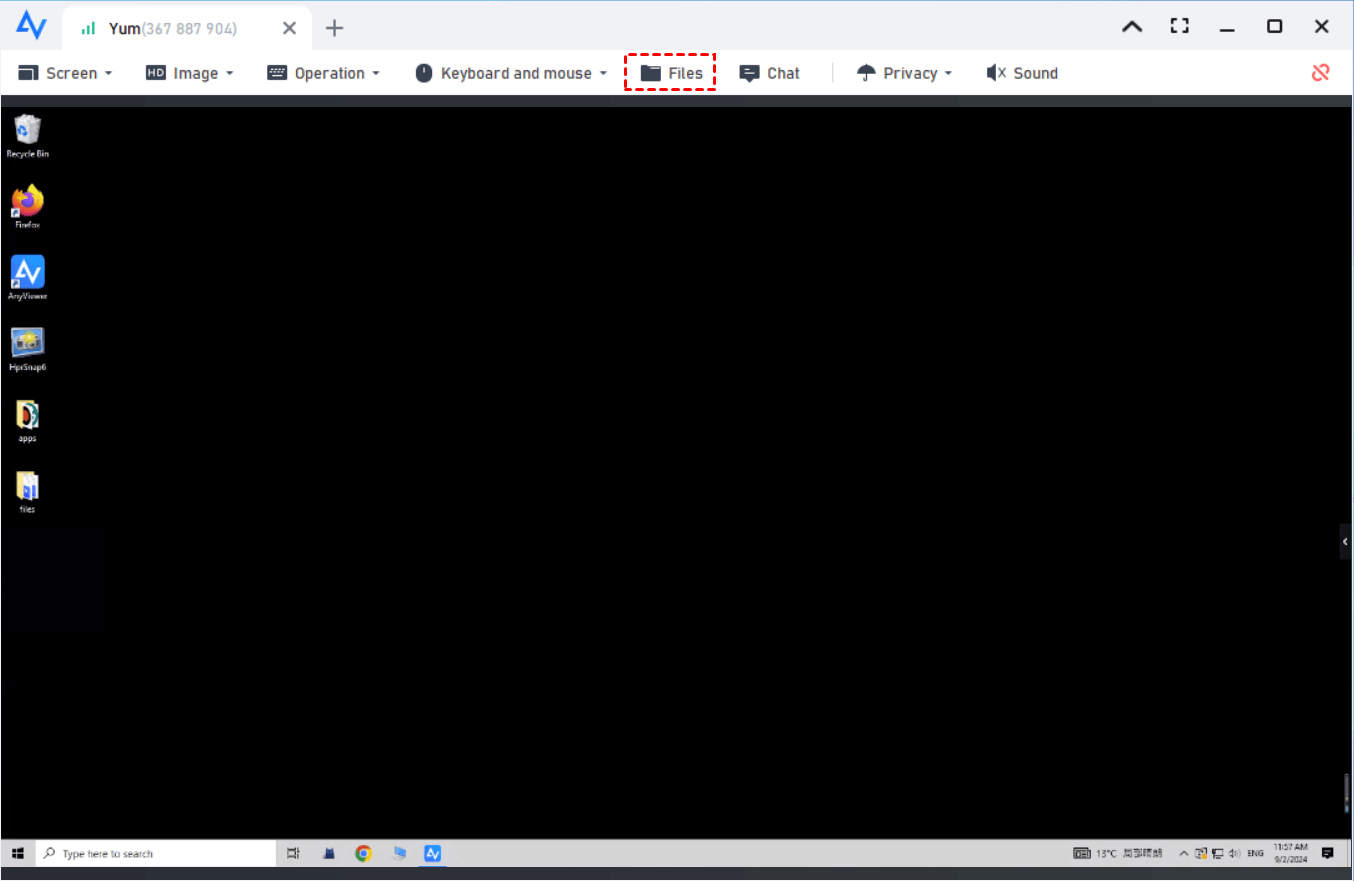 Conclusion
This post briefly introduces how to achieve remote viewing over the free remote access software AnyViewer. It has an intuitive interface and an easy operating process. With it, you can start to view your files on a remote computer without effort. You are able able to transfer files between computer with it. Get started right now!