Quick Assist vs TeamViewer
When choosing your desired remote access software, you may wonder about the detailed information about Quick Assist vs TeamViewer. Read on to learn more.
What is Quick Assist?
Quick Assist is a Microsoft Windows built-in feature that helps a user in monitoring. It operates a Windows computer to troubleshoot issues remotely or make full remote control without physically touching the device. It is based on RDP, communicating with various hosts using TCP port 443.
To match users to sessions, Quick Assist requires a code, which allows the client to access the host computer in Administrator mode while allowing the host to see the operations the client made.
What is TeamViewer?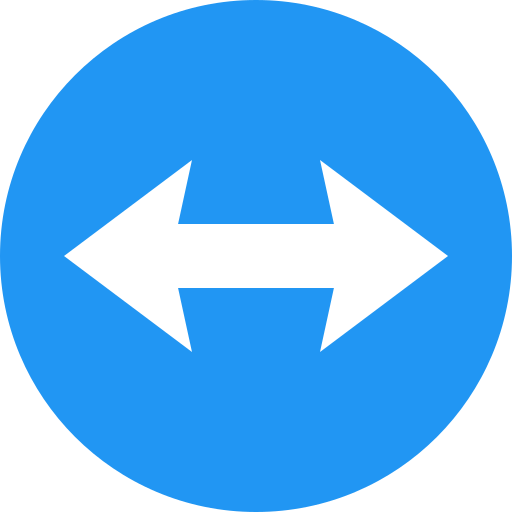 TeamViewer is a cloud-based platform that helps securely and remotely access, control, and support any device across platforms. This can be done anywhere and at anytime. Furthermore, it also supports remote screen, file transfer, etc. The functionality of TeamViewer varies based on the device software variant or version.
Main differences between Quick Assist and TeamViewer
Teamviewer vs Quick Assist, what's the difference between them? Read the following comparison table.
✨Microsoft Quick Assist vs TeamViewer: The main differences
Parameters of Comparison

Quick Assist

TeamViewer

Developer

Microsoft

TeamViewer

Release Date

2016

2015

Operating System

It supports any device which can have Microsoft.

Windows, Linux, iOS, Android, macOS.

Usage

It allows a person to share their device with another person with the help of a remote connection.

It helps in the maintenance of computers and other devices.

Time Limit

10 minutes to establish the remote-control connection after which it is active indefinitely.

Free license connection will be blocked automatically after 5 minutes if you are detected as a commercial usage.

Installation

It is pre-installed on Windows clients except for Windows Server 2008 R2 servers

It needs to be installed manually from the website.

Security

Its traffic is encrypted with TLS 1.2.

It is secured by RSA private-/public key exchange and AES (256-bit) session encryption.

Price

Free

Personal use: free (5 mins limit)

Business: $34.90/month

Premium: $102.90/month

Corporate: $206.90/month
To help you better understand Quick Assist and TeamViewer, here is a comparison of their built-in functionalities.
✨Quick Assist vs TeamViewer: Comparison of the built-in feature
| | | |
| --- | --- | --- |
| Features | Quick Assist | TeamViewer |
| Remote view and control | ✔️ | ✔️ |
| Chat | ❌ | ✔️ |
| Share large files | ❌ | ❌ |
| Unattended access | ❌ | ✔️ |
| Over-the-Internet support | ✔️ | ✔️ |
| Copy/Paste | ❌ | ✔️ |
Is there a better program than TeamViewer and Quick Assist?
Looking for all-inclusive remote desktop software for remote access and remote support? If both Quick Assist and TeamViewer can't satisfy your demands, we recommend you use AnyViewer.
★AnyViewer advantages

It has a free version without any in-app payment and time limit.
It supports unattended remote access with only one click.
It offers rich built-in features, for example, chat box, file transfer, change image quality, etc.
Download AnyViewer on your device, and we will show you how to remotely control PC via it.
Tips: AnyViewer also supports Android and iOS devices, which means you can remote access Windows PC from iPhone or Android phone.
Step 1. Launch AnyViewer on the host PC. In the Log in interface, click Sign up.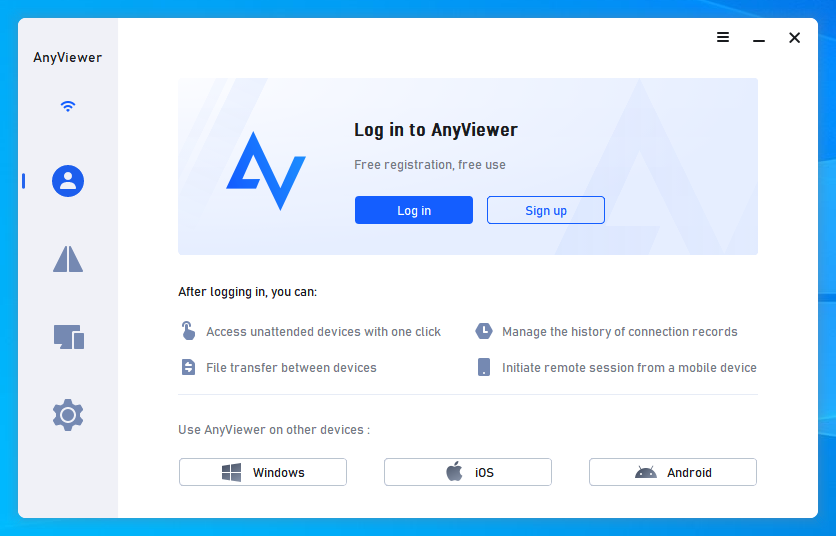 Step 2. Fill in the sign-up information.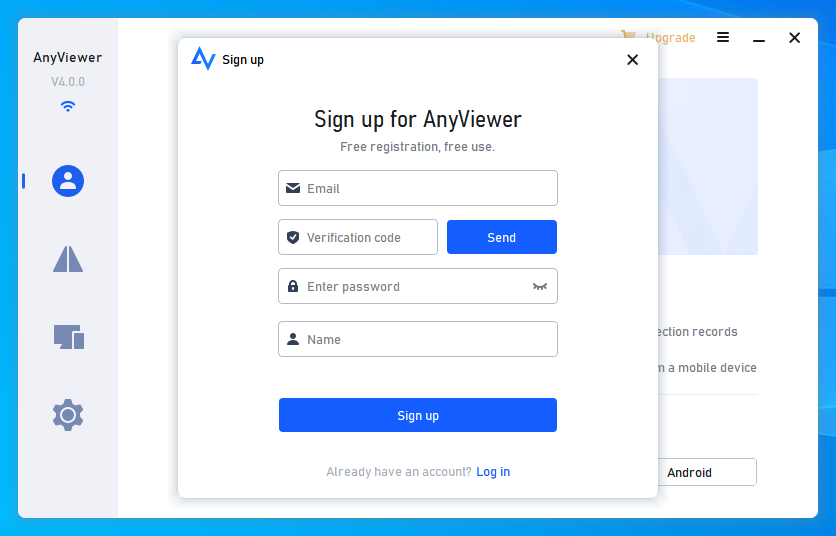 Step 3. On the client computer, log in with the same account, and you can see the assigned devices.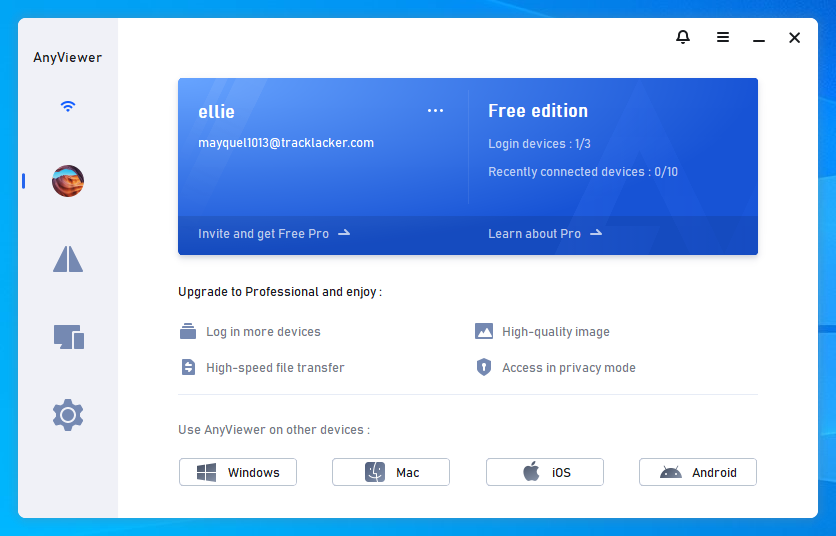 Step 4. Go to Device, select the host PC, and click One-click control to achieve unattended remote access.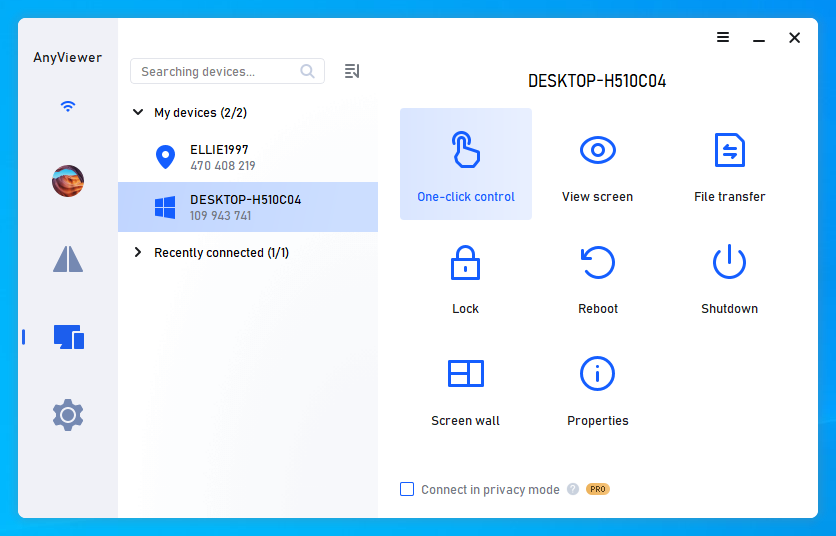 Now you can control the host computer remotely, and you can perform several operations from the upper toolbar, for example, lock/restart/shutdown the computer, open Task Manager, etc.

Notes:✎...

You can also upgrade to a Professional or Enterprise plan to enjoy the following rights:

Assign more devices to establish remote connections.
Enjoy more concurrent connections. Only 2 channels are available for free and professional account; therefore, we recommend you upgrade to enterprise to enjoy 10 concurrent connections.
Establish a remote connection in privacy mode to protect your data and privacy strongly.
Transfer unlimited files at once at a higher speed of up to 10 MB/s.
Wrapping Up
Quick Assist vs TeamViewer: What's the difference? In this post, we introduce the main differences between the applications, and we have a detailed comparison of their built-in features to help you better understand them. Now you can choose which remote access tool you will take; if you are looking for one that can fit all your demands, AnyViewer could be the best option for you.