Q: Is Quick Assist safe?
"Because of some damaged files that cannot be repaired automatically, I took the initiative to contact Microsoft for technical support. He replied to me that he can run some diagnostic programs by remotely accessing my computer, so I used Quick Assist and granted him permission.
He changed some content in the boot menu and then restarted. Everything seemed to be normal, but afterward, I felt that my privacy was a bit infringed. I tried to delete the program he used, but it did not show up in the control panel. Now I want to ask, is Microsoft Quick Assist safe and secure?"
A: Quick Assist is secure!
Quick Assist, a free function based on the Remote Desktop Protocol (RDP) communicates through port 443 (https) and connects to the remote assistance service using RDP. It allows the facilitator to remotely connect to the assisted person's computer. And the traffic is with TLS 1.2, which keeps data being transferred across the network more secure.
In the process, you will neither expose the IP address, but also hold the initiative of remote assistance; and you can monitor all operations of the other party during the session. Obviously, there is no need to worry about the security of using Quick Assist.
How to set up Quick Assist
In this part, II will give you a detailed introduction to how to use Quick Assist. Suppose you are a technician and provide remote technical support for others as an example:
Step 1. On your computer, search "Quick Assist" in the search box.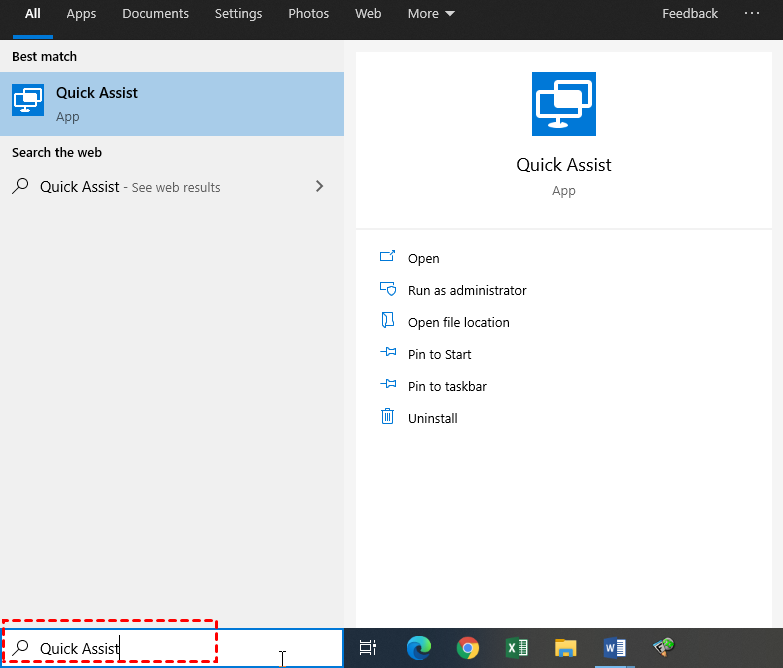 Step 2. Find "Give Assistance" in the opened window, and then click "Assist another person" below.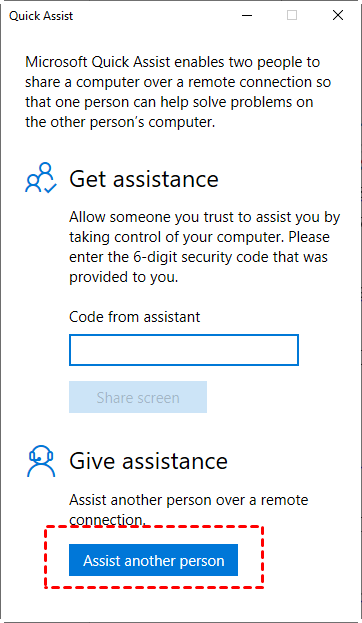 Step 3. Then a window will automatically pop up, enter the corresponding email or phone number (you can also use it if you have a Skype account), and click "Next".
Step 4. Then enter the password corresponding to the Microsoft account and click "Sign in".
Step 5. Then you will get a security code valid for 10 minutes (if the security code expires, you can click "Cancel and restart" to get a new security code).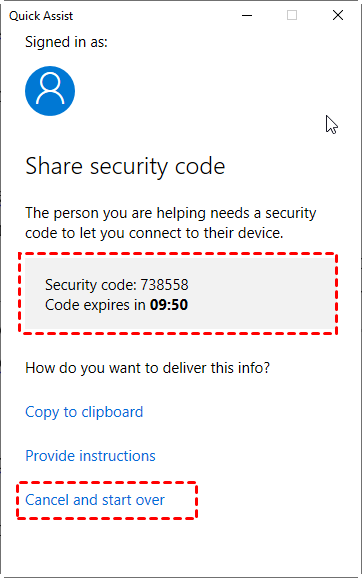 Step 6. On the computer that needs remote technical support, open the "Quick Assist", enter the security code of the remote assistance computer in the main interface of the window, and click "Share Screen".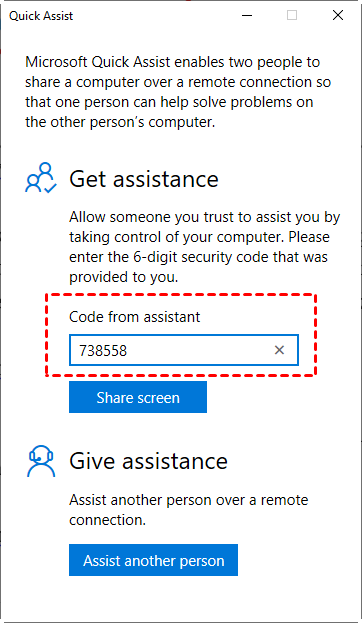 Step 7. Choose "Full Control" or "View Screen", and then click "Continue".
Step 8. On the computer that needs remote technical support, click "Allow" in the "Share your screen" pop-up window to realize remote assistance between two Windows 10 computers.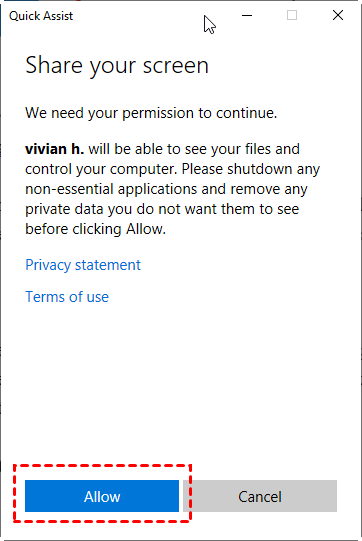 Step 9. Now you can give assistance to the remote computer
Note: You can refer to the above steps to provide or seek remote technical support.
How to improve the safety of Quick Assist
Is Quick Assist secure? Actually, it is safe enough. But if you are still worried about safety issues, you can further improve safety through the following three methods:
Method 1. Use VPN
Virtual Private Network (VPN) is one of the best ways to protect your computer from cyber-attacks. Before accessing a computer, you must first connect to a secure private network, which is usually encrypted and hosted outside of your server, so the secure connection itself does not require any of your server resources. More importantly, when using a VPN, the server is configured to only allow connections from the VPN address, thereby rejecting any access requests from external IP addresses.
Method 2. Use a hardware firewall
Since Quick Assist uses port 443 to connect to Microsoft-supported servers, this means that it will bypass most existing firewalls and network address translation protocols (NAT). Therefore, you need to use a hardware firewall to improve security.
Method 3. Confirm the identity of the other party
Since the assisted person can use Quick Assist without logging in or verifying credentials, it means that you cannot be sure who accessed your computer or where you are accessing your computer. Therefore, confirm the remote technology before using Quick Assist.
Free & Secure remote assistance software: AnyViewer
Is Windows Quick Assist secure? The answer is positive. If you still have doubts about the security of Quick Assist, then it is recommended to use the free third-party remote support software, AnyViewer.
AnyViewer is a completely free remote access solution secured by Elliptic Curve Cryptography (ECC) encryption, protecting your data from leakage.
It can realize quick assist with one click for unattended access, which is more convenient to use. Next, I will give you a detailed introduction to the realization of remote assistance on Windows 10 through AnyViewer.
Ready to work:
Both the local computer and the remote computer are connected to the network.
Download and install AnyViewer on the local PC and remote PC respectively.
Step 1. Sign up and fill in the information to create AnyViewer account. Once logged in, the PC will be assigned to the account automatically. (If you sign up in the official website, you can log in directly.)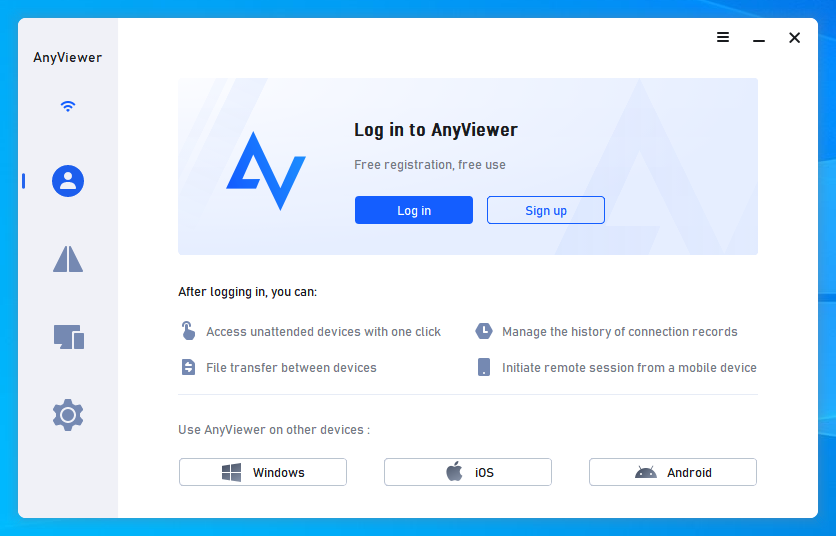 Step 2. After logging in, you can see your interface as the following picture.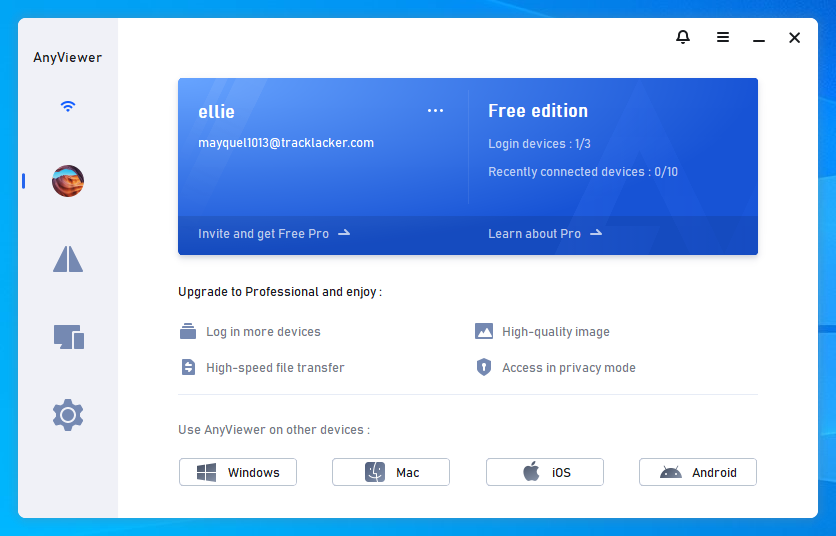 Step 3. Go to the "Connect" tab, and then you can see the device ID. Ask your friends or family member to tell you the device ID of the host PC.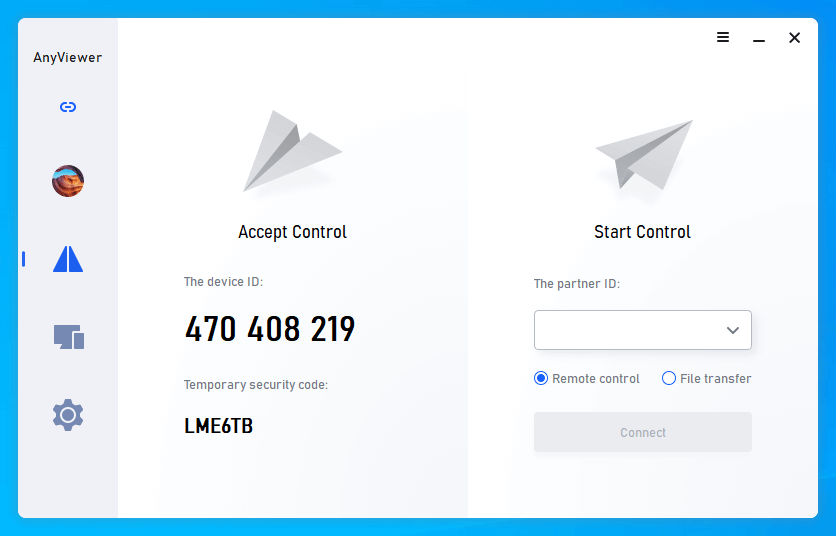 Step 4. Enter the device ID of the remote PC and then click on "Connect".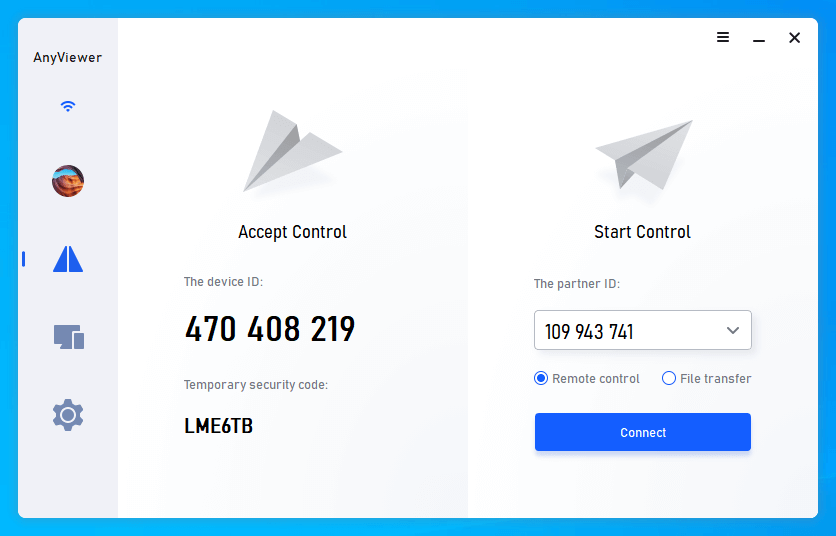 Step 5. For the 2 options, choose the first one "Send a control request to your partner", and then click on "OK".
Step 6. There will be a pop-up window on the host PC. Click on "Allow" to receive remote support. And then the connection will be realized.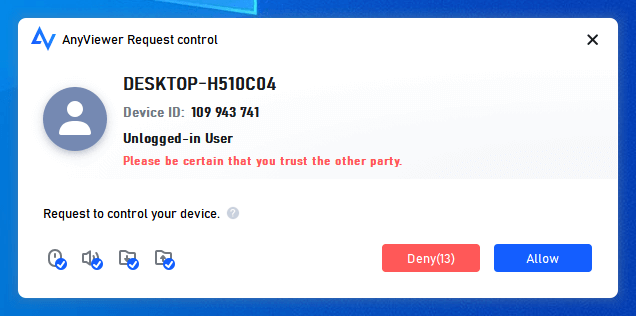 Note: If you want to clarify how to offer remote assistance without permission, log into the AnyViewer account on the host PC, and then go to "Device" on the local PC, locate and click the PC that you need to control. And then click "One-click control" to achieve remote connection with one click.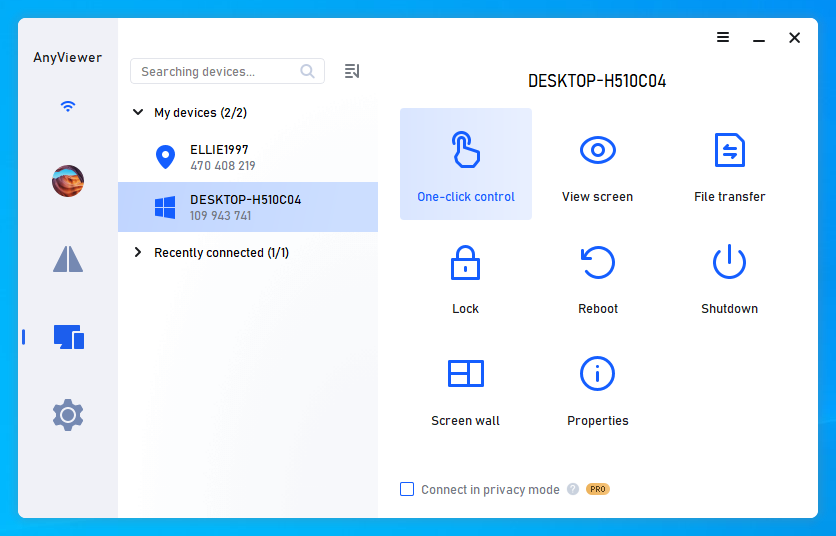 Conclusion
Is Quick Assist safe? I can tell you with certainty that it is safe. Of course, you can further improve the security of Quick Assist by using VPN, a hardware firewall, and confirming the identity of the other party.
If you still have doubts about the security of Quick Assist, or think the method is too troublesome, then it is recommended to use the free third-party remote control software AnyViewer, which can give you a better experience.