How do I Remote Desktop to another computer over the Internet Windows 10?
When I set up Remote Desktop on my Windows 10 computer, I find that it only supports remote connections in the same network. But I have to connect my home PC to my work PC on different networks. How do I Remote Desktop to another computer over the Internet Windows 10? "
- Question from Reddit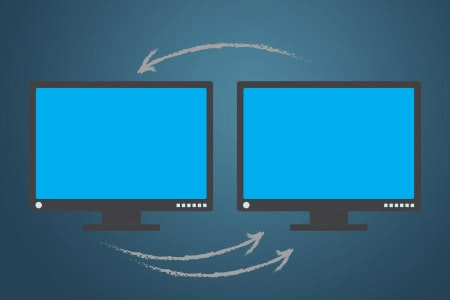 How to connect Remote Desktop via Internet on Windows 10, 11 [2 options]
How to connect two computers using Remote Desktop Connection via Internet? You can add a VPN connection or set up port forwarding to do this job.
Option 1. Connect Remote Desktop using a VPN
How to connect Remote Desktop via Internet? You can use a VPN. There are a lot of VPN applications you can choose from the app store. If you are running Windows 10/11, you can buy a VPN router and use the built-in VPN service.
Before connecting to the Windows VPN service, you need to know the required information as follows:
✤

The VPN server's name or address.

✤

The type of VPN protocol (SSTP, L2TP/IPSec, OpenVPN, PPTP, or IKEv2).

✤

Information needed to log in, such as a username and password.
Part 1. Add a VPN connection in Windows service
Step 1. Navigate to : Settings > Network & Internet > VPN, and then click Add a VPN connection.
Step 2. Fill in the VPN information and then click Save.
Part 2. Connect to another computer via RDP
When you added a VPN connection on your computer, you can follow the next steps to achieve PC remote control over the Internet.
Step 1. On the client PC, Search for Remote Desktop Connection in the Search box and then click Open.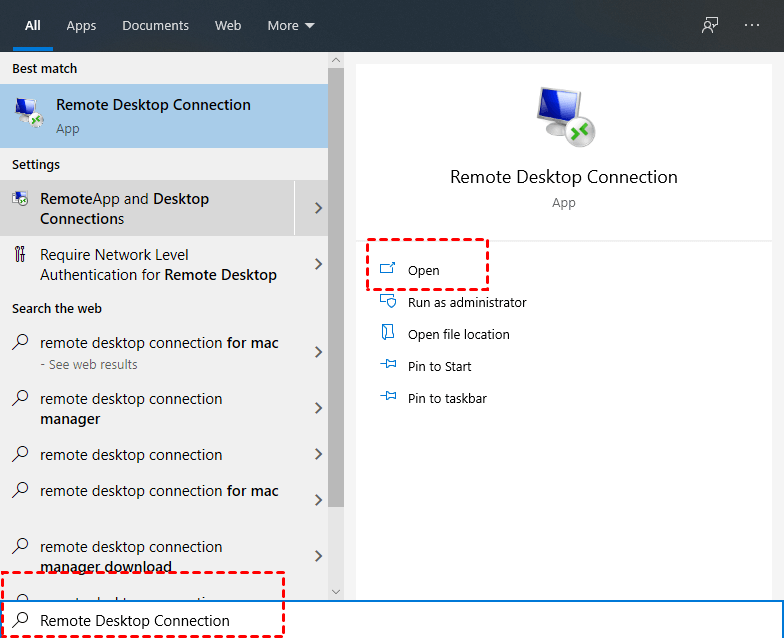 Step 2. Get the IP address of the host computer, type in IP and username, and then click Connect.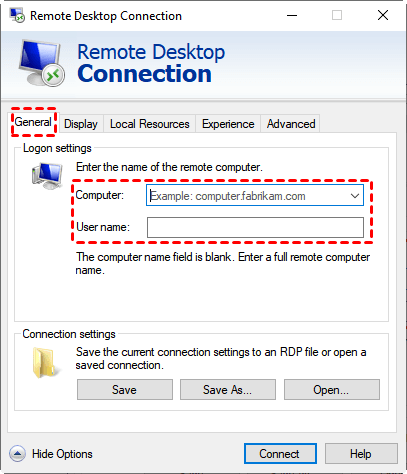 Step 3. If there is a pop-up window, input your password and then click OK.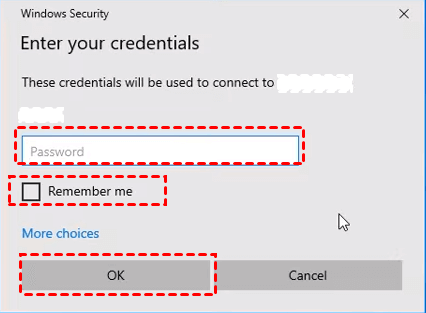 Note:
Connecting your PC to the public network is not recommended. If you must, make sure your computer has a strong password.
Some public networks do not support connections using a VPN. In this case, you have to change your network or perform port forwarding.
Option 2. Set up port forwarding to connect Remote Desktop
How to connect Remote Desktop via Internet? You can set up port forwarding. Port forwarding is a technique that configures your router to make your Remote Desktop Server directly accessible on the Internet. Since the connection is open to the Internet, we suggest you use strong passwords to secure Remote Desktop.
Part 1. Get a static IP address
Step 1. Open Settings, and then click Network & Internet.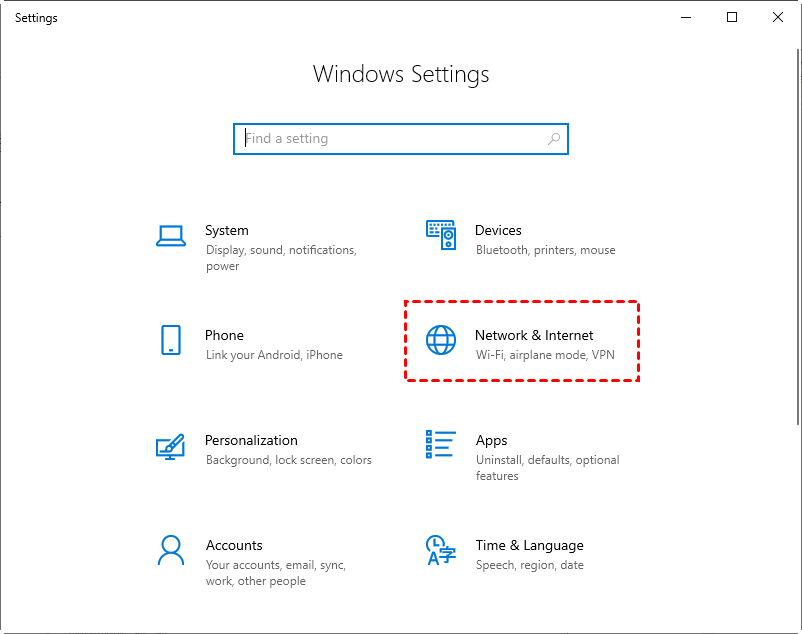 Step 2. On the Network & Internet interface, select Status on the left panel and then click Change adapter options.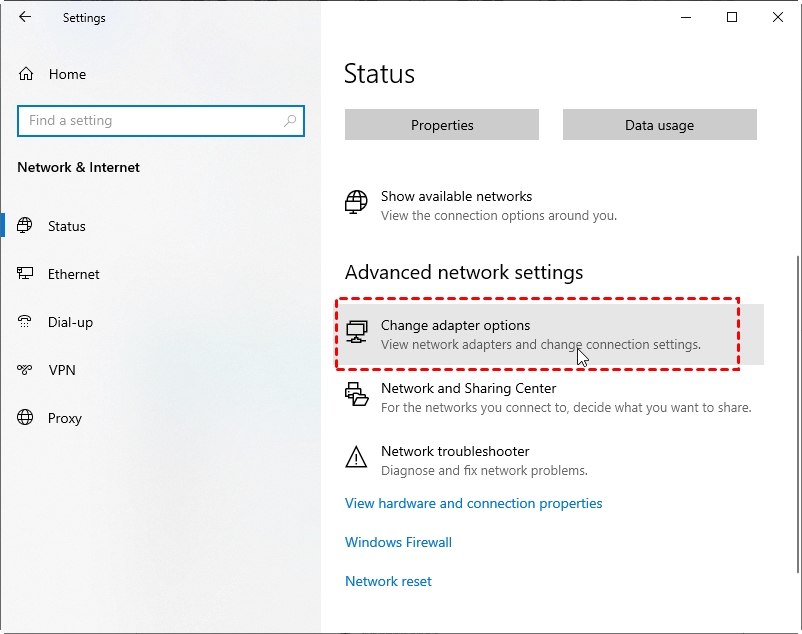 Step 3. Now you can see a list of network connections, right-click your network and then click Properties.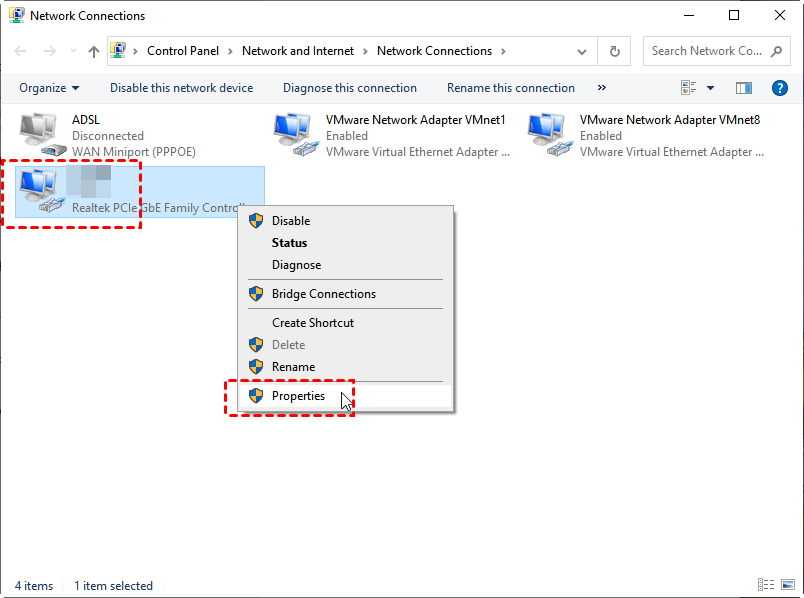 Step 4. Tick Internet Protocol Version 4 (TCP/IPv4), and then click Properties.
Step 5. Tick Use the following IP address and type in the listed information. Next tick Use the following DNS server addresses and enter your DNS server address, and then click OK.
◆

IP address: Enter a valid IP address that is outside the local DHCP IP range. If you are not sure of your DHCP configurations, you can view existing IPs by entering ipconfig /all. in the command prompt.

◆

Subnet mask: It is usually auto-populated based on the IP address you enter. You can change it if needed.

◆

Default gateway: The address of the router, make sure it is configured correctly.

◆

Preferred DNS server: Enter your DNS server address.

◆

Alternative DNS server: Enter the Google Public DNS address 8.8.8.8 as your alternate DNS server if you discover that you are unable to connect to the Internet.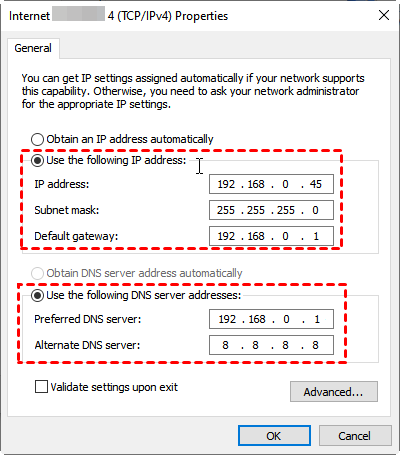 Part 2. Get the public IP address
Open the Chrome browser and enter "What's my IP" in the search box, then you can note down your public IP address (remember not to share it with anyone to avoid security issues).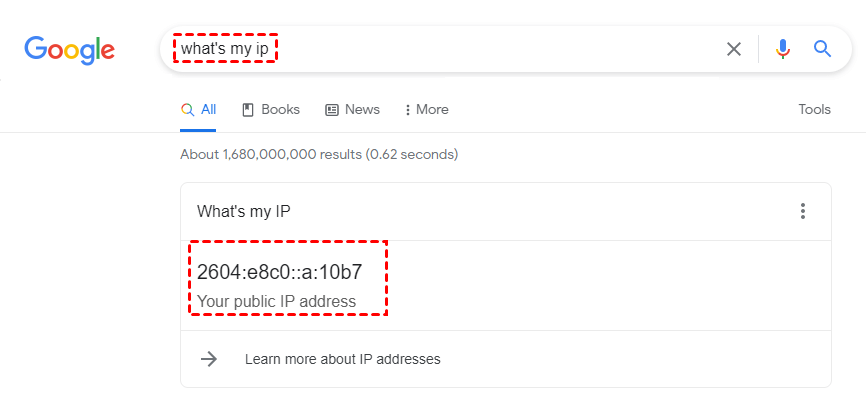 Part 3. Implement port forwarding
Step 1. To open the Run dialog box, press Win + R. Type "cmd" and press OK. To check the IPv4 Address and Default Gateway, type "ipconfig" and hit Enter.
Step 2. Enter the device gateway address in the browser address bar, type in the username and password to log in to the router, turn on Enable Port Forwarding, and then click Add profile.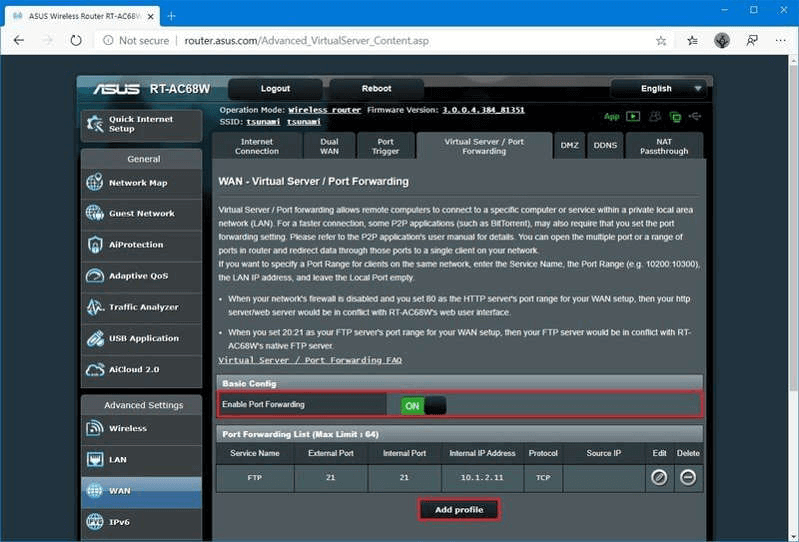 Step 3. Fill in the Custom Configuration information to create a new port (you can refer to the following one) and then click OK.
Service name: The username.
Protocol: TCP
External port: 3389
Internal port: 3389
Internal IP address: The IP address of the computer you want to connect to.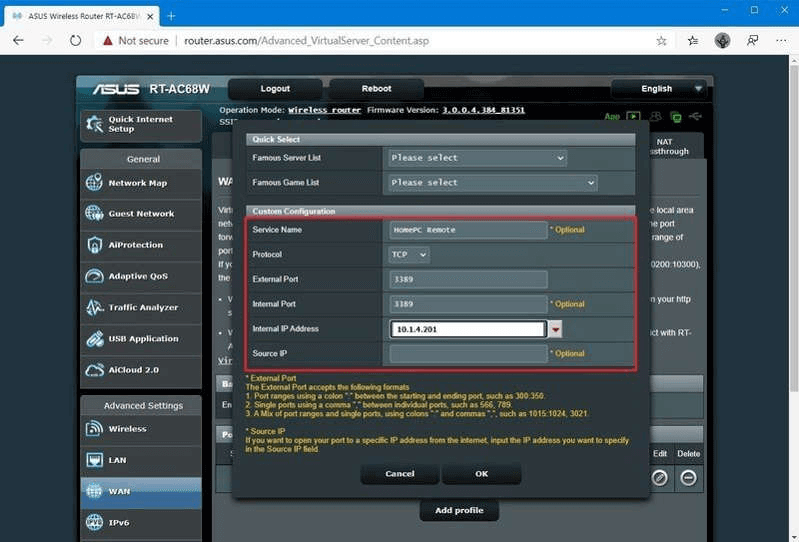 When you have done the steps above, just follow the same connecting process in Option 1 to achieve a Remote Desktop connection.
Easiest Remote Desktop alternative: AnyViewer
If you are confused with the complicated settings above, you can choose AnyViewer to remotely control another computer easily and safely.
AnyViewer is a free remote connection software for Windows, that has the following advantages over RDP:
Easy-to-use. AnyViewer doesn't require port forwarding or VPN to connect to other PC over Internet, while RDP does.
Compatible. AnyViewer supports several Windows versions, including Windows Home editions, which are not available on RDP.
User-friendly. AnyViewer offers a chat box for communication during remote connection while RDP doesn't have such functionality.
Multi-session. AnyViewer supports multiple remote sessions while for RDP you need to buy CALs to have the rights.
Step 1. On the client computer, click Log in on the left pane, and click Sign up (log in directly if you already have signed up).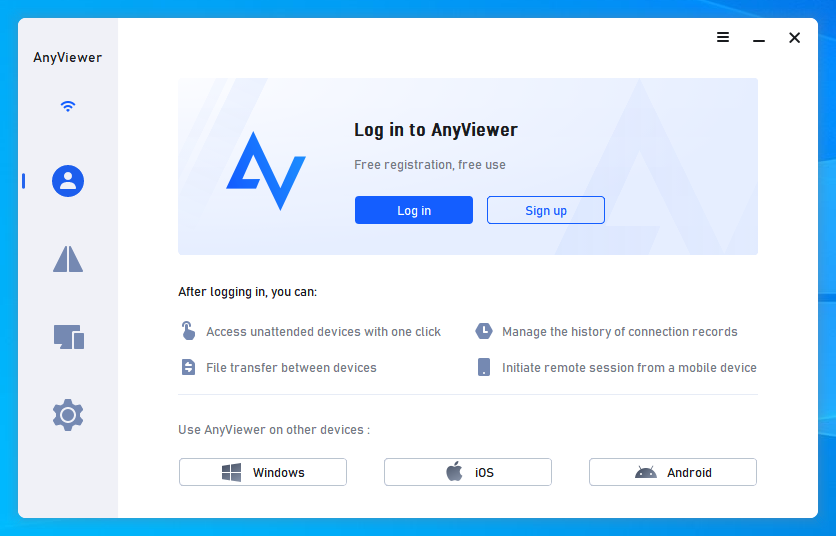 Step 2. Fill inthe sign-up information.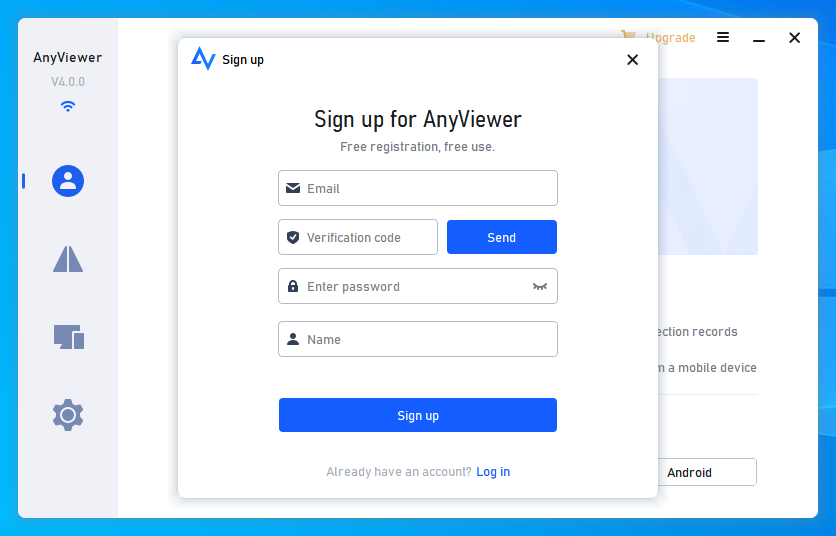 Step 3. When you successfully logged in to AnyViewer, your devices will automatically be assigned to the same account.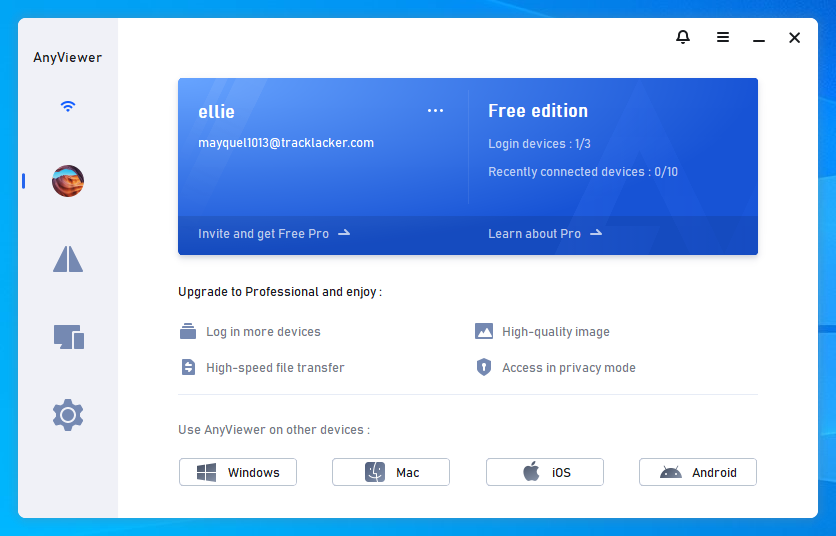 Step 4. Log in to the same AnyViewer account on the other devices, and click One-click control to achieve unattended remote access.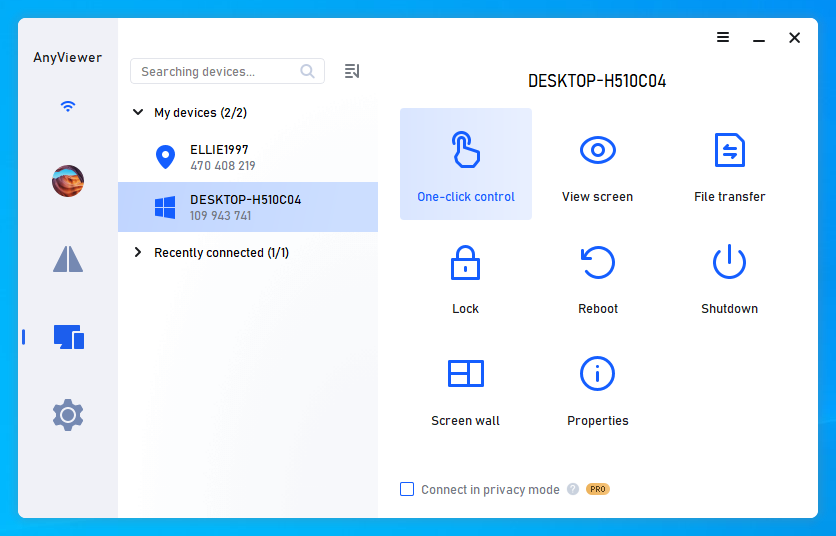 Notes:✎...You can also upgrade to a Professional or Enterprise plan then the following rights will thereafter be yours:

Assign more devices to achieve remote connections.
Enjoy more concurrent connections. Only 2 channels are allowed for free and professional use, therefore, we recommend you upgrade to the enterprise version to enjoy 10 concurrent connections.
Connect to other devices in privacy mode to protect your data and privacy during the connection.
Transfer unlimited files at once at a higher speed up to 10 MB/s.
Conclusion
This post talks about how to connect Remote Desktop via Internet. There are two methods. One is to purchase a VPN router, and another is to set up port forwarding. Is there a more simple way to remotely control another computer? The answer is sure! You can try AnyViewer to achieve remote connections easily and safely.