Can I remotely access my computer from my phone?
Whenever I travel for business to another city or country, I always need to download a large number of files onto my laptop in preparation in case I need them later. However, I occasionally find that carrying my laptop everywhere with me is difficult and bulky. Is it possible to remotely access my office computer from my iPhone, eliminating the need for me to bring my laptop?"
- Question from Reddit
As smartphones continue to evolve, they now possess a plethora of functions, some of which enable them to seamlessly replace certain computer tasks. One noteworthy example is the ability to remotelytake control of a PC from an iPhone,granting you access to Windows computer files and even the capability to run Windows applications directly on your iPhone.
3 easy methods to remotely access PC from iPhone
To facilitate this process, a step-by-step tutorial is presented below, outlining how to remotely access PC from iPhone. This tutorial will introduce three distinct tools for this purpose: AnyViewer, Microsoft Remote Desktop, and Chrome Remote Desktop. Each tool offers unique features and advantages in enabling efficient remote access from your iPhone to your PC.
Method 1. AnyViewer: Best free third-party remote desktop software [highly-recommended]
When it comes to free remote desktop software that excels in enabling remote control of a PC from an iPhone or iPad, AnyViewer stands out as the top choice. Its seamless functionality and user-friendly interface make it an ideal tool for effortless remote access from your iOS devices to your PC. AnyViewer also extends its capabilities to Android devices. This means that Android users can enjoy the same level of convenience and efficiency when remotely accessing their PCs.
With its considerate features for mobile devices, AnyViewer ensures a seamless remote desktop experience. Here are some of its features:
Unattended remote access: This powerful feature enables you to connect and control your PC from your mobile device, even when it's unattended. Whether you're away from home or the office, AnyViewer grants you the freedom to access your PC remotely without requiring someone to be physically present at the computer.
Power management: Take full charge of your computer's power options directly from your phone during the remote session. With a simple click, you can lock, restart, or shut down your PC effortlessly.
Flexible control modes: Tailor your remote control experience to your preferences with AnyViewer's two control modes. In Mouse Mode, take charge using the virtual cursor, while Touch Mode enables intuitive control through taps on your phone's screen.
Screen rotation: Personalize your remote session window by rotating the screen horizontally. This feature ensures a perfect match with your phone or tablet's orientation, enhancing the overall viewing experience.
Let's explore how to remote access a pc from iPhone via AnyViewer.
Part 1. Enable remote access on Windows computer
Step 1. Download the AnyViewer application on your Windows computer and proceed to install it.
Step 2. Access the Log-in page and click on Sign Up.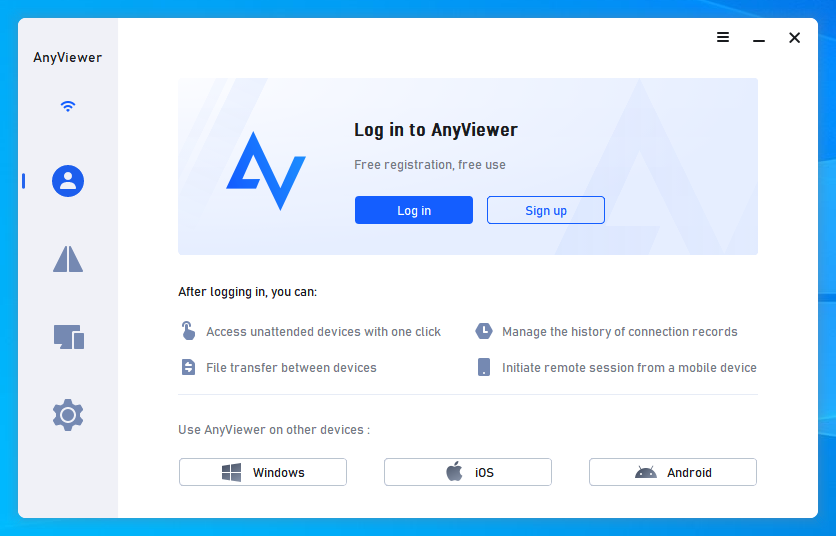 Step 3. Complete the sign-up process by providing the required information.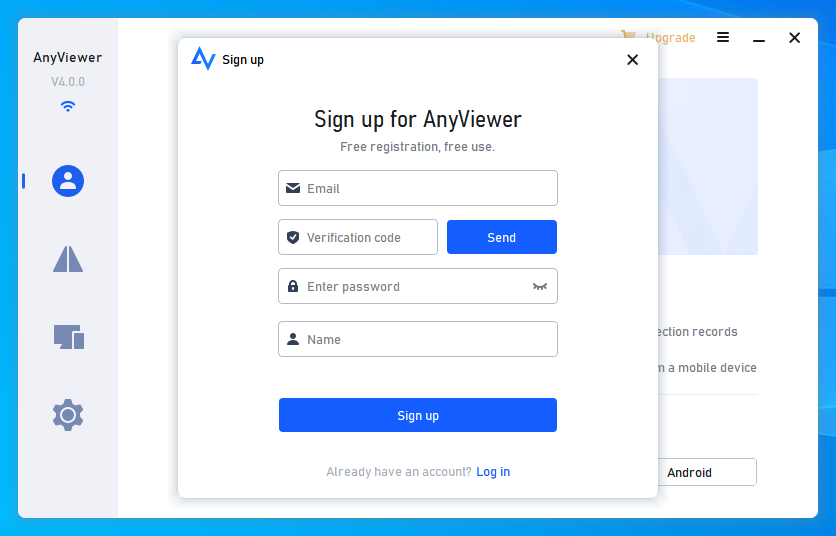 Step 4. After successful sign-in, you'll be logged in to AnyViewer, and your device will automatically be associated with the logged-in account.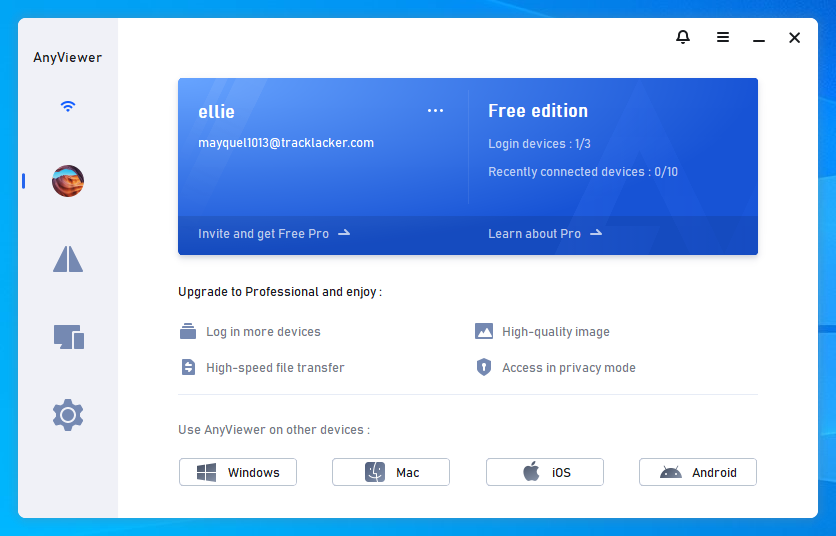 ★Tips: For an enhanced experience, consider upgrading your account to a Professional or Enterprise plan. With this upgrade, you'll enjoy the following privileges and benefits:

Increased device assignment: The ability to assign a greater number of devices to the same account for unattended remote access.
Higher image quality: You can enjoy enhanced image quality for better remote experience.
Privacy mode: Unlock the option to connect to another computer in privacy mode. This feature allows you to black out the remote computer's screen and block mouse and keyboard inputs, ensuring a private and secure connection.
...
Part 2. Achieve unattended remote access on iPhone
Step 1. Download and install AnyViewer for iOS on your iPhone, then launch the app.
Step 2. Log in using the same account credentials used on the Windows computer.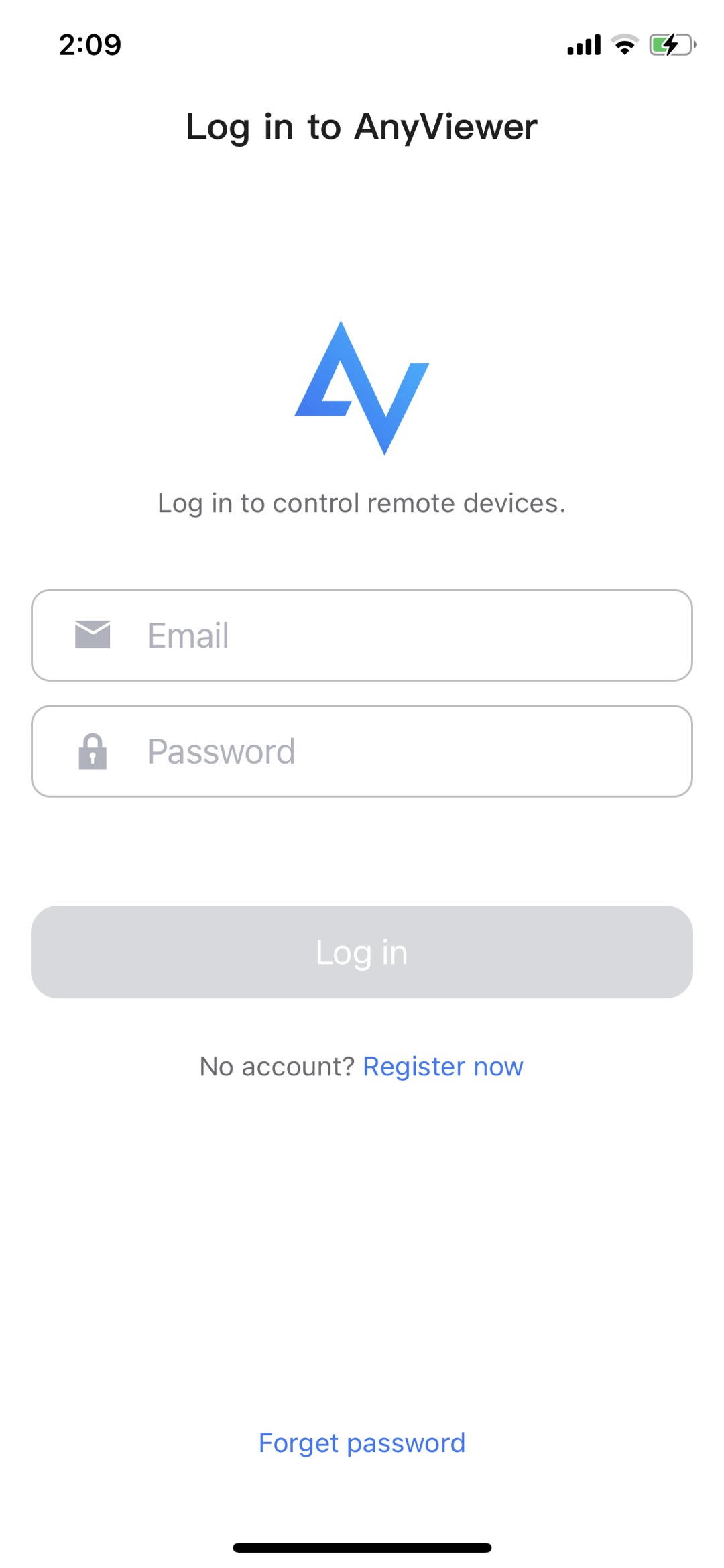 Step 3. All devices associated with the same account will be displayed. Select the specific Windows computer you wish to control.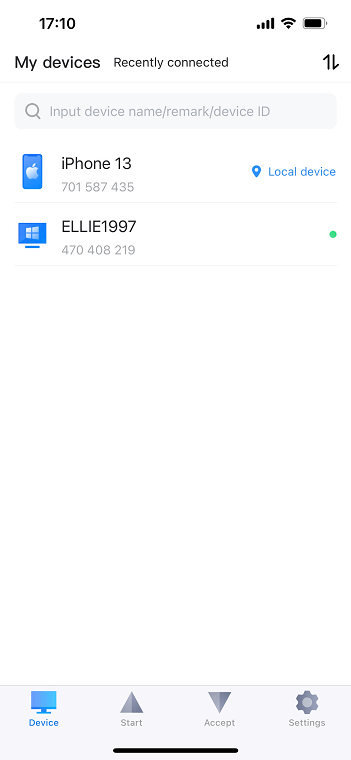 Step 4. Click One-click control to establish unattended remote access to the chosen computer.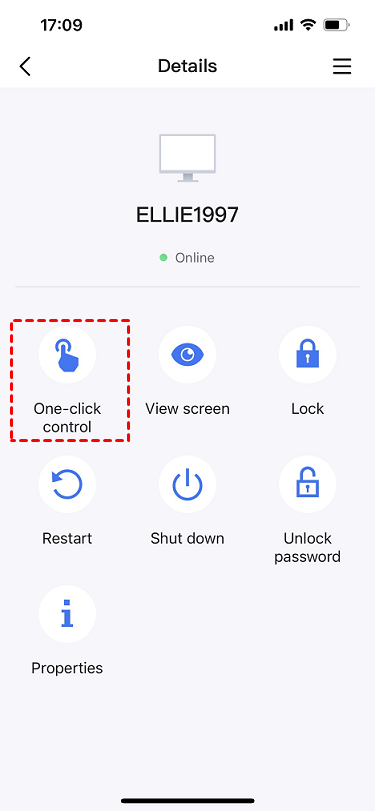 Step 4. Congratulations! You have now successfully connected your iPhone to the Windows computer. The interface supports both vertical and horizontal screens, allowing you to switch effortlessly between orientations for a seamless experience.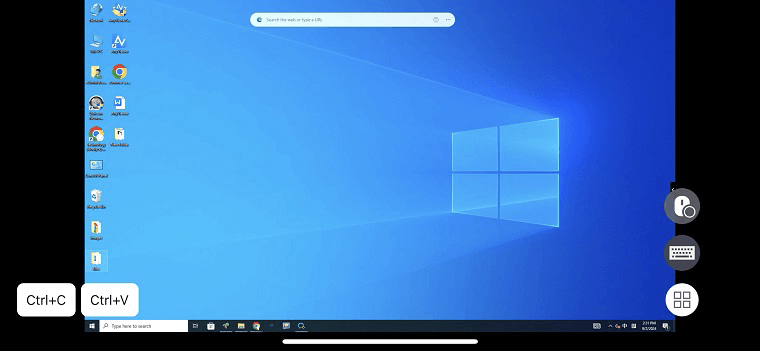 Method 2. Microsoft Remote Desktop: The Widnows built-in remote desktop tool
An alternative method for remotely accessing a PC from an iPhone is through the use of RD Client software. RD Client, also known as Microsoft Remote Desktop Client or Remote Desktop Client, is a software application developed by Microsoft. It is designed to enable users to remotely access and control Windows-based computers or servers from other devices, such as smartphones, tablets, or computers running different operating systems.
However, configuring remote access through RD Client over the internet often involves configuring network settings, firewall rules, and port forwarding, which can be challenging for users without technical expertise. Just as complicated as configuring Microsoft Remote Desktop to control remote PC over the Internet.
Here we introduce how to remote access PC from iPhone via RD Client when the two devices are on the same network.
Step 1. Download and open RD Client on your iPhone.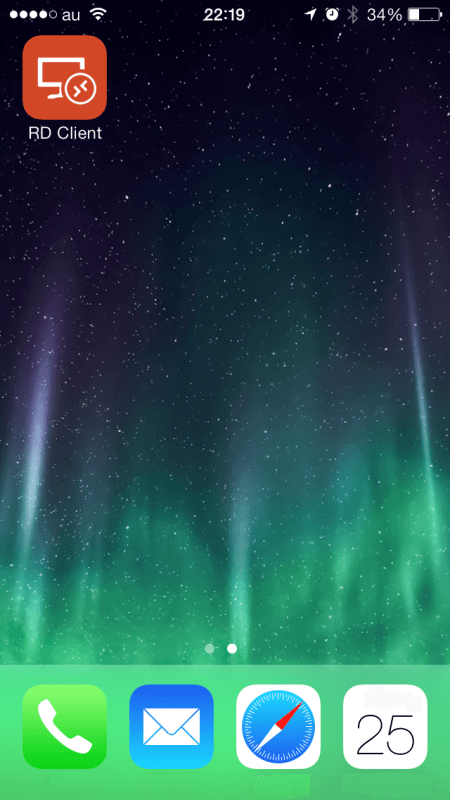 Step 2. Click the "+" sign in the upper right corner of the interface, and select Add PC in the pop-up window.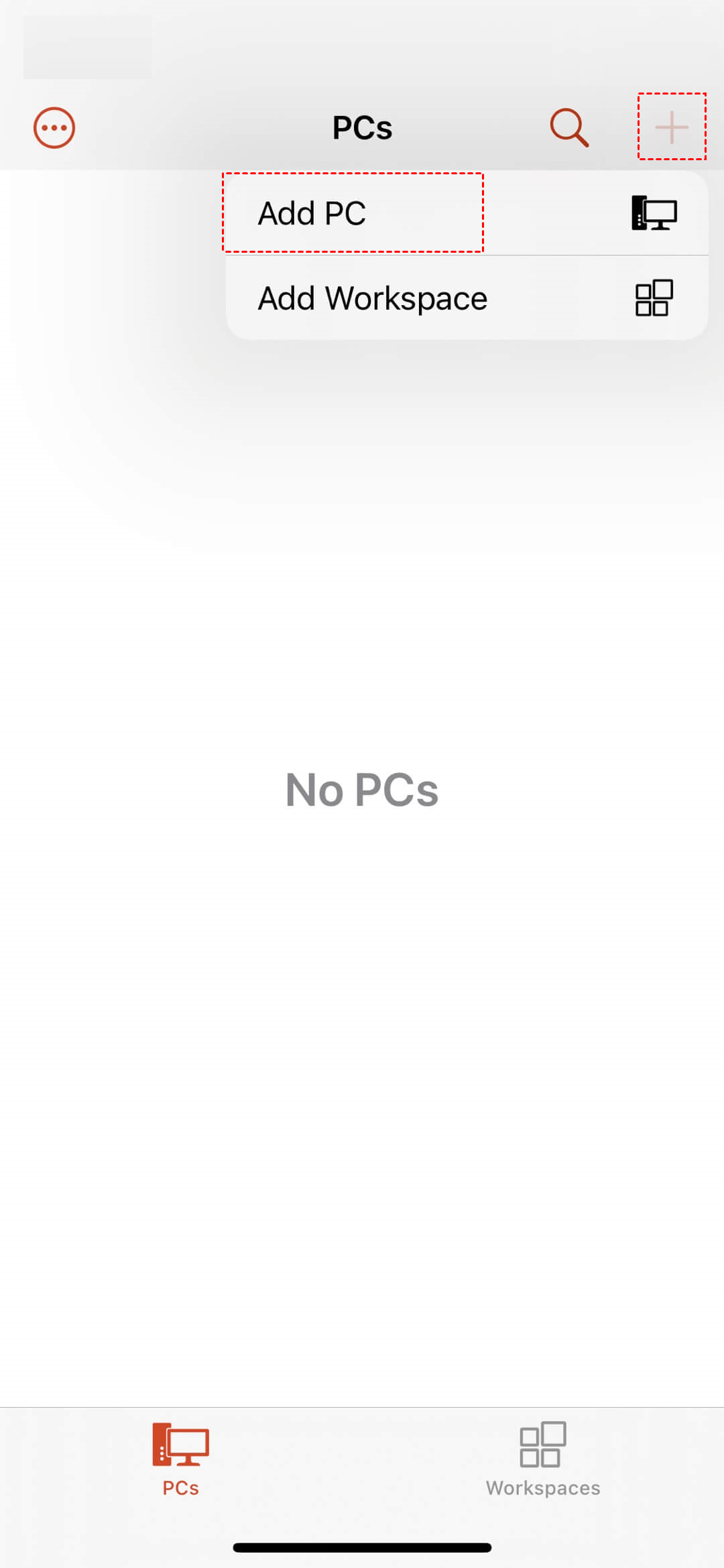 Step 3. Click PC name.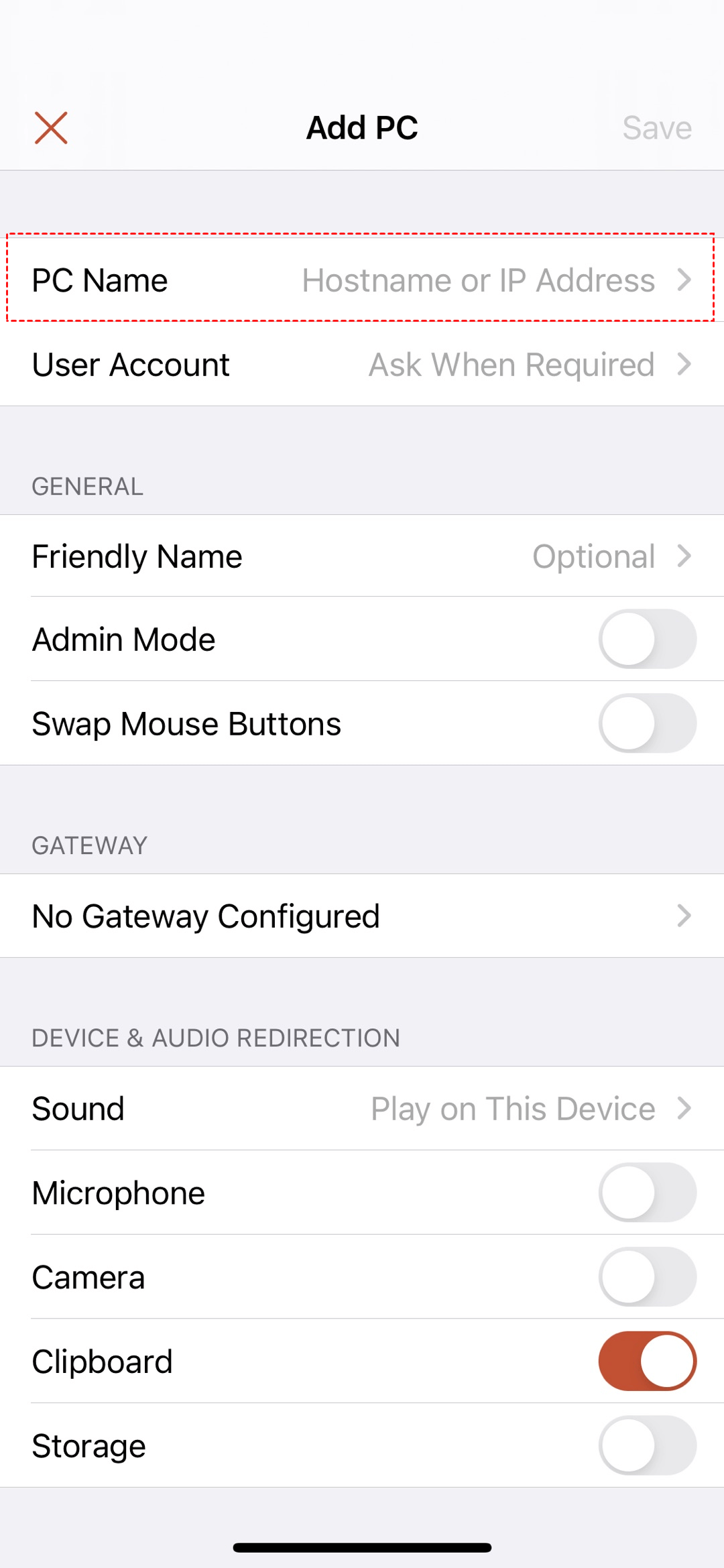 Step 4. Enter the hostname or IP address of the remote computer. (Note that if you specify a different remote desktop port for your computer than the default 3389, you need to specify it as "host:port" or "192.168.1.156:specified port").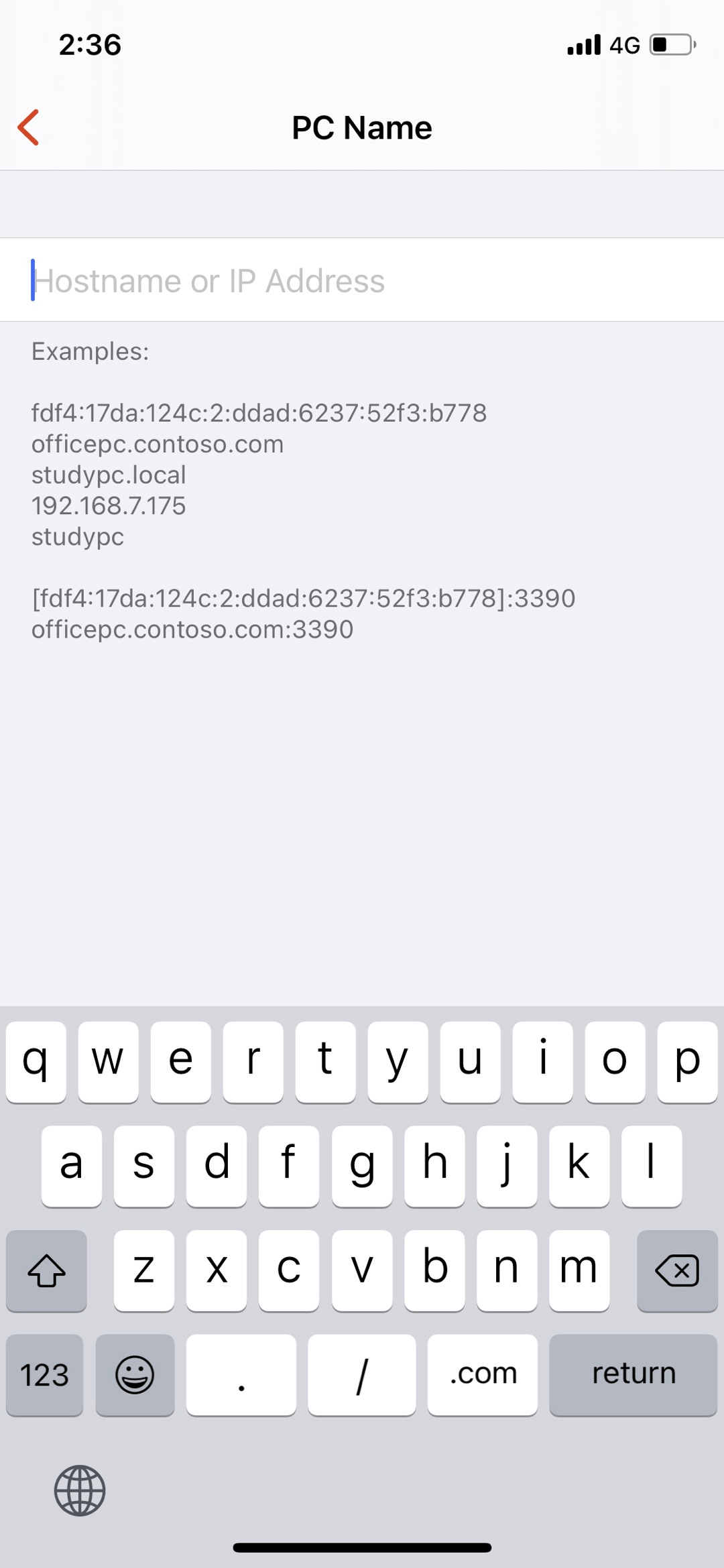 Step 5. Click User Account.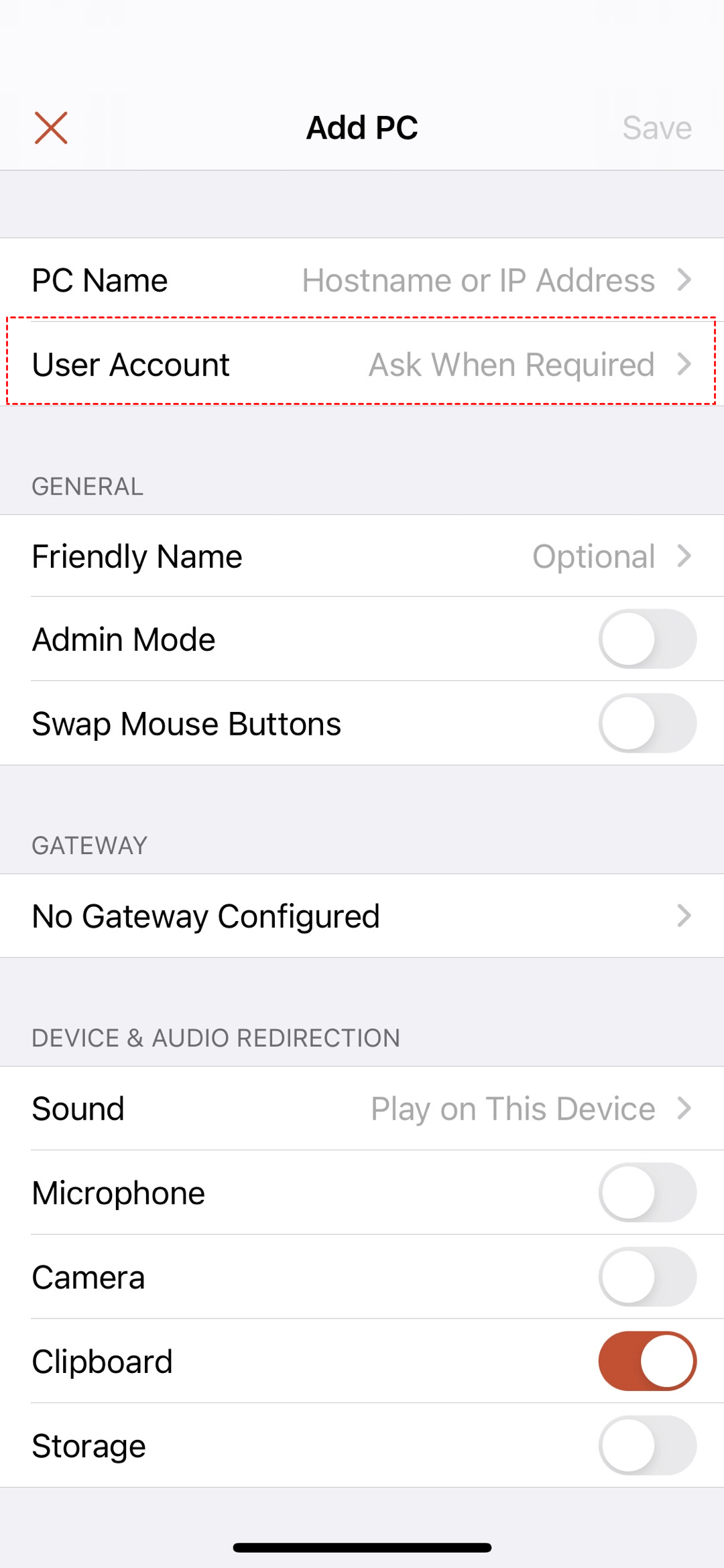 Step 6. If you often need to remotely control a PC from iPhone, it is recommended that you select Add User Account. If you are not, you can choose the default Ask When Required.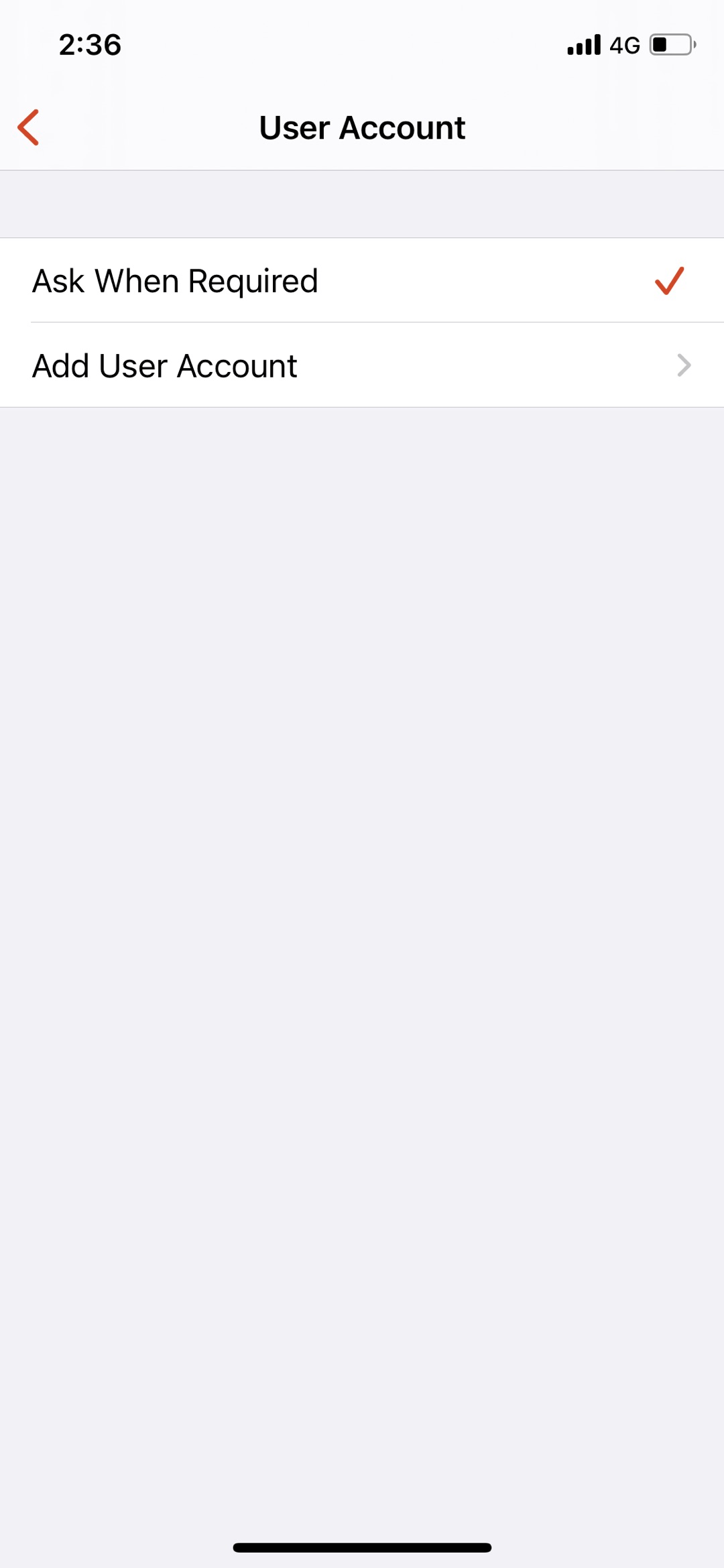 Step 7. Back to the main interface and click the IP address icon just created, enter the user name and password of the controlled computer in the pop-up Enter Your User Account window, and click Continue to successfully establish the connection.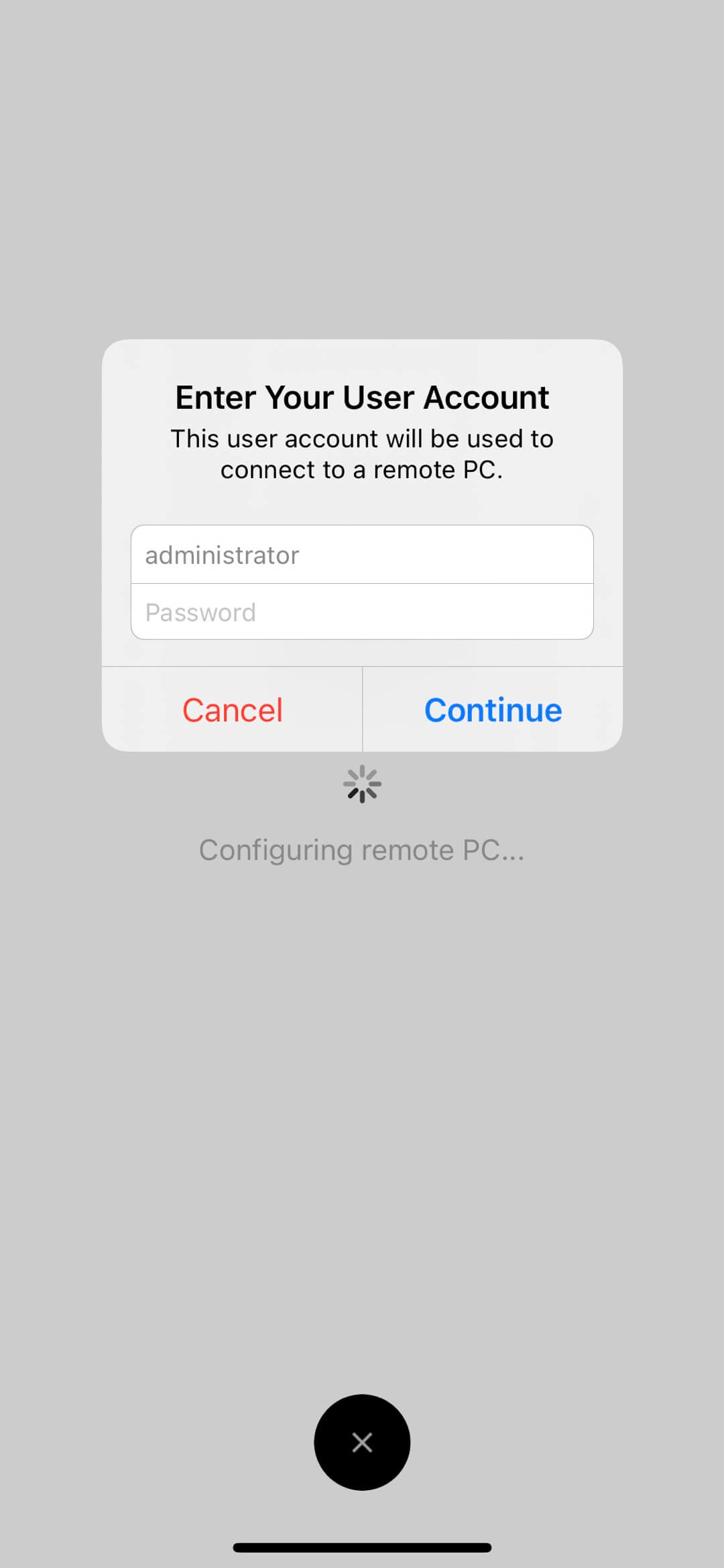 Step 8. Then you can control PC from your iPhone.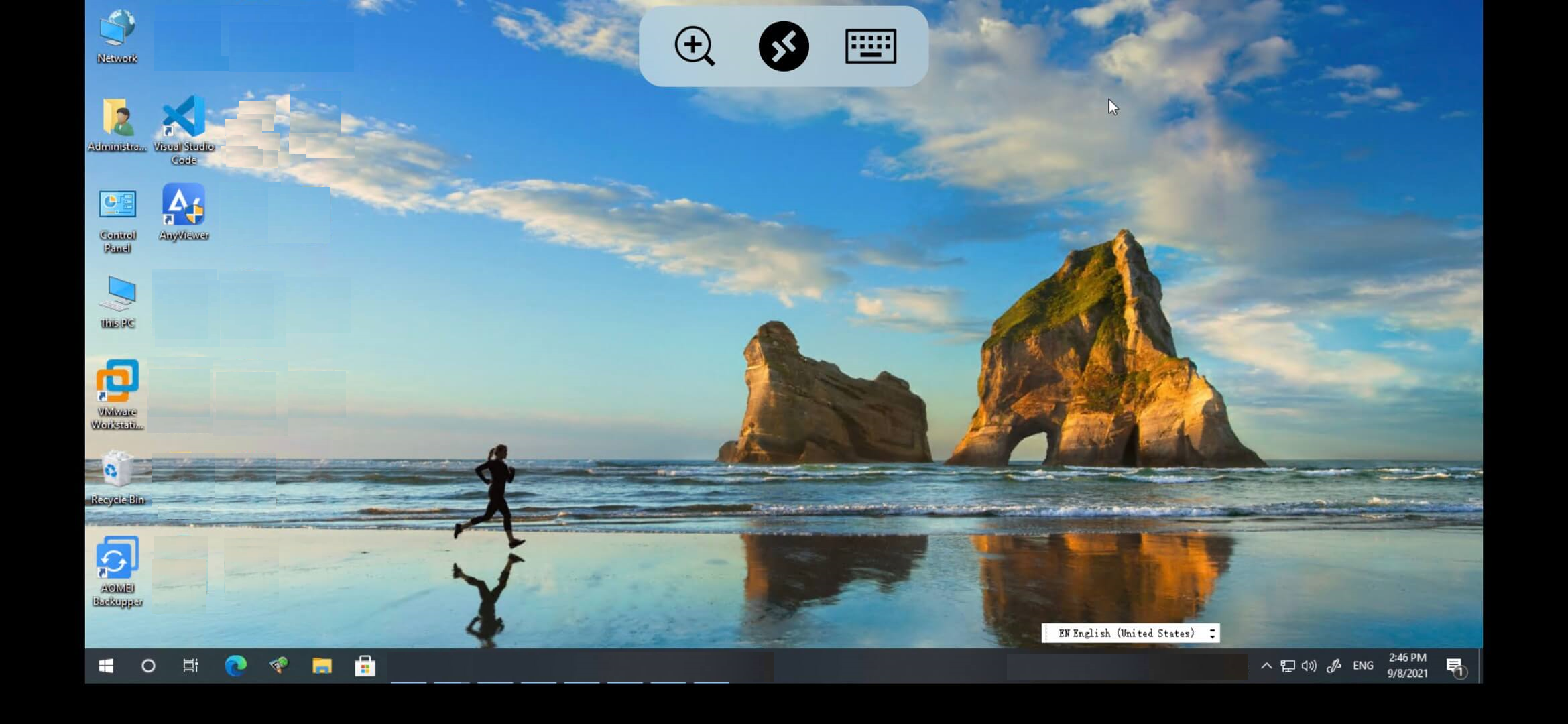 Method 3. Chrome Remote Desktop: Google remote access extension
You can also use Chrome Remote Desktop on iPhone. Chrome Remote Desktop, a product by Google, offers a flexible solution for remote access, available as both a Chrome browser extension and a standalone app. With its compatibility for iPhones and iPads, you can easily access a remote computer from your iOS devices, making it a reliable choice for remote access over the internet.
Part 1. Set up Chrome Remote Desktop on PC
Step 1. Go to Chrome Remote Desktop Access interface, click Accept & Install and follow the prompts to add Chrome Remote Desktop extension.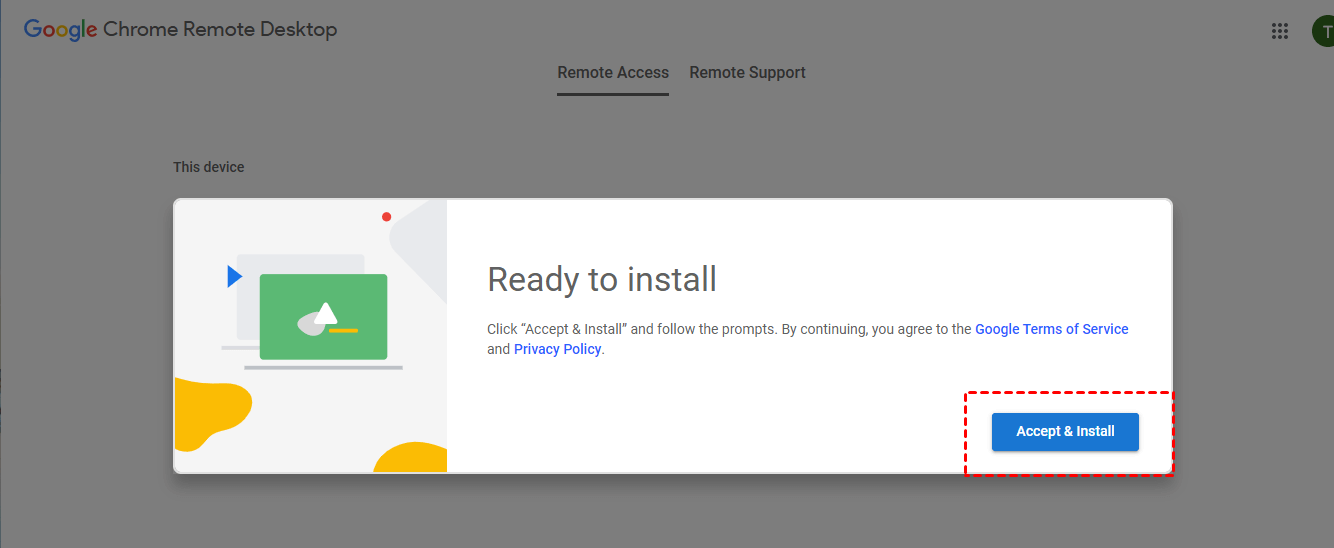 Step 2. Return to the Remote Acecess interface, enter the name of the computer and click Next.

Step 3. Choose a PIN with at least 6 numbers, and then enter it twice to start the program.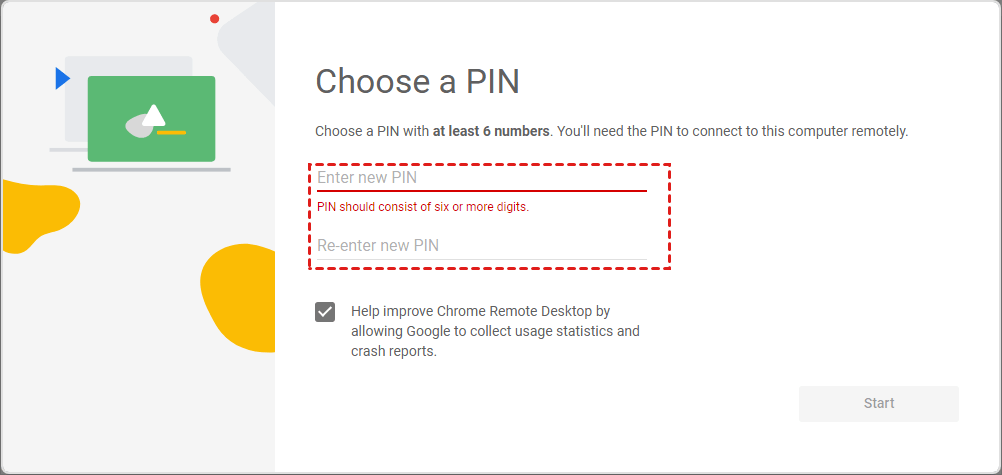 Part 2. Use Chrome Remote Desktop on iPhone to access PC
Step 1. Search Chrome Remote Desktop in the App Store, and install it.
Step 2. Open it and then tap SIGN IN.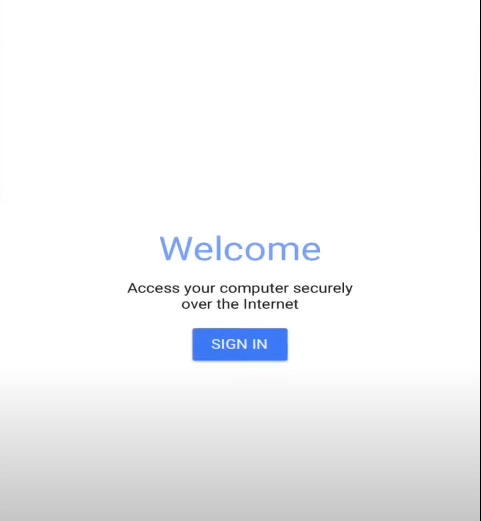 Step 3. After that, choose the PC you want to control, enter the PIN code and select Connect.
Step 4. Now the connection is established successfully. You can see the remote desktop from your iPhone and use the PC with your iPhone.
Bonus tip: How to remote access iPhone from PC
Indeed, AirDroid is a popular solution that enables users to control their iPhone screen from a PC. It offers a variety of features for seamless device management and remote access between iPhones and computers. With AirDroid, you can mirror your iPhone screen on your PC, allowing you to view and control your iPhone's interface, apps, and files directly from your computer.
Here are the steps to control your iPhone screen from PC using AirDroid.
Step 1. To begin controlling your iPhone screen from your PC, you'll need to download and install AirDroid on both your iPhone and PC. You can find the AirDroid app for iPhone on the App Store, and for your PC, visit the official AirDroid website to download the software.
Step 2. AirDroid Cast offers three connection methods for iPhone users:
Launch AirDroid Cast on your iPhone and use it to scan the QR code or enter the cast code displayed on the PC. This will allow access from both your iPhone and PC, enabling screen sharing. This option also supports remote connections, making it convenient for remote access scenarios.
Connect your iPhone to your laptop or PC using a USB cable. In your phone settings, allow access to the USB for recognition. Then, on your PC, open the AirDroid Cast application and select the "Cable" option to initiate mirroring via the USB connection.
After installing AirDroid Cast on both devices, ensure they are connected to the same Wi-Fi network. Access the control center on your iPhone and click on the "Screen Mirroring" option. Choose the "AirDroid Cast -XXX" option to begin mirroring your iPhone's screen on the PC.
Step 3. Once you've completed the connection process, you can start mirroring your iPhone screen to your PC. Tap on the hand icon on the left side of the screen and follow the provided instructions to finish some initial settings. Once the setup is complete, you can begin controlling your iPhone screen directly from your PC, enabling seamless interaction and enhanced productivity.
Conclusion
In this post, we have presented three effective methods for remote access PC from iPhone. You have the option to choose from the free third-party remote desktop software AnyViewer, the built-in Windows Remote Desktop, or the Google extension Chrome Remote Desktop. Among these options, we highly recommend AnyViewer for its user-friendly setup and usage, as well as its array of impressive features. Take advantage of AnyViewer now to enjoy seamless remote access and a remarkable remote desktop experience. Give it a try today!