What is Apache Guacamole?
What is Apache Guacamole? Apache Guacamole is a cross-platform, clientless remote desktop gateway that is free and open source. The guacd component enables remote access, which connects to resources using RDP, VNC, or SSH remote protocols. Guacamole is clientless because the client runs on web browsers and allows users to connect to their remote computers without installing a remote desktop client.
However, multiple security problems have recently been found in the Apache Guacamole remote access system. Remote hackers might use the Guacamole vulnerabilities to execute code, control servers, and intercept sensitive data by listening to remote sessions. The majority of customers are now looking for Apache Guacamole alternatives.
In this post, we will provide several top remote access software.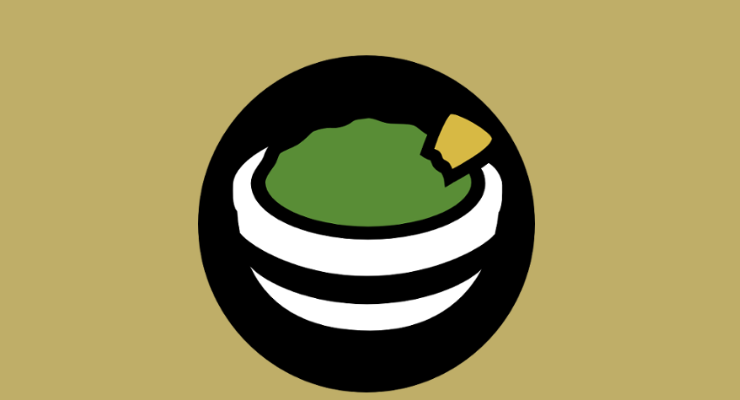 3 Best Apache Guacamole alternatives to choose from
Here are three Guacamole remote desktop alternatives for you to choose from.
Option 1. AnyViewer [recommended]
AnyViewer is the best remote desktop software for remotely accessing Windows PCs from Windows, Android, and iOS devices. With AnyViewer, you can easily one-click control your remote PC or transfer files between desktops. Then you can remotely run applications, manage files, change settings, etc. Besides, it is very secure with end-to-end encryption via strong 256-Bit Elliptic Curve Cryptography (ECC) algorithm.
Key features of AnyViewer:
►Unattended remote access. One-click remote control an unattended machine even if no one is there.
►Screen sharing. Share your computer screen with others.
►File transfer. Transfer files in a remote session or use file transfer mode without taking remote control.
►Remote lock/reboot/shut down. Lock, reboot, or shut down a computer remotely.
►Multiple sessions. Remotely control multiple computers simultaneously.
►Multi-monitor navigation. Remotely control a computer that is linked to two or more monitors.
►Real-time chat. Send or receive messages with your partner instantly in the chat box during the remote session.
AnyViewer requires installation on both computers, but it is worth trying overall!
See how to use AnyViewer with simple steps:
Step 1. Launch AnyViewer on the host computer, select Sign up to create a personal account, then log in.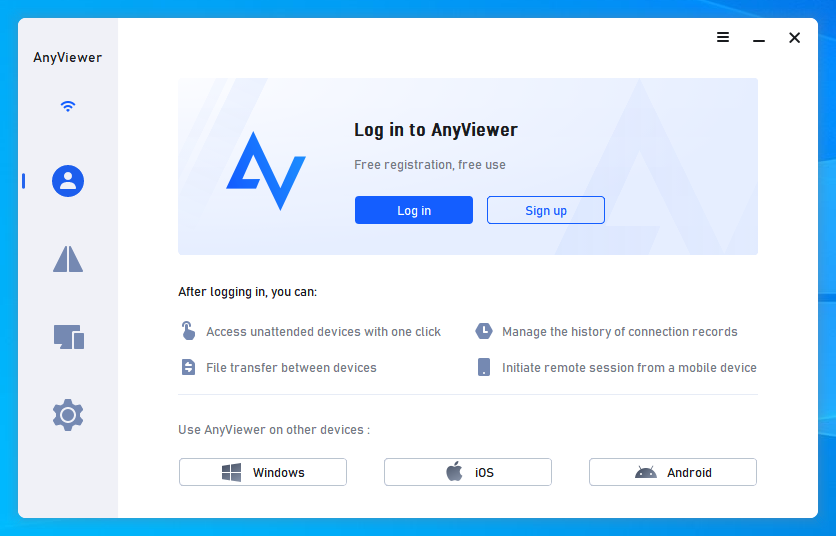 Step 2. Launch AnyViewer on the client and log in with the same account. When you log in, the client machine will automatically be assigned to the account.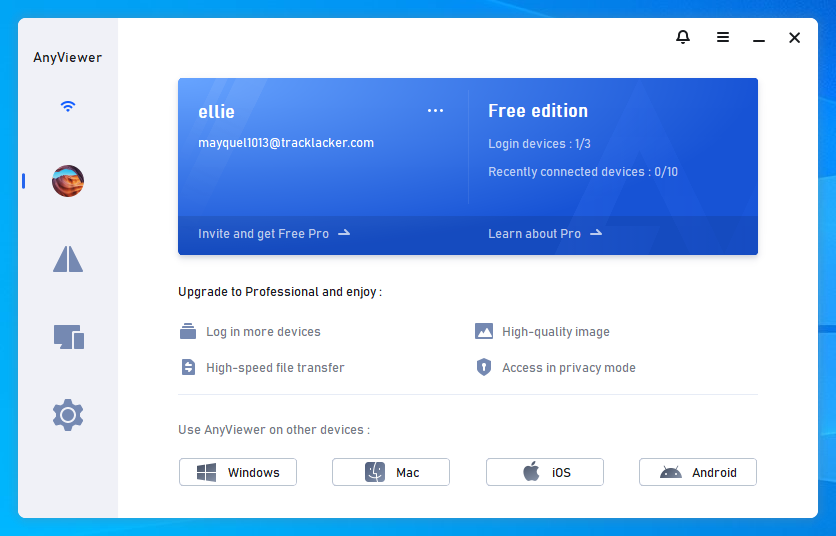 Step 3. Go to Device, select the device you want to connect to and click One-click control to start a connection.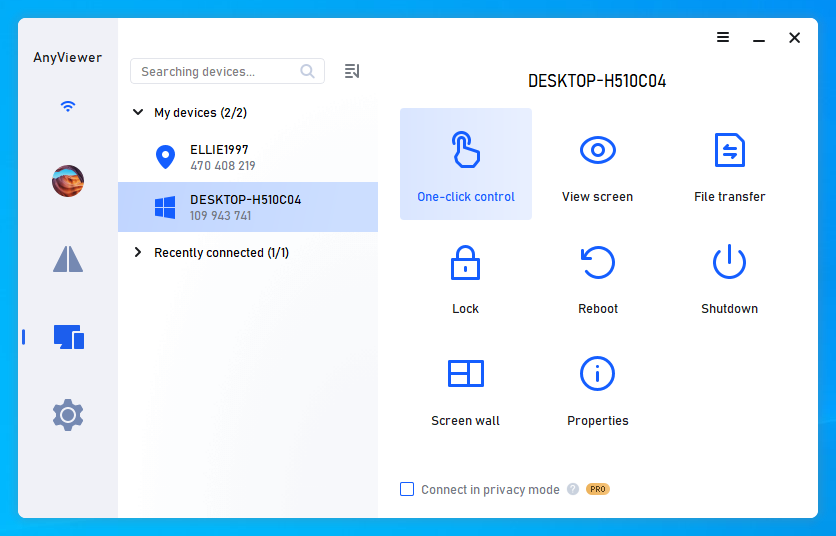 ⇒Tips: For users with over two computers, AnyViewer offers advanced plans to remotely control up to 10 devices at once and one-click control up to 100 computers.
Option 2. Chrome Remote Desktop
Chrome Remote Desktop is a popular Google extension that allows you to operate another computer from anywhere remotely. It is very convenient for remote access between cross-platform devices because the connection can be achieved on any Chrome-compatible device without extra installation.
Key features of Chrome Remote Desktop:
►Unattended remote access. Access an unattended online computer by entering the PIN code.
►File transfer. Download/upload files between local and remote.
►Screen sharing. Share screen with one or more multiple devices.
Though Chrome Remote Desktop is an outstanding free tool, it has some remote access limitations. For example, it has a complicated file transfer process, no built-in chat, and only works fine with the installed Google browser and available Google account.
See how to perform remote access via Chrome Remote Desktop:
Step 1. Open Google Chrome on your machines and sign in with the same Google account.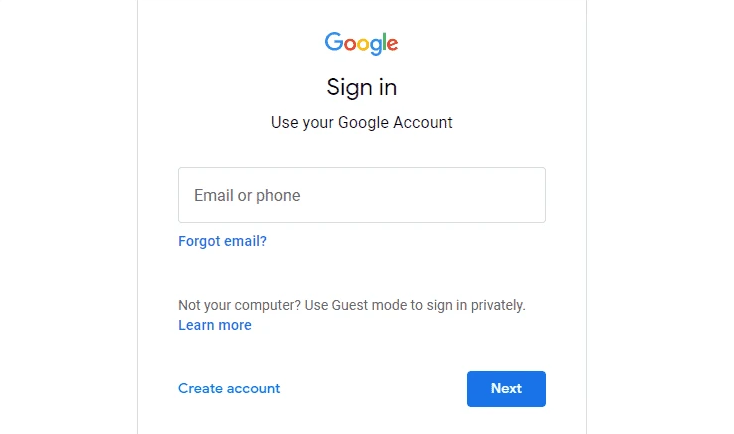 Step 2. Open Chrome Remote Desktop from Google extensions and Add to Chrome.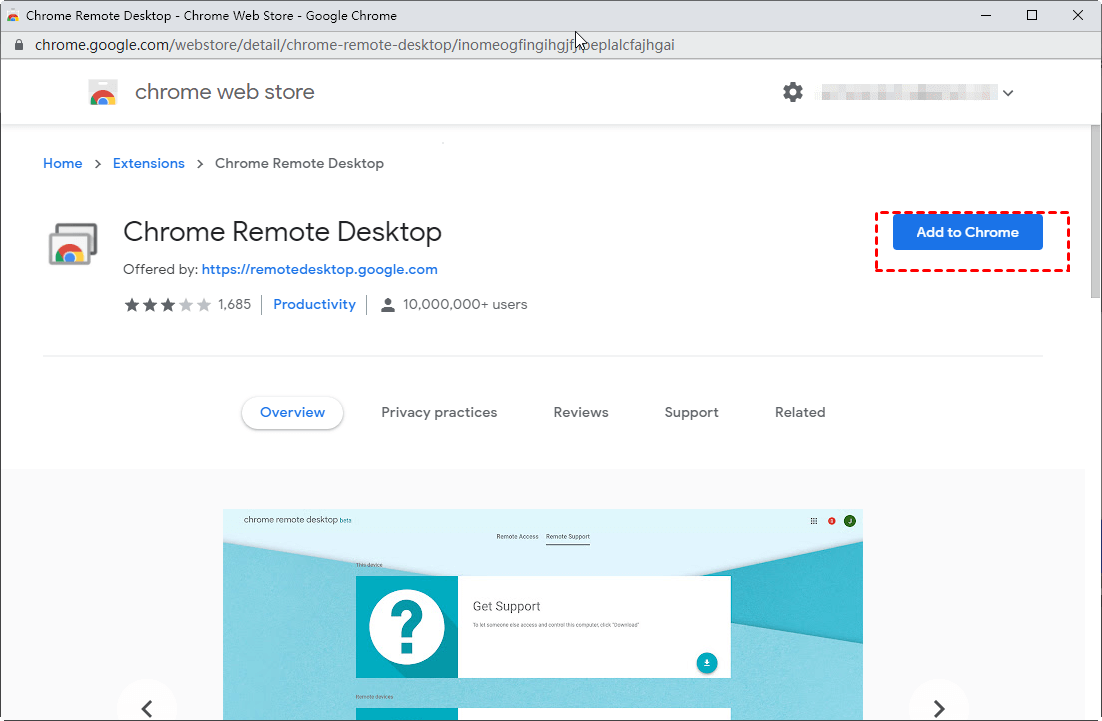 Step 3. Click the download button once added.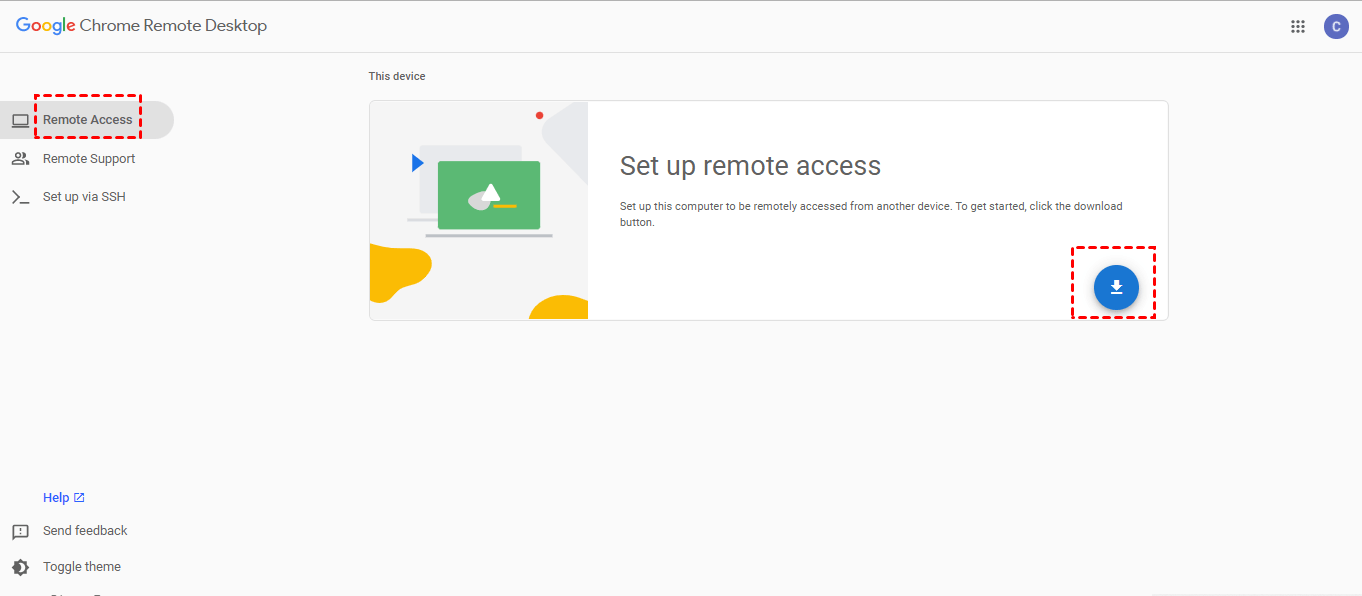 Step 4. Click Accept & Install.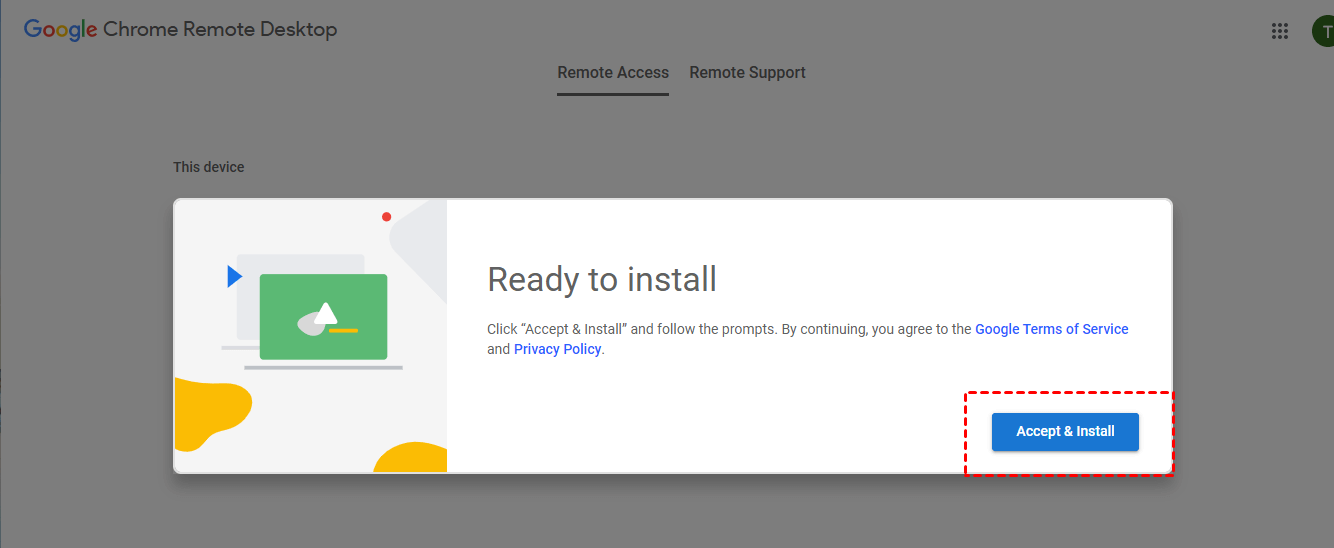 Step 5. Name your device and click Next.

Step 6. Enter and verify a PIN, then click Start.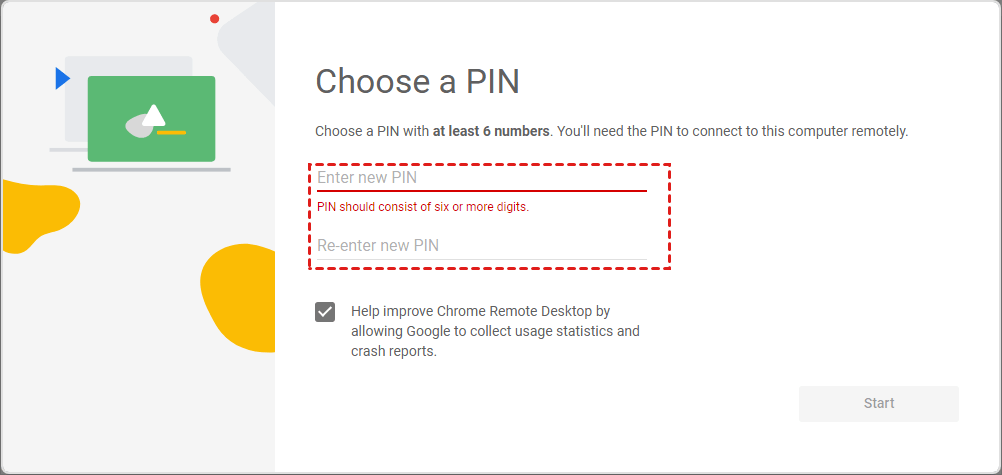 Step 7. On the client side, check the remote access devices and select the device you want to connect to.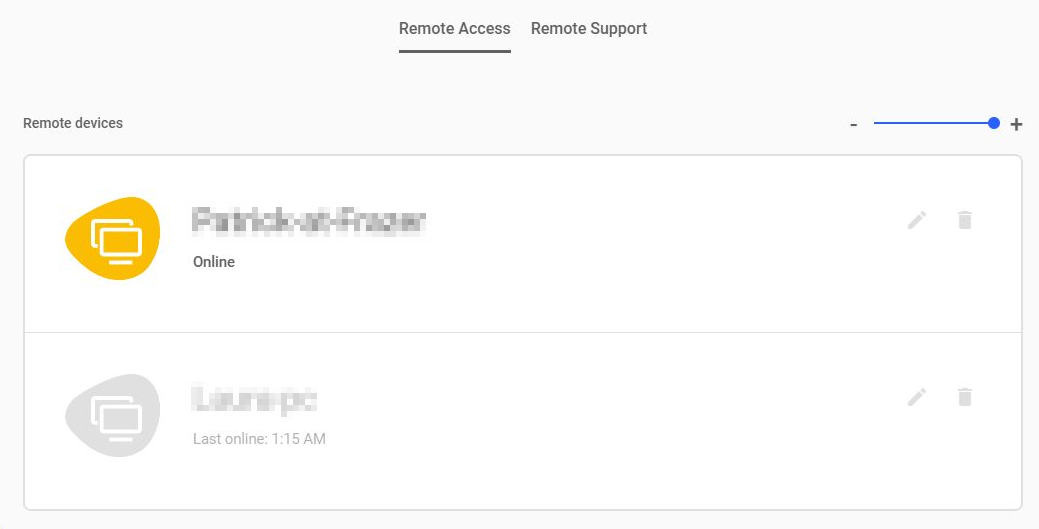 Step 8. Enter the host's PIN and press the blue arrow to begin the session.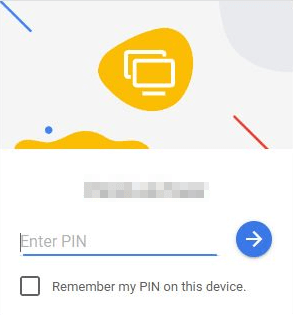 Option 3. Quick Assist
Quick Assist is a Windows built-in tool compatible with Windows 10 1607 and later. It enables you to control other's computers remotely with a Microsoft account. Quick Assist is only suitable for users offering or receiving remote computer assistance because it has no more features.
See how to offer remote assistance using Quick Assist:
Step 1. Search Quick Assist and open it from the start menu.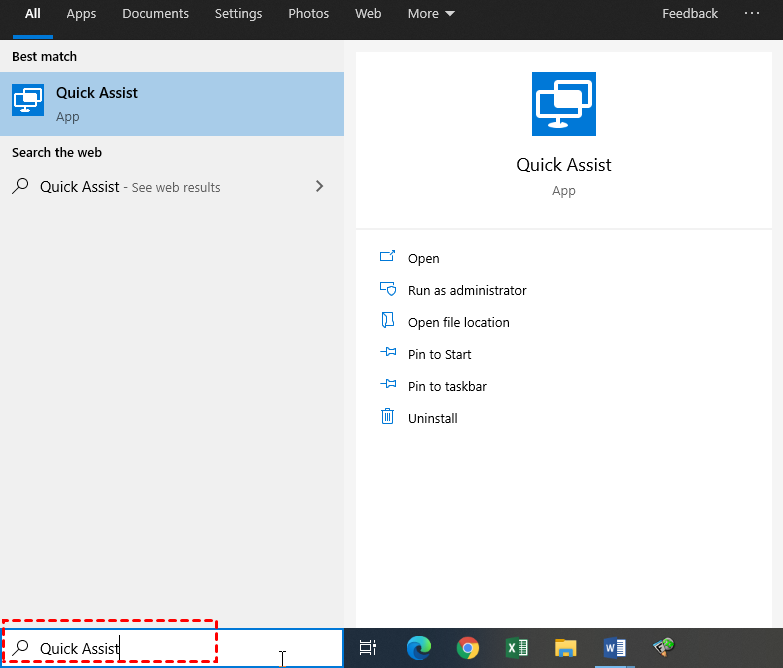 Step 2. On the client computer, click Assist another person under Give assistance.
Step 3. Log into your Microsoft account.
Step 4. Provide the security code to your partner that requires get assistance.
Step 5. Launch Quick Assist on the remote computer, enter the security code, then select Share screen.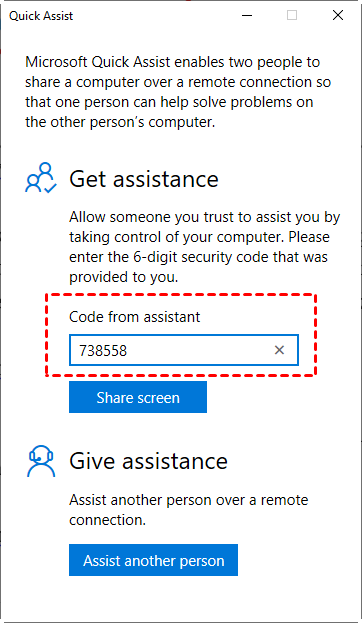 Step 6. Choose a sharing option and click Continue.
Step 7. There will be a request sent to the distant computer. Click Allow after confirming that the client can be trusted.
You can control the device remotely once the connection is made.

Conclusion
There are three top Apache Guacamole alternatives for you to choose from. We recommend using AnyViewer because it has the most straightforward operation and many advanced features for free.