AeroAdmin vs. TeamViewer
Remote access software has become a necessity in many companies worldwide, and it is used for various tasks, such as accessing files from a remote place, remote troubleshooting, and transferring files between local and remote.
However, how can you choose the ideal one for your business or personal use? So, we compared the two popular remote access software, AeroAdmin vs. TeamViewer, based on key criteria such as functionality, ease of use, pricing, and security.
Overview
AeroAdmin
AeroAdmin is an all-in-one remote desktop application that enables complete remote computer control, including unattended access, concurrent remote connections from and to a single computer, file transfer, and the capacity to connect to an illimitable number of endpoints (remote computers).
TeamViewer
TeamViewer is a market-leading remote access software. It provides software for both online collaboration and remote management. Users can access interactive screen sharing, file sharing, remote access, and fully integrated audio and video online conferencing capabilities with TeamViewer.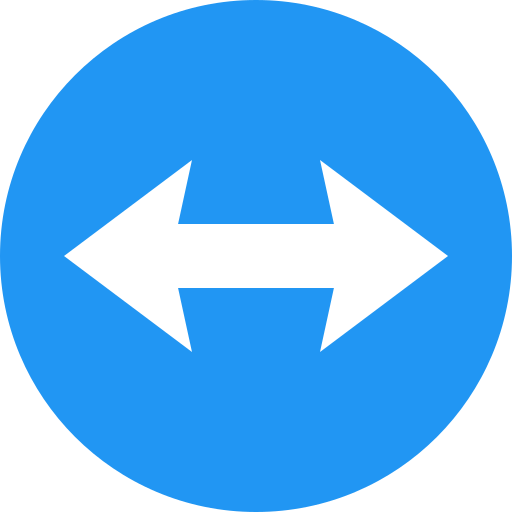 Compatibility
Here are the operating systems supported by AeroAdmin vs. TeamViewer.
| | | |
| --- | --- | --- |
| Operating System | AeroAdmin | TeamViewer |
| Windows | √ | √ |
| MacOS | √ | √ |
| Linux | √ | √ |
| Chrome OS | × | √ |
| Android | × | √ |
| iOS | × | √ |
Interface and ease of use
Both software tools have intuitive interfaces as follows. AeroAdmin is relatively easy to use because it can be started immediately after downloading without installation or configuration. Users can conveniently establish a remote session by entering the target ID and PIN code. However, TeamViewer offers more functionality tabs on the main interface, and users can easily start the remote control, access the remote administration interface, or schedule a meeting from the left pane.
AeroAdmin interface
TeamViewer interface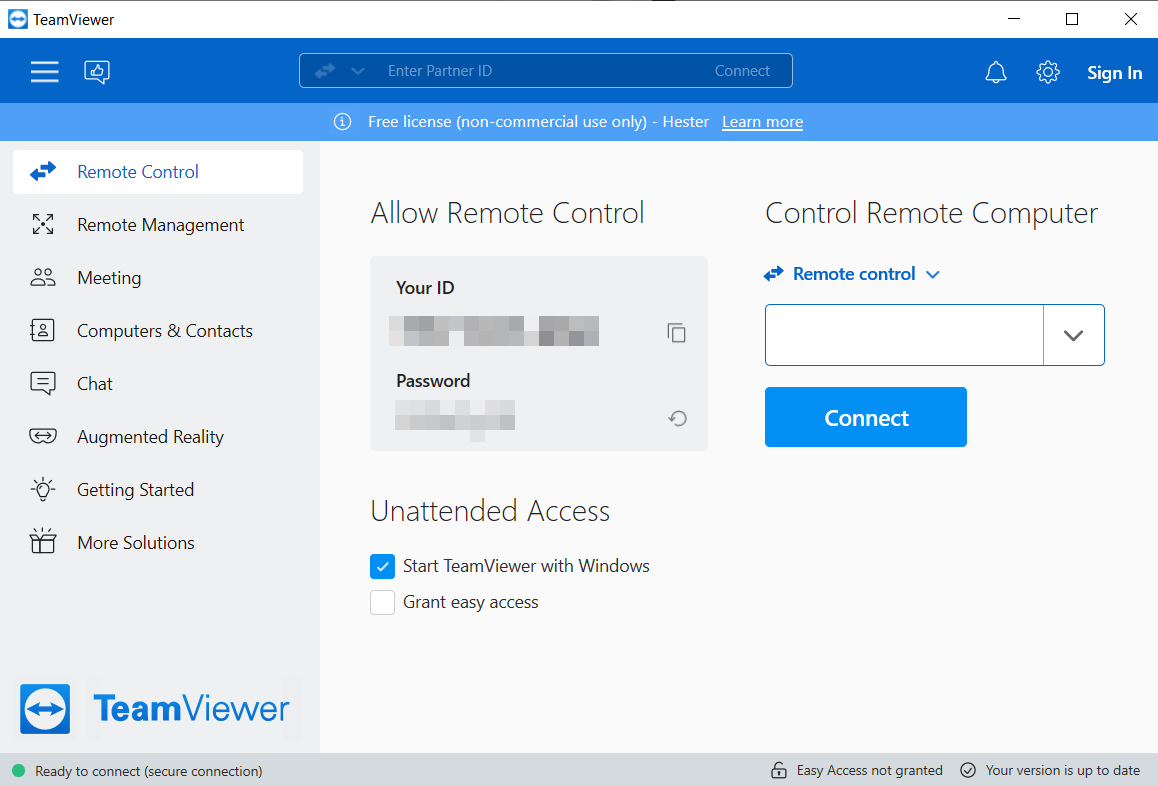 Features
TeamViewer vs. AeroAdmin are all-in-one remote access solutions with rich features. However, most features are designed for premium accounts. Here we will compare the features of AeroAdmin free and TeamViewer free.
| | | |
| --- | --- | --- |
| Features | AeroAdmin free | TeamViewer free |
| Unattended remote access | √ (Time limit: 17 hours per month) | √ (only available for personal use) |
| File transfer | × | √ |
| Remote reboot | √ | √ |
| Concurrent sessions | √ (Maximum of 2 concurrent connections) | × |
| Multiple monitor support | √ | × |
| Real-time chat | × | √ |
| Mobile access | × | √ |
In summary, there are several significant limitations with AeroAdmin free and TeamViewer free. To access more features, you need to pay for subscription plans.
Pricing
Aeroadmin
Aeroadmin offers a free version and three paid plans (billed annually): Pro, Business, and Corporate. The price is started at $80/year and varies from the operator working seats you demand.
License comparison
| | | | | |
| --- | --- | --- | --- | --- |
| Key features | Free | Pro | Business | Corporate |
| Commercial use | √ | √ | √ | √ |
| Connection time limit by ID (hours per month) | 17 | No limit | No limit | No limit |
| Allowed endpoints by ID (per month) | 20 | No limit | No limit | No limit |
| Number of concurrent connections on one computer | 2 | 3 | No limit | No limit |
| File transfer | × | √ | √ | √ |
| Contact book | × | √ | √ | √ |
| MSI deployment | × | × | × | √ |
TeamViewer
Four paid options (each with a 14-day free trial) are available for TeamViewer: Remote Access, Business, Premium, and Corporate.
You need to buy a license (paid annually) ranging from $24.90/month to $229.90/month to access more TeamViewer features. Check these plans in detail.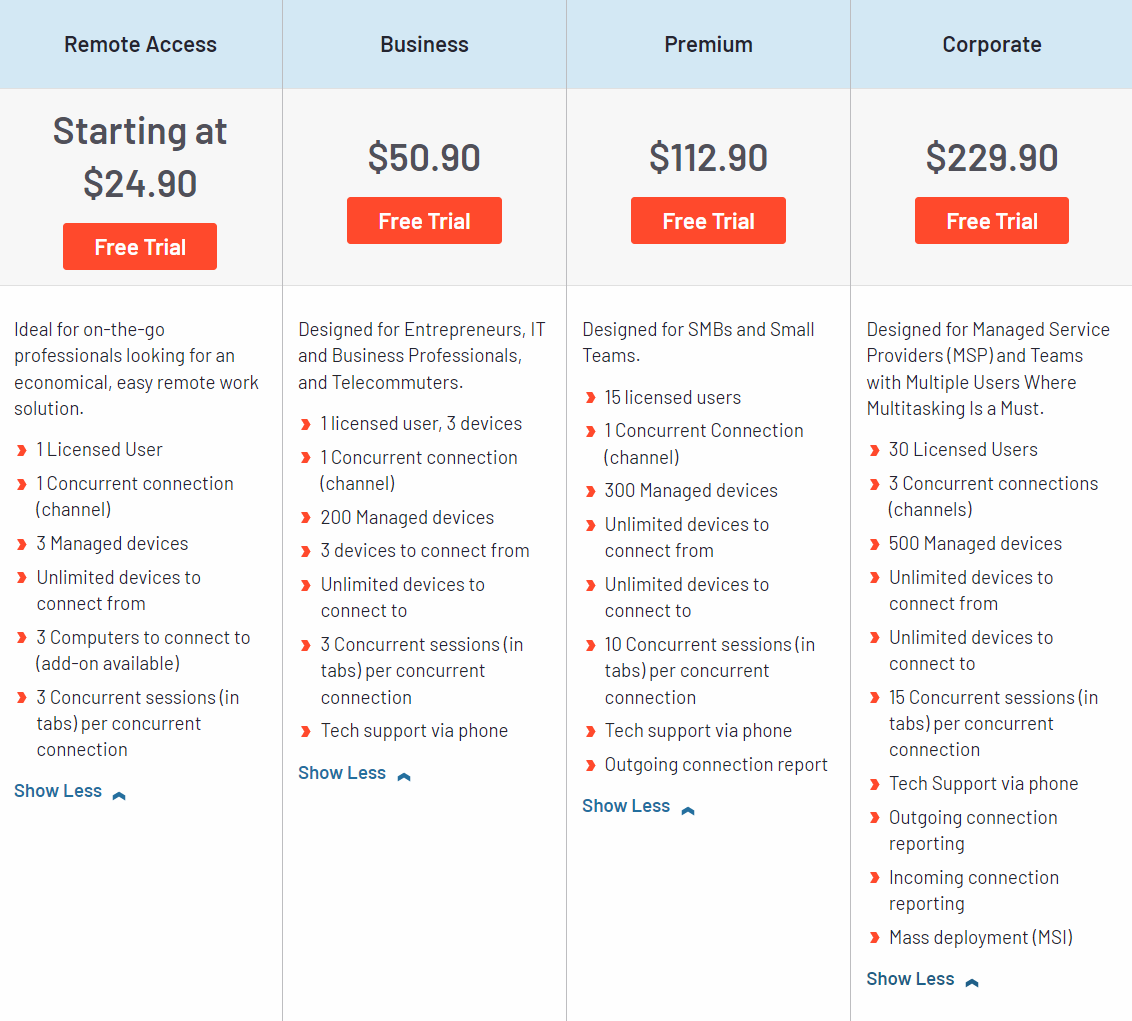 Security
AeroAdmin
AeroAdmin uses powerful AES-256 and RSA-1024 cryptographic keys for end-to-end encryption. This technique is based on the same standards as https/SSL and corresponds to modern international security requirements.
TeamViewer
Teamviewer is generally risk-free to use. It employs AES 256-bit encryption, which is a well-known high-quality standard. You can also enable two-factor authentication, request a password reset in response to suspicious activity, and add trustworthy devices to a safelist.
However, Teamviewer has numerous security flaws. External password leaks in 2016 made it feasible for user accounts to be illegally used to deplete bank and PayPal accounts. In 2017, it found a flaw that enabled hackers to take over users' devices while it was possible to take over users' devices while hackers took over users' devices while logged into their desktop PCs. Thankfully, the engineers quickly filled the space. This is why it's crucial to set up Teamviewer settings correctly. Take all necessary safety measures.
What is better than TeamViewer vs. AeroAdmin? AeroAdmin is the most affordable remote desktop program because of its simple design. However, AeroAdmin requires more scalability, which is a significant downside. TeamViewer is feature-rich software ideal for medium to large-scale enterprises but somewhat pricey. Keep reading if you're looking for a free remote access program with comparable essential capabilities.
Best free alternative to AeroAdmin and TeamViewer for Windows
AnyViewer is powerful yet free remote access software that offers several features for both personal and commercial use.
Free features of AnyViewer include:
►Unattended remote access. One-click remote control another computereven if no one is there.(without time limitation)
►Screen sharing. Share your computer screen with others.
►Flexible remote desktop file transfer. Transfer files in a remote session or use file transfer mode without requesting remote control.
►Concurrent sessions. Establish multiple remote connectionsat once.
►Multiple monitors. Control a remote computer that is linked to two or more external monitors.
►Remote reboot and reconnect. Reboot the remote computer and automatically reconnect to it.
►Instant chat. You can instantly send and receive messages with your partner during the remote session in the chat box.
►Recent connections list. You can check the recently connected devices of your account.
It's pretty simple to utilize AnyViewer. Please download, install, and run it on your computers:
Step 1. Click Sign up to create a new account on the host, then log in.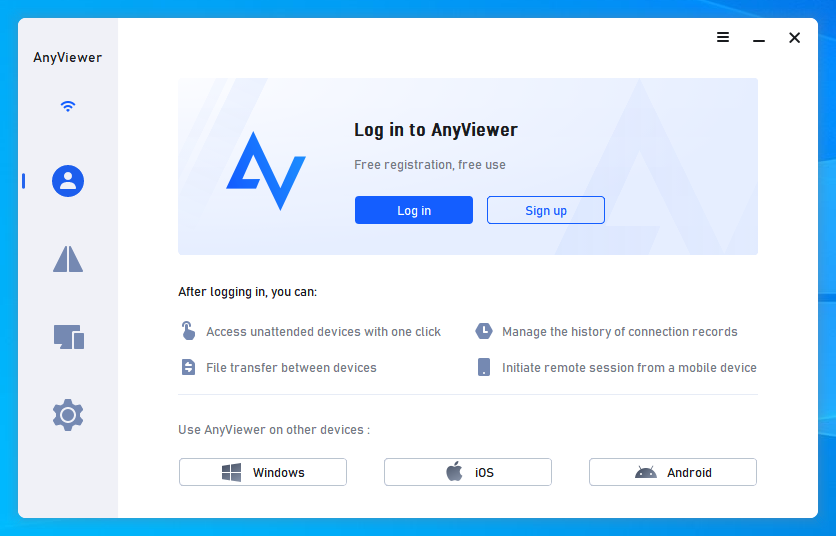 Step 2. Log on to the client using the same account. The account will be assigned to your device once you successfully logged in.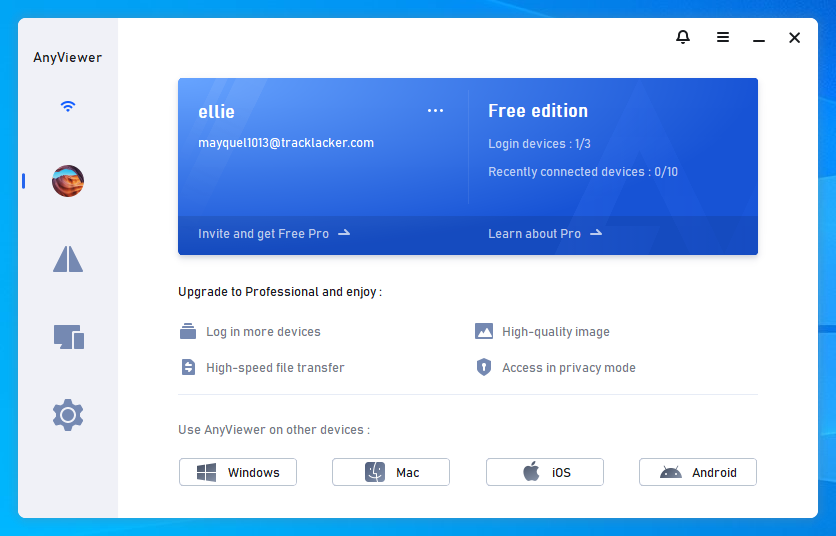 Step 3. Go to Device, select the device you want to connect, and click One-click control to start a connection.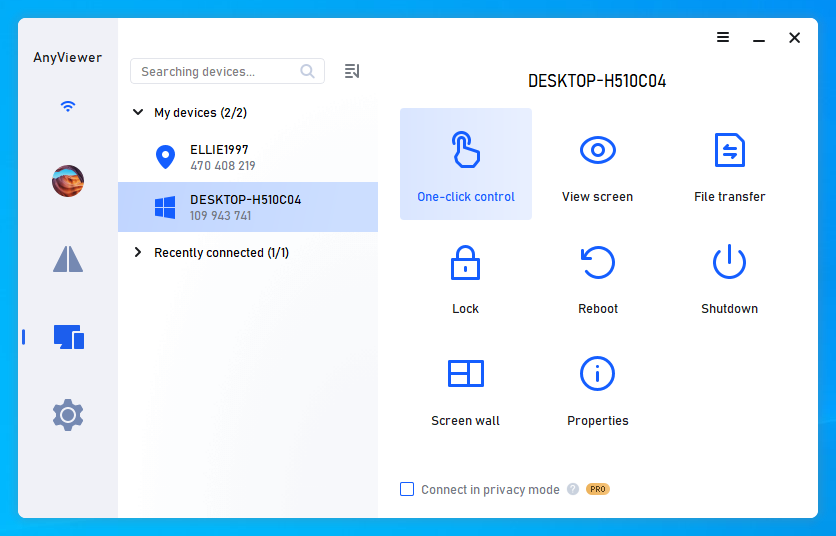 Tips:
For users with more than two remote computers, AnyViewer offers
upgraded plans
that allow for one-click control of up to 100 machines and the ability to control up to 10 devices at once remotely.
Final Words
AeroAdmin vs. TeamViewer, which one is better for you? If you have yet to decide, we recommend using AnyViewer, which allows you to enjoy comprehensive features at the lowest cost.