Is TeamViewer safe?
TeamViewer is a software application for remote control, desktop sharing, online meetings, web conferencing, and file transfer between computers. Full encryption is used by all TeamViewer (Classic) versions. Encryption is based on a 4096-bit RSA private/public key exchange and 256-bit AES session encoding, all considered completely safe by today's standards. Besides, it also allows users to set up two-factor authentication and create a whitelist and a blacklist.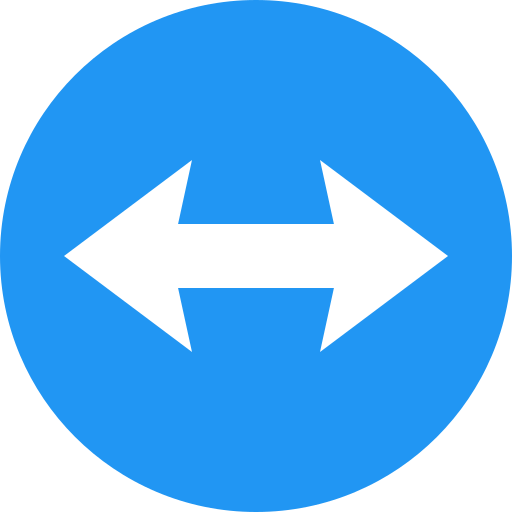 However, even so, TeamViewer is also a prime target for hackers and other bad actors. TeamViewer vulnerabilities are dangerous, and developers and users must take proactive action to eliminate the lousy affection.
What is the CVE vulnerability of TeamViewer?
A TeamViewer vulnerabilities CVE database covers a list of TeamViewer security issues. Here are some noteworthy security vulnerabilities.
Case 1. TeamViewer vulnerabilities CVE-2022-23242
One of the TeamViewer vulnerabilities in 2022 is documented in CVE-2022-23242. It was discovered that in a process crash, TeamViewer Linux versions before 15.28 would not correctly execute a deletion instruction for the connection password. Knowing the crash event and the TeamViewer ID and having either the pre-crash connection password or locally permitted access to the machine would have allowed a remote connection to be formed by reusing the not properly wiped connection password.
Case 2. TeamViewer vulnerabilities CVE-2021-34859
This flaw enables remote attackers to run arbitrary code on installations of TeamViewer 15.16.8.0. The victim must interact with the vulnerability by visiting a malicious website or opening a malicious file. A particular issue exists in the parsing of TVS files. The problem stems from a lack of sufficient validation of user-supplied data, which might lead to memory corruption. This issue allows an attacker to execute code within the context of the current process.
Case 3. TeamViewer vulnerabilities CVE-2020-13699
The CVE-2020-13699 TeamViewer security flaw also affects passwords and the Windows version of the application. Hackers could exploit the vulnerability to crack user credentials and get access to enterprise systems. This vulnerability affects TeamViewer versions up to 15.8.3.
Case 4. TeamViewer vulnerabilities CVE-2019-11769
In TeamViewer 14.2.2558, an error was discovered. As a non-administrator user, updating the product necessitates entering administration credentials into the GUI. These credentials are then handled by Teamviewer.exe, allowing any application operating in the same non-administrative user context to intercept them in cleartext within process memory. A local attacker can use this technique to get administrator credentials and elevate privileges. This flaw can be exploited by injecting malware into Teamviewer.exe that intercepts GetWindowTextW calls and reports the processed credentials.
How to improve TeamViewer security
Although TeamViewer has security vulnerabilities, configuring and using it will significantly affect its safety. Here are some tips for better TeamViewer security.
Tip 1. Create a whitelist and a blacklist
To control access to a workstation, TeamViewer allows you to define whitelists and blacklists. A whitelist allows you to restrict access to select TeamViewer users who are added to the list. You can avoid potential TeamViewer security issues by creating a blacklist and refusing access to entities.
Step 1. Go to Options.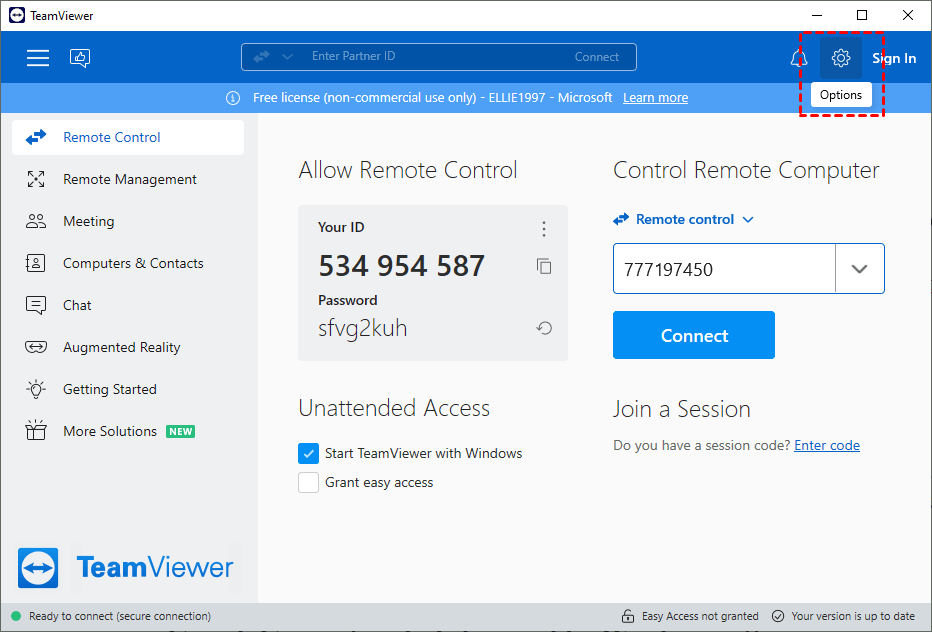 Step 2. Under Rules for connections to this computer, click Configure next to Block and allowlist.
Step 3. Tick Deny access for the following partners or tick Allow access only for the following partners, add contacts to the list, and then click Add.
Tip 2. Keep TeamViewer updated
The new version may fix some existing issues. So please always keep TeamViewer updated.
Step 1. Click the menu icon > Check for new version.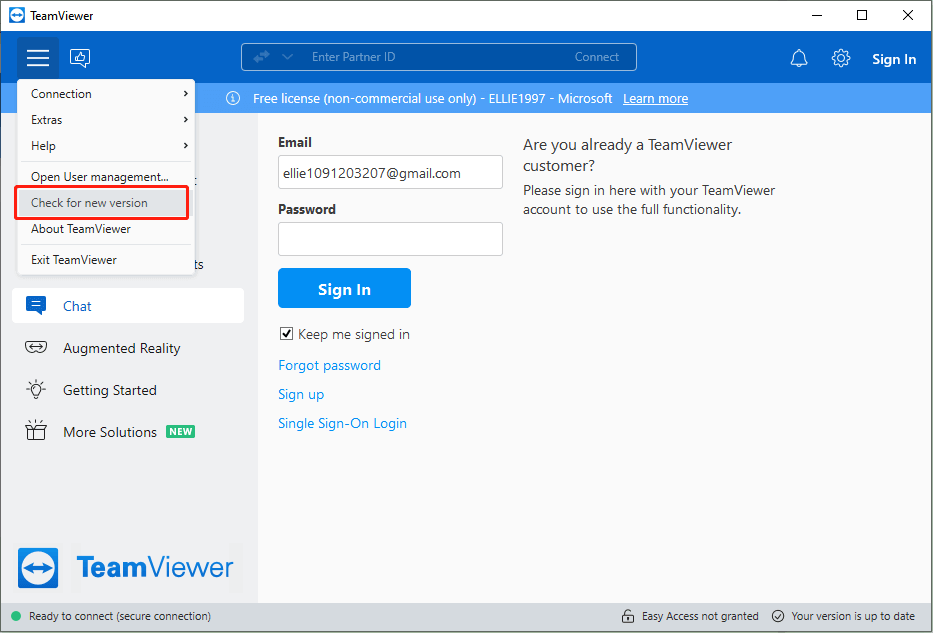 Step 2. Check to see if TeamViewer is up to date on your computer. If any updates are available, update them.
Tip 3. Use a strong password
You need to set a strong password for TeamViewer. Simple, trivial, or default passwords make it easy for hackers or malicious insiders to compromise your TeamViewer account.
Bonus tip: Safe TeamViewer alternative without vulnerabilities
AnyViewer is a free & secure remote access software. It is the safest TeamViewer alternative. End-to-end encryption is provided by a robust 256-Bit ECC (Elliptic Curve Cryptography) algorithm, which is not inferior to TeamViewer's AES technique and is even more vital.
Step 1. Install and run AnyViewer on both of your computers. Navigate to Log in and then Sign up on the Controller computer (if you have already registered on the official website, you can log in directly).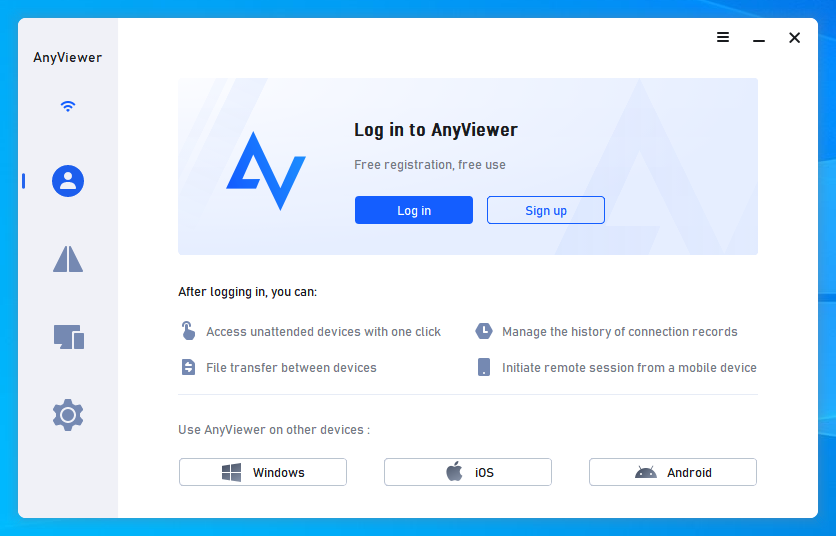 Step 2. Fill out the sign-up form.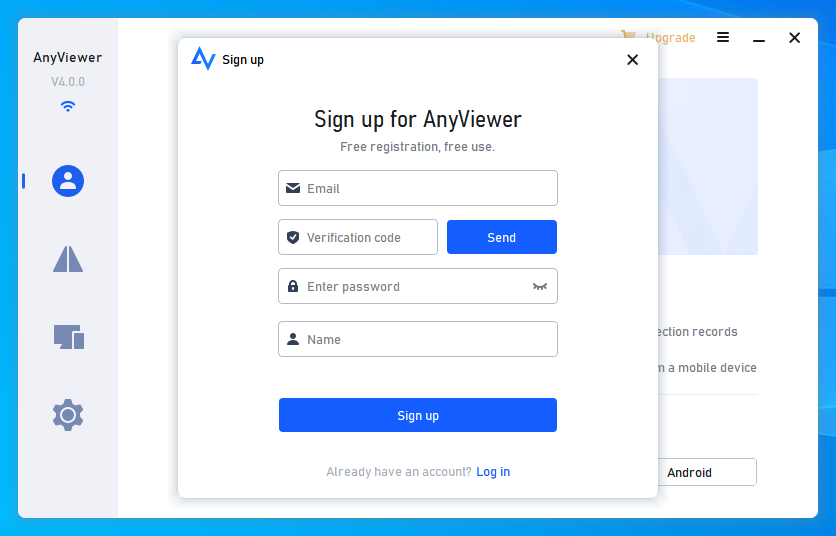 Step 3. You should now see that you have successfully logged into AnyViewer. Your device will be assigned to the account to which you have logged in automatically.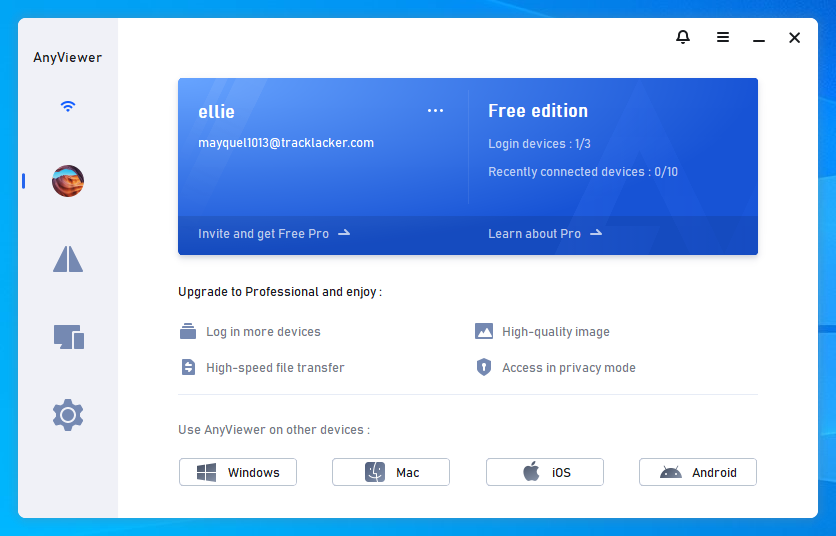 Step 4. Log in to the same AnyViewer account on the two devices; then, you can click One-click control to achieve unattended remote access, click View the screen to see another's screen or click File transfer to share files between computers.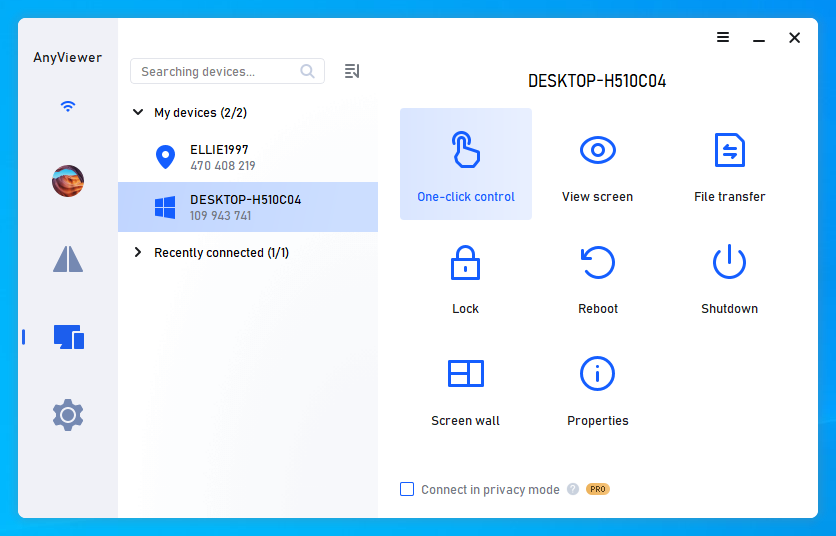 Notes ✎: AnyViewer also allows you to Connect in privacy mode, which means you can access the remote device with blacking out its physical screen and disabling the physical keyboard of the remote device to keep privacy and safety. But this requires you to change your account's plan to a Professional or Enterprise one.
How to secure AnyViewer remote connections
Here's something you can do to protect your computer security when using AnyViewer.
If you will leave your computer or let others use your computer for a while, you can follow the steps given below to lock AnyViewer for preventing its settings from being changed by others.
Step 1. Run AnyViewer. Click Menu > Lock AnyViewer to lock the AnyViewer screen.
Step 2. Then, the program will be locked. To use it again, you need to input the AnyViewer account password to unlock the interface.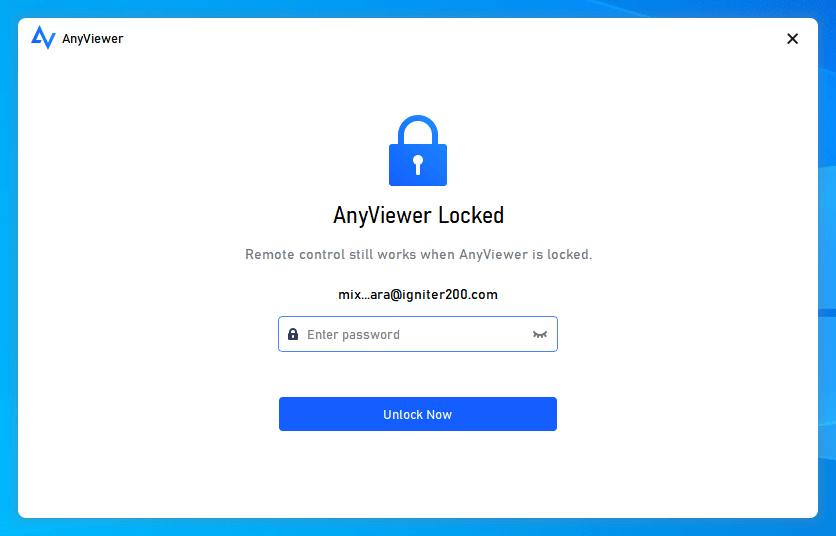 Step 3. You can also go to Settings > Security to set up AnyViewer to lock automatically on specific scenarios. You can enable the first option and adjust the time interval, or you can enable the second option Lock AnyViewer when local computer is locked to locked AnyViewer once you lock your local computer.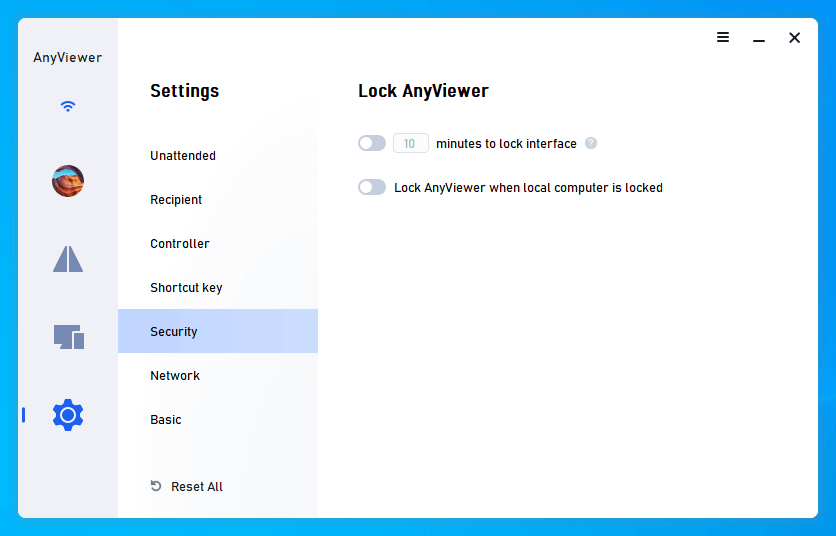 If you need to disable remote access on your computer when you don't want to use it, it is quite easy. You just need to go to Settings > Recipient, and then untick the three options; your device is not enabled to be accessed anymore.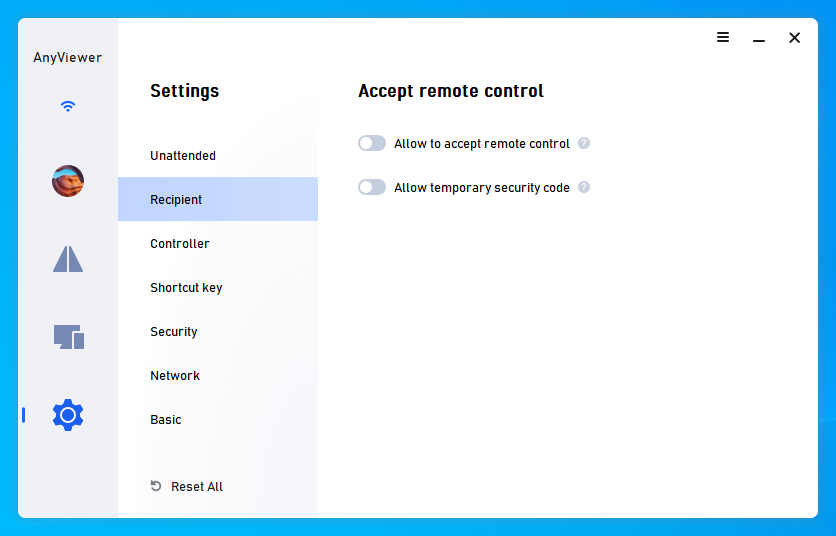 The bottom line
This post primarily discusses known TeamViewer vulnerabilities and advises how to improve TeamViewer security. Besides, it also introduces a safe TeamViewer alternative. If you want a free and safe remote desktop tool, try AnyViewer now.