How do I fix TeamViewer no connection to my partner?
Hello! I installed TeamViewer for personal non-commercial use. I have Windows 10. I tried to connect to a remote computer: I entered the identifier and password. A window appeared with the message 'Connecting' and nothing after that, there are no more messages. I would be grateful for any help."
- Question from TeamViewer Community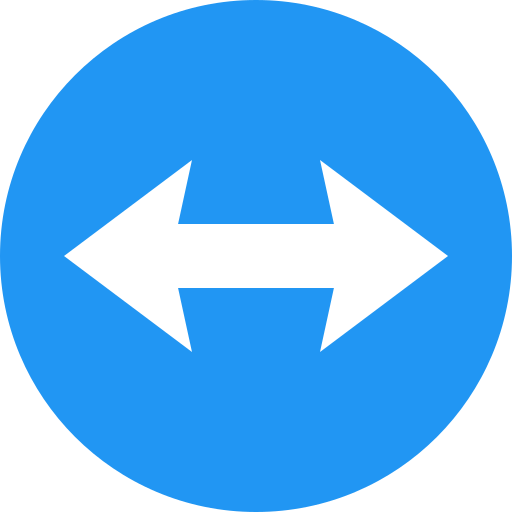 Like many tech-related platforms, TeamViewer often fails to meet its expectations. You may try to connect to a computer remotely but fail to do so and receive various connection errors, for example, "Not ready. Please check your connection", TeamViewer ready to connect but not connecting, or TeamViewer not connecting reason unknown. Don't worry; there are solutions to connection problems.
How to fix TeamViewer not connecting
Before answering how to fix TeamViewer not connecting, let's figure out the reasons causing the connection problem.
Internet connectivity problems
Access settings on TeamViewer
Windows settings
Software versions
We'll give solutions to the connection problems caused by the above three reasons respectively.
Case 1. Connection failed caused by internet connectivity problems
If there is a resource that TeamViewer highly depends on, then it is the Internet. When it comes to remote control, both devices need to have either cellular data or Wi-Fi. If TeamViewer seems problematic, your connectivity is the first thing you should check.
Go to the right-bottom corner of both desktops, and check whether WiFi or LAN is successfully connected.
Case 2. Connection failed caused by access settings on TeamViewer
Sometimes, the connection may fail because the device you are trying to connect to is denying any incoming remote control sessions. You need to give full access to computers connecting to this device.
Go to Options (on the top right corner) > Advanced. Under Advanced settings for connections to this computer, choose Full Access. Besides, check Full access control when a partner is connecting to the Windows login screen box.
Case 3. Connection failed caused by Windows settings
Other settings that you need tolook atare Windows Firewall settings and the proxy settings.
Solution 1. Check Windows Firewall settings
Open Control Panel, go to Windows Defender Firewall > Allow apps, click Change settings, and tick TeamViewer Remote Control Service to allow TeamViewer through Windows Defender Firewall.
Solution 2. Check the proxy settings
Step 1. Open Control Panel again, go to Network and Internet > Internet Options. Under the Connections tab, click on LAN Settings.
Step 2. Now, uncheck the box against Use Proxy Server for your LAN and click OK.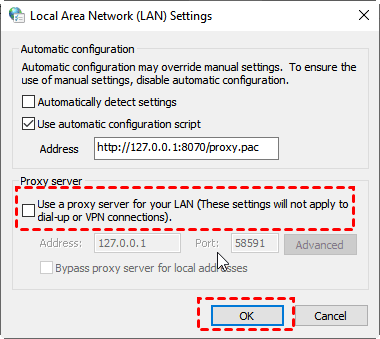 Case 4. Connection failed caused by software versions
An outdated TeamViewer client can easily results in connection problems. Always check the latest release from TeamViewer's menu page. If you find an update, download and install it.
Step 1. Click the menu icon > Check for new version.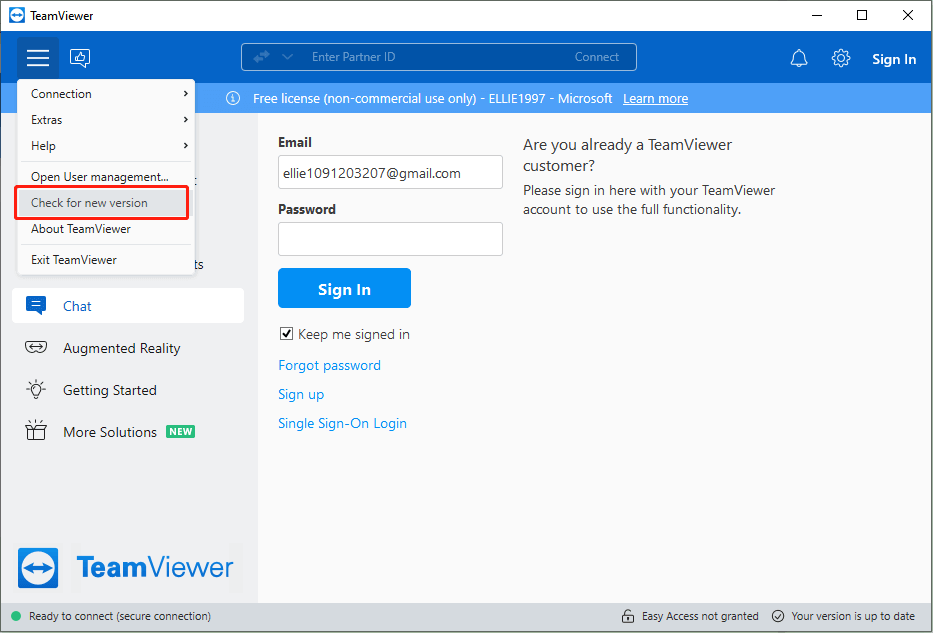 Step 2. See if your version of TeamViewer is up-to-date. Update if there are any available updates.
Alternatively, you can open Control Panel > Programs and Features, and right-click TeamViewer > Uninstall to uninstall TeamViewer. Then download its newest version from its official website.
Get a TeamViewer alternative
Sometimes, you may never really know why TeamViewer not connecting or fixing it. When TeamViewer fails to function, a dependable alternative option is always handy and unquestionably time-saving. Here we would like to recommend the best TeamViewer alternative. Like TeamViewer, AnyVieweris free remote desktop software providing users with fast and stable connections.
Step 1. Install and run AnyViewer on both of your computers. Navigate to Log in and then Sign up on the Controller computer (if you have already registered on the official website, you can log in directly).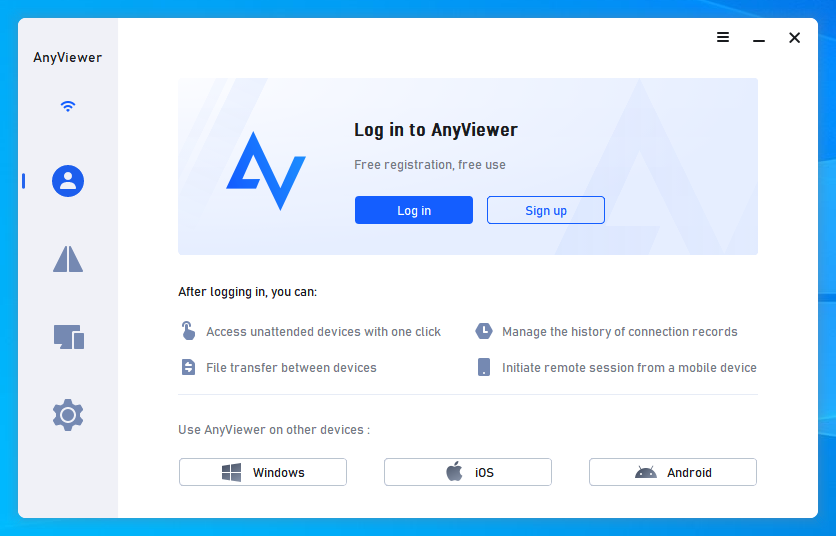 Step 2. Fill out the sign-up form.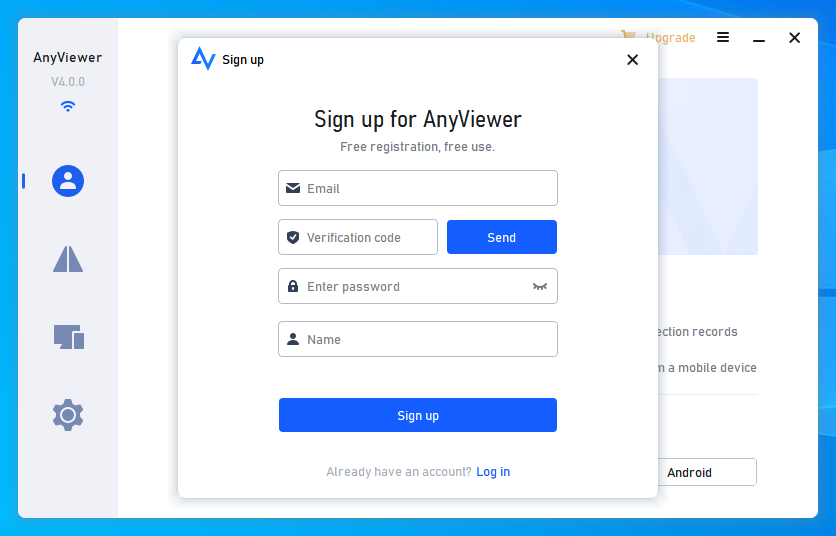 Step 3. You should now see that you have successfully logged into AnyViewer. Your device will be assigned to the account to which you have logged in automatically.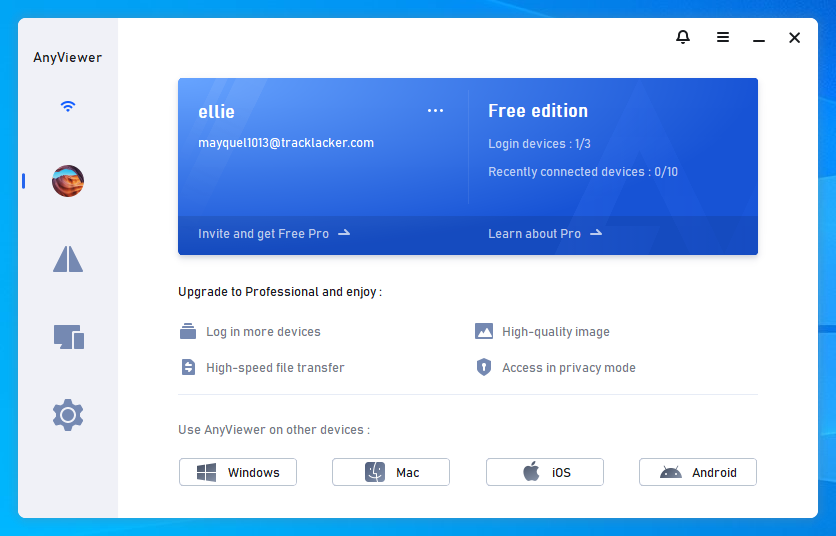 Step 4. Log in to the same AnyViewer account on the two devices, then you can click One-click control to achieve a direct connection, click View the screen to see another's screen, or click File transfer to share files between computers.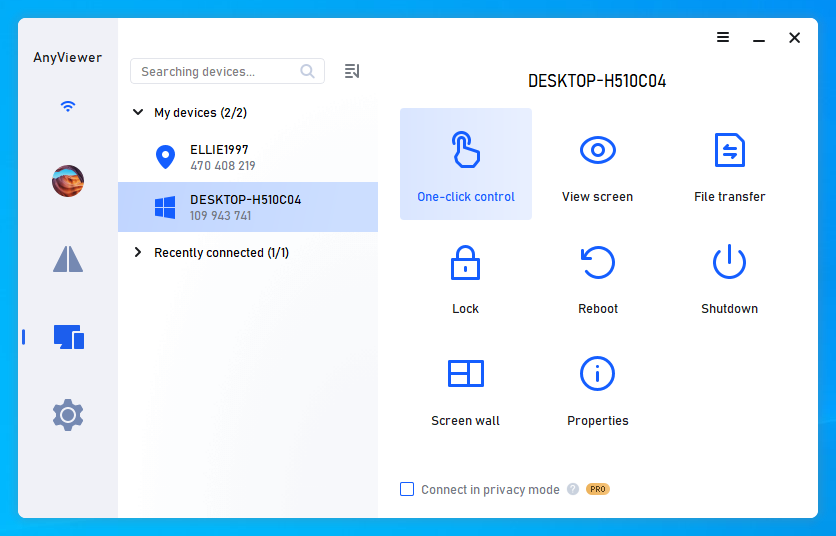 Notes:✎...

You can also upgrade your account to a Professional or Enterprise plan to enjoy more rights:

Faster file transfer speed.
More assigned devices to achieve unattended remote access.
Connect in privacy mode to protect privacy.
Initial more concurrent connections to one computer.
Closing words
This post primarily introduces how to fix TeamViewer not connecting problem. Several solutions are given. If none of them helps you solve the problem, you can try the free TeamViewer alternative, AnyViewer.