What is AeroAdmin?
AeroAdmin is a complete remote access software solution that enables businesses to monitor employee activity and offer remote support for IT issues. Users can store remote machine IDs, IP addresses, names, and other details in Aeroadmin's contact book for quick AeroAdmin remote access.
Aeroadmin runs on Windows, Linux, and Mac OS. The platform charges money for pro, business, and corporate packages but is free for personal usage with a few basic capabilities.
How to set up AeroAdmin unattended access
AeroAdmin allows you to configure remote computers for unattended access by following the procedures below.
Warm tips: AeroAdmin unattended access supports connection by ID only. An AeroAdmin free account cannot perform connections for more than 17 hours per month with an ID. Therefore, you need to buy a license to achieve unattended access without time limit.
Step 1. Download AeroAdmin on your computers. AeroAdmin doesn't need to be installed or configured. It can be used immediately after downloading.
Step 2. Launch AeroAdmin on the remote computer. Click Connections > Service to make sure that AeroAdmin will automatically launch when Windows reboots.
Step 3. Then you need to configure AeroAdmin login access rights. Click Connection > Access rights.
Step 4. Click the "+" button to add a new admin. Enter the ID and name of the local computer, and set a strong password that will be used to connect to the remote computer. Confirm the password and click Ok.
You can also specify the ID as "ANY" to enable any devices to access the remote machine.
Step 5. Tick the View screen, Mouse and keyboard control, File manager, or Clipboard synchronization options based on your need to allow the local computer to use these features for remote access. Click Ok after that.
Step 6. Launch AeroAdmin on the local computer, enter the ID of the remote computer, select the Remote control mode, and click Connect.
Step 7. You will see a pop-up window, enter the password, and click Ok.
Bonus tip: An easier way for unattended access with one click
Since AeroAdmin's free version has a time limit and you need to manually add the local device to the list for unattended remote access, we recommend using other free remote computer access software, like AnyViewer offers one-click unattended access without limitations.
AnyViewer is highly-praised due to its intuitive interfaces and easy operations. A strong technical team develops it, ensuring stable and safe remote connections over the Internet. You will never receive spam messages during remote control. But if you use an AeroAdmin free account, you may get ads and splash screens during a remote session.
Besides, AnyViewer free version offers more advanced features. Here is a comparison between the features of the AeroAdmin free version and the AnyVeiwer free version.
Features

AeroAdmin free version

AnyViewer free version

Unattended remote access

√

(Time limit: 17 hours per month)

√

(No time limit)

File transfer

×

√

(Transfer files in a remote session or use file transfer mode without remote control)

Simultaneous sessions

√

(Maximum of 2 concurrent connections)

√

(Maximum of 2 concurrent connections)

Multiple monitors support

√

√

Remote reboot

√

√

Chat

×

√

Recently connected devices list

×

√
Here is how you can accomplish one-click unattended remote access via AnyViewer. You need to download and install AnyViewer on your computers, but overall it is super easy to use!
Step 1. Launch AnyViewer on the host device, click Sign up to create a new account, and log in.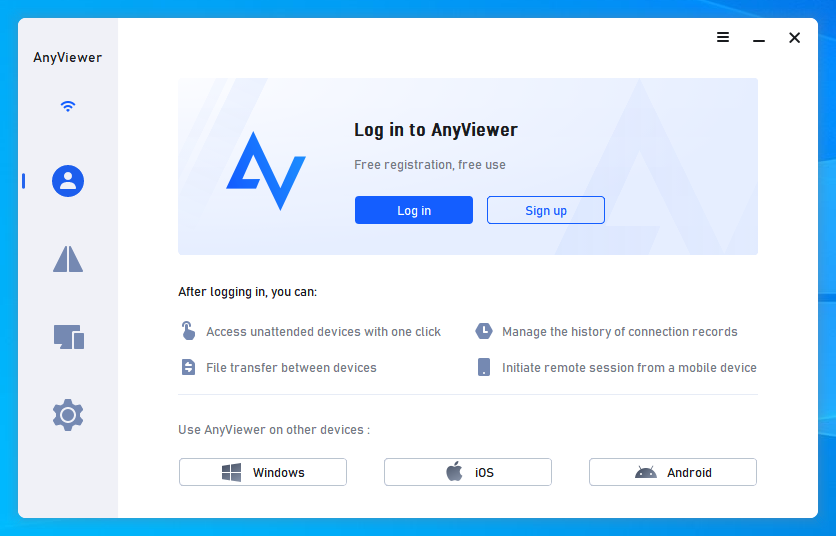 Step 2. Launch AnyViewer on the client device and sign in using the same login information on the host computer.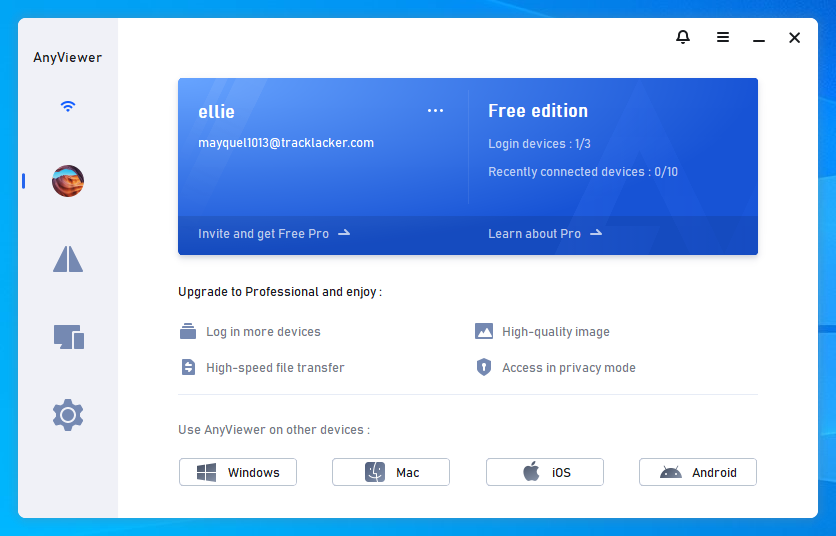 Step 3. Visit the Device interface to see the list of your assigned devices. Select the device you want to connect to and click One-click control.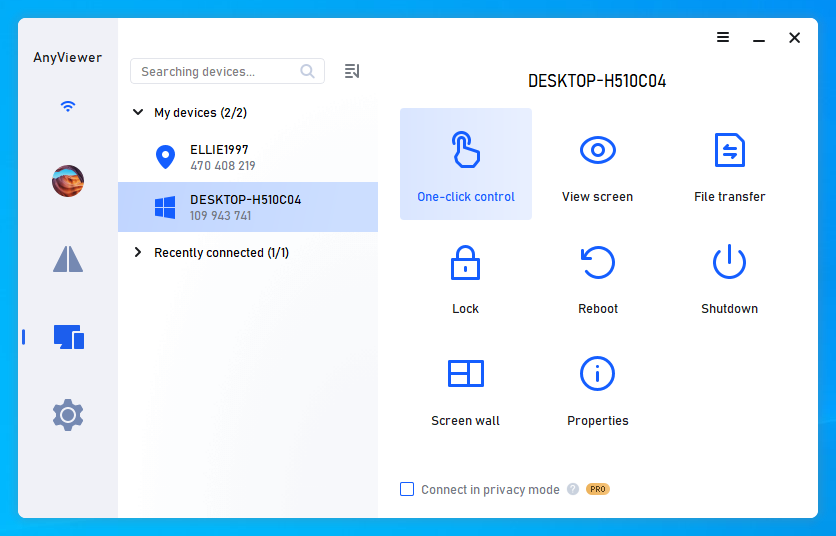 Tips:
We advise
upgrading your account
if you have more than two remote computers. Then you can access up to 100 unattended devices and establish up to 10 concurrent connections, which is very affordable.
Conclusion
That's all for AeroAdmin unattended access. This tutorial is helpful for you to establish unattended access via AeroAdmin. Besides, you have to notice that AeroAdmin unattended remote access has a time limit for free accounts. Therefore, AnyVeiwer may be a good choice that supports unattended access without limitation.