GoToMyPC vs TeamViewer
With so many PC remote control apps on the market, it's difficult to know which one is right for you. This article will discuss two popular options: GoToMyPC vs TeamViewer in compatibility, ease of use, features, cost, and security.
Overview
►GoToMyPC
GoToMyPC allows users to connect to remote PCs where they may sync and share data via the application's web browser. The utility requires the installation of a remote server on the host machine. This server communicates with the centralized GoToMyPC broker to fulfill user requests when working on remote workstations.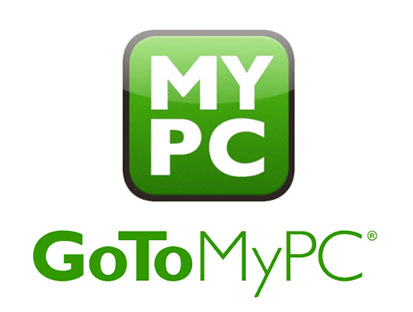 ►TeamViewer
TeamViewer offers software for both remote management and online collaboration. Users can access fully integrated audio and video online conferencing solutions with TeamViewer and interactive screen sharing, file transfer, and remote access options.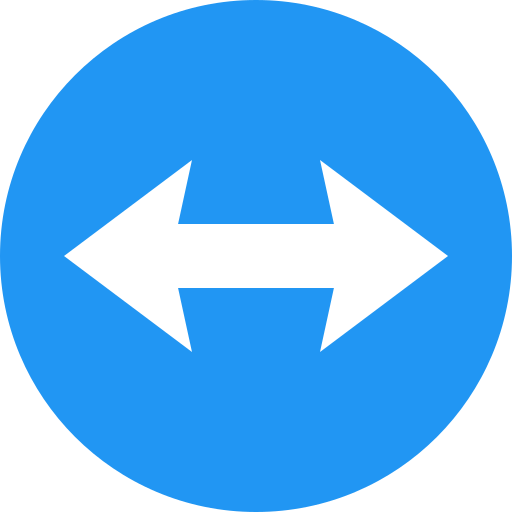 Compatibility
There is a comparison of the operating system supported by TeamViewer vs GoToMyPC.
| | | |
| --- | --- | --- |
| Operating System | GoToMyPC | TeamViewer |
| Windows | √ | √ |
| MacOS | √ | √ |
| Android | √ | √ |
| iOS | √ | √ |
| Linux | × | √ |
| Chrome OS | × | √ |
Ease of use
Both software tools have an intuitive interface, and the remote access option is easy to find.
►GoToMyPC
GoToMyPC is relatively convenient to remotely control a PC because the client can start the session on the GoToMyPC website without downloading the software.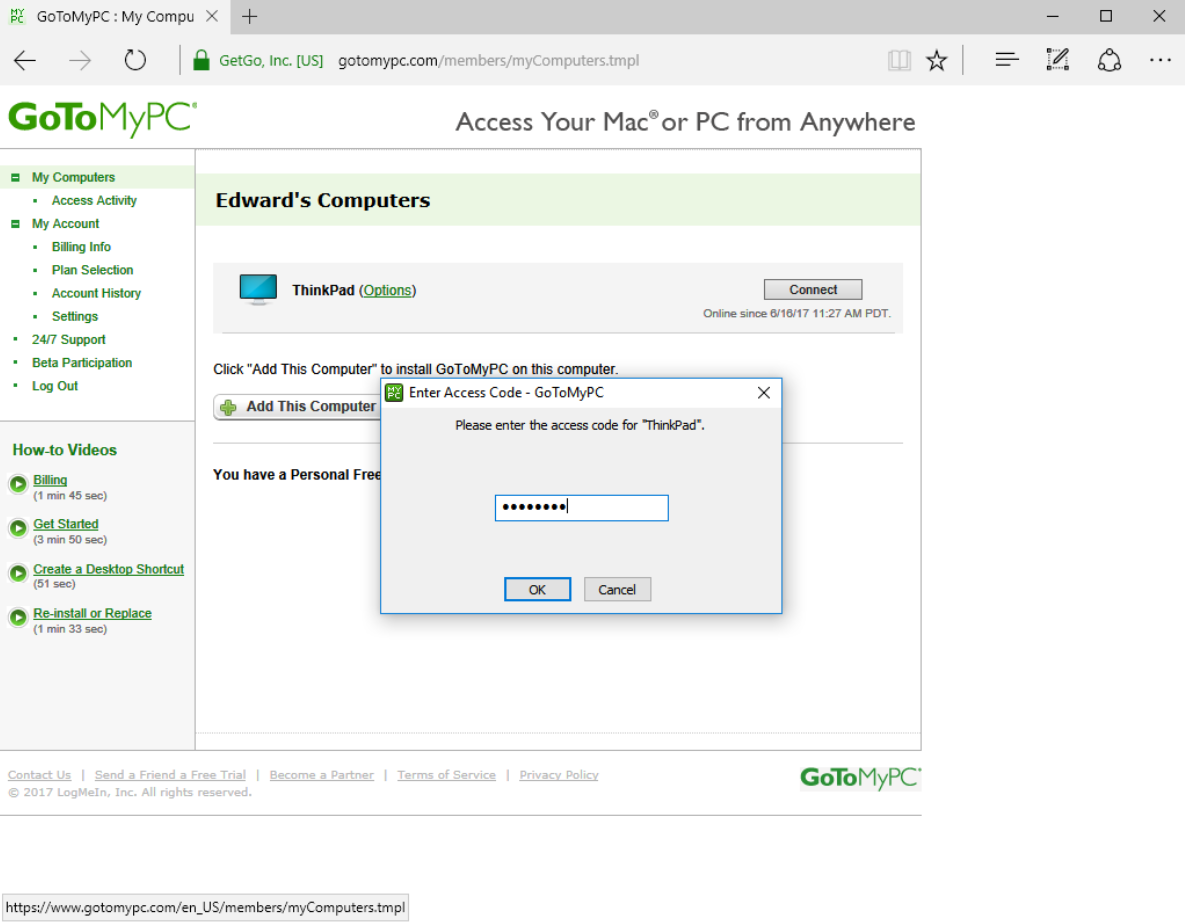 ►TeamViewer
Users can easily find the necessary function on TeamViewer's main interface. For example, start remote control, access the remote administration interface, or schedule a meeting from the left pane.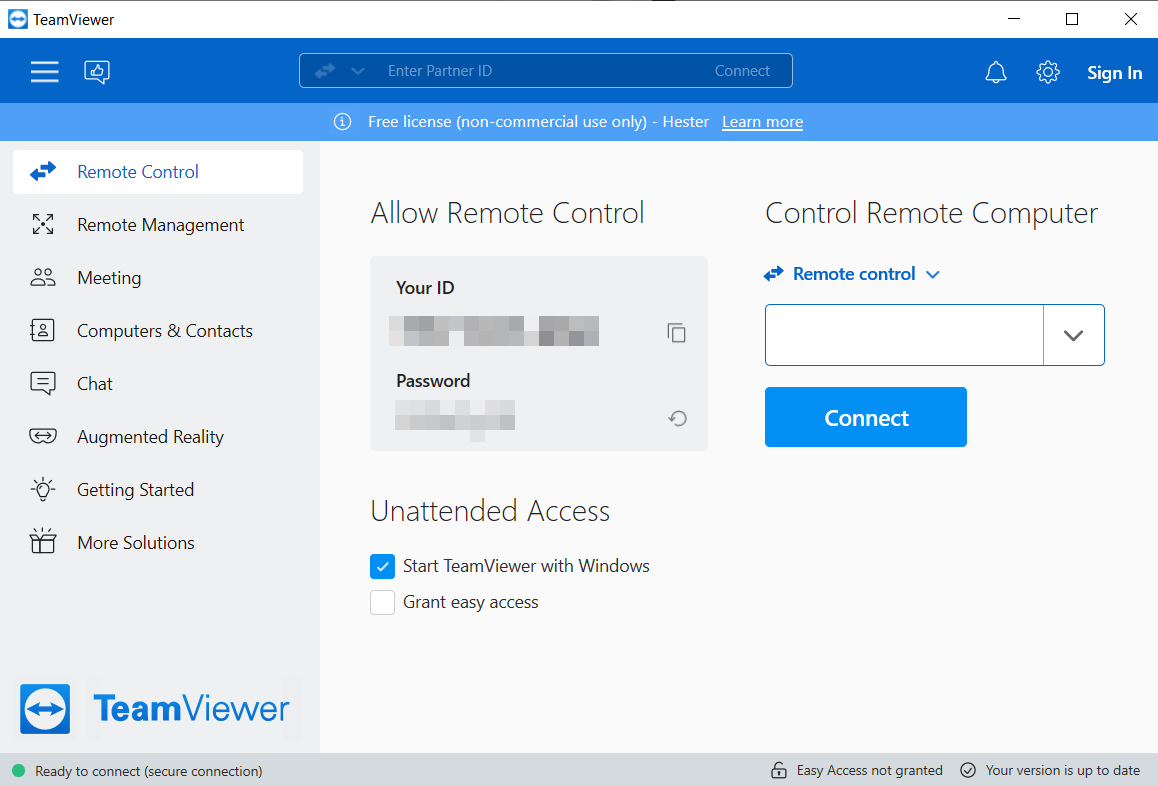 Features
GoToMyPC vs TeamViewer both offer several core features as follows.
| | | |
| --- | --- | --- |
| Features | GoToMyPC | TeamViewer |
| Unattended remote access | √ | √ |
| File transfer | √ | √ |
| Remote reboot | √ | √ |
| Concurrent sessions | √ | √ |
| Multiple monitor support | √ | √ |
| Real time chat | √ | √ |
| Mobile access | √ | √ |
Though both tools have comprehensive options, most features are available in the paid version. For instance, if you are running the TeamViewer free version, you can only provide technical support to your friends or family with a single desktop-to-desktop connection. License per user is required to enjoy more functionalities. While for GoToMyPC, there is no free version. You must purchase a plan to use its features.
Pricing
Both tools have different pricing plans to suit your needs. In this part, you can easily compare their value and make your decision.
►GoToMyPC
GoToMyPC does not have a free version but only a 7-day free trial. It offers three plans: Personal, Pro, and Corporate. The cost of GoToMyPC will vary according to the number of used computers.
| | | |
| --- | --- | --- |
| Personal | Pro | Corporate |
| $44/computer/month | $41.5/computer/month | $140/computer/month |
All three plans provide similar and diverse functions. The core features they provide are as follows.
►TeamViewer
TeamViewer has a free version and four paid plans (14-day free trial): Remote Access, Business, Premium, and Corporate. It allows individuals to use it for free for noncommercial activities. However, there are a few TeamViewer free version limitations.
To unlock additional TeamViewer capabilities, you need to purchase a license (paid annually) ranging from $24.90/month to $229.90/month. Check out these plans in detail.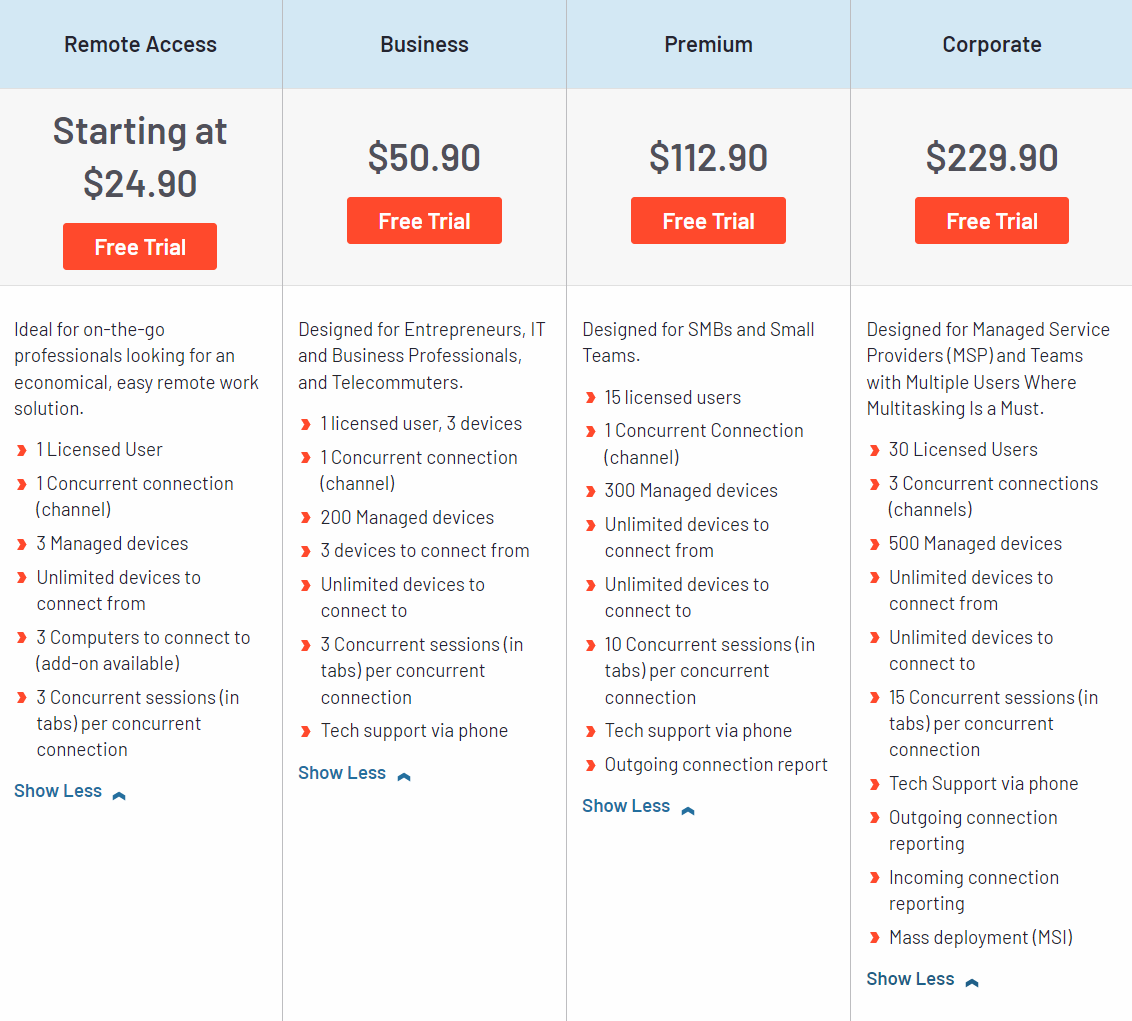 Security
►GoToMyPC
GoToMyPC uses 128-bit Advanced Encryption Standard (AES) technique to assist consumers and companies in safeguarding and encrypting vital data. End-to-end authentication, dual passwords, and host access credentials are also provided to ensure secure access to hosts and clients.
However, GoToMyPC continues to have security flaws. As a result of a hacking attempt on its servers, all users must change their passwords before using the service. Later, GoToMyPC posted on their system status page that they had been the target of a sophisticated password attempt.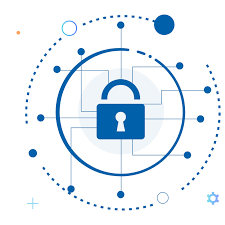 ►TeamViewer
In general, Teamviewer is safe to use. Teamviewer uses AES 256-bit encryption, a well-known high-quality standard. Additionally, you canturn on two-factor authentication, demand a password reset in the event of questionable activity, and add reliable devices to a safelist.
Everything looks great, but there have been some Teamviewer vulnerabilities. In 2016, there were external password breaches, which made it possible for user accounts to be exploited fraudulently to drain bank and PayPal accounts. It discovered a bug in 2017 that allowed hackers to seize control of users' devices while logged into their desktop PCs. Thankfully, the engineers filled the gap right away. This is why it's so important to configure your Teamviewer settings properly. Take all required precautions.
Too expensive to use GoToMyPC and TeamViewer? - Try AnyViewer instead
If the price of GoToMyPC and TeamViewer is far beyond your budget, why not choose a cost-effective alternative? The powerful remote desktop software AnyViewer could be the best option.
Why thousands of users have switched to AnyViewer?

Free version. AnyViewer has an entirely free version with several features, including those mentioned above. Free features include unattended access, remote desktop file transfer, concurrent session, remote reboot, and more.
Safe. AnyViewer has never had a problem with data breaches. It uses end-to-end encryption with strong 256-Bit Elliptic Curve Cryptography (ECC) algorithm to protect your data during the session.
Fast & Stable. It is developed with cutting-edge technologies to help you establish a reliable and quick distant connection.
AnyViewer is very easy to use. Download, install, and start it on your computers, and then you can start one-click remote control in simple steps.
Step 1. Click Sign up to register a new account on the host server, then log in.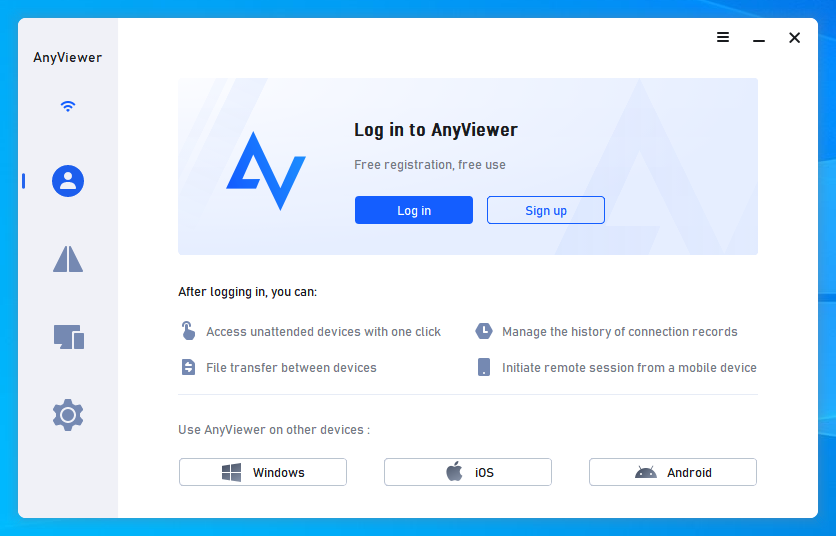 Step 2. Sign in with the same account on the client machine. Once you have successfully logged in, your device will be assigned to the account.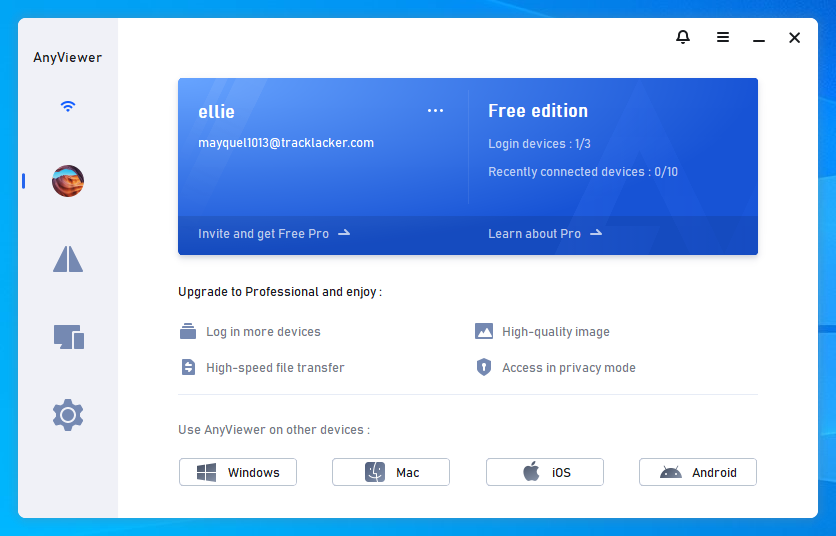 Step 3. You may see the list of assigned devices by going to the Device interface. Click the machine you wish to connect to and then click One-click control.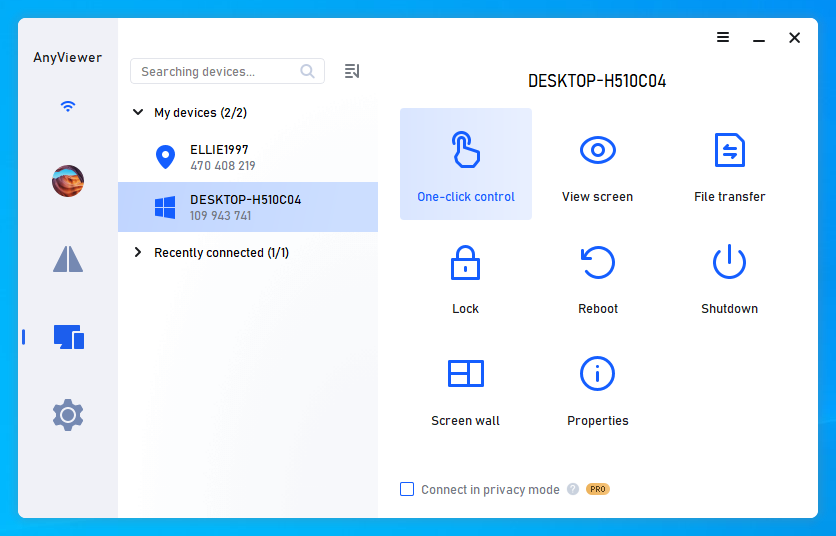 Notes:✎...AnyViewer also has reasonably priced plans for business purposes. If you have more than two remote PCs, we suggest upgrading your account to benefit from more rights.

Assign more devices for one-click control.
More concurrent connection channels for an Enterprise subscription.
More simultaneous sessions.
Transfer an unlimited number of large files at the same time.
...
Final Words
GoToMyPC vs TeamViewer: which one is the right for you? It would help if you considered the functionality offered by each solution. GoToMyPC offers fewer features and does not have a free version. TeamViewer is relatively powerful for all remote access use cases but very expensive for most users. AnyViewer is the finest choice if you want to get the most features for the most affordable price.