GoToMyPC vs. LogMeIn vs. pcAnywhere
GoToMyPC, LogMeIn, or PCAnywhere? Do you have a recommendation for what my company should (or should not) use?"
- Question from Reddit
First, it is a great pity that Symantec pcAnywhere was discontinued in May 2014, and it has no plans to introduce a replacement remote control product. Therefore, users cannot use pcAnywhere anymore as it is unavailable now. This makes pcAnywherethe first one to be kicked out of choice.
The choice needs to be made between GoToMyPC and LogMeIn. GoToMyPC was previously a Citrix product. But in June 2016, Citrix spun off the GoTo set of products, and by the end of the year, they merged with LogMeIn. This means GoToMyPC and LogMeIn are housed under the LogMeIn family of products.
Despite having similar features, GoToMyPC and LogMeIn are not direct competitors. Both of these products provide remote access, remote file transfer, and remote screen sharing services, but they approach it slightly differently, which may influence your decision between GoToMyPC vs. LogMeIn.
A complete comparison of GoToMyPC and LogMeIn
We'll compare GoToMyPC and LogMeIn to help you make a better choice in the following four aspects.
Operating systems
GoToMyPC and LogMeIn support various operating systems and platforms, including Windows, macOS, iOS, iPadOS, and Android. But neither of them supports Linux and Chrome OS. See the table below.
Security
GoToMyPC uses 128-bit Advanced Encryption Standard (AES) measures to help individuals and businesses secure and encrypt critical data. End-to-end authentication, dual passwords, and host access credentials are also included to ensure secure access to hosts and clients.
But GoToMyPC still has security vulnerabilities. It has experienced a hacking attack on its systems, requiring all users to reset their passwords before logging in to the service. GoToMyPC later published a post on their system status page stating that a sophisticated password attack had hit them.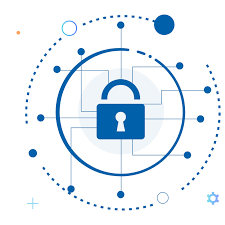 All LogMeIn communications use industry-standard algorithms and protocols for encryption and authentication. Specifically, the communications protocol LogMeIn Pro uses is SSL/TLS (OpenSSL). No one can see or access the data transferred between your computers - not even the LogMeIn team.
But LogMeIn has security vulnerabilities too. For example, Remote attackers have the ability to crash the LogMeIn Remote Access Utility ActiveX control (RACtrl.dll) by setting the fgcolor and bgcolor properties to particular long values that result in memory corruption.
Features
Both GoToMyPC and LogMeIn include many additional features to give you the most reliable and flexible remote access experience, for example, file transfer, session recording, real-time chat, remote printing, etc.
But they do have little differences. For example, audio support is available in LogMeInbut only in the GoToMyPCPC version; session transfer is available in GoToMyPCbut not in LogMeIn.
Pricing plans
Unfortunately, neither GoToMyPC nor LogMeIn has free versions for personal use. They offer a wide selection of price plans. Let's take a look.
GoToMyPC
The GoToMyPC Personal Plan costs $44 (monthly-billed price) per computer per month, allowing an individual user access to unlimited computers. The annual fee is $28.6 per computer per month.
The GoToMyPC Pro Plan costs $41.50 per computer per month (billed monthly) and allows access to up to 50 computers. The annual fee is $26.98 per computer per month.
The GoToMyPC Corporate Plan costs$28 per computer per month (billed monthly) and supports 10 users or more. The annual fee is $18.2 per computer per month.
LogMeIn (Pro)
LogMeIn Pro for Individuals, priced at $349.99/year, allows access for up to 2 computers and includes 1 LastPass Premium license.
LogMeIn Pro for Power Users, priced at $839.99/year, allows access for up to 5 computers and includes 3 LastPass Premium licenses.
LogMeIn Pro for Small Businesses, priced at $1,539.99, $3,499.99, or $6,999.99 a year, adds access for up to 10, 25, or 50 computers and includes 5, 10, or 25 LastPass Premium licenses, respectively.
AnyViewer: Best free remote desktop software for Windows
If you are a Windows user looking for a free remote desktop solution, AnyViewer is your best choice. It is the best free GoToMyPC, LogMeIn, and pcAnywhere alternative. AnyViewer Free allows 3 assigned computers and 2 concurrent sessions. It also provides features like unattended access, file transfer, instant chat, multi-monitor switch, etc.
Step 1. On both computers, download, install, and launch AnyViewer. Go to Log in on the Controller computer, and then click Sign up (if you have already signed up on its official website, you can log in directly).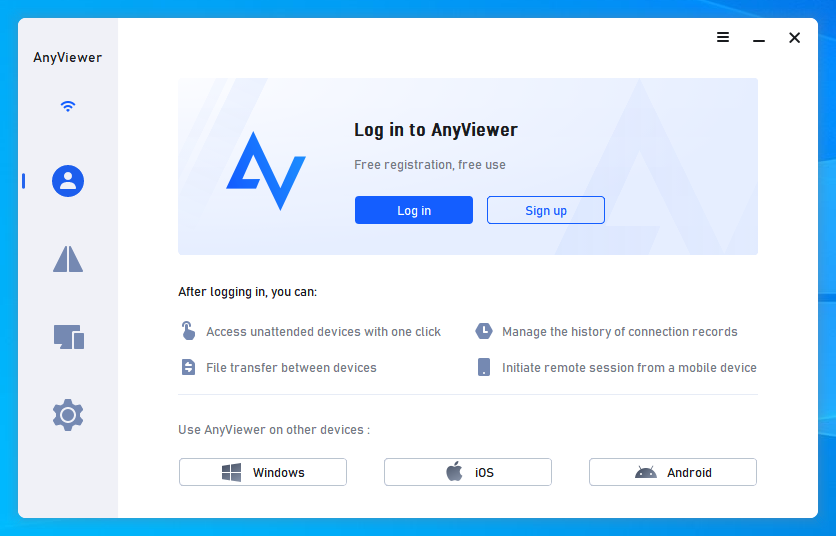 Step 2. Fill out the signup form.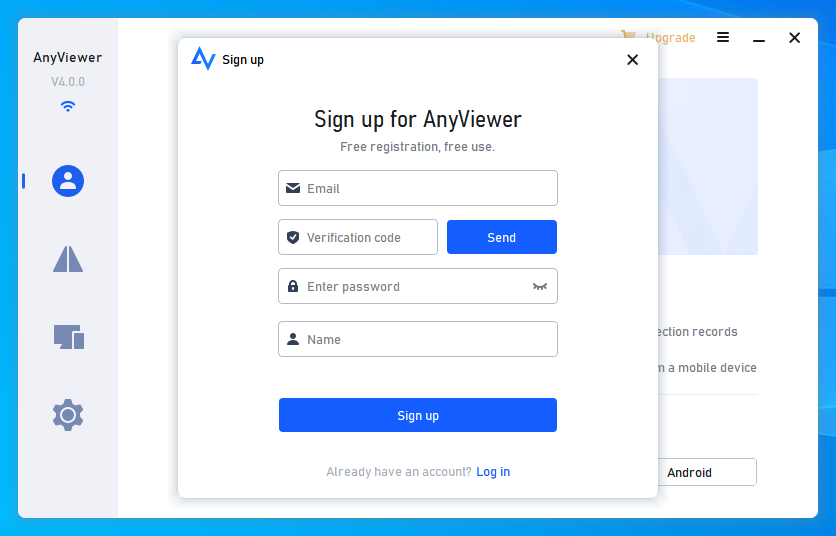 Step 3. You should now see that you have successfully logged into AnyViewer. Your device will be assigned to the account to which you have logged in automatically.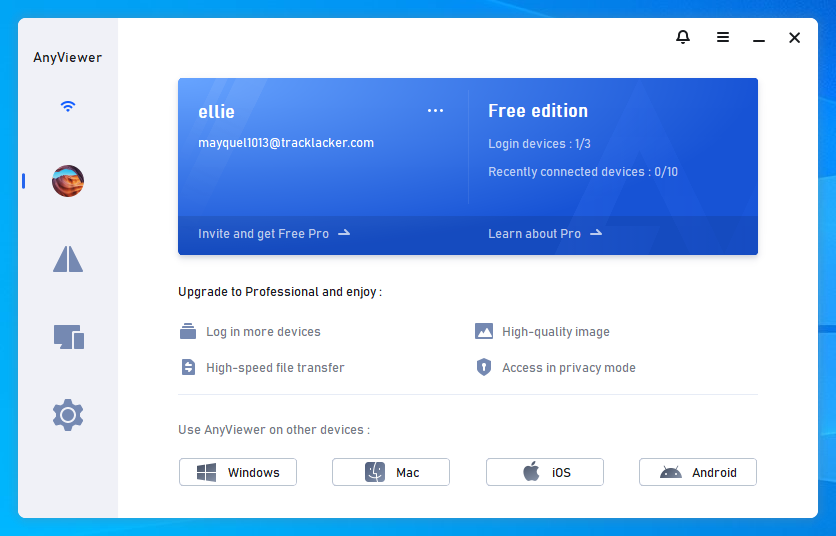 Step 4. Sign in with the same AnyViewer account on both computers, then click the One-click control for unattended remote access.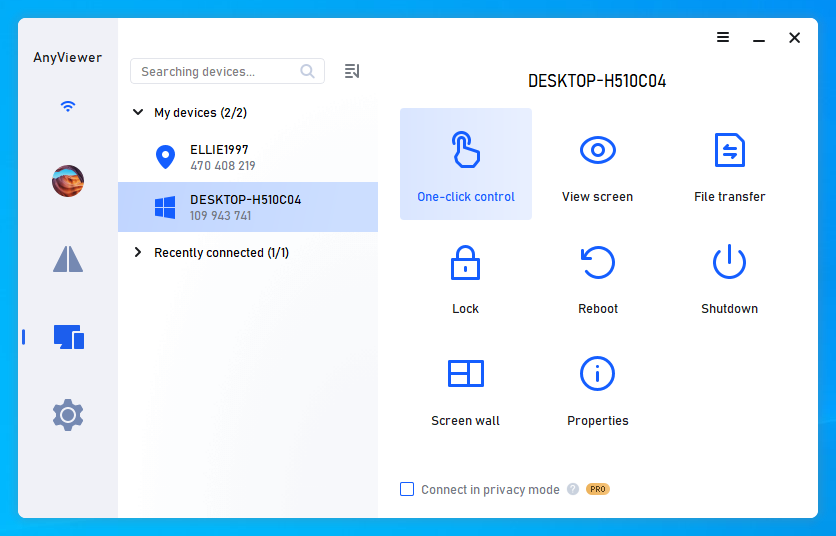 Step 5. The remote desktop will appear once the connection is established. After that, you have complete control over it.
Notes:✎...

It is recommended to upgrade your account to a Professional or Enterprise plan. What can a professional or enterprise plan brings to you:

More devices will be allowed to assign to the same account for unattended access.
More connection channels for more devices to be able to start remote connection at the same time.
One device can connect to more devices simultaneously.
Black the remote PC screen and disable the remote keyboard & mouse click to protect privacy.
Transfer 1TB files at 10 MB/s.
The bottom line
This post compares GoToMyPC vs. LogMeIn vs. pcAnywhere, to help you make the right choice. As pcAnywhere is discontinued now, we only mention a little about it in this post. We compare GoToMyPC and LogMeIn in compatibility, security, features, and pricing plans to help you make the right choice.
Neither GoToMyPC nor LogMeIn offers a free plan. If you want a free remote desktop solution, it is highly recommended to use AnyViewer.