GoToMyPC vs Splashtop: Overview
GoToMyPC is a remote access solution offered by GoTo (formerly LogMeIn) to work on files, programs, and networks from home or while traveling. It enables businesses to access and share data across multiple devices such as desktops and mobile phones.
Splashtop offers remote-desktop software solutions that provide users with secure remote access across their organizations. The software is commonly used in the business, academic, government, and individual sectors.
Full comparison of GoToMyPC and Splashtop
Choosing the best Remote Desktop software requires a great deal of consideration as well as a comparison of important factors. To get an in-depth comparative analysis, we have created a feature comparison that covers four aspects of GoToMyPC and Splashtop. GoToMyPC vs Splashtop, what are the differences and which should you choose? Read and get the answers.
Compatibility
GoToMyPC and Splashtop offer services for a vast array of operating systems. Still, there's a little difference.
Pricing
Is there a free version of Splashtop or GoToMyPC? Sorry, the answer is NO. Both Splashtop nor GoToMyPC don't provide users with a free version. But they offer a wide selection of price plans.
GoToMyPC
The GoToMyPC Personal Plan costs $44 (monthly-billed price) per computer per month and allows individual users access to an unlimited number of computers. The annually-billed price is $28.6 per computer per month.
The GoToMyPC Pro Plan costs $41.50 (monthly-billed price) per computer per month and supports access for 2 to 50 computers. The annually-billed price is $26.98 per computer per month.
The GoToMyPC Corporate Plan starts at $28 (monthly-billed price) per computer per month and supports 10 users or more. The annually-billed price is $18.2 per computer per month.
Splashtop
The Splashtop Business Access Solo Plan costs $5 a month (billed annually at $60) and allows access to up to 2 computers.
The Splashtop Business Access Pro Plan costs $8.25 a month (billed annually at $99) and allows access to up to 10 computers per license.
The Splashtop Enterprise Pro Plan is customized for businesses and power users. You can contact the Splashtop team on its pricing page.
Features
Now that both Splashtop nor GoToMyPC don't have a free version, we'll make a comparison of their cheapest version.
Security
GoToMyPC helps individuals and businesses secure and encrypt critical data using 128-bit Advanced Encryption Standard (AES) measures. Besides, it also includes end-to-end authentication, dual passwords, and host access credentials to ensure safe access to hosts and clients.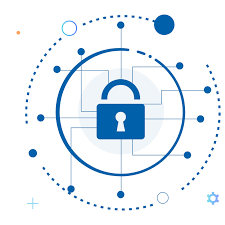 Splashtop's remote connections are secured through SSL security, with additional security features like TLS and 256-bit AES encryption. It also has top security features, including device and two-factor authentication. Splashtop's cutting-edge infrastructure provides a secure computing environment with advanced intrusion prevention and firewalls at multiple layers.
AnyViewer: Free GoToMyPC and Splashtop alternative
some of you may just want to look for a free remote desktop solution for personal use. If you want a free GoToMyPC and Splashtop alternative, here we recommend AnyViewer. It is free remote desktop software for Windows. Let's see what can AnyViewerbring to you.
✔ Widely compatible with Windows Server 2022/2019/2016/2012 R2 and Windows 11/10/8/8.1/7.
✔ Mobile devices supported, iOS & Android.
✔ Unattended remote access supported.
✔ Chat in session supported.
✔ Multiple monitors supported.
✔ File transfer support.
✔ Multiple connection sessions supported.
✔Operation shortcuts supported, like opening Task Manager and launching CMD quickly.
Step 1. On both computers, download, install, and launch AnyViewer. Go to Log in on the Controller computer, and then click Sign up (if you have already signed up on its official website, you can log in directly).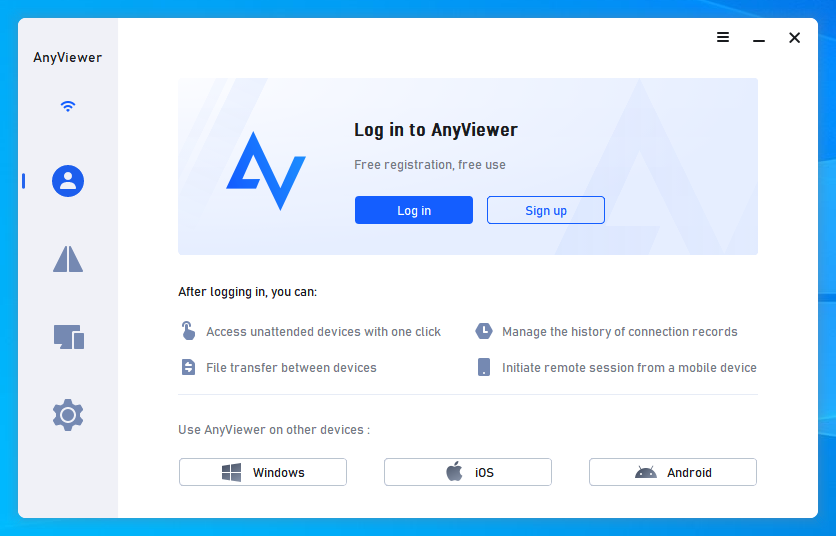 Step 2. Fill out the signup form.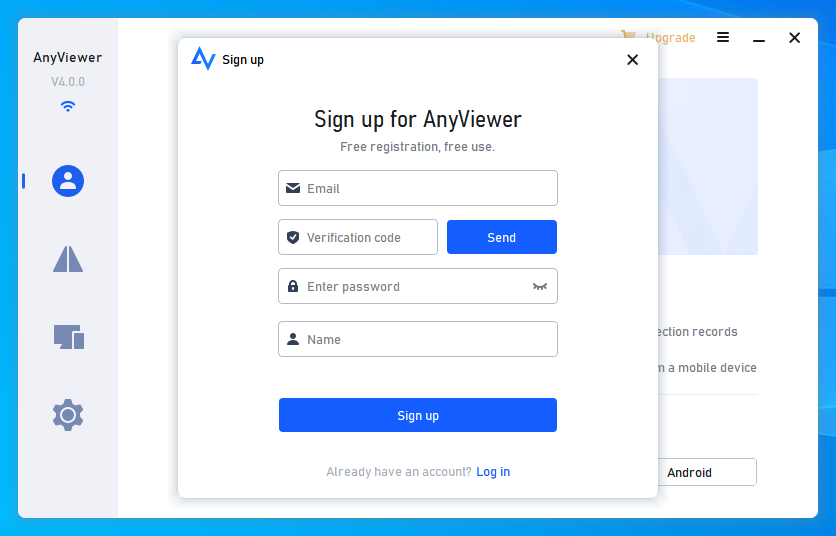 Step 3. You should now see that you have successfully logged into AnyViewer. Your device will be assigned to the account to which you have logged in automatically.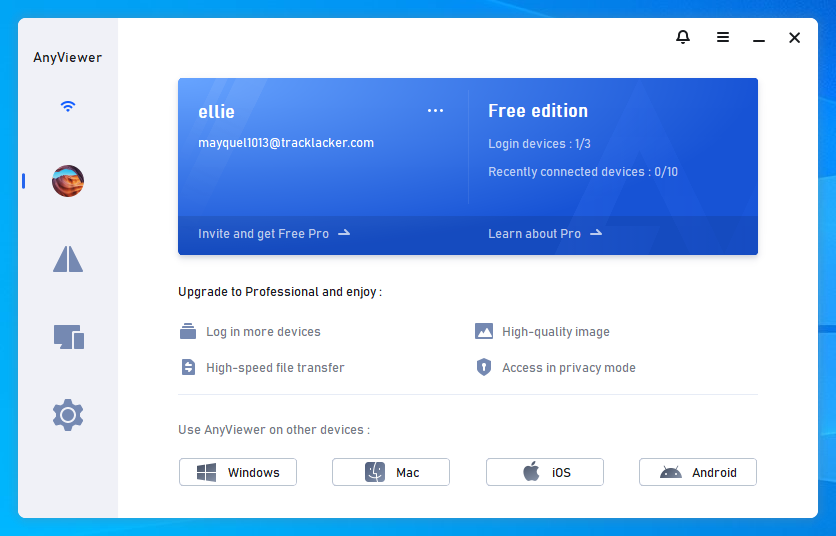 Step 4. Sign in with the same AnyViewer account on both computers, then click the One-click control for unattended remote access.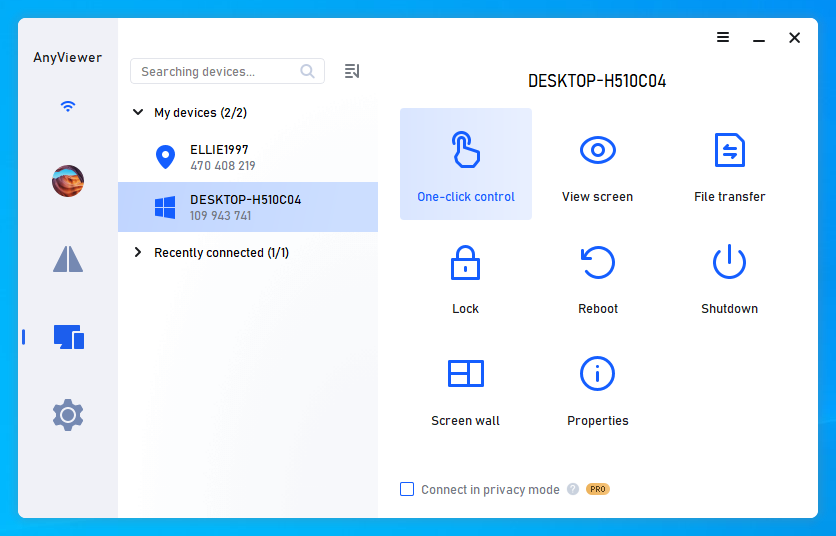 Step 5. The remote desktop will appear once the connection is established. After that, you have complete control over it.
Notes:✎...

It is recommended to upgrade your account to a Professional or Enterprise plan. What can a professional or enterprise plan brings to you:

More devices will be allowed to assign to the same account for unattended access.
More connection channels for more devices to be able to start remote connection at the same time.
One device can connect to more devices simultaneously.
Black the remote PC screen and disable the remote keyboard & mouse click to protect privacy.
Transfer 1TB files at 10 MB/s.
The bottom line
This post primarily compares GoToMyPC vs Splashtopin compatibility, pricing, features, and security. You can compare and choose the right remote desktop solution for you. Besides, we also recommend a free remote desktop software AnyViewerfor you. If you're looking for a free GoToMyPC and Splashtop, you're highly recommended to use AnyViewer.