What is the best remote desktop solution?
"Which software is the most suitable for remote desktop? Jump Desktop and TeamViewer seem the most popular, which is currently better? Or another option?"
-Question from Reddit
Jump Desktop vs TeamViewer: What are the differences?
Jump Desktop and TeamViewerare both secure and reliable remote desktop apps that let you connect to any computer, anywhere in the world. However, Jump Desktop vs TeamViewer, what are the differences? Which is better? Which should you choose? Let's compare them in the following aspects.
Compatibility
Jump Desktop is made to function flawlessly on Windows, Mac, iOS, and Android-based devices. It is compatible with both Remote Desktop Protocol (RDP) and Virtual Network Computing (VNC). RDP allows users to graphically control a remote computer while VNC lets remote users control a computer while the main user can interact and watch. In addition, it also has its own high-performance protocol called Fluid Remote Desktop.
TeamViewer is much more multi-platformed. It supports Windows, Mac, Linux, Chrome OS, iOS, and Android. TeamViewer uses its own proprietary protocol. It is not documented, though its authentication layer has been partially analyzed. It is similar to RDP or VNC (RFB) in purpose, but includes NAT traversal, and has slightly different authentication methods (the one-time PINs).
Security
Jump Desktop encrypts the connection between computers to ensure privacy and security. Automatic connections are always encrypted by default. Supports NLA, TLS/SSL encryption for RDP. SSH Tunneling and SSL/TLS encryption for VNC. Fluid Remote Desktop uses DTLS for secure connections.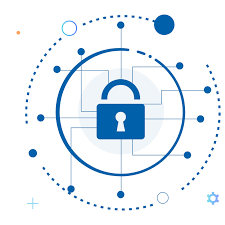 TeamViewer includes RSA private/public key encryption and AES (256-bit) session encryption. This technology is based on the same standards as https/SSL and is completely safe according to current standards. The key exchange also ensures complete client-to-client data protection.
Pricing
Jump Desktop pricing varies depending on the version of Jump Desktop you need. Jump Desktop for Windows is free for any use. No limits, no trial, no ads, and no tracking. Jump Desktop for iOS charges $14.99. Jump Desktop for Mac charges $34.99.
Besides, you're not able to share the purchase of Jump Desktop between iOS and MAC. For example, if you have purchased Jump Desktop for iOS, you don't have to pay again if you want to install Jump on your other iPad, iPhone or iPod Touch. Similarly, if you have purchased Jump Desktop for Mac, you can use it on all your Macs to connect from Mac to Mac or Mac to PC.
If however you have purchased Jump Desktop for iOS and now want to connect from your Mac, you will additionally need to purchase Jump Desktop for Mac in order to get this connectivity.
The pricing system for TeamViewer is much more concise. While a personal license is free, other forms of license are chargeable. A business license charges $45/month. Premium license charges $70/month. A corporate license charges $135/month. Besides, the purchase of any form of license share between different platforms that TeamViewer supports.
Still, if just for occasional use, the prices of TeamViewer are simply too high when there are other, less expensive options out there.
Features
Jump Desktop's main features are listed below:
✓ Multi-protocol: RDP, VNC, and Fluid Remote Desktop are all supported protocols.
✓ Multi-touch ready: All pinch-zoom, two-finger scrolling, and mouse dragging functions are supported.
✓ Easy and secure setup: Automatically configure your PC or Mac for remote access using Wi-Fi and 3G without worrying about your router settings. Set up as many computers as you like and manage them all using your Google account (optional).
✓ SSH Tunnel support: Built-in SSH tunneling for RDP and VNC connections.
✓ The best external keyboard and mouse support on Android: Supports left and right mouse clicks, dragging, scrolling, and precision pointer movement with external mice - all-natural, PC-like. Supports all external keyboard keys and shortcuts.
✓ Full support for multitasking: Switch to other apps without disconnecting.
✓ Supports large custom screen resolution.
✓Multiple monitor support.
✓File transfer support.
TeamViewer's main features are listed below:
✓ Cross-platform access: Connect across multiple platforms, from PC to PC, mobile to PC, PC to mobile, and mobile to mobile.
✓ VPN alternative: Enterprise-class security and scalability without the VPN complexity and expense.
✓ Secure unattended access: Access unattended computers, servers, Android devices, point-of-sale devices, or public displays.
✓ Wake up, restart, and install: Remotely wake, restart, and install applications on sleeping devices running TeamViewer Client.
✓ Flexible file-sharing options: Transfer files of any size from your computer or cloud storage using one of TeamViewer's fast and secure file-sharing methods.
✓ 4K remote desktop access: With our industry-leading intelligent scaling technology, TeamViewer provides flawless connections to UHD displays.
✓ Time-saving shortcuts: Access TeamViewer's primary functionalities through the time-saving shortcuts.
✓ Videoconferencing and collaboration with TeamViewer Meeting.
✓ Black screen for private remote access.
✓ Chat via text.
Bonus tip: Free remote desktop software for Windows
If you would like a free remote desktop software to remotely connect from PC to PC, iOS to PC, or Android to PC, you should try AnyViewer. It has powerful features as other commercial products have, but charges nothing.
It is easy to set up.
It supports multiple Windows versions, including Windows Home and Standard versions.
It supports unattended remote access on PC, iOS, and Android.
It supports image quality and resolution adjustment.
It supports multiple monitors on one screen.
It supports large file transfers.
It supports remote-session chat via text.
Note
: AnyViewer has mobile versions, supporting
iOS remote access
and Android remote access. You must sign into the same account on all of your mobile devices before you can remotely access a PC from an iPhone, iPad, or Android device.
Step 1. Install and run AnyViewer on both your work and home computers. Navigate to Log in and then Sign up on the Controller computer (if you have already registered on the official website, you can log in directly).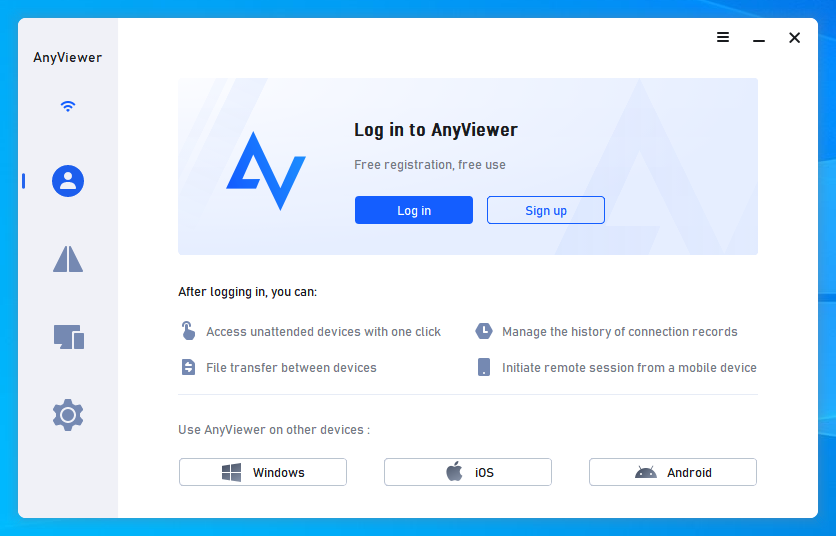 Step 2. Fill out the sign-up form.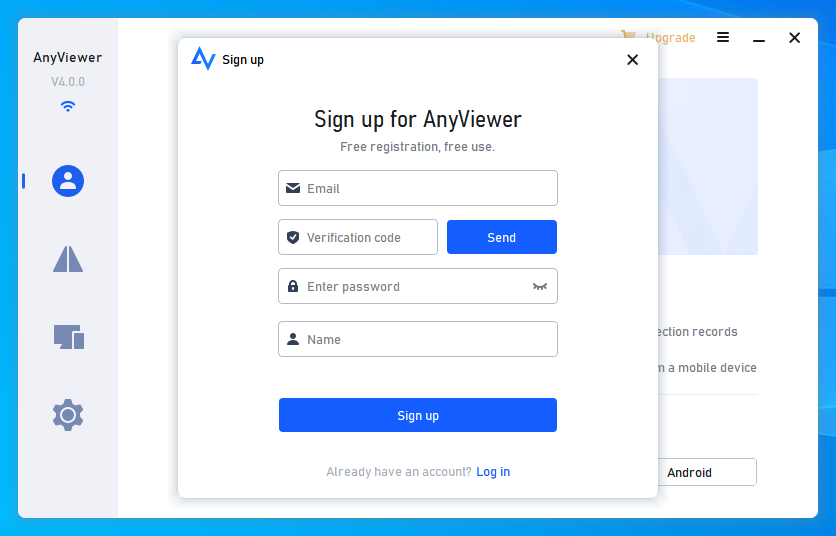 Step 3. You should now see that you have successfully logged into AnyViewer. Your device will be assigned to the account to which you have logged in automatically.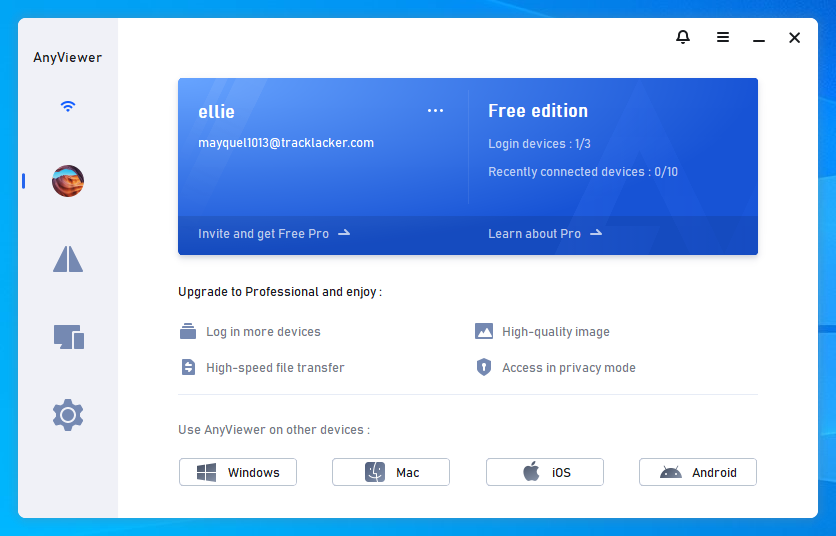 Step 4. On both devices, log in to the same AnyViewer account, then click One-click control for unattended remote support to establish a direct connection.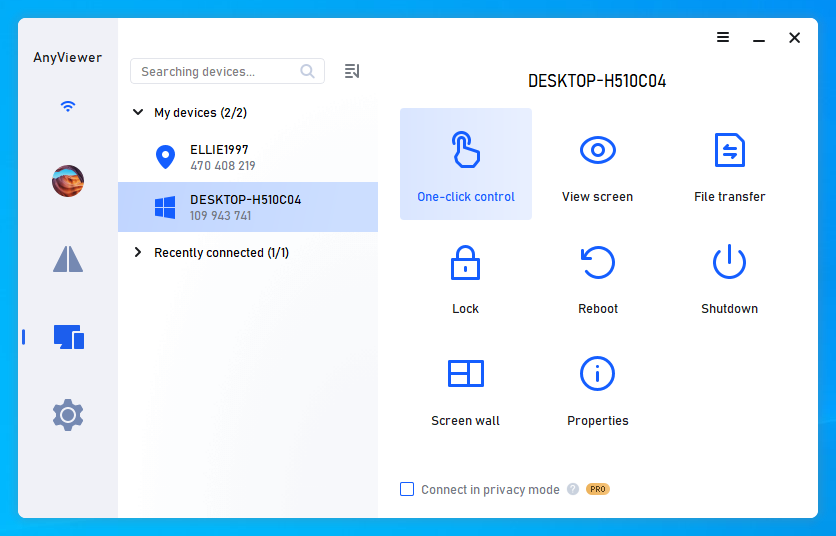 Step 5. After successfully connecting, you will see the remote desktop. Then you can control it completely and provide remote support as if you were sitting in front of it.
Closing words
This post has answered the Jump Desktop vs TeamViewer Reddit question: which is the best remote desktop solution? We have compared the two in compatibility, security, pricing, and features. You can decide on your own.
Besides, if you would like totally free remote desktop software to remotely connect from PC to PC, iOS to PC, or Android to PC, try AnyViewer right now.