Overview: Splashtop vs. ConnectWise Control
Splashtop is a remote access and remote assistance software solution. Splashtop claims to provide a safe, high-performing solution to match unique use cases, with 30+ million clients and users from large and small enterprises worldwide.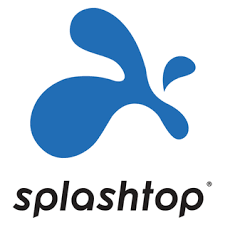 ConnectWise Control, formerly ScreenConnect, is a remote support, access, and meeting solution available in the cloud or as a self-hosted tool. Users can use remote support and access to repair computers, provide updates, and manage systems or servers, and can use remote meetings to conduct online seminars and presentations.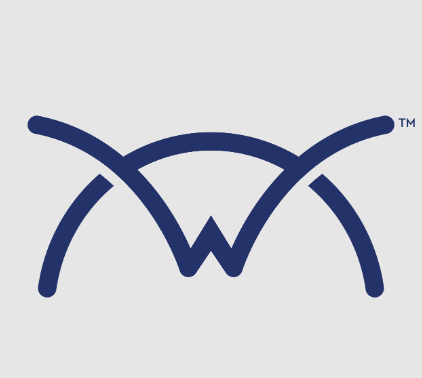 A complete comparison of Splashtop vs. ConnectWise Control
Looking for the proper remote access and remote support solution for your business? Buyers are primarily concerned about whether their chosen product is worth the expense. See this side-by-side comparison of Splashtop vs. ConnectWise Control.
Compatibility
Both Splashtop vs. ScreenConnect deliver seamless customer and employee remote access compatibilities.
Splashtop
SplashtopClient (the device you want to remote from) supports Windows, macOS, Chromebook, Linux, iOS, Windows Phone, Android, Chrome browser, and Amazon Fire. SplashtopHost only supports Windows, macOS, Chromebook, and Android.
ConnectWise Control
ConnectWise ScreenConnect Support is compatible and optimized for most operating systems, mobile devices, and browsers. For operating systems, it supports Microsoft Windows, Mac OS & Mac OS X, and Linux. For mobile devices, it supports Android and iOS. For browsers, it supports Firefox 52+, Safari 10.1+, Chrome 57+, and Edge 41.16299.579.0+.
Security
Hackers are attempting and becoming significantly more efficient at getting into unsuspecting user accounts than ever before. What measures do Splashtop and ConnectWise Control take to improve security?
Splashtop
Splashtop's remote access and remote support connections are protected end-to-end with TLS and 256-bit AES encryption. Splashtop also has top security features, including device and two-factor authentication.
ConnectWise Control
Is ConnectWise Control safe? ConnectWise ScreenConnect states it provides trusted, world-class security that's scalable. It provides world-class threat protection, including role-based permissions, 256-bit AES encryption, multiple authentication methods, and premium reporting capabilities.
Products & pricing plans
Both tools offer a variety of products and pricing plans that make them suitable for various usage scenarios.
Splashtop
Splashtop majorly offers five plans to address varying customer requirements.
Personal is the Splashtop free version providing simple remote computer access for individual non-commercial use. It is utilized on the local network for free to connect to your home computer from the comfort of your couch or bedroom.
Splashtop Business Access provides secure high-performance remote access to enable work from anywhere for individuals and teams, starting at $60 a year.
Splashtop SOS provides attended and unattended remote support solutions for IT, support, and help desks, starting at $199 a year.
Splashtop Remote Support provides remote access and support plus endpoint monitoring and management for IT and MSPs, starting at $479 a year.
Splashtop Enterprise provides services for businesses and power users. You'll need to contact the sales for custom prices.
ConnectWise Control
ConnectWise Control has four major plans.
ConnectWise ScreenConnect One is ideal for supporting a few end users and small groups of machines, billed at $324 a year ($27 a month).
ConnectWise ScreenConnect Standard is better for supporting end users and unattended devices, billed at $504 a year ($42 a month).
ConnectWise ScreenConnect Premium is best for supporting end users and unattended devices with superior support features, billed at $624 a year ($52 a month).
ConnectWise ScreenConnect Access starts at $30 per month, billed annually for 25 agents.
Features
We'll compare Splashtop Remote Support and ConnectWise ScreenConnect Standard, as they bill at a similar price yearly.
Bonus tip: Free Splashtop & ConnectWise Control alternative
Are the prices of Splashtop and ConnectWise Control out of your price bracket? Here we would like to introduce a free ConnectWise Control vs. Splashtop alternative.
AnyViewer is the best free remote access & remote support software. It provides completely free services for any use. Besides, it offers impressive features like concurrent remote sessions, file transfer, unattended remote access, chat, etc.
Step 1. Download, install, and launch AnyViewer on both computers. On the Controller computer, go to Log in, and then click Sign up (if you already have signed up on its official website, you can log in directly).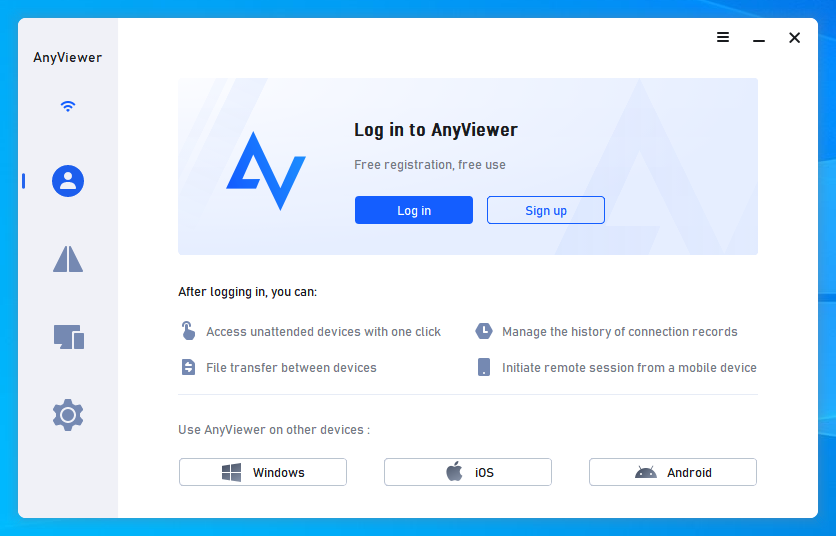 Step 2. Fill in the signup information.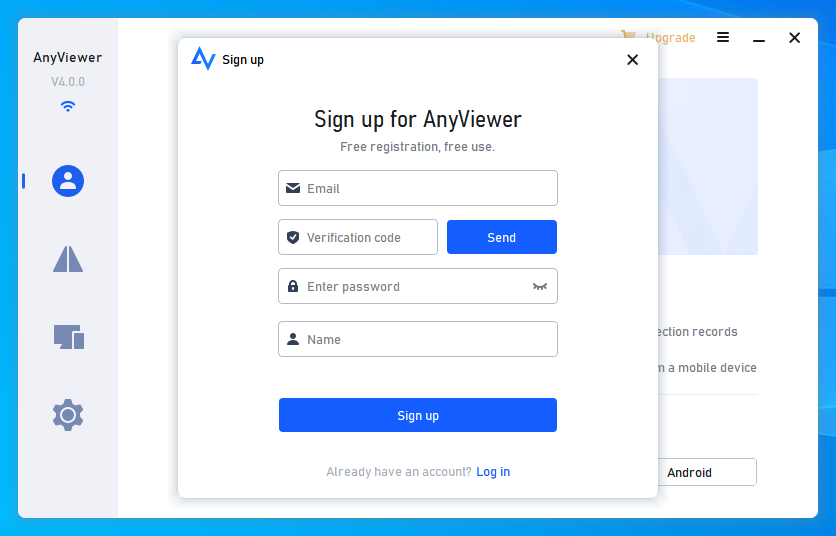 Step 3. Then you can see you successfully logged in to AnyViewer. Your device will automatically be assigned to the account you've logged in to.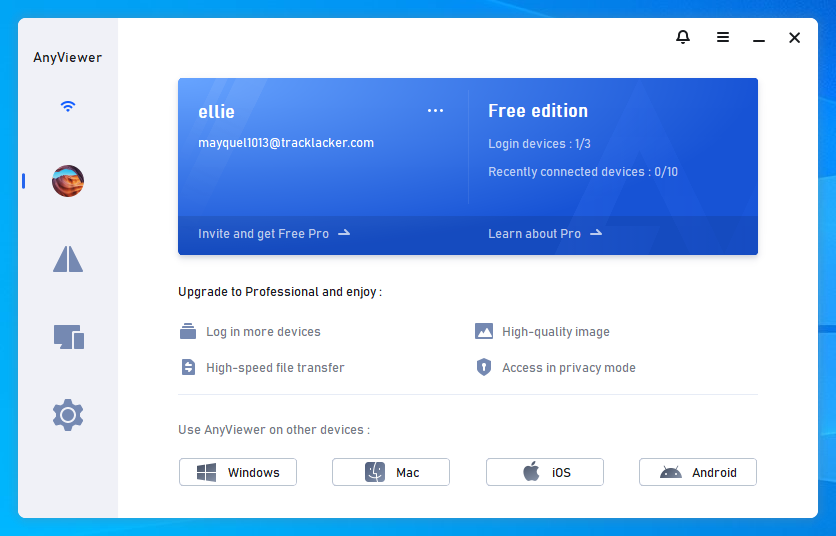 Step 4. Log in to the same AnyViewer account on the two devices; then you can achieve a direct connection by clicking One-click control.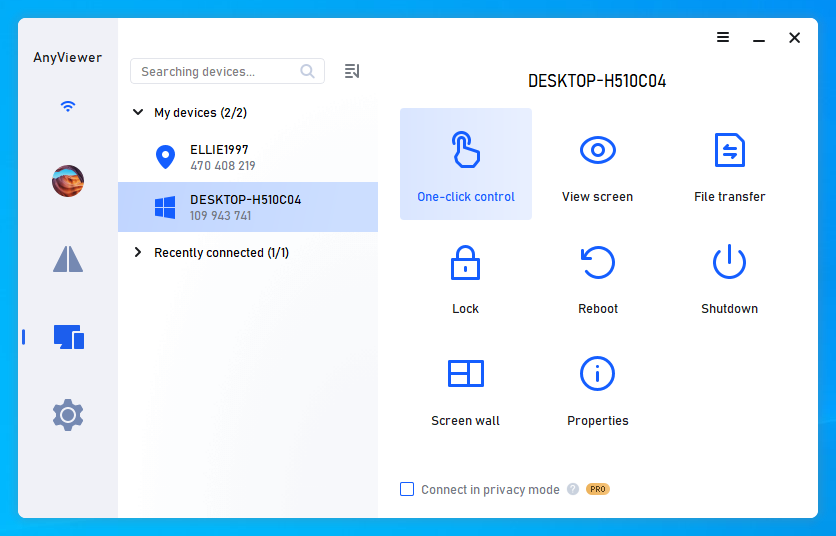 Step 5. After connecting successfully, you'll see the remote desktop.
Notes:✎...

You can also upgrade your account to a Professional or Enterprise plan. What can a professional or enterprise plan brings to you:

More devices can be assigned to the same account for unattended remote access.
Connect in privacy mode to protect privacy, which means the Controller can black the remote PC screen and disable the remote keyboard & mouse click.
Faster file transfer speed. Transfer speed for a free account is 500 KB/s, and for a paid account is up to 10 MB/s.
The bottom line
This post primarily compares Splashtop vs. ConnectWise Control in terms of compatibilities, security, prices, and features. Splashtop and ConnectWise Control are excellent remote access solutions for individuals and businesses. But if you don't have enough budget, you are advised to use AnyViewer, a free remote desktop tool with impressive features.