Overview: Bomgar vs LogMeIn
Bomgar, which is called BeyondTrust now, secure access and support for any device, including desktops, laptops, mobile devices and even POS systems from any system. Bomgarnow mainly aims at providing remote support service. Its main product BeyondTrust Remote Support helps its clients to get secure access in remote support operations.
LogMeIn Pro is one of the most popular remote access software programs on the market. LogMeIn's feature package is largely aimed at large-scale enterprises and is owned by the same firm that created the collaboration tool: GoToMeeting. LogMeIn also has a product that aims at providing users with professional remote support services, called LogMeIn Rescue.
Then you may wonder, Bomgar vs LogMeIn, which one is better? Which should you choose? Don't worry, we'll go over their key strengths, weaknesses, and prices to help you select the right tool for your needs.
Comparison of Bomgar vs LogMeIn
We'll compare Bomgar and LogMeIn in interface design, operating systems, security, features, and price.
Interface design
Bothapps are very user-friendly, with their interfaces clear and easy to navigate. The taskbar is on the left side and lists the main features.
Operating systems
Bomgar and LogMeIn both support for a vast selection of operating systems and platforms, but Bomgar is one upon its opponent. See the table below.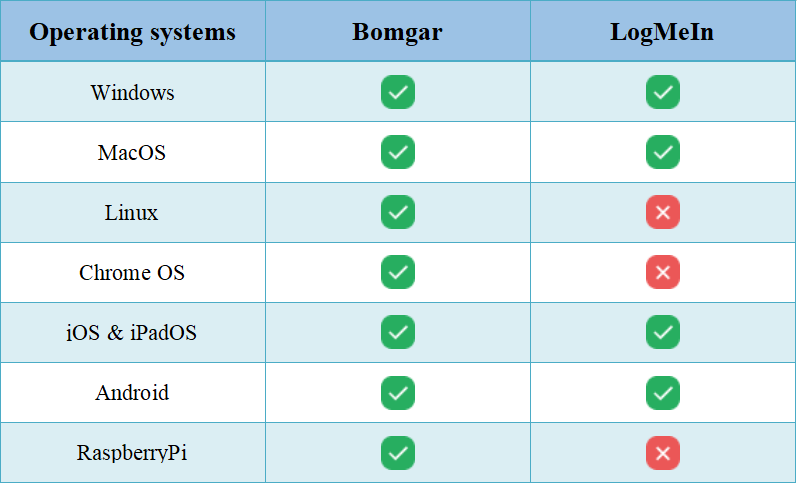 Security
Is Bomgar secure? Bomgar uses military-grade data encryption. It can be configured such that it enforces the use of SSL for every connection made to the site. It encrypts all data in transit using TLSv1.2, and data at rest encryption can be enabled with your key management solution. Available cipher suites can be enabled or disabled and reordered as needed to meet your needs.
Is LogMeIn secure? The LogMeIn server's identity is verified using its PKI certificate. The host's identity is verified based on a pre-assigned identifier and a pre-shared secret. These credentials are transmitted by the host to the server over the authenticated SSL/TLS connection.
Features
Bomgar allows you to fully interact with the user's desktop, troubleshoot problems, and fix computers remotely without being on-site. You can do the following:
Remote control and screen sharing. You can remotely manipulate the user's desktop like you were physically in front of the screen.
Unattended access via jump clients. You can access the remote computer even when the user is not around. This feature also helps when the user needs to be more techno-savvy.
File transfer. You can transmit valuable files from one remotely accessed computer to the physical machine that the user is operating from.
Remote printing. You can print files remotely.
Remote camera sharing. You can access the user's camera. For instance, if you're trying to troubleshoot a user's Wi-Fi connection, you need to see the connection on the router or the servers. This feature is only available on iOS and Android phones, and you can use the device's flashlight, auto-focus, and zoom.
Annotations. Choose one that can help your customers solve the issues themselves. While using the remote camera, you can draw on the screen itself or write notes.
Chat or voice communication. You can use chat or voice communication to help you talk to the end user about fixing the issue.
As one of the most popular remote access software, LogMeIn Pro also has many practical features:
Remote control and screen sharing. You can control one computer from another computer just like you were sitting in front of it or share your screen with anyone to collaborate or provide remote support openly.
File transfer. You may drag and drop files from your work and home PCs without regard for file size.
Remote printing. You can quickly print your documents from a remote computer to your nearest local printer.
Unlimited users. You can extend your computer and file access to anyone for instant sharing and collaboration.
Multi-monitor display. You can view your work monitors simultaneously as if sitting at your desk.
1TB file storage. You can easily store your files, access them from anywhere, and quickly share them with anyone.
Pricing
Unfortunately, both Bomgar and LogMeIn don't have free versions for personal use. They offer several pricing options to choose from.
LogMeIn Pro has three pricing plans. Pro for Individuals, priced at $349.99/year, allows access for up to 2 computers. The Power Users plan, at $839.99/year, allows access for up to 5 computers. The Small Businesses plan, at $1,539.99/year, $3,499.99/year, or $6,999.99/year, adds access for up to 10 computers, 25 computers, or 50 computers respectively.
For the price of Bomgar, you need to contact the Bomgar team to get the price list.
Bonus tip: Free remote access & remote support software
Do you want a free alternative to LogMeIn and Bomgar? AnyViewer, a free remote access & remote support software, is suggested. AnyViewer offers users a completely free service. Each free account allows you to assign three devices. It features two connection channels, allowing two devices to begin remote sessions simultaneously. It also enables two simultaneous sessions, which means that one computer can initiate remote connections to two machines at the same time. The free plan also includes unattended remote access, multiple displays, file transfer, text chat, and other features.
Step 1. Install and run AnyViewer on both computers. Navigate to Log in and then Sign up on the Controller computer (if you have already registered on the official website, you can log in directly).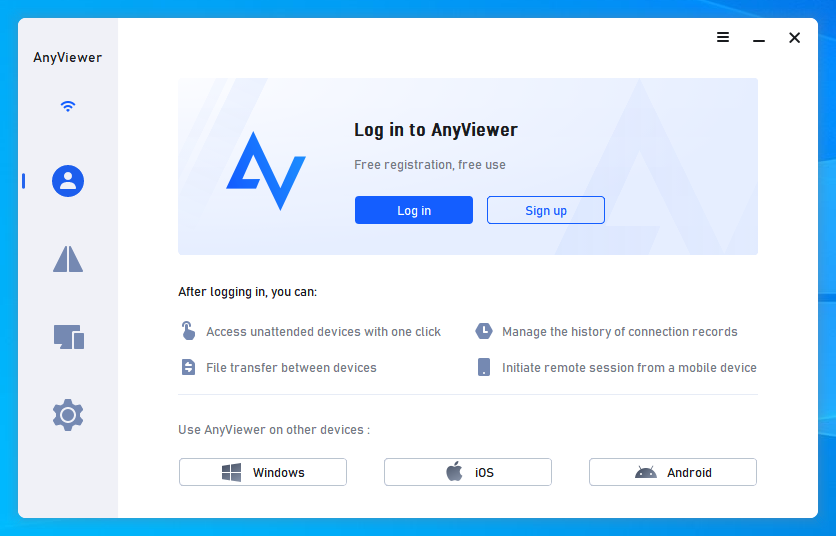 Step 2. Fill out the sign-up form.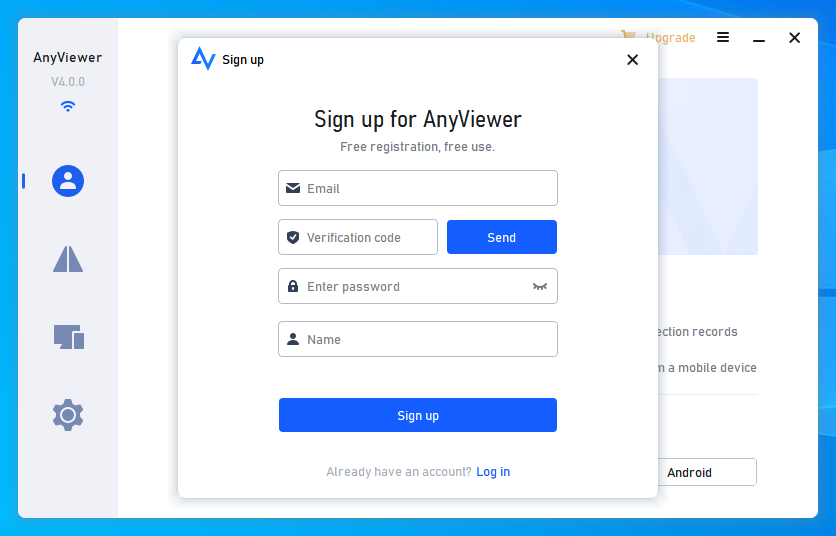 Step 3. You should now see that you have successfully logged into AnyViewer. Your device will be assigned to the account to which you have logged in automatically.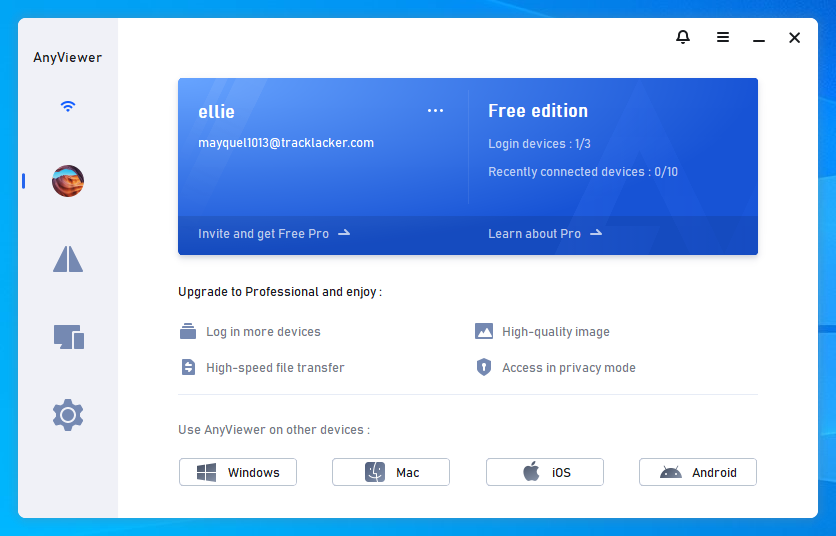 Step 4. Log in to the same AnyViewer account on the two devices, then you can click One-click control to achieve a direct connection, click View the screen to see another's screen, or click File transfer to share files between computers.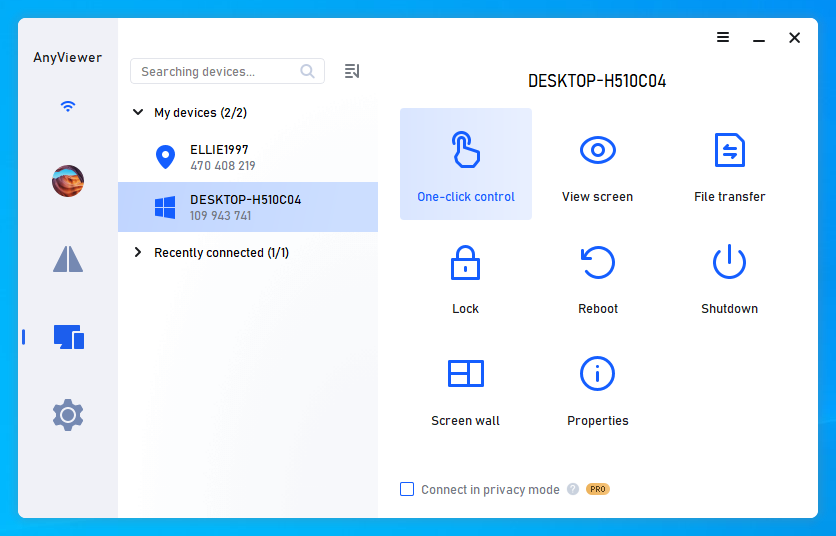 Notes:✎...

Additionally, you can change your account's plan to a Professional or Enterprise one. What a business or professional plan can provide for you is:

More devices will be allowed to assign to the same account for unattended remote access.
More connection channels for more devices to be able to start remote connection at the same time.
One device can connect to more devices simultaneously.
Black the remote PC screen and disable the remote keyboard & mouse click to protect privacy.
Transfer 1TB files at 10 MB/s.
The bottom line
This post primarily compares BomgarvsLogMeIn. Read it carefully before deciding which to choose. Apart from BomgarandLogMeIn, we hghly recommend you choose AnyViewer. It is the free remote access and remote support tool, which also offers various practical features.