Zoho Assist vs Splashtop: Overview
With so many available remote access software on the market, it's hard to decide what's best. This article provides a side-by-side comparison of Zoho Assist vs Splashtop to help you find the right software.
What is Zoho Assist?
Zoho Assist, powered by Zoho, a leading cloud software company, is a comprehensive solution that provides businesses with easy on-demand remote support to efficiently serve their customers. It is a cloud-based remote support software that helps you to establish a secure connection with a remote desktop. Zoho Assist offers a 15-day free trial, after which Zoho Assist offers a variety of pricing options to meet the individual needs of businesses.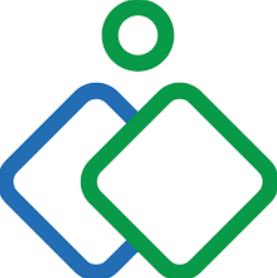 What is Splashtop?
Splashtop is a software solution for remote access and remote help. It provides best-in-class remote computer access and collaboration solutions at a low cost, allowing people to access data from any device, anywhere. Splashtop claims to provide secure, high-performance solutions to match specific use cases and has more than 30 million clients and users in large and small organizations worldwide. Splashtop has different versions for different needs and features, you can choose to buy according to your needs. This article will focus on Splashtop Remote Support.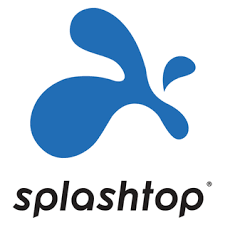 Comparison of Zoho Assist and Splashtop Remote Support
Splashtop vs Zoho Assist, which should you choose? In this article, we will compare Zoho Assist and Splashtop Remote Support extensions based on the following parameters to determine which is better.
Compatibility
Zoho Assist vs Splashtop Remote Support supports several popular operating systems as follows:
| | | |
| --- | --- | --- |
| Operating System | Zoho Assist | Splashtop |
| Windows | √ | √ |
| MacOS | √ | √ |
| Android | √ | √ |
| iOS | √ | √ |
| Linux | √ | √ |
Features
Both Zoho Assist and Splashtop Remote Support provide many features that make remote collaborations more effective. However, most features are designed for paid plans. Here is a comparison of some of the features of Zoho Assist and Splashtop Remote Support.
| | | |
| --- | --- | --- |
| Features | Zoho Assist | Splashtop |
| Unattended remote access | √ | √ |
| File transfer | √ | √ |
| Multiple monitor support | √ | √ |
| Remote reboot | × | × |
| Instant chat | √ | √ |
| Voice and video chat | √ | × |
Security
Zoho vs Splashtop Remote Support, who is more secure? Security is a major concern for many users of remote technology.
Zoho Assist
Is Zoho Assist safe? To ensure secure and encrypted communications, Zoho Assist utilizes Two Factor Authentication (2FA) methods such as OTP and SMS. It utilizes SSL and AES 256-bit encryption to provide a secure environment for remote access. In addition, it is firewall friendly and can be easily configured for a seamless workflow.
Splashtop Remote Support
Is Splashtop safe? The Splashtop solution is designed to give IT complete control over data security while allowing users to access data from anywhere. Features include two-factor authentication, multi-level password security, black screen, automatic screen lock, session idle timeout, remote connection notification, logging, and more. In addition, all remote sessions are protected by TLS (including TLS 1.2) and 256-bit AES encryption.
Pricing
When considering a remote access solution, it is critical to consider pricing. Both Zoho Assist and Splashtop Remote Support offer a variety of pricing options, and by comparing them, you can find the pricing option that best fits your budget and requirements.
Zoho Assist
It's worth mentioning that Zoho Assist has a free version. In the free version, you can use some of the features. Zoho Assist allows for instant remote support and unattended remote access. It supports one remote support technician and five unattended computers. In addition to this Zoho Assist is also capable of file transfer, screen sharing, and more. However, Zoho Assist can only run one session at a time. Here's a look at the paid version of Zoho Assist.
Splashtop Remote Support
Splashtop Remote Support does not have a free version, but Splashtop does offer a free version of Splashtop Personal. Splashtop Personal only supports personal use and has very limited functionality. It only supports you to access up to 5 computers for personal, non-commercial use on your local home network. A subscription is required to connect from an external network.
Here is the Splashtop Remote Support paid version fact sheet.
AnyViewer: Best free Zoho Assist & Splashtop Remote Support alternative
What is better than Zoho Assist & Splashtop Remote Support? The professional free remote desktop software AnyViewer could be the best choice! AnyViewer has many advantages over Zoho Assist and Splashtop that make it a strong remote access solution market contender. Features include superior performance, secure connections, file transfer efficiency, seamless mobile access, and a user-friendly interface.
In addition, AnyViewer is an all-in-one remote access & remote support software compared to Zoho Assist and Splashtop. The different features of Zoho Assist and Splashtop require the purchase of different versions, which would be a big splurge. However, you can enjoy many features with the free version of AnyViewer. While connecting to computers over the Internet or remotely assisting clients, you can enjoy the following features:
Unattended remote access. Remotely access and work on unattended computers without requiring anyone on the remote end to authenticate the request.
Multi-sessions. Control multiple computers simultaneously and quickly switch to each remote control window.
File transfer. Flexible File Transfer Transfer multiple files quickly between remote and local desktops.
Chat. AnyViewer allows chatting during remote support to improve efficiency.
10 managed devices. With the free version, you can manage up to 10 devices, use security codes for unattended access to them, see the last connection time, and more.
Step 1. Install and run AnyViewer on both of your computers. Navigate to "Log in" on both computers and click on "Sign up" (if you have already joined its official website, you can log in immediately).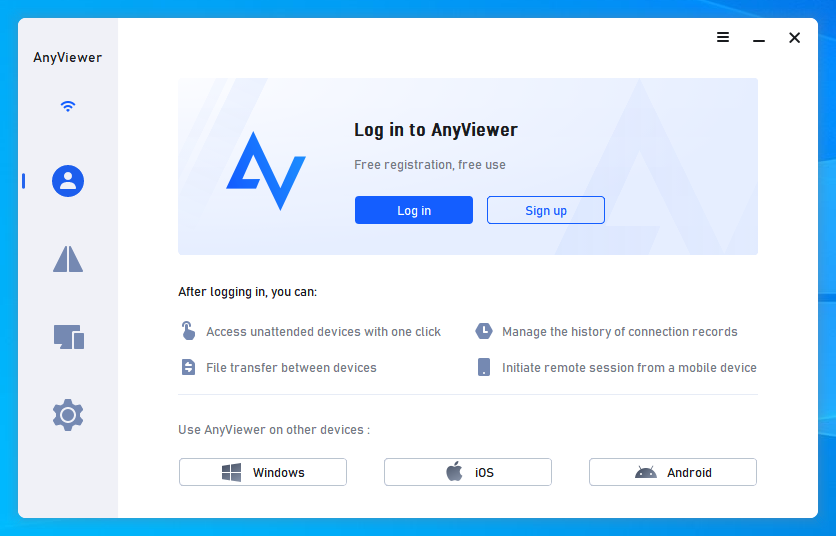 Step 2. Fill out the sign-up form and click "Sign up" to create an AnyViewer account.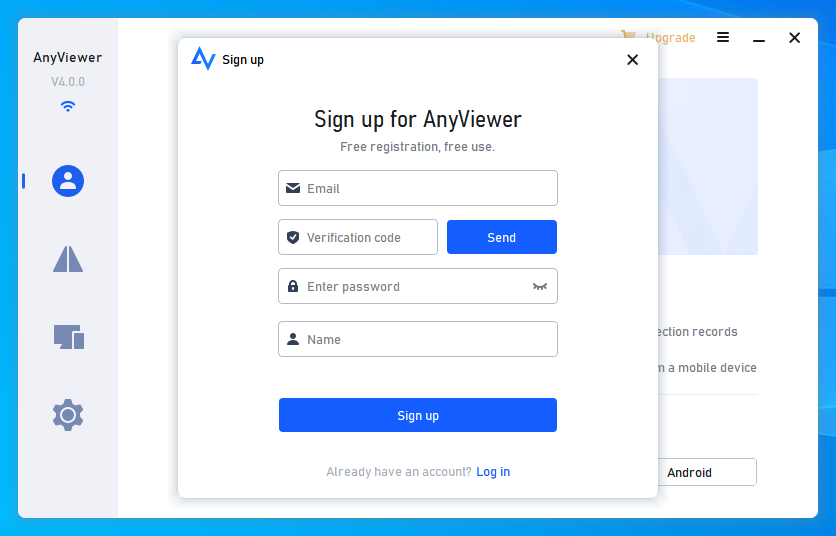 Step 3. You should now see that you have successfully logged into AnyViewer. Your device will be automatically assigned to the account you logged into.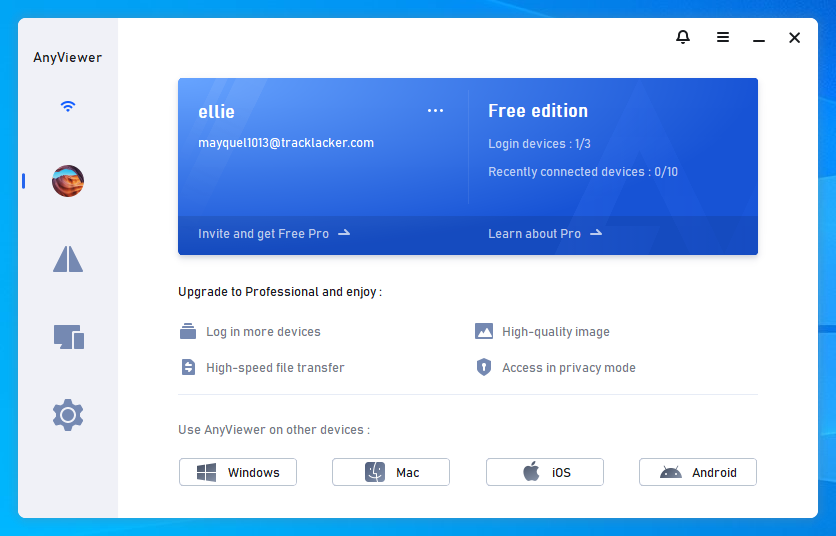 Step 4. Log in to the same AnyViewer account on the two devices. Then find "Devices" and select the computer you want to connect to. Click on it and select "One-Click Control" to establish unattended remote access to the computer.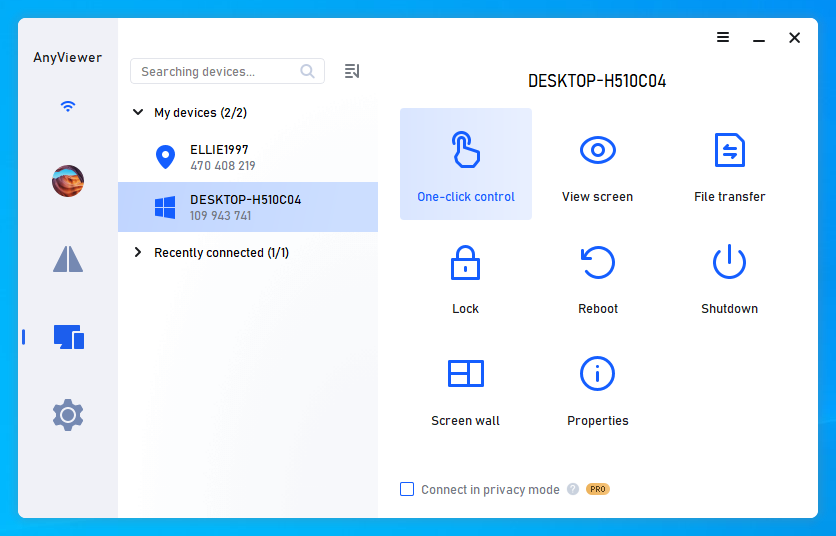 Notes: It is recommended to upgrade your account to a professional or enterprise plan. Then you'll have the following rights:

Connect to up to 10 devices simultaneously.
Manage up to 100 unattended devices.
Transfer an unlimited number of large files (1TB per file) at the same time.
Enjoy many useful features such as Privacy Mode, which allows you to disable the keyboard and mouse on the remote PC and black out the remote screen.
Enjoy high-image quality
Conclusion
Price and functionality are key factors to consider when choosing the most appropriate remote access solution. Zoho Assist vs Splashtop offers unique advantages that make it suitable for different scenarios. However, multiple versions need to be purchased, which is expensive. So, in addition to Zoho Assist and Splashtop, you can also consider AnyViewer as a free alternative solution. AnyViewer offers more features than Zoho Assist and Splashtop for less money.