Overview: Splashtop vs. Bomgar
Splashtop and Bomgarare both popular remote access software for businesses and remote support software for IT professionals. Before picking one from them, you'll need to get basic information about them.
What is Splashtop?
What is Splashtop software? Splashtop is a software solution for remote access and remote help. It provides best-in-class remote computer access and collaboration solutions at a low cost, allowing people to access their data from any device, anywhere. Splashtop claims to provide a safe, high-performing solution to match unique use cases, with 30+ million clients and users from large and small enterprises worldwide.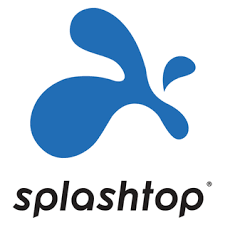 What is Bomgar?
What is Bomgar? Bomgar, now known as BeyondTrust Remote Support, assists support teams of all sizes in improving corporate performance by providing secure, managed remote support to practically any device or system anywhere in the globe.
BeyondTrust provides deployment options tailored to a company's specific requirements. For years, the manufacturer has claimed that their on-premises physical and virtual equipment has assisted organizations in meeting regulatory requirements. Furthermore, the provider claims that its cloud deployment's unique segmentation features provide users with the cloud without compromise.
Comparison of Splashtop vs. Bomgar
Which is better, Splashtop vs. Bomgar? Examining products to find the best customer support software can be easy. We'll compare Splashtop and Bomgar in operating systems, security, pricing plans, and features.
Operating systems
What are the system requirements of Splashtopand Bomgar?
Splashtop
Splashtop works seamlessly across laptops, tablets, and smartphone devices. It allows you to remotely access your Windows, Mac OS, and Linux computers from any Windows, Mac, iOS, Android, and Chromebook device. Besides, it also supports browsers, including Google Chrome, Safari, Edge, and Firefox.
Bomgar
With BeyondTrust Remote Support, users can support all their systems over the web. Technicians can support remote computers running Windows, Mac, Linux, etc., or mobile devices running Android, iOS, or BlackBerry. Additionally, they can offer support from their preferred device, even an Android tablet or iPad.
Security
Security is another issue that concerns many users regarding remote technology.
Splashtop
Is Splashtop secure? Splashtop solutions are designed to give IT complete control over data security while allowing users to access it from anywhere. Features include two-factor authentication, multi-level password security, blank screen, screen auto-lock, session idle timeout, remote connection notification, logging, and more. Besides, all remote sessions are protected with TLS (including TLS 1.2) and 256-bit AES encryption.
Bomgar
Is BeyondTrust secure? BeyondTrustuses military-grade data encryption. It can be configured to enforce SSL used for every connection made to the site. It uses TLSv1.2 to encrypt all data in transit, and data at rest encryption can be enabled using your key management solution. To fulfill your requirements, available encryption suites can be enabled or disabled and reordered as needed.
Pricing plan
How much will it cost respectively for Splashtop and Bomgar?
Splashtop
Splashtop majorly offers five plans to address varying customer requirements.
Personal is the Splashtop free version providing simple remote computer access for individual non-commercial use. It is utilized on the local network for free to connect to your home computer from the comfort of your couch or bedroom.
Splashtop Business Access provides secure high-performance remote access to enable work from anywhere for individuals and teams, starting at $60 a year.
Splashtop SOS provides attended and unattended remote support solutions for IT, support, and help desks, starting at $199 a year.
Splashtop Remote Support provides remote access and support plus endpoint monitoring and management for IT and MSPs, starting at $479 a year.
Splashtop Enterprise provides services for businesses and power users. You'll need to contact the sales for custom prices.
Bomgar
The prices of Bomgar are not being fully disclosed. You'll need to contact its sales team to get details about pricing, request a custom quote, or make technical inquiries about your deployment requirements. Bomgar does not provide free plans but a trial period in which you can test the solution before committing to a premium membership.
Features
What features do Splashtop and Bomgar share, and what not? Let's compare Splashtop Remote Support and BeyondTrust Remote Support.
Bonus tip: Best free remote support software - AnyViewer
If you are looking for free remote support software, we highly recommend AnyViewer. It is the best free remote support software for Windows, iOS, and Android. It offers completely free service without any restrictions.
Let's compare AnyViewer, Splashtop, and BeyondTrust Remote Support.
Note: Changing your account's plan to a Professional or Enterprise one is also recommended. You can initiate more concurrent sessions, enjoy privacy mode, experience faster file transfer speed, etc.
Step 1. Download, install, and launch AnyViewer on both computers. On the Controller computer, go to Log in, and then click Sign up (if you already have signed up on its official website, you can log in directly).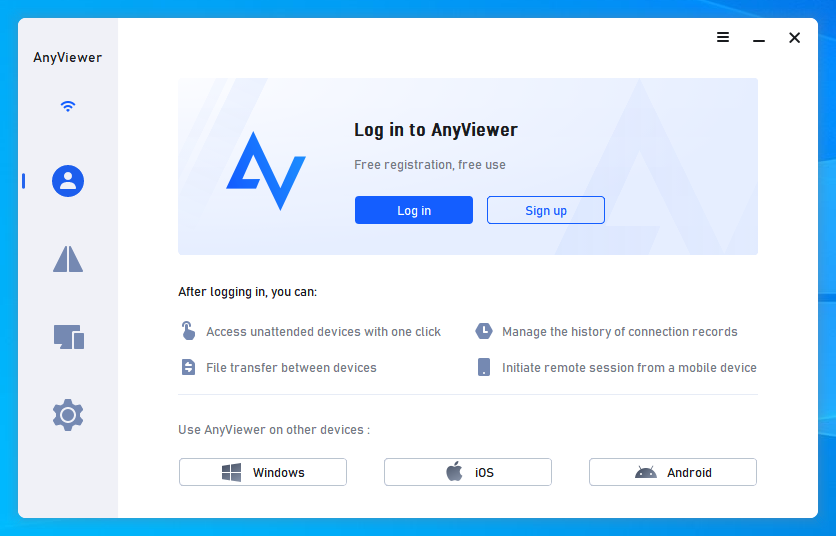 Step 2. Fill in the signup information.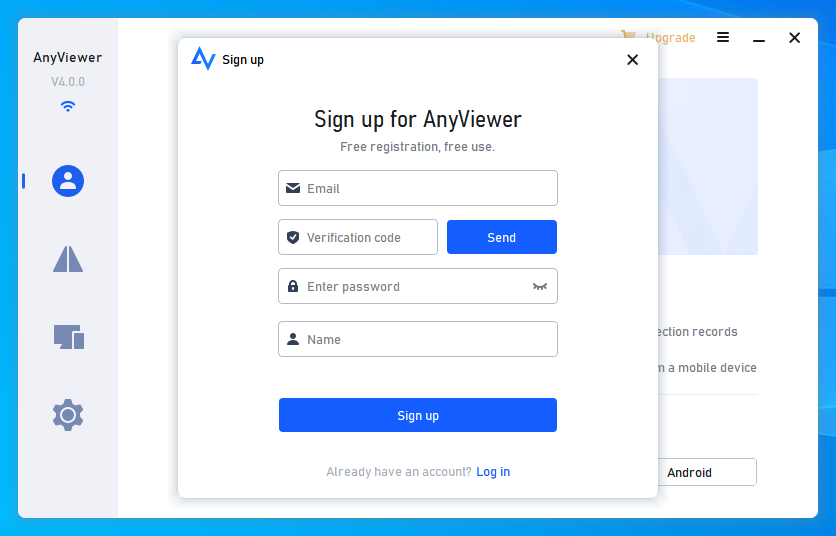 Step 3. Then you can see you successfully logged in to AnyViewer. Your device will automatically be assigned to the account you've logged in to.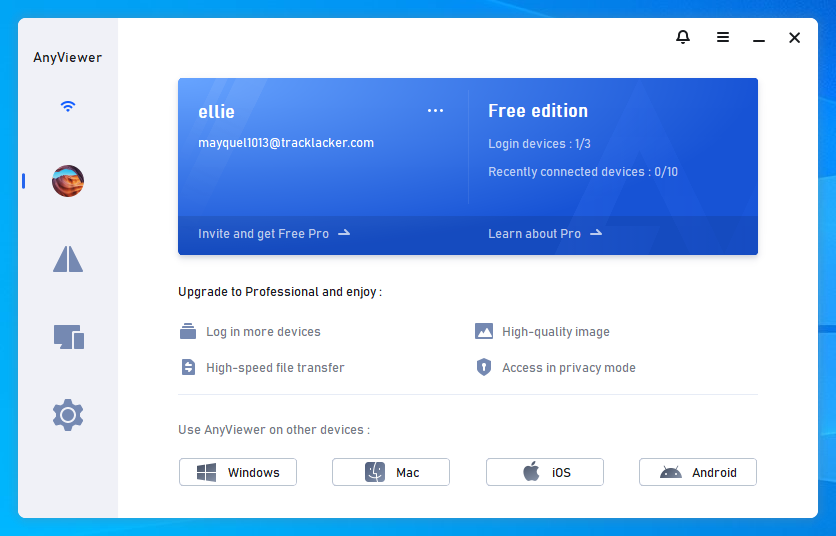 Step 4. Log in to the same AnyViewer account on the two devices; then you can achieve a direct connection by clicking One-click control.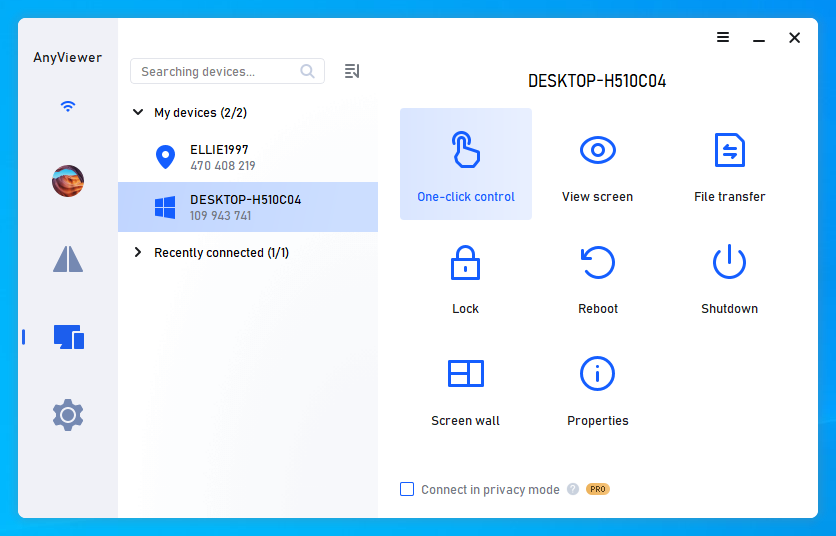 Step 5. After connecting successfully, you'll see the remote desktop.
The bottom line
This post compares two remote access and support software, Splashtop vs. Bomgar (BeyondTrust Remote Support now). But if you are looking for a free option, it is highly recommended to choose AnyViewer. It is the best free alternative to Splashtop and Bomgar. Its free version has many advantages over Splashtop Personal. Try it right now.