What is the best screen sharing?
What is the best screen sharing software? This question has sparked a lot of interest among users. With remote working becoming more and more important in people's daily lives, finding a good screen sharing software is crucial. And what is the best free screen sharing software? Don't worry, in this article, you will get the most accurate answer.
Thebest screen sharing software [8 options]
What is the best screen sharing software? The best screen sharing software should feature easy operation, fast and stable connection, and high compatibility. And beyond that, users are more interested in finding the best free screen sharing software. So in this article, we will introduce 8 screen sharing software for users to choose. Keep reading to get the right answer for you.
Option 1. AnyViewer
The most recommended is AnyViewer. it is a secure, stable and free remote desktop software with screen sharing. AnyViewer not only allows screen sharing between computers, but also between mobile phones and computers. In addition to this, AnyViewer has the following advantages:
Free. AnyViewer provides free plans for both personal and commercial use, offering ample features and permissions to cater to the needs of users.
No time limit. AnyViewer offers unlimited screen sharing with no time restrictions.
Real-time sound synchronization. AnyViewer ensures real-time synchronization of sound from remote devices.
High performance. AnyViewer delivers a fast and responsive connection experience.
Easy to use. The user-friendly interface makes the entire operation smooth, and connections are not restricted to the same LAN, ensuring seamless access.
Additional features. AnyViewer goes beyond screen sharing, offering a range of valuable features, including one-click control, file transfer, text chat, multi-monitor support, and more.
What is the best free screen sharing software?AnyViewer is the best answer.
Step 1. After downloading, installing, and launching AnyViewer on both of your devices, navigate to "Log in" and click on "Sign up".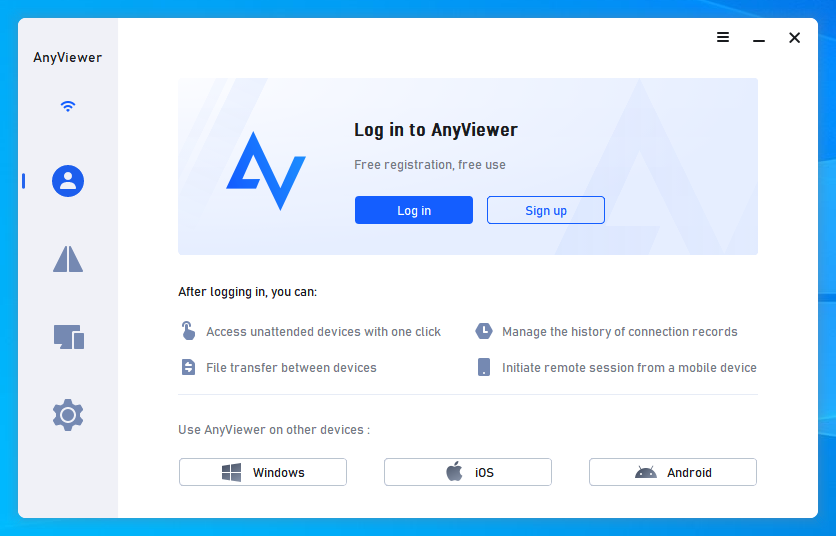 Step 2. Fill out the registration form to create a new account and then log in using the same account on your device.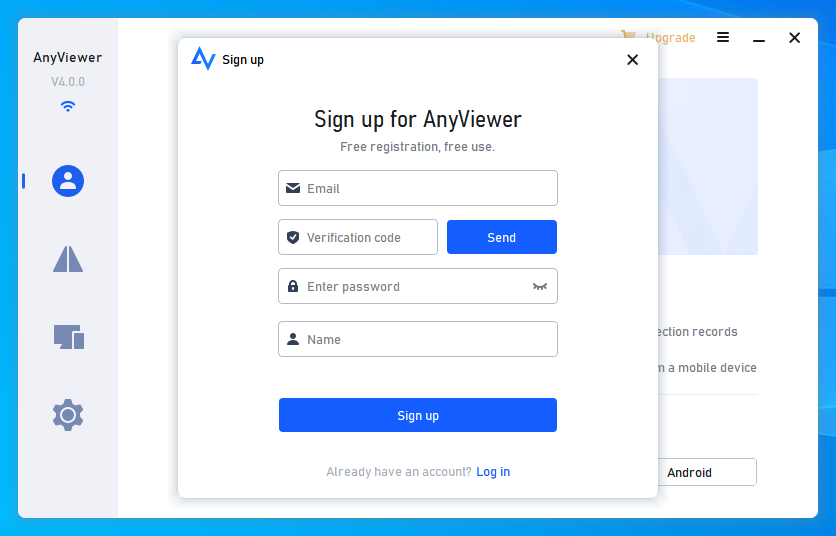 Step 3. Upon successful login, your device will be automatically linked to the account you've logged into.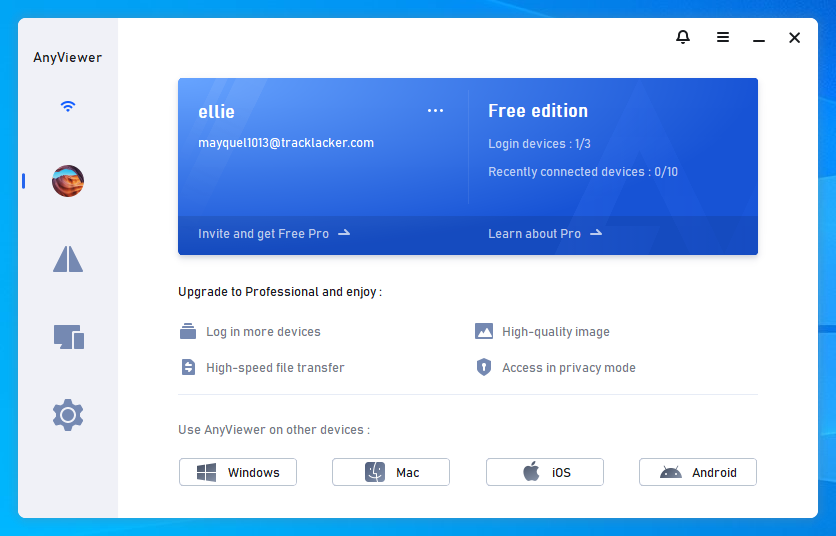 Step 4. On your local device, access "Device" and select the target device whose screen you wish to view. Then, click on "View screen" to initiate screen sharing without requiring permission from the remote device.
★Tips: You have the option to upgrade your account to a Professional or Enterprise plan, which includes added benefits such as:

Allocating more additional devices for screen sharing.
Access to remote access in Privacy Mode.
Faster file transfer speeds.
Improved device management for organizations through the creation of groups to efficiently oversee a substantial number of devices.
And more...
​​​​​​
Option 2. Chrome Remote Desktop
If both you and another computer are using Windows and have the Chrome browser pre-installed, Chrome Remote Desktop is an excellent choice for screen sharing. This tool is compatible with Microsoft Windows, OS X, Linux, and ChromeOS.However, Chrome Remote Desktop is slightly cumbersome to operate.
Step 1. To set up Chrome Remote Desktop, make sure you are signed in to the same Google Account on both devices. Then, visit the Chrome Remote Desktop download page. On your PC, select "Remote Support" from the left pane, and click the "blue download" button.
Step 2. Click "Add to Chrome" to install the Chrome Remote Desktop extension to your Chrome browser.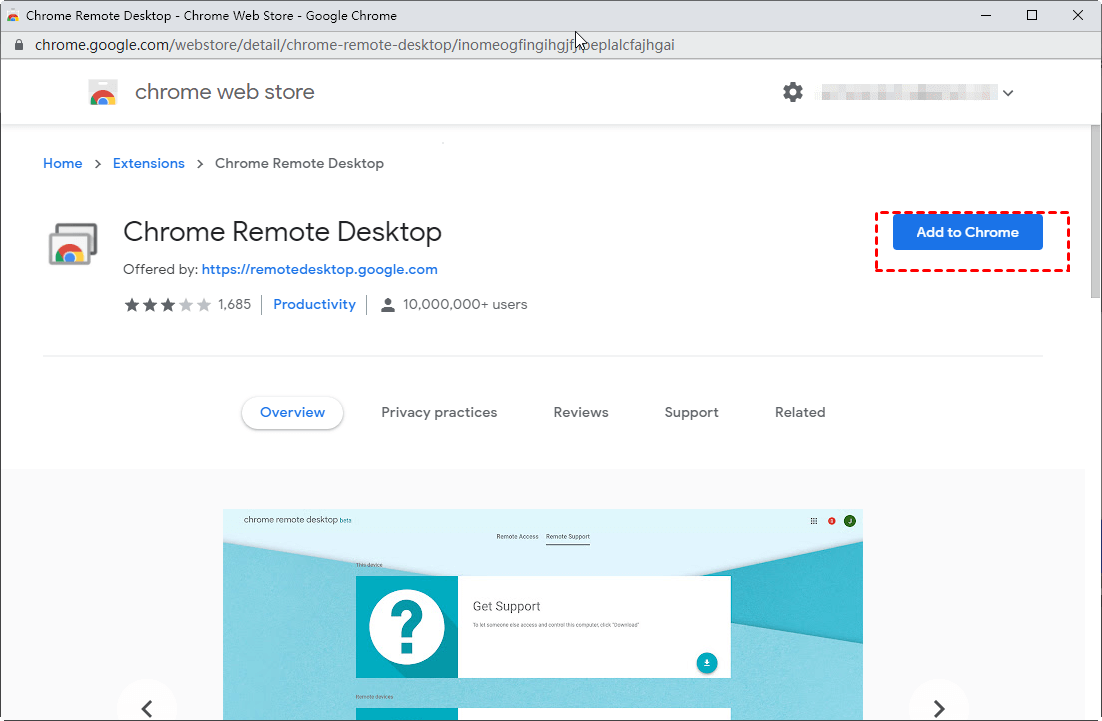 Step 3. Click "Add extension" in the pop-up window to confirm and complete the download.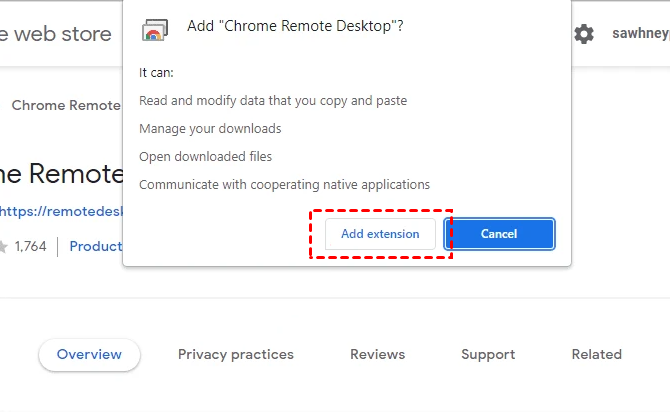 Step 4. After adding the Chrome Remote Desktop extension, click on "+ Generate Code" under the "Share this screen" section.

Step 5. Share the generated code with the PC you intend to screen share with (be aware that the code has a 5-minute expiration).

Step 6. Enter the host computer's access code and then click "Connect" on the remote computer.

Step 7. A request will appear on your computer; click "Share" to commence screen sharing.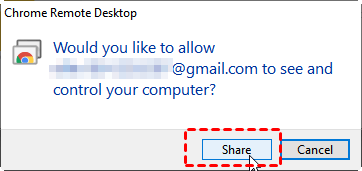 Option 3. Quick Assist
Quick Assist, a built-in Windows feature, facilitates remote device sharing between individuals. It permits one person to establish a remote connection to another user's device and view its display. Quick Assist can be employed for Windows Remote Desktop screen sharing. Please note that Quick Assist is only available on Windows 10 or later.
Step 1. On the computer from which you wish to share your screen, use the search box to locate "Quick Assist" and open the application. Then, click on "Assist another person" on the main interface.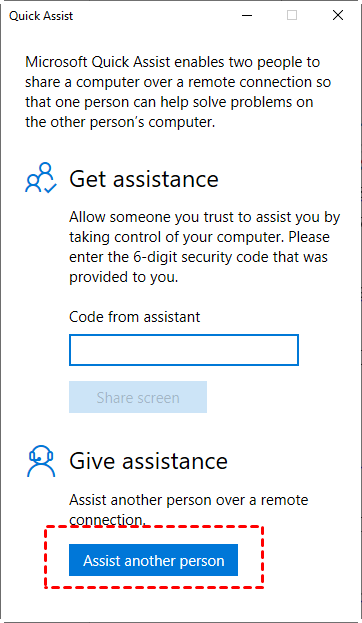 Step 2. Enter your Microsoft account, click "Next" to receive the share security code, and provide your password. After clicking "Sign in", a security code will be generated, but please be aware that it's only valid for 10 minutes.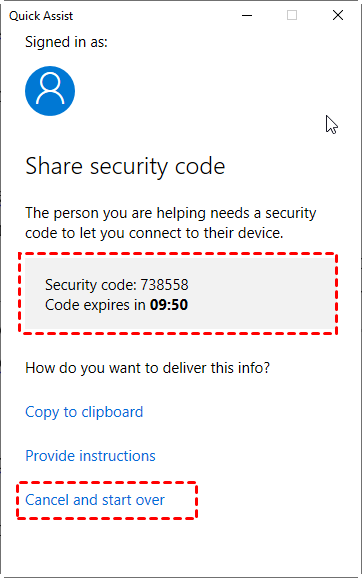 Step 3. On your own computer, open Quick Assist, input the security code, and then choose "Share screen".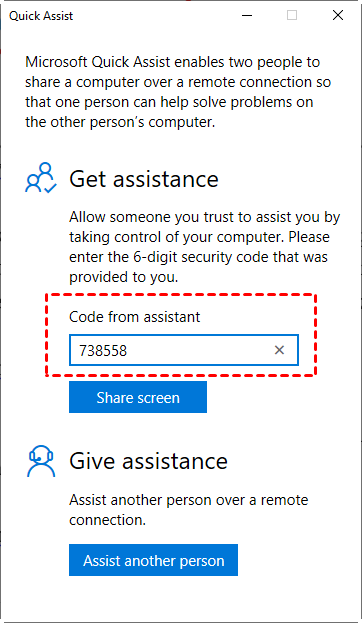 Step 4. Select "View Screen", and then click "Continue".
Step 5. Click "Allow" to provide permission for screen sharing with the other computer.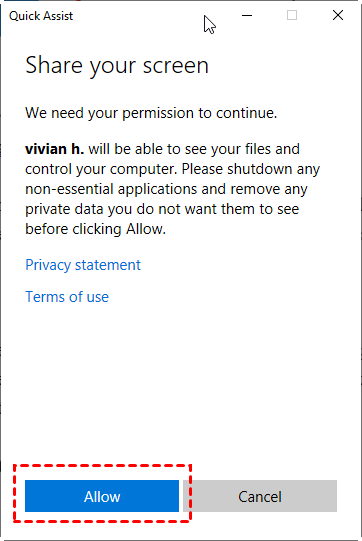 Option 4. Zoom
Zoom is renowned for its versatile video calling features, including the ability to share screens from an iPhone to another device during a video call with participants. As the meeting host, you have the authority to grant screen sharing permissions to yourself or other participants. However, it's worth noting that the free version of Zoom imposes a 40-minute limit on meetings. For longer meetings, users are required to purchase a paid plan.
Step 1. Download and install Zoom on your devices.
Step 2. Log in to Zoom on your control device and initiate a meeting. Then, select "Share Screen".
Step 3. Enter your sharing key or meeting ID in the pop-up window and click "Share" to commence screen sharing.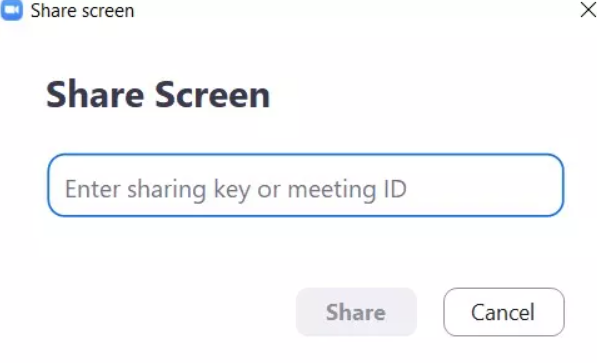 Option 5. TeamViewer
TeamViewer is a widely recognized remote control application offering a free version for personal use and paid versions for business purposes. Nevertheless, it's crucial to exercise caution when using the free TeamViewer version, as some users have reported instances of being incorrectly flagged for commercial usage, resulting in blocked connections even when it's not the case. Consequently, if you require a dependable remote screen sharing solution, TeamViewer might not be the most suitable choice.
Step 1. Download and install TeamViewer on your devices. During the installation process, specify the purpose for downloading the software, whether it's for commercial or personal use. In this example, we'll demonstrate using the free version for individual users.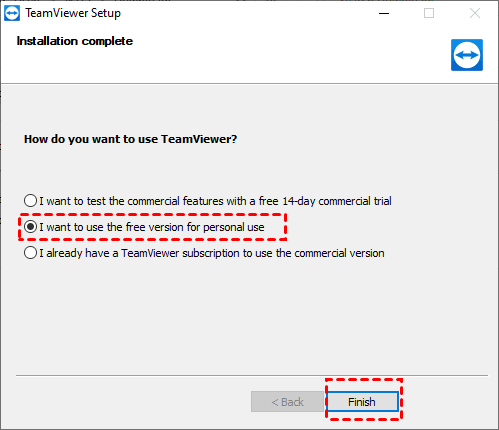 Step 2. Open TeamViewer on both computers and access the main interface. Select "Login". If you're new to TeamViewer, you'll need to create a TeamViewer account. Click "Next" to finalize the account registration process (please note that account verification may be required prior to usage).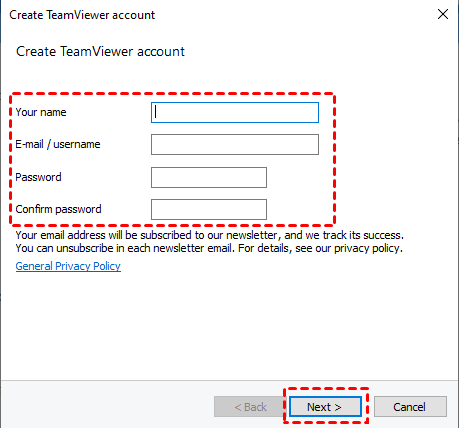 Step 3. On the client computer's TeamViewer main interface, navigate to "Remote Control" on the left-hand side. Then, in the "Partner ID" area, enter the ID of the host computer and press "Connect".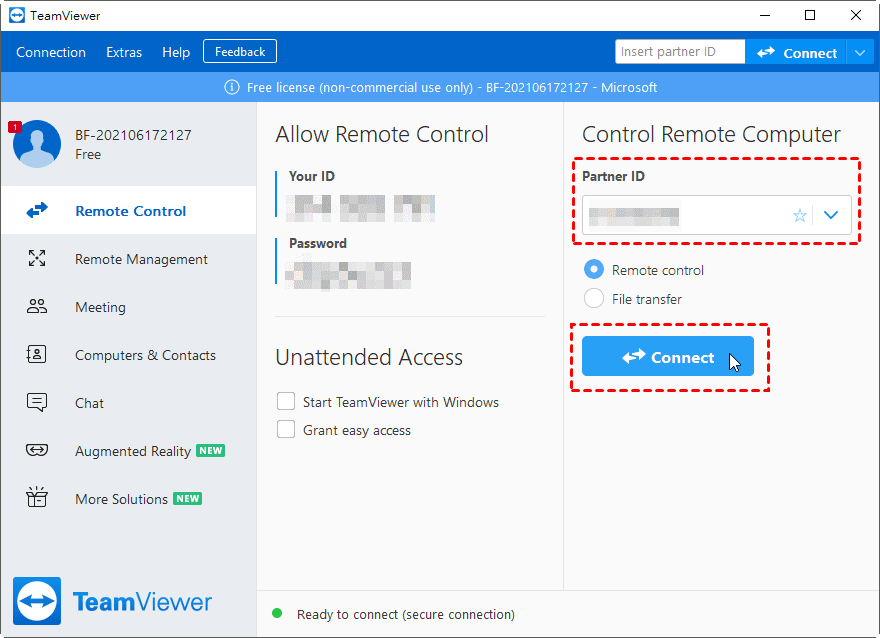 Step 4. After a successful connection, you can choose to view the screen of the remote device and make modifications to the screen resolution, and perform other actions.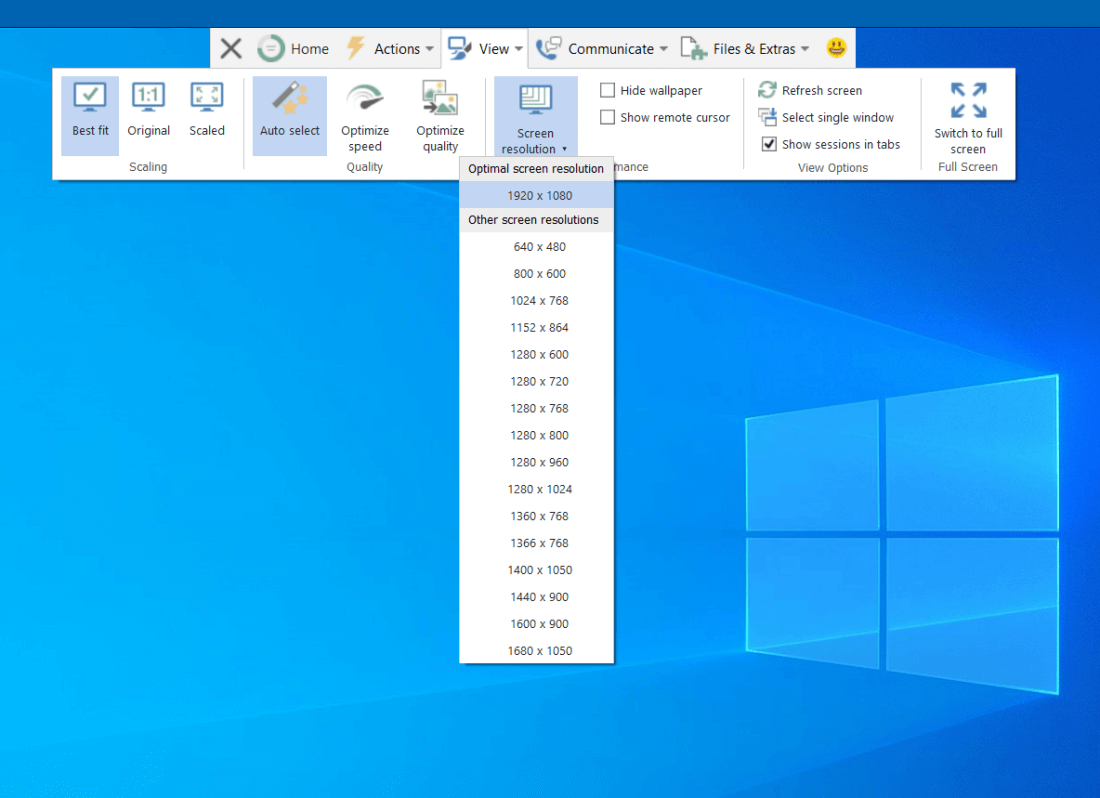 Option 6. AnyDesk
AnyDesk is a swift and reliable option for remote support software, similar to TeamViewer. It provides a free version for personal use as well as paid versions for commercial usage. However, it's essential to note that certain activities, such as providing IT support to customers, monitoring and maintaining computers, or managing high-performance machines in a business context, may be flagged as professional usage, necessitating the acquisition of a premium license.
Furthermore, the AnyDesk free version has significantly less functionality. Functionalities like remote restart, text chat, and phone support are not available in the free version, while these features can be found in the AnyViewer free version.
Step 1. Download, install and launch AnyDesk on both of your devices.
Step 2. To start AnyDesk, enter the host's connection password on the client's end and click "Connect".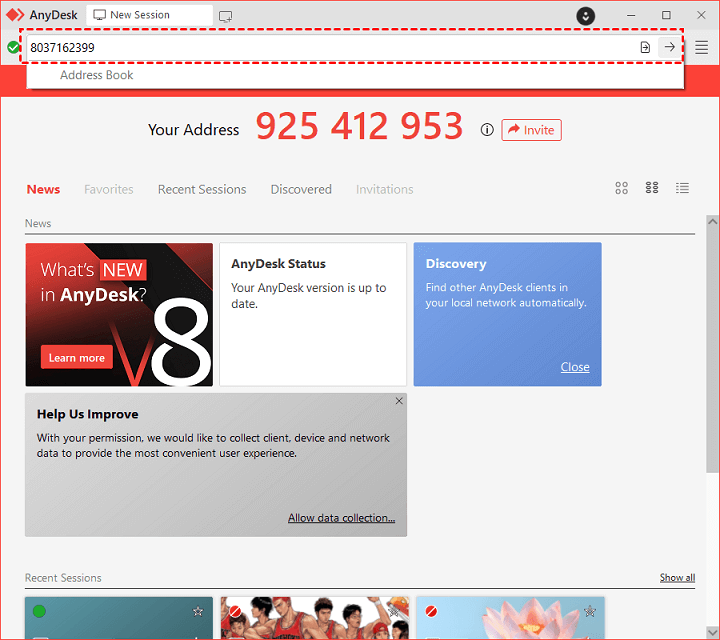 Step 3. If you only want to share your screen and do not want the other person to be able to control your device, you just need to uncheck "Allow to take control" when accepting the request.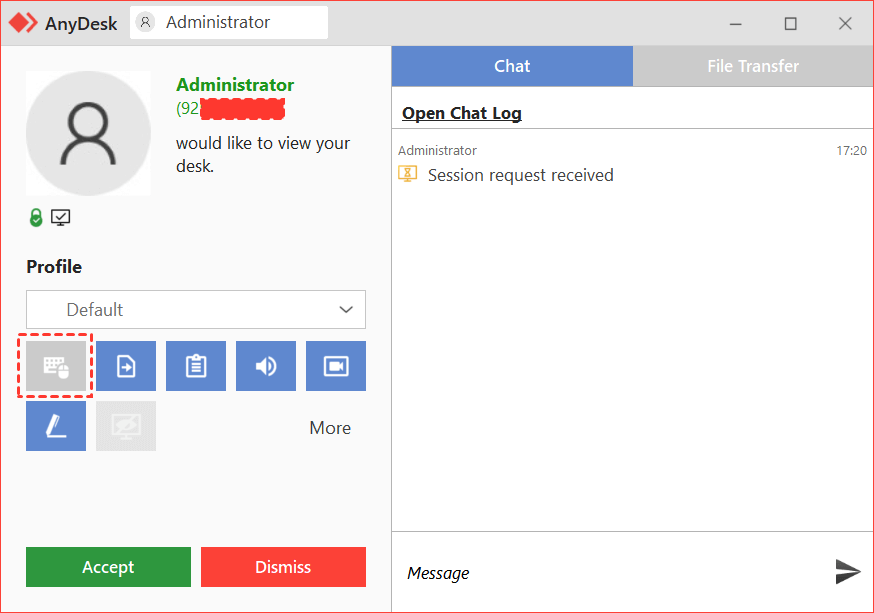 Step 3. After successfully establishing the connection by clicking "Accept", you can view the remote device's screen.
Option 7. Splashtop
Splashtop is a remote access and remote help software that provides a seamless remote desktop connection experience. It offers a range of versions to meet different needs and features, and you can choose the one that suits your requirements. It's important to mention that Splashtop doesn't offer a free plan.
Step 1. First download and install Splashtop on your device, then proceed to log in.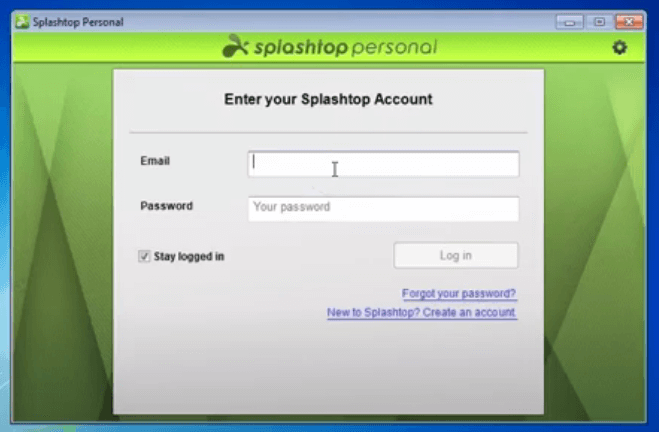 Step 2. Once you've completed a successful login, you'll immediately identify other devices with Splashtop installed. To establish a seamless connection with a remote device on your home network, simply click on the "Connect" button.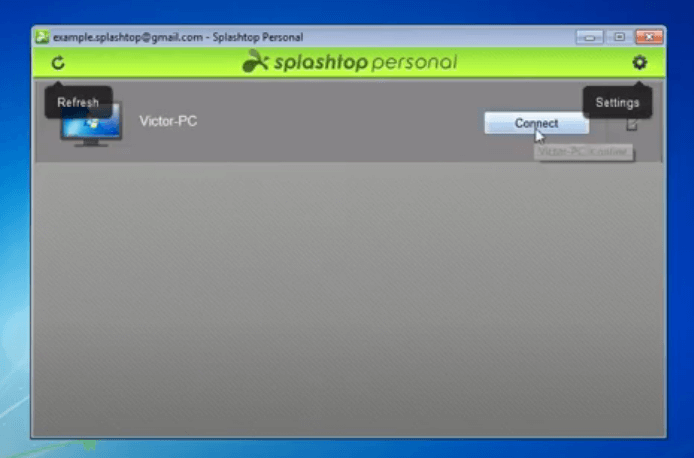 Step 3. Once connected, click the Actions icon, and select "Share My Desktop".

Option 8. VNC Viewer
VNC is a remote access and control software that enables users to access and control another computer's desktop from either a mobile device or another computer, regardless of their location on the Internet. For example, you can use VNC to view and manage your Windows office desktop from your Mac or Linux computer, even when you're at home.
Step 1. Download VNC Server onto your device and complete the installation process. Following the installation, you will probably encounter a prompt to license the VNC server program. If this prompt does not appear, you can access the "License" option from the VNC server shortcut menu.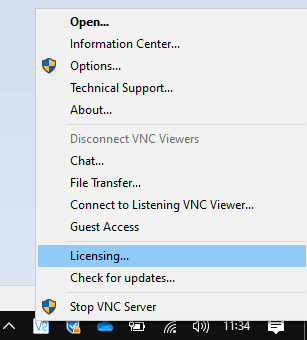 Step 2. Simply sign in with your RealVNC account credentials to activate your subscription for VNC Server.
Step 3. Download VNC Viewer on the computer you wish to control and log in using your RealVNC account credentials. The remote computer should then appear in your team.
Step 4. Click to initiate the connection. You will receive a prompt to authenticate with the VNC server. Input the PC name of the remote server and the associated password to gain remote access.
Conclusion
In this article, you'll discover a compilation of eight of the bests creen sharing software options, allowing you to pick the one that aligns with your unique requirements. Yet, AnyViewer stands out distinctly among its contenders. It not only provides free plans for personal and commercial use but also delivers a comprehensive array of features and permissions, addressing user needs without imposing excessive restrictions. In conclusion, for those in search of the best screen sharing software capabilities, AnyViewer undeniably emerges as the prime selection.