Does Splashtop allow file transfer?
The answer is unquestionable. Splashtop is a software solution for remote access and remote help. It allows people to access data from any device, anywhere. You will be able to remotely control Windows, Mac, and Linux computers from Windows, Mac, iOS, Android, and Chromebook devices.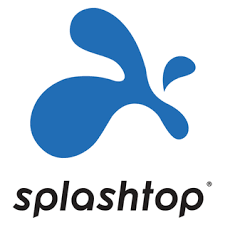 But is there Splashtop file transfer limit? This article will clear your doubts and tell you about Splashtop file transfer limits.
Splahtop file transfer limit
It is well known that users can use Splashtop for transfers, so what are Splashtop file transfer size limit? Splashtop does impose a limit on file transfer size, which can make it challenging to send larger files. According to the official information provided, the maximum file size supported by Splashtop for transfer is 64 GB.
And you need to know that Splashtop does offer a free version of Splashtop Personal. However, Splashtop Personal only supports personal use and has very limited functionality. It only allows you to access up to 5 computers on your local home network for personal and non-commercial use. You need a subscription to connect from an external network.
You can choose to purchase a different edition of Splashtop depending on your needs and desired features. But to get all the features you need, it will be a very expensive expense. Regardless of the subscription version, the maximum file size for transfers remains unchanged at 64 GB.
AnyViewer: The best free Splashtop alternative for large file transfer
If you're tired of Splashtop file transfer limitations, it's time to try out the large file transfer option. AnyViewer is a professional and free file transfer tool with fast transfer speed and convenient features. It is popular among users for its fast and efficient file transfer function. AnyViewer is worth your while.
AnyViewer vs. Splashtop: What sets AnyViewer out?
AnyViewer has even better features and benefits compared to Splashtop. Let's check them out.
AnyViewer supports free file transfer
AnyViewer file transfer is free. It allows users to upload up to 100 files at the same time, with a maximum size of 100MB per file transfer. Notably, it has two file transfer threads to ensure fast, seamless transfers and an enhanced user experience.
Splashtop also has a free version, but its free version, Splashtop Personal, does not support the file transfer feature.
As you can see, AnyViewer Free Edition is excellent compared to Splashtop Free Edition, which not only supports file transfer but also has a more rapid and convenient characteristic.
AnyViewer is more cost-effective than Splashtop in large file transfer
Splashtop paid version is supported for file transfer, so let's see how the Splashtop paid version compares to the AnyViewer Professional version and why AnyViewer is better:
Price
The cheapest pricing plan for Splashtop (Business Access Solo) is $5 per month. Prices are usually billed annually, i.e. $60 per year.
The cheapest pricing plan for AnyViewer (Professional) is $3.58 per month and costs $42.96 per year.
File transfer
Send bigger files. The AnyViewer upgrade allows users to upload a single file with a maximum file size of 1 TB. Splashtop allows users to upload files with a maximum file size of 64 GB.
No limit. There is no limit to the number of files to be transferred. You may now upload all of your files at once, thanks to this. And Splashtop doesn't support it.
Multiplexed file transfer threads. You can perform multiple file transfer tasks simultaneously. Splashtop has no such feature.
Faster file transfer speed. Enjoy fast file transfers at speeds up to 10MB/s with AnyViewer.
Therefore, using AnyViewer to transfer files is more convenient and faster, especially for large files, AnyViewer will provide an efficient file transfer process, shorten the file transfer time, and improve the user's remote work efficiency.
AnyViewer supports more additional features than Splashtop
In addition to this, the free version of AnyViewer supports other features that are not supported by the Splashtop free version. For example, multiple sessions, text chat, remote restart, and other features. In this case, the free version of AynViewer is better than the free version of Splashtop.
How to transfer files with AnyViewer
Now that you know the excellence of AnyViewer, follow the steps below to start experiencing file transfer:
Step 1. Firstly, download, install, and launch AnyViewr on your devices.
Step 2. To register for an AnyViewer account, go to "Log in" and click "Sign up".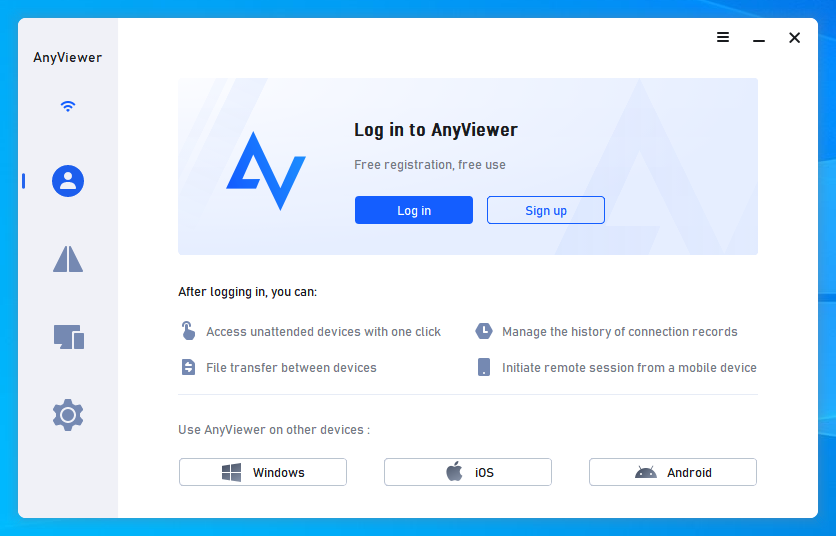 Step 3. After successful registration, please log in to the same account on your device.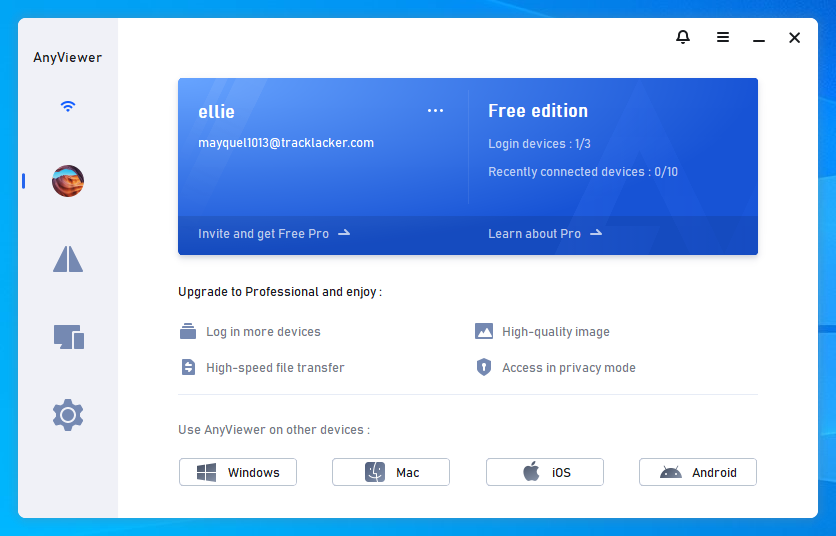 Step 4. On your local device, navigate to the "Device" option to choose the target device and click "File transfer".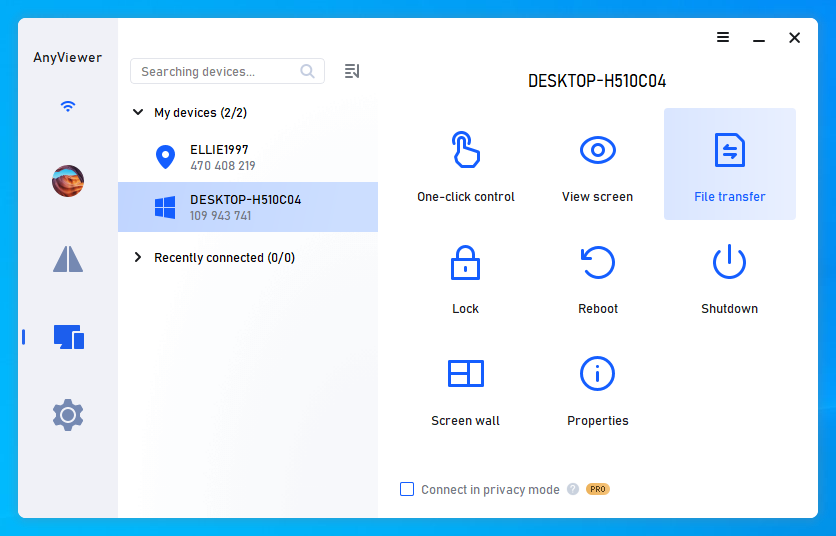 Tips: You can also allow unattended remote access by selecting "One-click control" and connecting to another computer. To transfer files during a remote session, simply click the "File" button in the menu bar.

Step 5. You will see the File Manager display pane. The left side shows the path to the files on the local computer and the right side shows the path to the files on the remote computer. To transfer a file, select the desired file and use the arrow buttons to transfer it.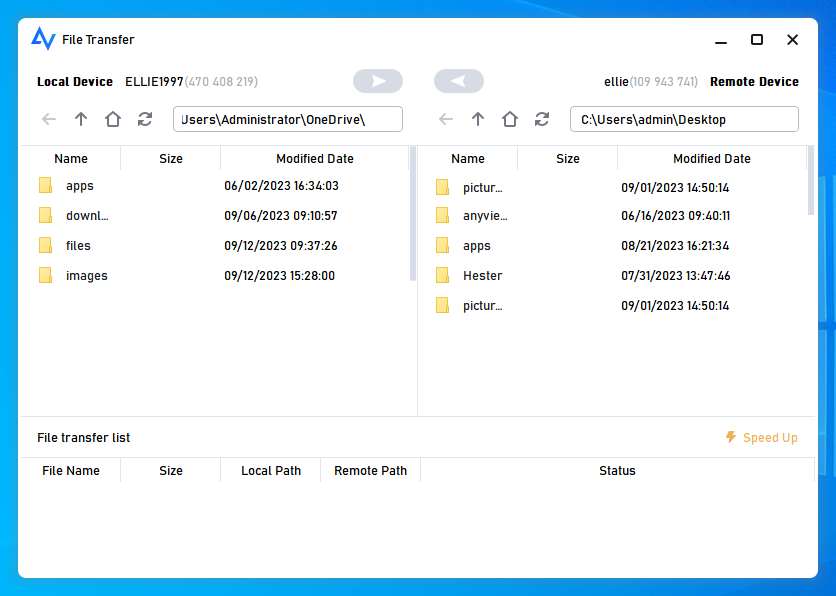 What else can AnyViewer do?
AnyViewr doesn't just support file transfers, as an all-in-one software, it also offers a range of features that make it a top-notch alternative to Splashtop. Let's explore some of these features:
Unattended remote control. AnyViewer provides seamless connectivity to unattended computers, allowing you to work efficiently from any location without the need for someone to sit in front of a remote device.
Screen Sharing. Access remote systems and share screens to facilitate collaboration and enhance productivity and communication.
multi-session. AnyViewer not only lets you control multiple devices from a single computer at the same time, but it also lets you view the screens of remote devices at the same time without having to keep switching back and forth between them.
Text chat. AnyViewer offers built-in live text chat during remote sessions. This promotes effective collaboration and increases productivity and accuracy.
Remote sound. During a remote session, AnyViewer allows users to synchronize remote device sounds in real-time. This greatly improves the user experience and increases productivity. You can use remote sound for remote video editing, remote gaming and more.
Privacy Mode. AnyViewer provides privacy mode access, which allows you to disable the keyboard and mouse on the remote PC and hack the remote screen.
Conclusion
Splashtop file transfer limit may prevent the sharing of larger files, and users will have to pay a large fee to use it. So it is highly recommended that you use the best Splashtop alternative for large file transfers to help you transfer files between computers faster and easier. Download and use AnyViewer to enjoy a more convenient, faster and safer file transfer experience and service!