Can I control my PC remotely online?
I have an excellent Windows PC at home but not a good laptop, so I was wondering if I could turn my PC on remotely at school and use it. Can I control remote PC online? I have heard this can be unsafe, and I would like to do this safely. I also would not like to spend any money."
- Question from Windows Forum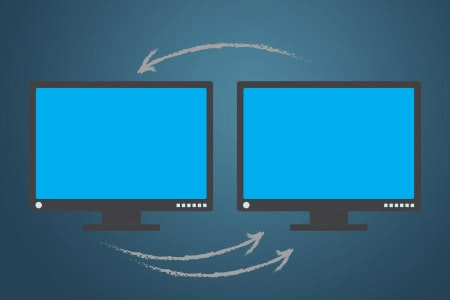 How to control remote PC online [2 options]
How to remote control PC online? Here are two feasible ways to do this job in this part.
Option 1. Remotely control PC over internet
AnyViewer is a specialized remote desktop software that supports you to take remote control of PC online from anywhere. Besides, it supports remote connections in different networks without any related settings.
Easy-to-use. It has an initiative interface and simple operations.
Secure. It is secured by Elliptic Curve Cryptography encryption. Besides, it supports an automatically lock interface when you forget to, and you can enable this feature from settings.
Fast & stable. It offers a fast and stable connection developed by a strong technical team.
Multi-function. It also allows you to view screen, transfer files in multiple ways, etc.
User-friendly. It supports drag and drop, copy/paste, chat during a remote session. Besides, you can also use several considerable operation shortcuts from the toolbar.
Compatible. It supports Windows, iOS, and Android, which means you can also remote control Windows PC from Android or iOS devices.
Download and install AnyViewer on both your devices, then let's see how to control remote PC online.
Step 1. On the host computer, click Log in and click Sign up (log in directly if you have already signed up).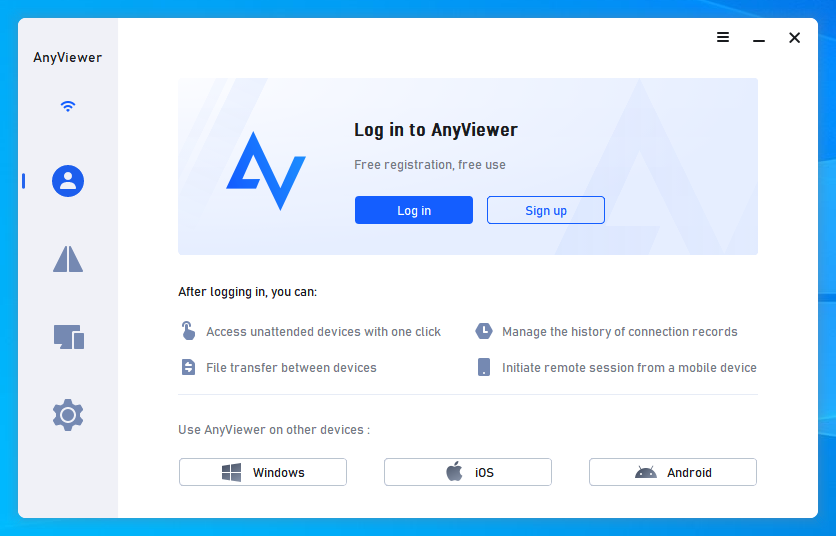 Step 2. Fill in the information.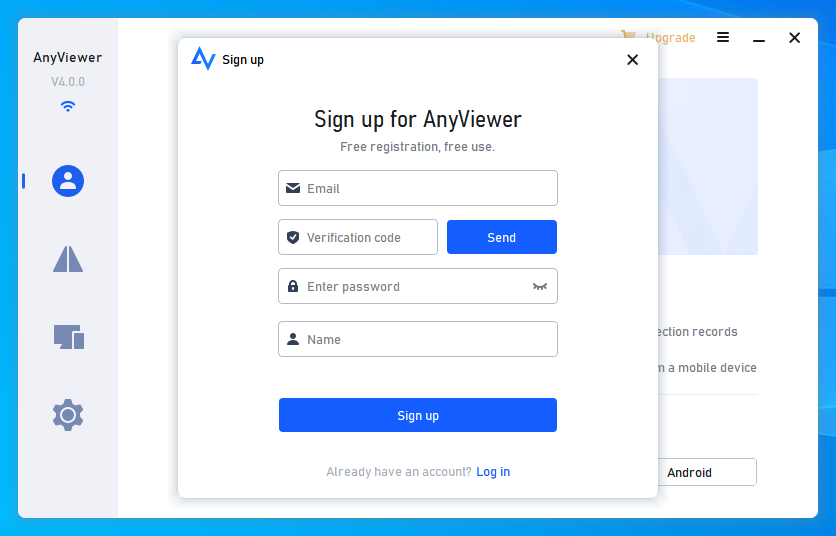 Step 3. When you successfully log in to AnyViewer, you can see your assigned devices.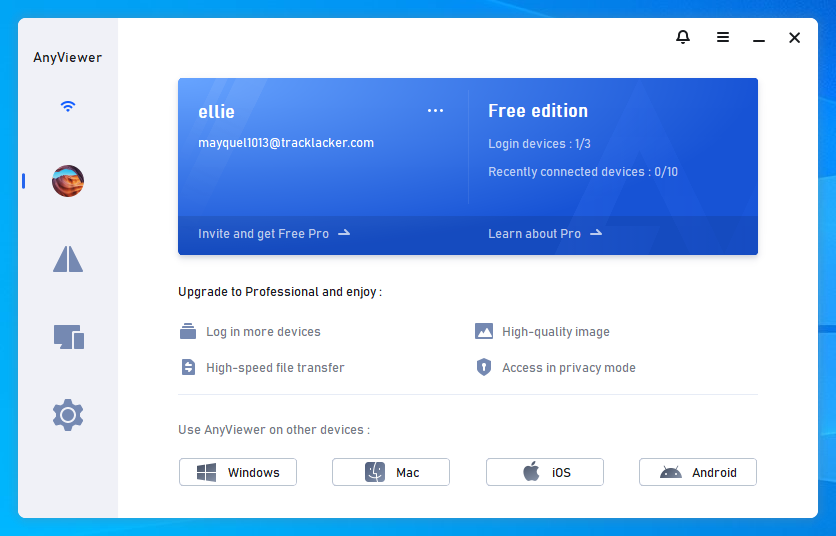 Step 4. Log in to the same account on the client PC, then click One-click control to achieve unattended remote access.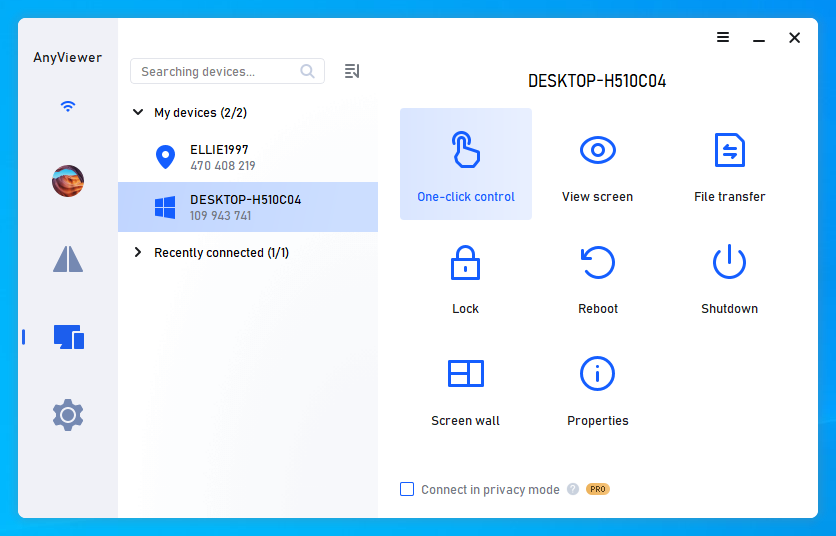 Notes:✎...

Additionally, you can upgrade to a Professional or Enterprise plan, which will grant you the following rights:

Add more devices to establish remote connections.
Enjoy more concurrent connections at once. We advise you to upgrade to the Enterprise account in order to take use of 10 concurrent connections since only 2 channels are permitted for free and Professional use.
Transfer as many files as you want at once at a faster speed of up to 10 MB/s.
Enjoy high quality image during remote sessions.
Option 2. Access remote computer via Web interface
Chrome browser offers you a remote control PC website to allow you to remotely control another PC without additional software.
✔Pros:
▸It is quick to set up if you have a Google account with the Chrome browser installed.
▸It works with practically every operating system as long as your computer can run the Google browser.
✖Cons:
▸It may pose security difficulties due to its questionable safety level and unknown encryption algorithm.
▸It has unstable connections according to the users' feedback.
▸It has limited features. For example, no chat box, no resolution scaling, no drag and drop, etc.
Step 1. On both your computers, log in to the same account in Google browser and go to the Chrome Remote Desktop web page.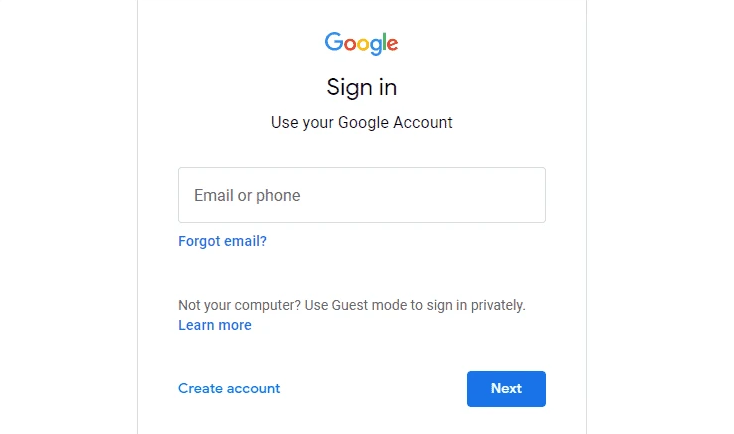 Step 2. Click Remote Access from the left panel and click the blue download icon.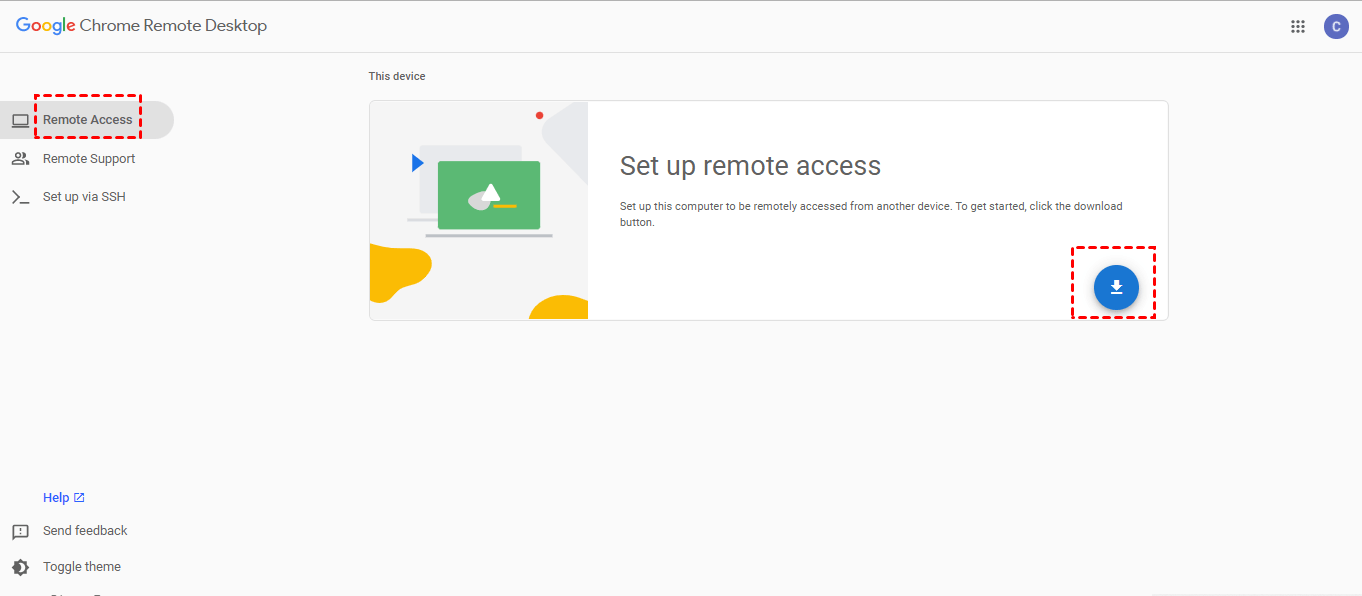 Step 3. Click Add to Chrome to add the extension to your Chrome browser.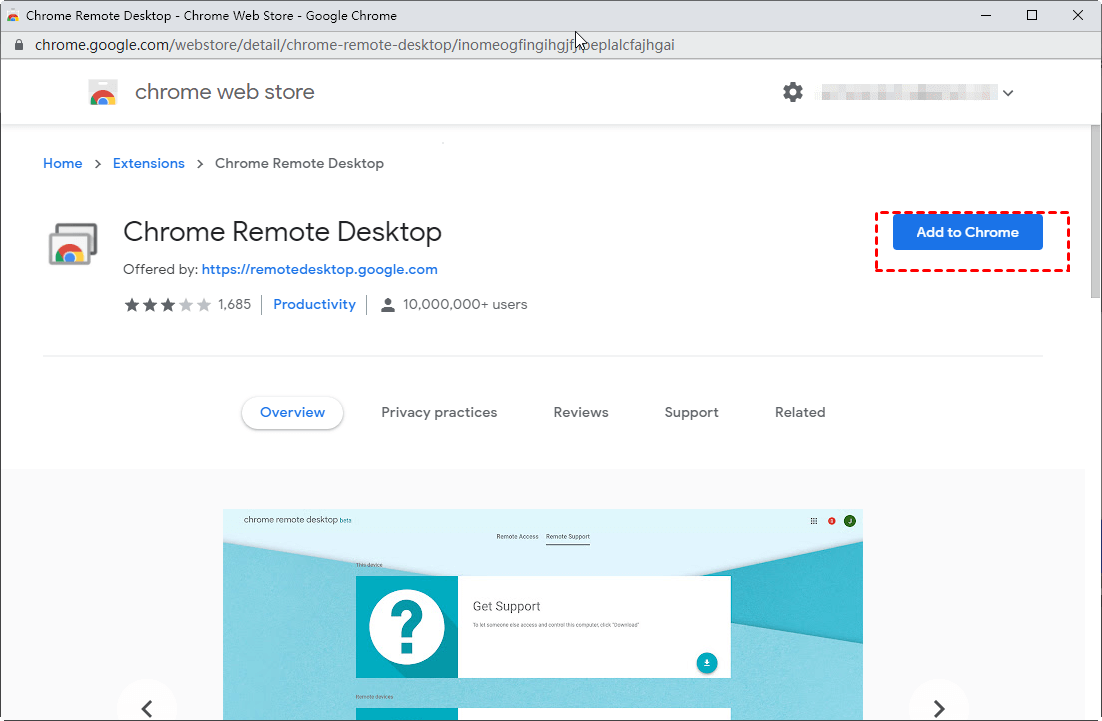 Step 4. Click Add extension to perform the download.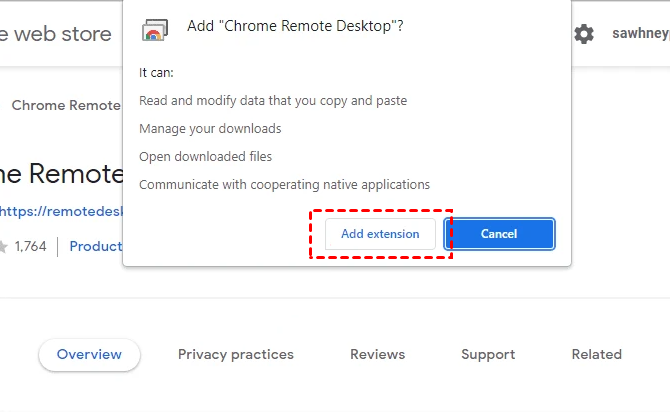 Step 5. Click Accept & Install to install the program.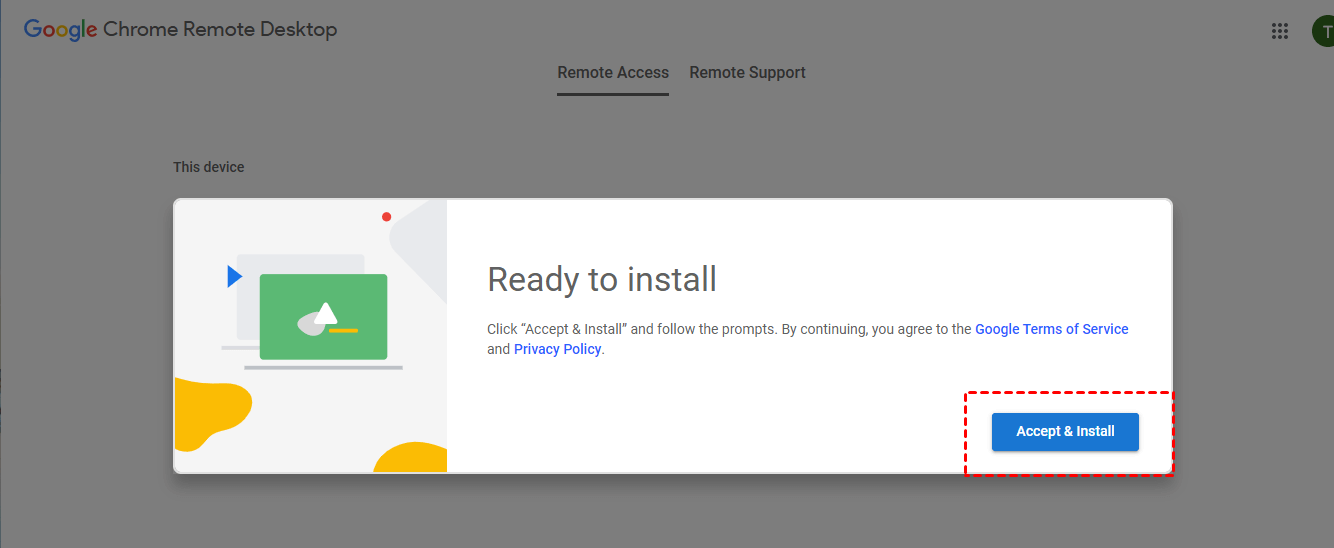 Step 6. Intype a name for your computer and then click Next.

Step 7. Enter and re-enter a PIN consisting of six or more digits.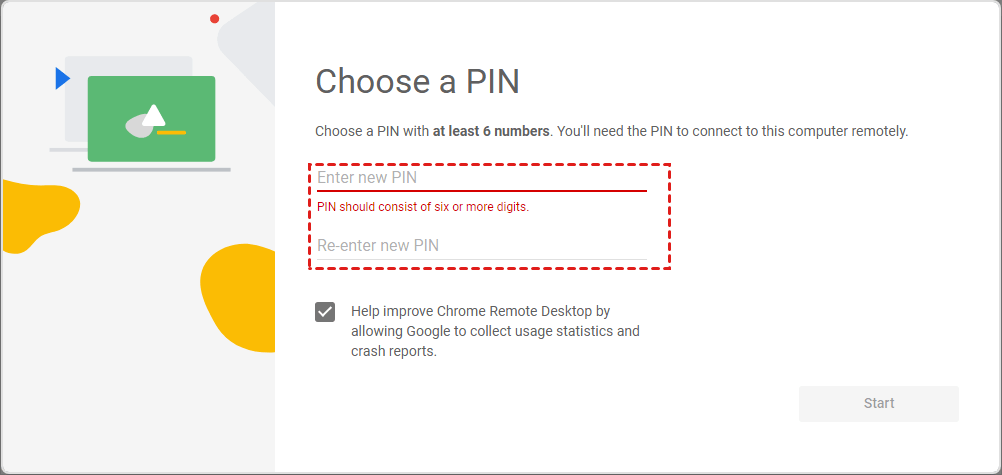 Step 8. Now you can see the remote devices, and click the target computer you want to connect to.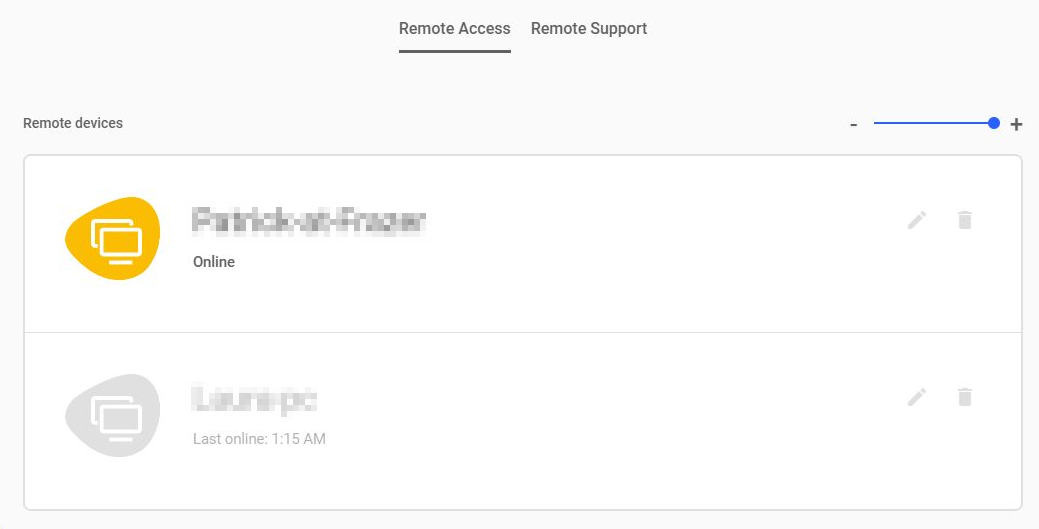 Step 9. Enter the PIN of the host computer, and click the blue arrow to achieve the remote connection.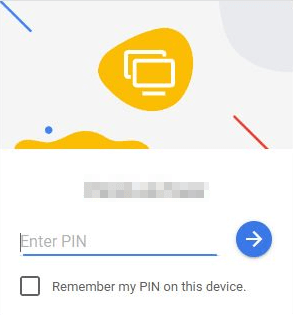 The bottom line
This article describes how to control remote PC online. We offer you two choices. AnyViewer allows you to remotely control a computer through the Internet, whereas Chrome Remote Desktop allows you to access another computer without installing any additional software. Choose the solution that best meets your requirements.