Chrome Remote Desktop can't send Ctrl Alt Del to a remote computer
Need to send Ctrl+ Alt + Del to my remote Windows 10 PC over Chrome Remote Desktop from my local Windows 11 computer. However, it seems that the keys are captured by my local PC even if the chrome remote desktop window is on full screen. How can I send the Ctrl+ Alt + Del command to the remote PC rather than my local one in Chrome Remote Desktop? Thanks for any suggestions!"
Chrome Remote Desktop Ctrl Alt Del to the remote computer [3 ways included]
In a remote session, it's unable to send Ctrl+ Alt + Del command to the remote computer for running Task Manager or something else, by pressing the keys from your local computer; because they are occupied by the local computer. To send the command to the remote host computer through Chrome Remote Desktop (CRD), refer to the 3 easy & effective ways listed in the following content.
Way 1. Choose the Press Ctrl+Alt+Del option in a Chrome Remote Desktop remote session
Actually, CRD offers a shortcut of Ctrl + Alt +Del and you don't need to press the three keys at the same time. After connecting to the remote computer using CRD, you can click the drop menu on the right. Then, a list with Press Ctrl + Alt + Del pops up. Click the option and you can send the command to the remote machine. Then you are able to open Task Manager, switch users, and so on.
Way 2. Chrome Remote Desktop sends Ctrl Alt Del through Configure Key Mapping
If "Chrome Remote Desktop send Ctrl + Alt + Del isn't working", you can click Configure Key mappings.
Then, you can use End key to replace Delete key, so click New Mapping and enter Delete in the From field, and enter End in the To field.
After saving change, try to press Ctrl+ Alt + End key combination to see if it works. Not only that, you can change other keys to realize other combinations during a remote connection with Chrome Remote Desktop.
Way 3. Chrome Remote Desktop sends Ctrl Alt Del through on-screen keyboard
Step 1. After the connection is successfully established, click the search bar and type on-screen keyboard. Click On-Screen Keyboard in Best match and then the on-screen keyboard will appear.
Step 2. Press Ctrl and Alt on your physical keyboard and click Del on your on-screen keyboard with your mouse. Then you can realize Ctrl+ Alt + Del command in Google Chrome Remote Desktop connection.
A free remote access app with Ctrl + Alt + Del shortcut
If you encounter CRD errors like "Chrome Remote Desktop goes offline" or you are unwilling to do the extra operations to send Ctrl+Alt+Del, you can choose another free remote access software, AnyViewer. With it, you can set up a stable and safe remote connection from iOS/Android to PC and PC to PC. During the remote session, it has a toolbar with shortcuts to many useful operations, covering Ctrl+Alt+Del, Task Manager, PC restart, shutdown, etc.
You can send Ctrl+ Alt + Del easily in a remote session by clicking the option. Now, download the remote access software and see how to use it.
Step 1. Sign up for an AnyViewer account and then sign in to this account on the two computers. Once logged in, the PC will be assigned to the account automatically.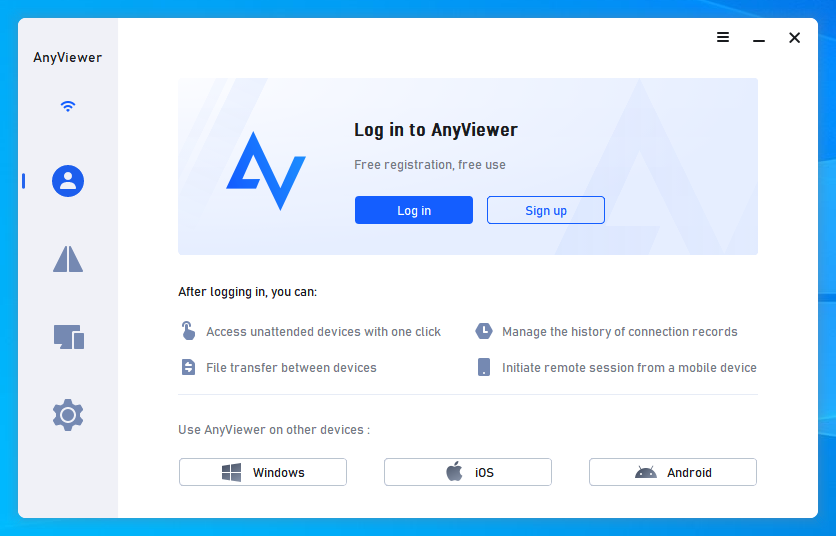 Step 2. On the client computer, go to Device, click the PC that you need to control, and click One-click control to achieve remote connection with one click.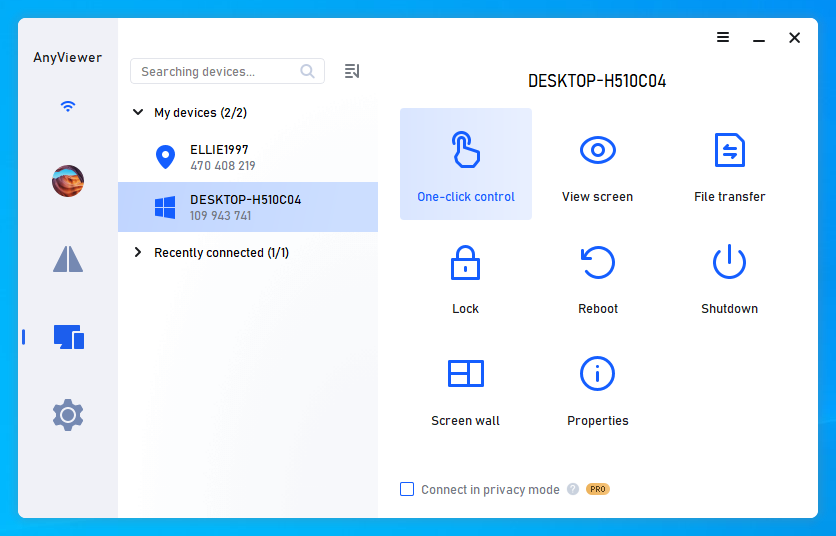 Note: To transfer files between two remote computers without running a remote session, you can choose File transfer.
Step 3. Now the remote control is successfully established. You can find Ctrl + Alt + Del under the Operation option.
Conclusion
This post tells three ways for Chrome Remote Desktop Ctrl Alt Del to a remote computer when pressing Ctrl + Alt + Del key combination isn't working. If you get tired of those tedious procedures, another free but easy-to-use remote access application—AnyViewer is recommended for you. You can send the command to the computer on the other end within two clicks.