Is it possible to switch user in RDP session on Windows 10?
"I'm RDP to a Windows 10 and I want to switch users via RDP. However, Ctrl + Alt + Delete is not working at all. Is it possible to switch users in RDP session on Windows 10?"
How do I switch users in Remote Desktop on Windows 10?
It's well acknowledged that we mainly switch users by hitting Ctrl + Alt + Delete as the user mentioned above. However, some of the combination keys in remote session is not the same as the one you use on your own PC. Therefore, we provide 3 easy methods to help switch user in the RDP sessions.
Method 1. Ctrl + Alt + End
As a matter of fact, the shortcut for Remote Desktop Connection is kind of different from the Windows shortcut. We mainly switch users through hitting Ctrl + Alt + Delete, but in Remote Desktop Connection(guaranteeing the connection is accomplished), it is changed to Ctrl + Alt + End. After hitting the combination key, we can click on "Switch users" to realize Remote Desktop TO switch user on windows 10.
Method 2. Switch user by running command line
Another useful way to switch user is running the command line "tsdiscon" in Command Prompt or Powershell on the host PC. Then you can switch user after opening the lock screen.
Step 1. Search "CMD" in the search box and then right-click on the option, choose "Run as Administrator" to open it.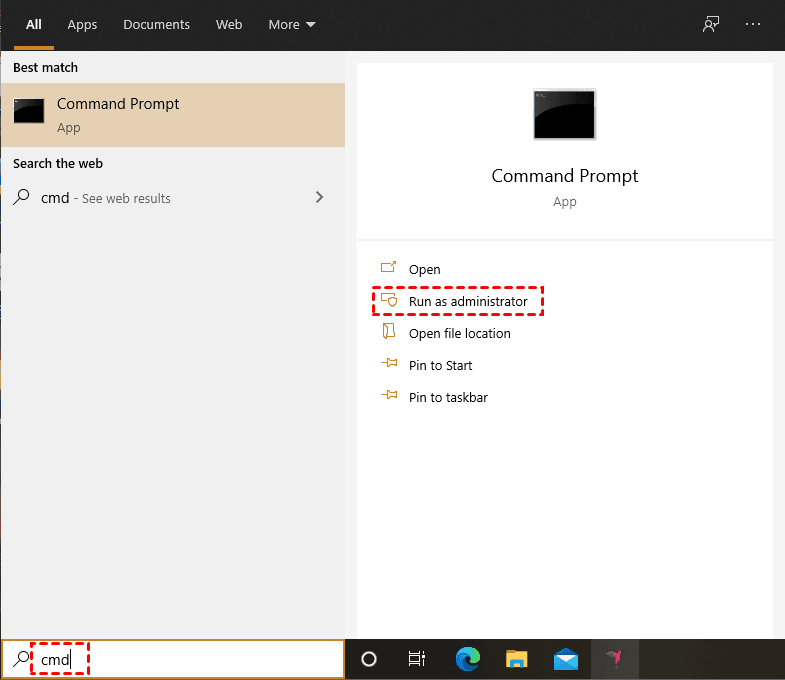 Step 2. Type "tsdiscon" and then press Enter key.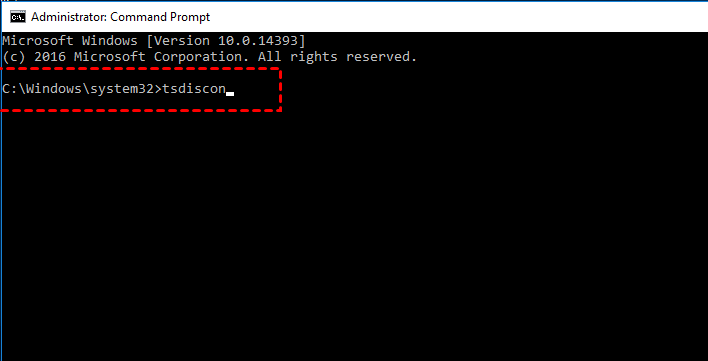 Step 3. Then you will go into the lock screen, and then you can choose to switch user.
Note: This method cannot be applied in Windows 10 Home. It can be used in Windows 10 Pro and Windows 10 Enterprise.
Switch user with easy clicks on Windows 10-- AnyViewer
If you can't successfully remote into the specific PC or the methods mentioned above do not work for you to switch user, it is recommended to use a remote access freeware, AnyViewer, which can help you realize to switch user on Windows 10 with easy clicks.
Under the "operation" option, AnyViewer provides many shortcuts for you, like Task Manager, CMD, Logout, Ctrl + Alt + Delete, .... with which you can open them and switch user easily. Moreover, not being limited to Windows 10, AnyViewer is also workable for Windows 11, 8, 8.1, 7, and Windows Server 2022/2019/2016/2012 R2.
Step 1. Download and install AnyViewer, open and run it, then you can see the device ID, Settings, etc. from the main interface.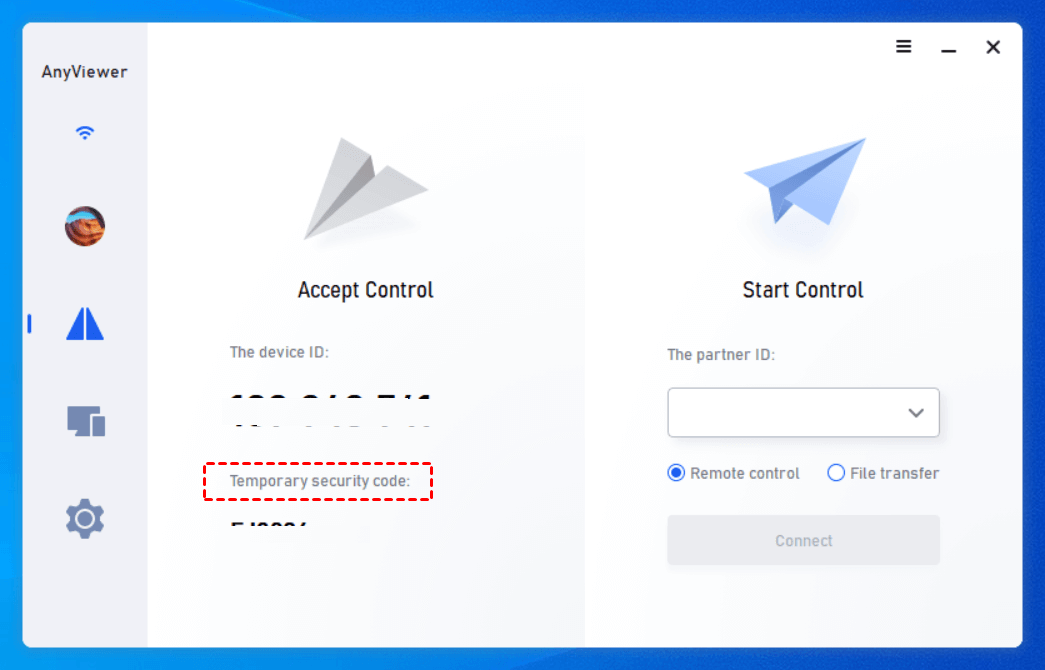 Step 2. On the host PC, navigate to Settings > Recipient > Set my security code, then type the security code, click on OK and return to the main interface.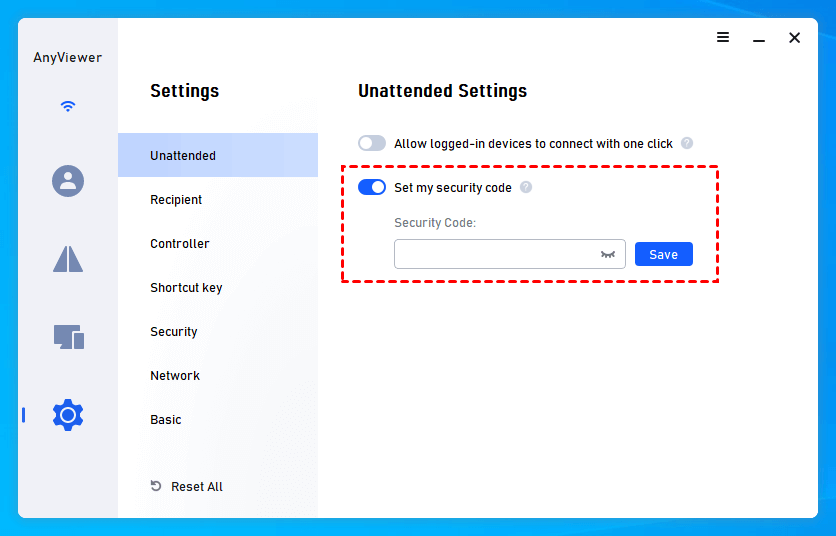 Step 3. On the client PC, enter the device ID of the host PC, and then click on "Connect".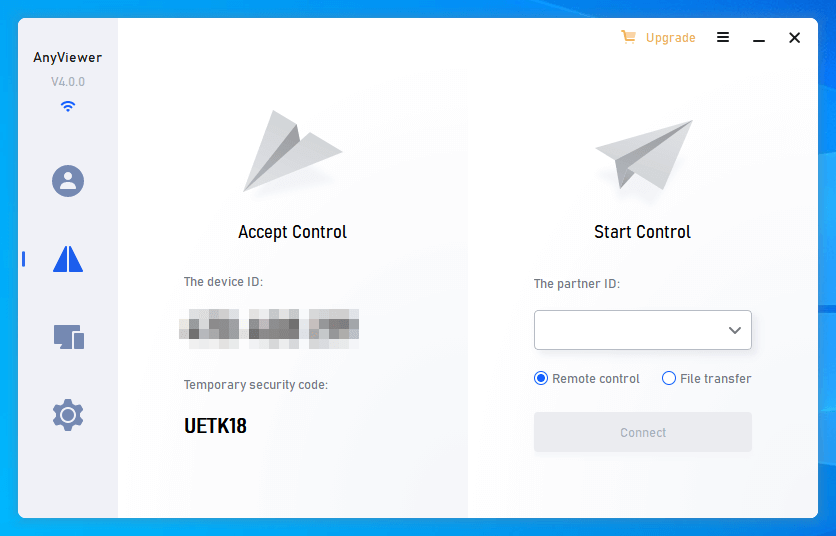 Step 4. Then the client PC will jump to a new window, choose the second option "Input my security code", and then click on "OK".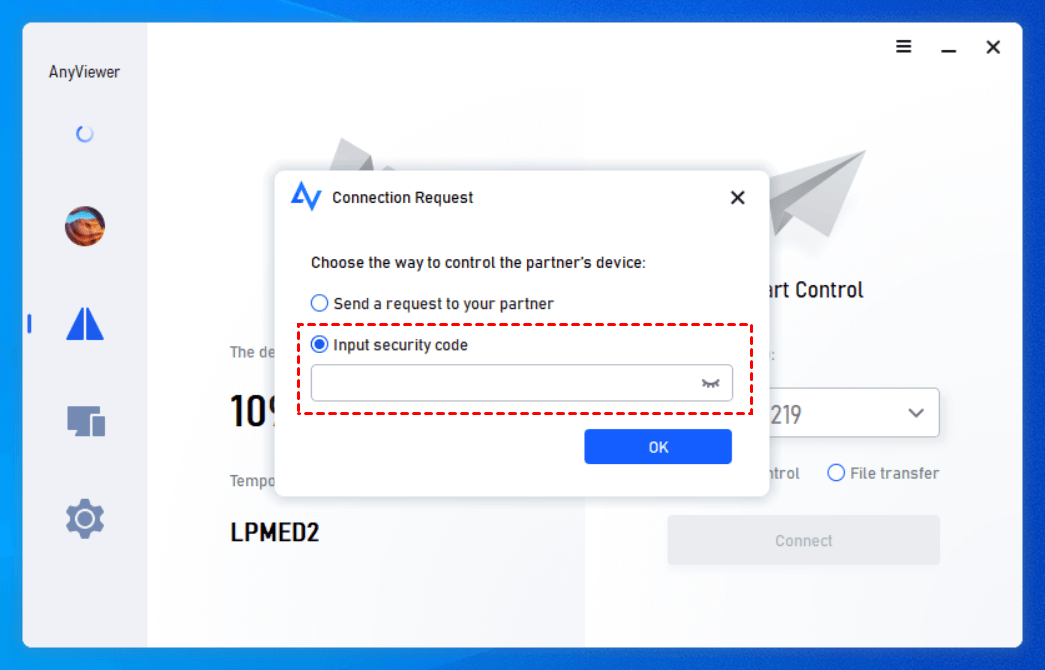 Step 5. Now the connection is successful, and you can see the option "Ctrl + Alt + Delete" under the operation. Click on it then you can choose switch user.
Conclusion
How can windows 10 Remote Desktop switch user? 2 methods illustrated above, like hitting Ctrl + Alt + End, running command line may already fix your problem. However, if the solutions don't work for you or you don't want to spend too much time fixing them, we recommend AnyViewer, which can help you avoid many troubles and won't let you be limited by the Windows version.