How to Alt-Tab in Chrome Remote Desktop
"When I am connected to a remote computer using Chrome Remote Desktop, what key combination allows me to switch between open programs on the remote computer? Alt-Tab doesn't work for me."
Two methods to use Chrome Remote Desktop Alt-Tab
Generally, the Alt-Tab combination is one of the most-used keyboard shortcuts while working on our Windows PCs. By using these keys at a time, we can navigate to different programs that are active. But sometimes, the Alt-Tab will not function when using Chrome Remote Desktop to remotely control another computer. Here in this post, two methods are provided to help you use Chrome Remote Desktop Alt-Tab.
Method 1. Change into Full-screen mode
Normally, Chrome Remote Desktop doesn't support Alt-Tab. But when you change into Full-screen mode, Chrome Remote Desktop can send Alt-Tab successfully. Before starting, you need to achieve remote control via Chrome Remote Desktop with an access code (automatically generated by Chrome Remote Desktop) or PIN code (set by the recipient in advance).
Step 1. Click the small arrow on the middle right of the screen to display more functions.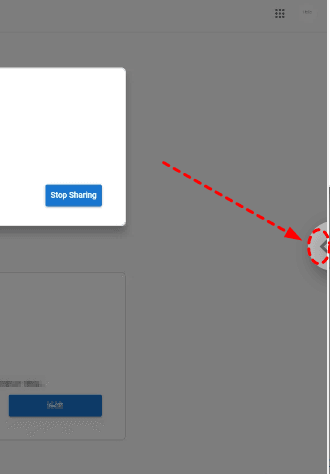 Step 2. In the Session options section, check the Full-screen option and check the Send system keys sub-option to send system-wide keyboard shortcuts to the remote computer in full-screen mode.
Step 3. Then press Alt + Tab, you can switch between open programs.
Method 2. Configure key mapping
Another way to use Chrome Remote Desktop Alt-Tab is to configure key mapping. You can just remap a key combination that doesn't do anything on the local PC to perform the same function as Alt-Tab.
Step 1. Connect to the host computer, and then click the small arrow to display more functions. Find the Input controls section, click Configure key mappings.
Step 2. For example, here I remapped Tab to F1 (you can use other keys). Then I can switch between opened programs by hitting Alt+F1.
AnyViewer: remote desktop software supports Alt-Tab
If you want to use Alt-Tab to switch between active programs during a remote session, you have another choice. You can use the free third-party remote desktop software AnyViewer. When connected to another computer successfully via AnyViewer, you can use Alt-Tab on the host computer normally just as you're using it on your client computer.
Other benefits of AnyViewer are also predominant. For example, AnyViewer supports unattended remote access, allowing you to remotely access a remote computer even there's no one sitting in front of it. Besides, you can access multiple remote computers simultaneously.
Next, let's see how to use Alt-Tab on AnyViewer. First, you need to connect to another computer following the steps below.
Step 1. Download, install and launch AnyViewer on both computers. Go to Log in, and then click Sign up. (If you already have signed up on its official website, you can log in directly.)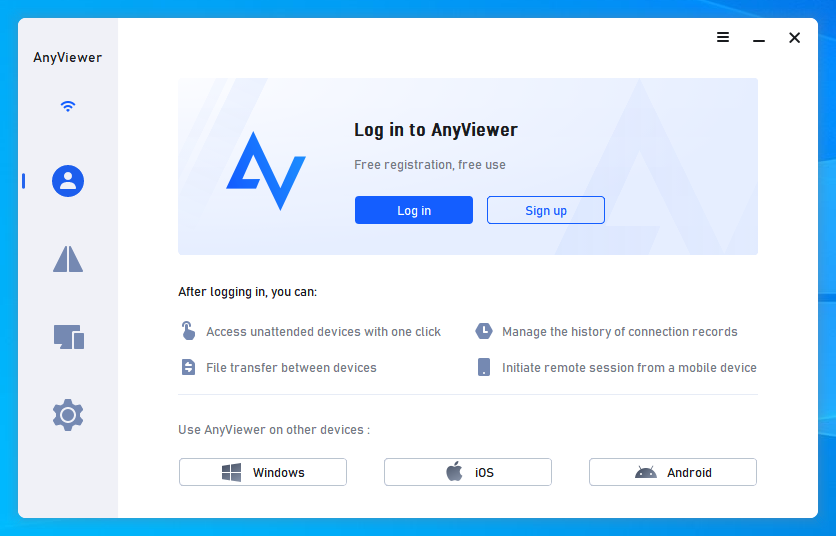 Step 2. Fill in the signup information.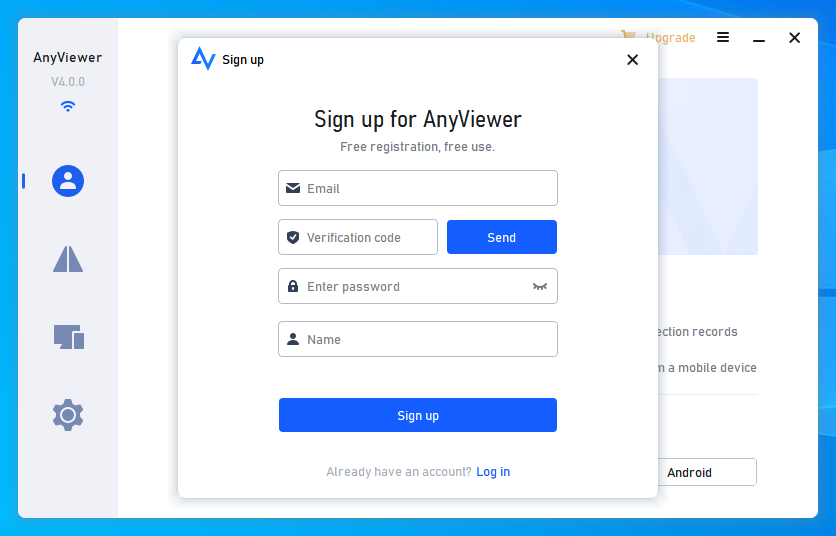 Step 3. Then you can see you successfully logged in to AnyViewer. Your device will automatically be assigned to the account you've logged in to.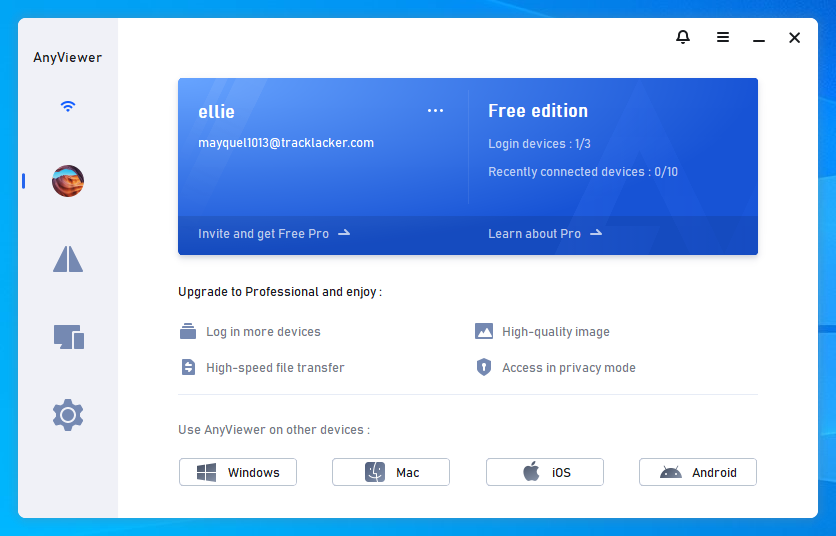 Step 4. Log in to the same AnyViewer account on the two devices, then you can achieve a direct connection by clicking One-click control.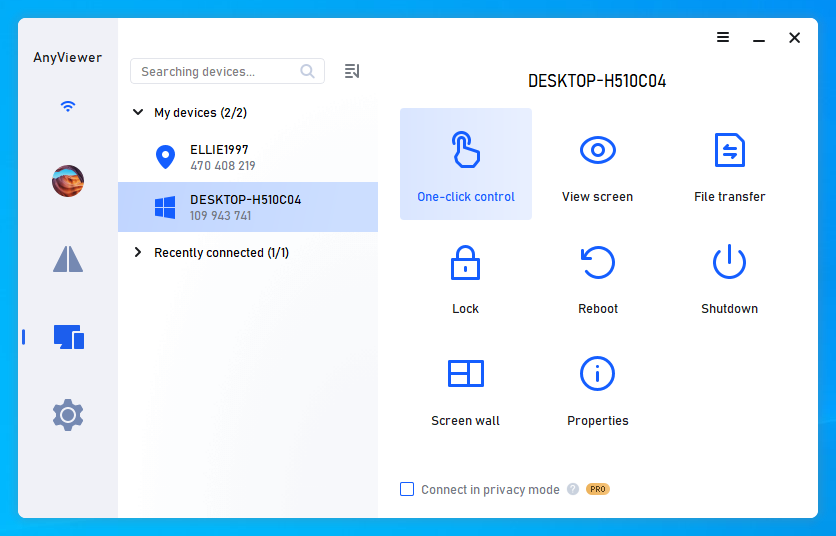 ✍Note: You can also upgrade your account to a Professional or Enterprise plan. Then you'll have the following rights:
You can assign more devices to the same account and then achieve a one-click connection to more computers.
You can connect to another computer in privacy mode, which means you can black the screen and block the mouse and keyboard of the remote computer to protect your privacy.
Conclusion
Here in this post, we mentioned two methods on how to send Chrome Remote Desktop Alt-Tab. On the one hand, you can change into the full-screen mode to send system keys. On the other hand, you can remap a key combination to perform the same function as Alt-Tab. The way to use Chrome Remote Desktop keyboard is a little bit complicated if you're not very familiar with this software. Therefore, we also provide you with another option. You can use AnyViewer to perform Alt-Tab normally on the host computer.