Help! My Chrome Remote Desktop mouse click not working
"Hi everyone, help! I've been using Chrome Remote Desktop for several months. However, recently I couldn't connect and could not click anything after I updated to Windows 10. This issue always happens when I try to connect to my Windows 10 PC. What can I do to fix this?"
Possible causes for "Chrome Remote Desktop mouse click not working"
As a simple remote access tool, Chrome Remote Desktop is popular and well-known among people. However, the users may also encounter a series of problems, such as the aforementioned CRD not clicking, Chrome Remote Desktop blurry, etc. 3 possible reasons that can cause "the Chrome Remote Desktop can not click" on Windows 11, 10, 8, 7... are shown as follows:
✍ Reason 1. The breakdown of Chrome Remote Desktop
Sometimes, it's inevitable for users to meet with the breakdown of PC or software. And due to the breakdown, we cannot use the software smoothly. So, we shouldn't exclude the reason for the breakdown of Chrome Remote Desktop that prevents click mouse from working. Under this kind of circumstance, we can uninstall and reinstall CRD to fix the issue.
✍ Reason 2. The update bug it out
Sometimes, after updating to Win 10 or Win 11, we may have problems with Chrome Remote Desktop. That's because the update damages the software, which makes it have some bugs and cannot click the mouse.
✍ Reason 3. Display of remote PC adapter settings
In fact, the mistake of remote PC's display adapter settings cannot be neglected. Usually, the settings are the default. However, it will get wrong when we change one of the settings accidentally. Therefore, it's also necessary to check if the remote PC's display adapter settings are right.
How to enable mouse click using Chrome Remote Desktop(4 solutions)
After knowing the reasons that result in the Chrome Remote Desktop mouse click not working, I guess you can't wait to know how to fix the issue to make the mouse work normally while using Chrome Remote Desktop. But before practicing, the point that needs to mention is that checking whether the mouse works or not is necessary. You can plug it into other PCs to examine the mouse.
Solution 1. Change the Settings of Mouse
Step 1. Press the "Windows + I" to open the Windows Settings.
Step 2. Click Ease of Access.
Step 3. Select Mouse on the left side, and click the "Use the numeric keypad to move the mouse pointer"
Step 4. You can now easily control the mouse cursor with the numeric keypad.
Step 5. This will force Windows to believe that a mouse is always connected.
Solution 2. Disable PIN
Step 1. Open up the Start menu, and click Settings.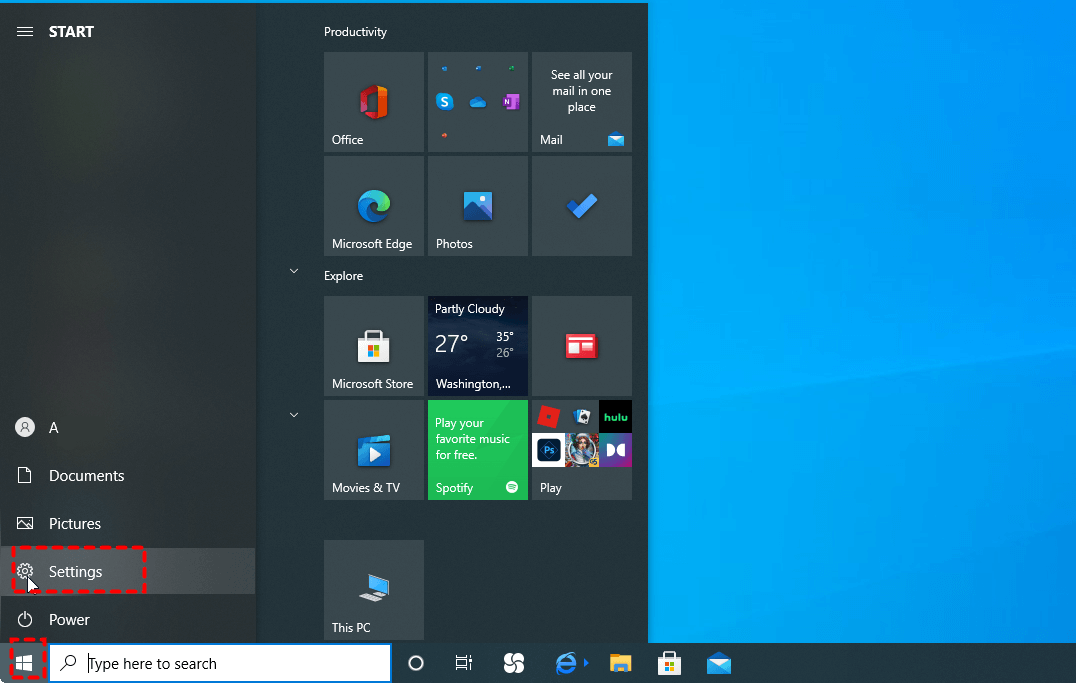 Step 2. Go to Accounts.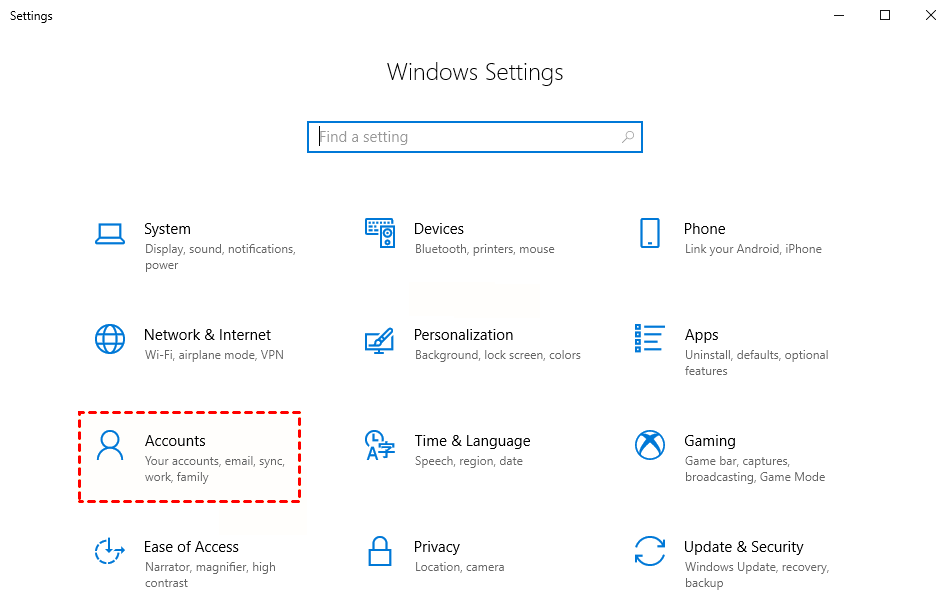 Step 3. Select Sign-in options on the left side of the pop-up window.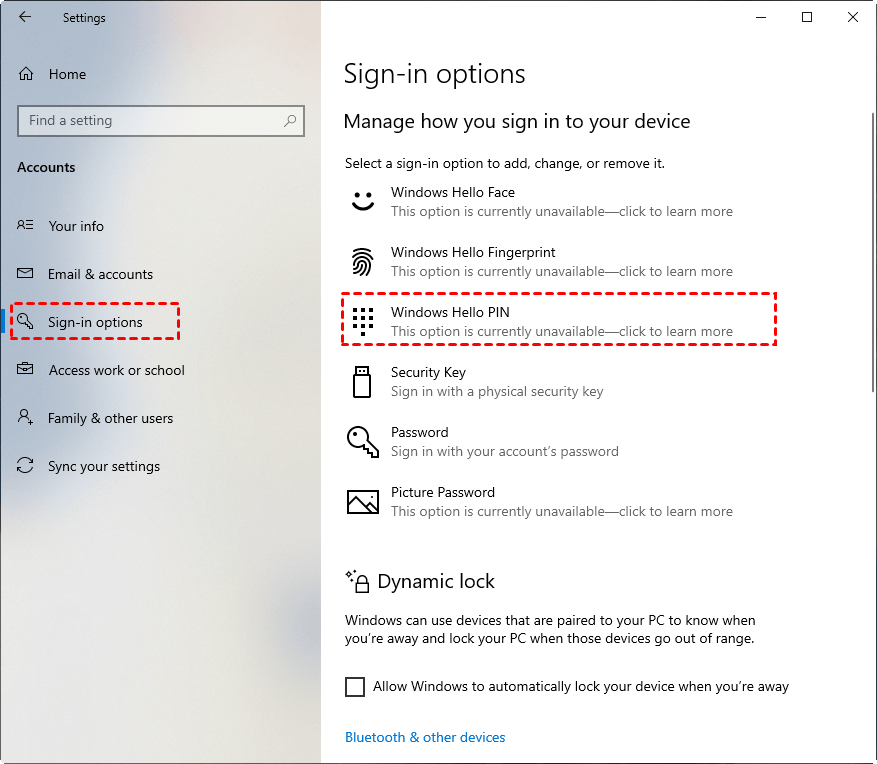 Step 4. Select Windows Hello PIN, and then click Remove.
Solution 3. Reinstall Chrome Remote Desktop
Step 1. Press Windows Key + R and then enter "control panel". Hit "OK".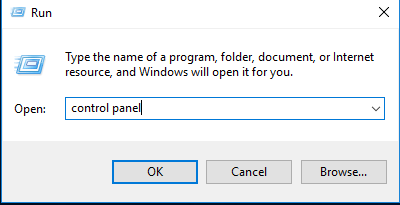 Step 2. Go to Programs.
Step 3. Select Chrome Remote Desktop Host from the list of installed apps. Click the Repair button.
Step 4. Click "Yes" when prompted by UAC.
Step 5. Wait for the repair tool to fix any issues with the app.
Step 6. Try connecting using the app and check if the issue is resolved.
Solution 4. Install CRD alternative
The solutions above are dependable and secure and your issue that Chrome Remote Desktop mouse click not working may have been fixed. However, some of us still cannot solve the issue even though we try every solution respectively. At this time, we can switch to a different remote control software— AnyViewer.
With features like stability and dependability, AnyViewer is appraised by many users. You won't need to worry about the mouse click issue because AnyViewer can make your remote session journey smooth without any mistakes. It's applicable for multiple Windows versions like Windows 11/10/8.1/8/7 and Windows Server 2022/2019/2016/2012 R2. It also has a client version for iOS, you can download it to control PC from iPhone or iPad.
Now, let's see how to use it to control a PC from another PC.
Click on the download button to have a try.
Step 1. Launch AnyViewer on both computers. Go to Log in, and then click Sign up.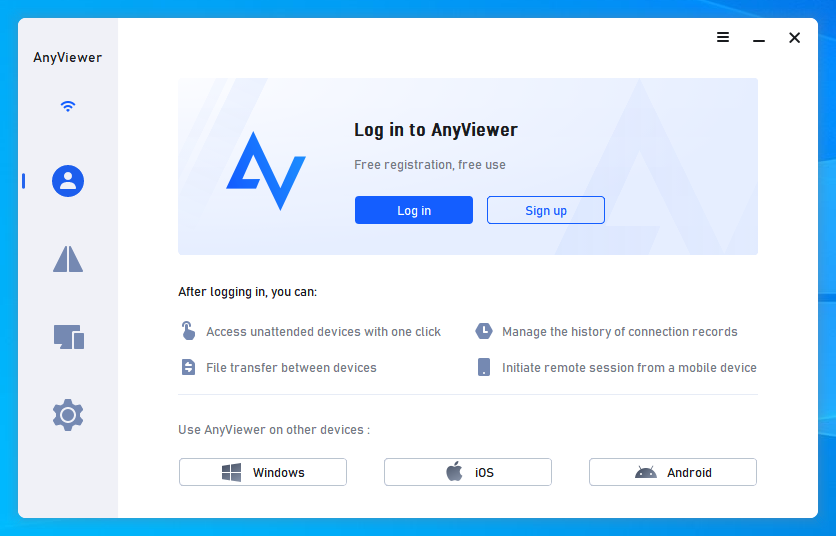 Step 2. Fill in the signup information.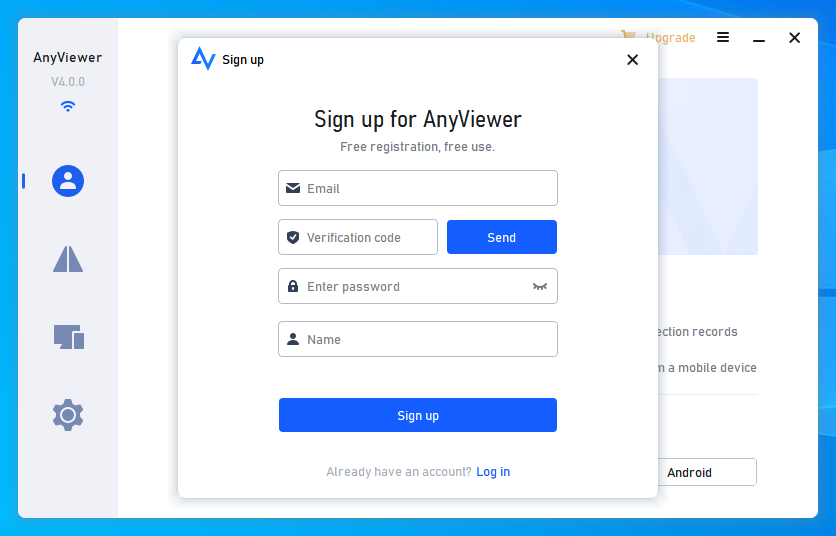 Step 3. Then you can see you successfully logged in to AnyViewer. Your device will automatically be assigned to the account you've logged in to.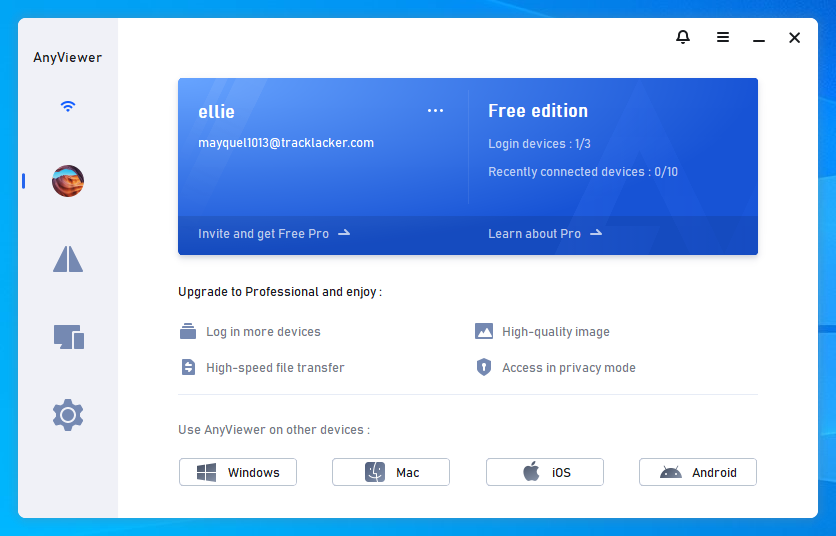 Step 4. After that, you can achieve a direct connection by clicking One-click control to realize unattended access if you have logged in to the same AnyViewer account on the two devices.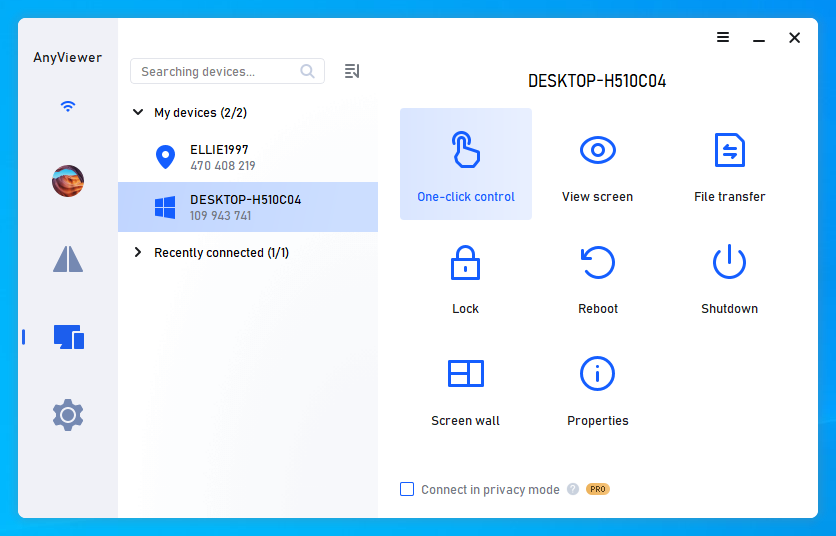 Pay attention: If you don't want to log in to AnyViewer account on the host computer, the following steps can be suitable for you.
Step 1. On the host computer, go to Settings and then Unattended. Tick the third choice if you set the security code, and click Save.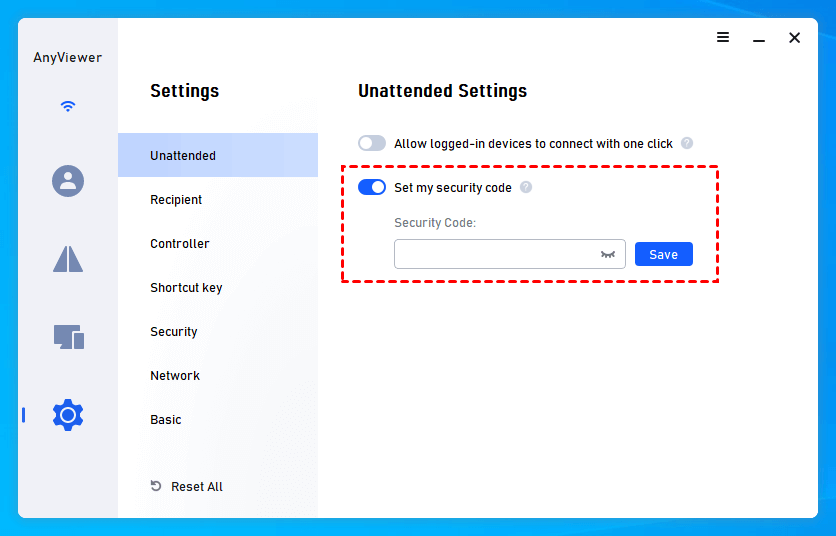 Step 2. On the client computer, enter the device ID of the remote computer, input your security code and finally connect.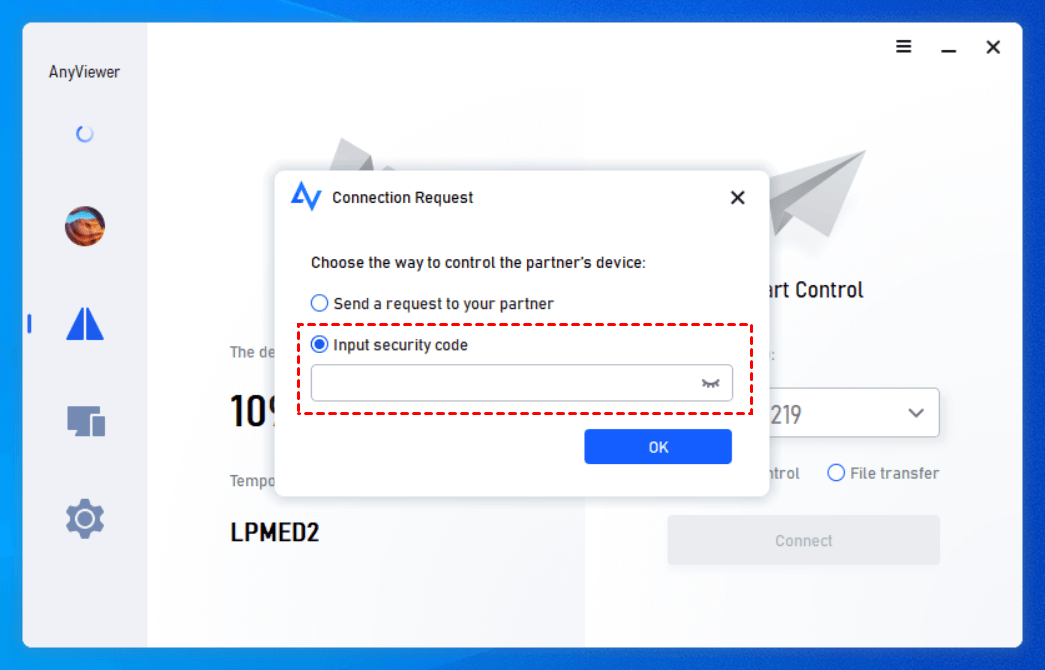 Then you can control the remote PC just like using your PC, clicking whatever you want.
Tips:
If you didn't set the security code, you can send a
control request
to your partner (The host computer will receive a request. Then you can connect successfully and control remotely if it is allowed.)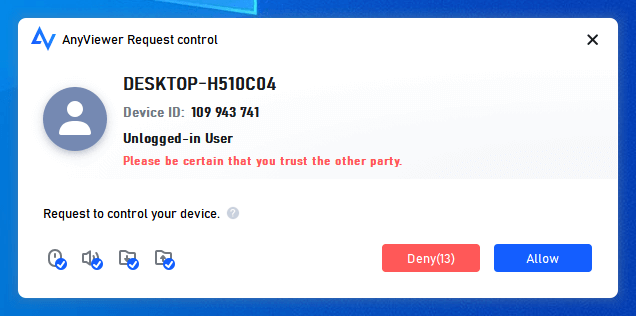 Conclusion
Now, I'm sure you understand the reasons that cause Chrome remote mouse click not working, like the breakdown of software or the bug left in the course of updating. In addition, the fixes to solve the problem are also introduced, such as disabling PIN, and reinstalling chrome remote desktop software. If all the solutions are not satisfied enough, you can also resort to another easy& reliable freeware, such as AnyViewer.