Remote Desktop Protocol (RDP) is a complex technology that uses a variety of techniques to refine remote graphics delivery from servers to client devices. When using a remote session, the available bandwidth of your network can greatly affect the quality of your experience. Different applications and display resolutions require different network allocations. So how much bandwidth does a remote desktop connection use? Continue reading to obtain the answers you seek.
How much bandwidth is required for a remote desktop connection depends on a number of factors, including at least the screen resolution, the number of colors, and if you're using print, sound, or file sharing ...... will require more bandwidth. Therefore, the answer to how much bandwidth does remote desktop connection uses needs to be analyzed depending on the type of data.
Remote Graphics. The remote protocol transmits graphics generated by the remote server for display on the local monitor. For example, the size of a 1080p desktop image in uncompressed form is approximately 8 Mb. Displaying this image on a locally connected monitor with a moderate screen refresh rate of 30 Hz requires approximately 237 MB/s of bandwidth.
Heartbeats. It is directed in both the client and host directions, about 20 bytes every 5 seconds.
Input. It is directed from the client to the session host and the amount of data is based on user activity, with most operations being less than 100 bytes.
File Transfers. It is orientated in both host and client directions and file transfers are done using batch compression. Approximation is done using .zip compression.
Printing. It is directed from the session host to the client, with print job transfer dependent on the driver and batch compression, approximated using .zip compression.
Bandwidth requirements for other scenarios may vary depending on how you use them, for example:
Voice or video conferencing
Real-time communication
Streaming 4K video
The answer to how much bandwidth does a remote desktop connection uses is now clear. It is important to note that a stable, fast Internet connection is important for a smooth remote desktop experience. Limited available bandwidth or an unstable connection may result in delays, latency, and performance degradation of the remote desktop session. However, this may affect the user experience to some extent, e.g., blurred image quality, slow file transfer speed, etc.
Here you will be suggested a perfect alternative to Remote Desktop Connection. AnyViewer is an all-in-one, secure, and free remote desktop solution. AnyViewer enables you to establish a remote desktop connection to your computer anytime, anywhere. It grants fast and stable access to remote computers. It outperforms other remote desktop solutions with the following features:
Low latency with an increased frame rate of up to 60 FPS.
Optimized connection algorithm, ensuring faster and smoother remote control experience.
High image quality.
This means your remote desktop will be smoother, live, and faster.
Step 1. On both of your Windows, install and launch AnyViewer.
Step 2. Create an AnyViewer account and log in to the same account on your Windows.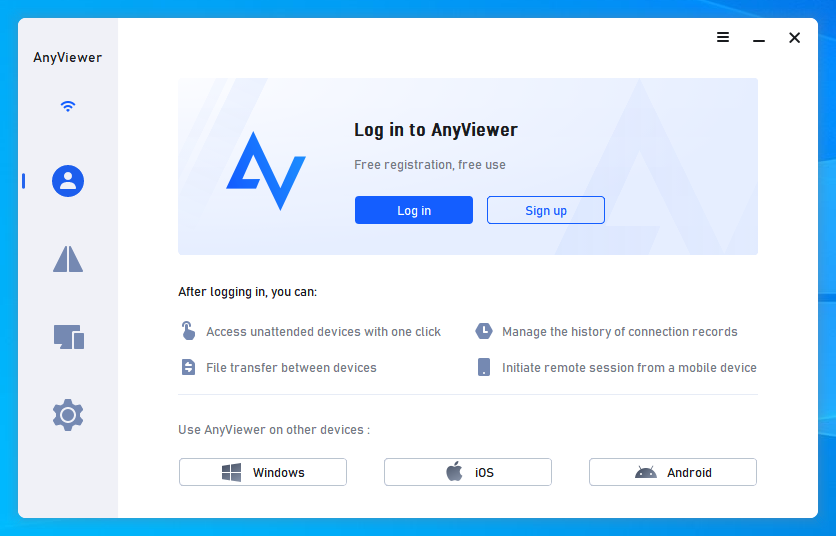 Step 3. Find "Device" on your local Windows, and select the target device you want to connect.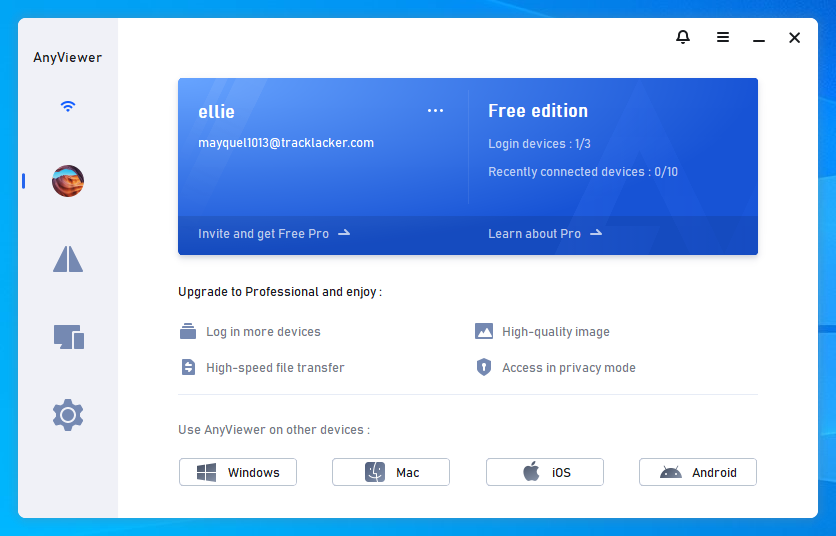 Step 4. Click on it and select "One-click control" to achieve unattended remote access.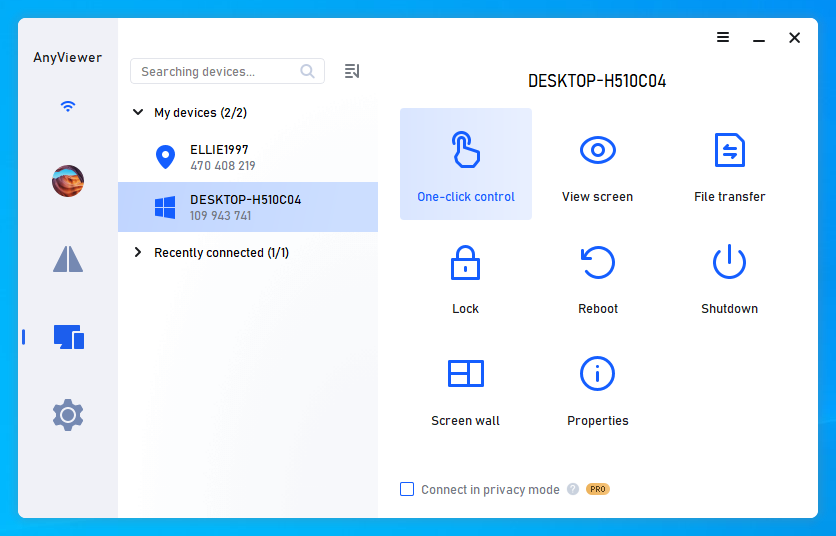 ★Tips: For more benefits, you can upgrade your account to a Professional or Enterprise plan:

There is an unlimited number of computers that a computer can control at the same time.
You can control up to ten devices with one-click control.
Up to one hundred devices can be managed.
Create groups for enterprise devices and easily manage a large number of devices.
You can transfer an unlimited number of large files (1TB each) simultaneously.
Access in privacy mode.
...