The Remote Desktop Gateway allows access to corporate network applications and desktops from the Internet or Intranet. Remote users have the flexibility to connect from company-owned, domain-joined, or dedicated work-group computers.
Network Access Protection (NAP) is a policy enforcement platform built into Windows. It is designed to protect client computers, networks, edge devices, and hosts from malware by verifying the health of the client and bringing them into compliance with corporate network policies. And with NAP, Remote Desktop Gateway improves security. So, which step is required to configure a NAP on a Remote Desktop Gateway server? This article will answer that question.
Here are the basic steps required to configure NAP on an RD Gateway server:
Step 1. Environmental preparation. Make sure you have a working Remote Desktop Gateway server and Network Policy Server (NPS) in your environment.
Step 2. Installing the NAP Role Service. NAP is a role service that needs to be installed on the NPS server. To install NAP, use "Server Manager" on the NPS server and add the "Network Policy and Access Service role".
Step 3. Configure System Health Validator (SHV). SHVis used to determine the operational status of client computers. You can configure SHVs on the NPS server. Microsoft provides some built-in SHVs for common checks (e.g., antivirus status, firewall status, etc.), or you can create your own custom SHVs if desired.
Step 4. Creating NAP Policies. NAP policies define the conditions that must be met in order to be considered compatible. These policies are created on the NPS server. You can specify the SHV to be used and the criteria for compliance yourself.
Step 5. Configuring Connection Request Policies. Connection Request Policies on the NPS server determine which NAP policies are applied to incoming connection requests from RD Gateway clients. Make sure you configure these policies to use the appropriate NAP policies.
Step 6. Configuring the RD Gateway Server. On the RD Gateway Server, you need to designate the NPS server as the NAP server. This can be done in the RD Gateway Manager console under "RD Gateway Server Properties".
Step 7. Test and Monitor. After you have configured NAP, you must thoroughly test the setup. Connect client devices to the RD Gateway server and ensure that they are subject to the NAP policies you have defined. Monitor the NAP logs and event logs for any problems or incompatible clients.
Step 8. Align Policies and Remediation. Improve NAP policies and remediation processes, if necessary, to ensure that incompatible customers are compliant or denied access.
Step 9. Documentation and Maintenance. Document your NAP configuration and make sure it is included in your network management and maintenance processes. As your network environment evolves, remember to review and update your NAP policy on a regular basis.
Please note that specific steps and options may vary depending on your organization's network infrastructure, the version of Windows Server you are using, and your specific security requirements. For details, consult the documentation for your specific software version.
By now, you should have learned which steps are required to configure a nap on a remote desktop gateway server. But it's really very cumbersome and configuring the NAP is very complicated and difficult to understand for the average user. Here is one of the easiest ways to use AnyViewer, which is highly recommended.
AnyViewer is a free yet comprehensive remote desktop solution. He is compatible with Windows, iOS, and Android systems and does not require any complex configuration, just a few simple steps to complete the operation.
In addition, AnyViewer is an extremely secure software. It addresses a range of user concerns about security and enhances protection against the risks of user use:
End-to-end encryption. AnyViewer prioritizes data security with end-to-end encryption utilizing the efficient 256-bit Elliptic Curve Cryptography (ECC) technique.
Two-factor authentication. Activating this feature further enhances account security by requiring access to new devices to enter the verification code sent to your e-mail.
Privacy Mode. AnyViewer Privacy Mode allows users to disable the keyboard and mouse on the remote computer turn off the remote screen through the receiver and disable the mouse and keyboard on the remote computer to further secure the host data.
Locked Interfaces. AnyViewer allows you to lock computer interfaces while you are away. A password is required to unlock locked program interfaces, greatly enhancing device security.
Next, please perform the following steps to make a simple unattended remote connection:
Step 1. AnyViewer is now downloaded, installed, and launched on your devices.
Step 2. Create a new account and then sign in to this account on your devices.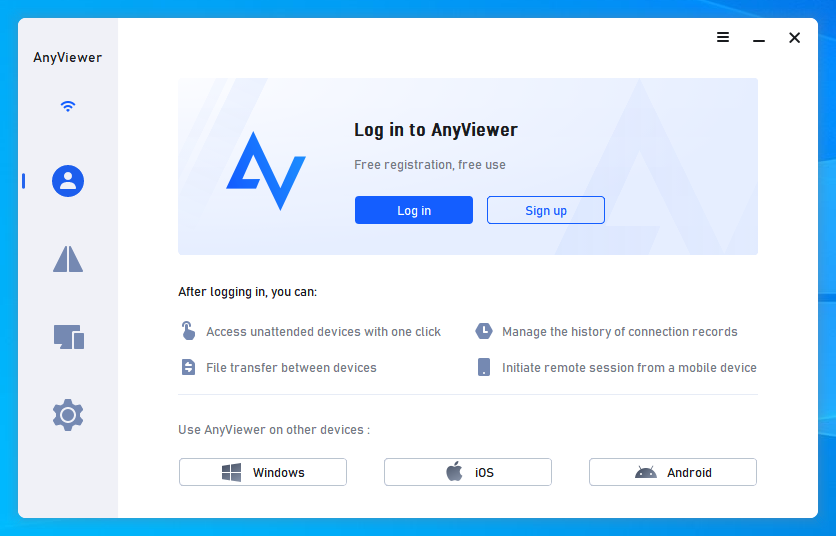 Step 3. On your local device, go to "Device", and select your target device.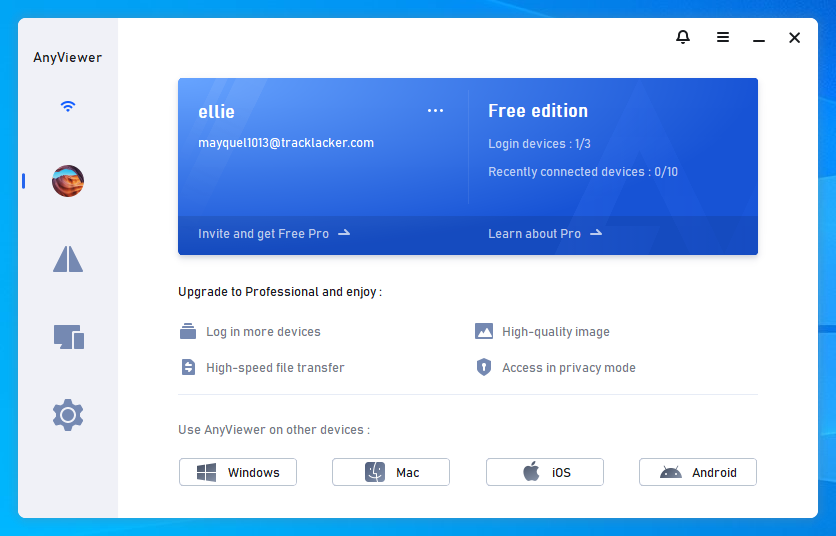 Step 4. Then, to complete the connection, click the "One-click control" button.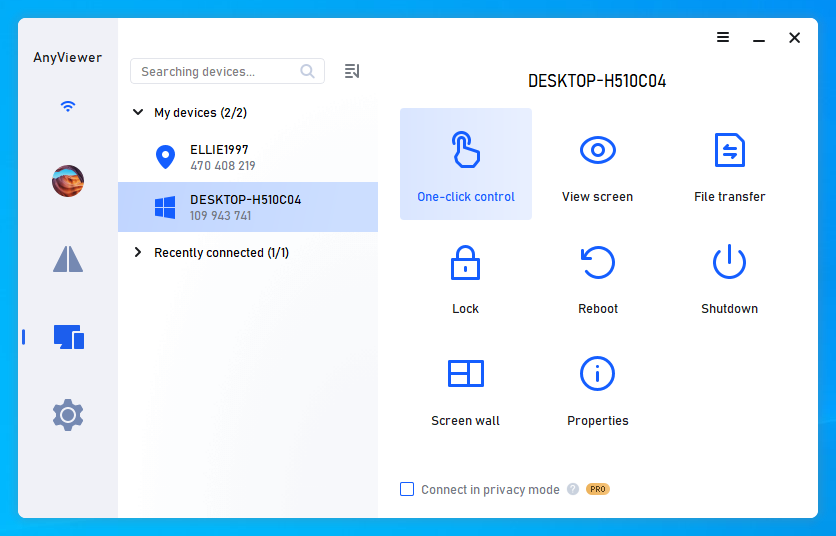 ★Tips: You can upgrade your account to a Professional or Enterprise plan to get more benefits:

Capable of controlling more devices using one-click control.
More Remote Sessions. Handles multiple remote sessions at once.
Experience faster file transfers.
Enjoy higher image quality.
...