A Client Access Licence (CAL) is required for each user and device that connects to a Remote Desktop session host. You can use RD licensing to install, issue, and track RDS CALs.So, what CALs are needed for Remote Desktop Services? You can get the answer in this post.
What CALs are required for Remote Desktop Services? Firstly you need to know that there are two types of RDS CALs. One is RDS Per Device CAL and the other is RDS Per User CAL. An example of using the Per Device model is in an environment where there are two or more shifts using the same computer to access the RD session host. The Per User model is best suited for environments where users have their own dedicated Windows device to access the RD session host.
Per Device model: When you use it, a temporary license is issued the first time a device connects to an RD session host. The second time a device connects, the license server issues a permanent RDS per-device CAL as long as the license server is activated and there is an available RDS CAL.
Per User model: When you use it, licensing is not enforced and each user is issued a license to connect to the RD session host from any number of devices. The license server issues licenses from either the available RDS CAL pool or the overused RDS CAL pool. It is your responsibility to ensure that all users have valid licenses and zero overused CALs, otherwise, you are in breach of the Remote Desktop Services license terms.
Now you should know which CALs are needed for Remote Desktop Services. But that's always a bit of a hassle, so here's another way to help you out. You can use the perfect alternative to Remote Desktop Services.
AnyViewer is a comprehensive and free remote desktop service software. It not only supports Windows PC and Windows Server but is also compatible with iOS and Android. It offers a user-friendly interface and improved functionality so that customers can benefit from excellent remote access over the Internet. AnyViewer is easy to use, all you need to do is create an account and then you can have unattended remote access with a one-click control. In addition, using AnyViewer over the Internet requires no other settings such as VPN or port forwarding.
Best of all, the free version of AnyViewer supports multiple users and can launch multiple sessions at the same time. It doesn't have to perform all sorts of complex operations or obtain the CALs. Simply download it and log into the same account to use it.
Step 1. On your devices, install, and launch AnyViewer.
Step 2. Create an AnyViewer account by clicking "Sign up", and signing in.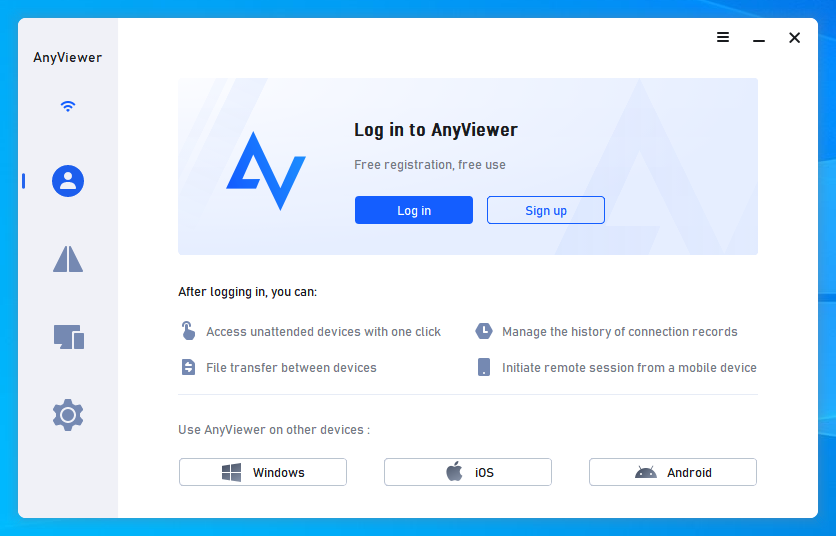 Step 3. Sign in to the same account on your devices.
Step 4. On one of your devices, go to "Device" and choose your target device.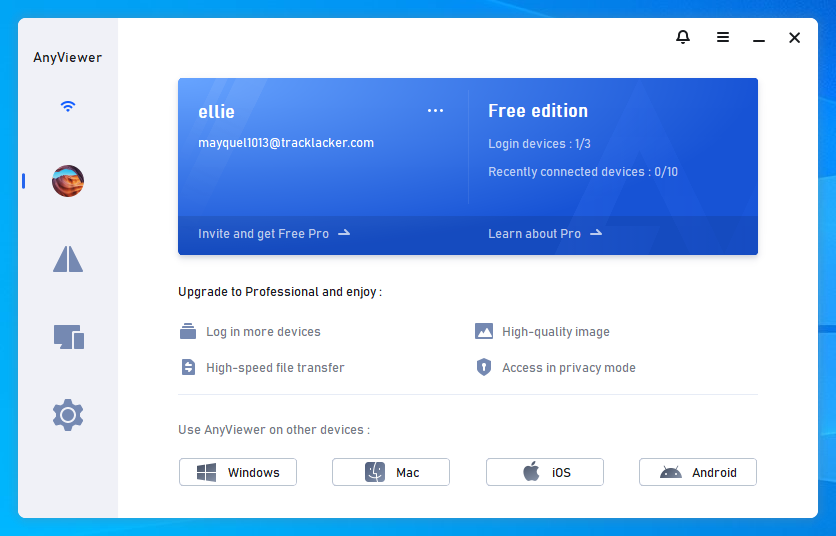 Step 5. Select it and click "One-click control" to achieve connection.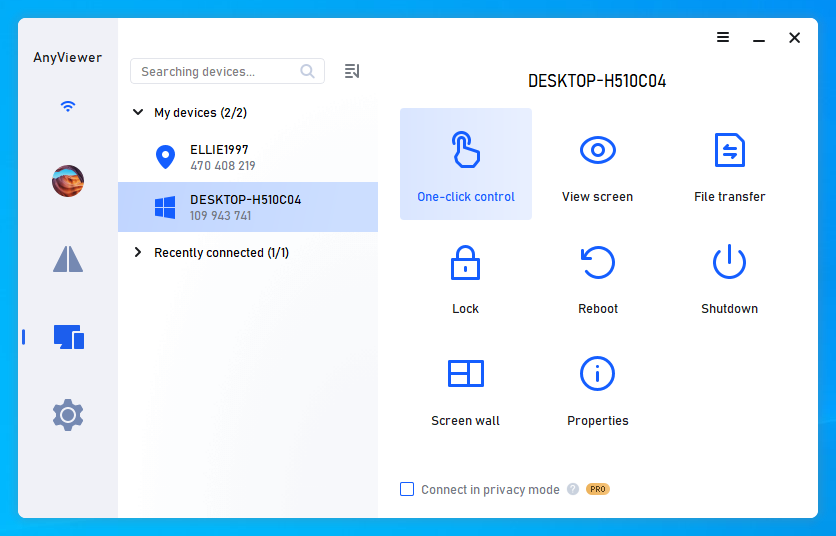 ★Tips: To gain further rights, you can upgrade your account to a Professional or Enterprise plan to enjoy more rights:

Enjoy up to 10 concurrent sessions.
Ability to control up to 100 devices with a single click.
The unlimited number of file transfers.
Faster file transfer speeds.
...