Scenario: What can I use instead of Remote Desktop Connection?
Hi, everybody. I'm seeking an alternative to Remote Desktop Services with the following features: Use an Internet connection rather than a local connection for access without requiring the user to accept the request manually. If file transfer was supported, that would be nice. Low cost would be excellent. Thanks for your advice."
- Question from Windows Forum
Why do you need an RDP alternative?
RDP is a conventional remote access feature created by Microsoft. It enables connection to and control of a remote computer from various locations. You can manage files or run programs on the host computer during a Remote Desktop connection. The ability to conduct remote troubleshooting without visiting the computer having an issue is quite helpful for IT workers.
RDP, however, does not support Windows Home/Standard editions and provides very few functionalities for remote access, and is difficult to set up for numerous users. Users need to get the IP address, username, password, and Firewall access to achieve an RDP connection.
Besides, there have also been cautions concerning the security of RDP as cybercrime has increased. The main RDP security vulnerabilites are
Weak login credentials for the user. Most desktop computers are password-protected. The issue is that RDP remote logins frequently also utilize the same password. These credentials are often not managed, leaving these remote connections vulnerable to credential stuffing assaults.
Full access to the port. Port 3389 is nearly always used for RDP connections. Attackers may target this port, among others, by presuming that it is the one that is currently in use.
Take a look at the choices below if you're looking for an RDP server alternative.
Secure & free alternative to Remote Desktop Services [2 options]
Here, we will introduce two simple and free remote access solutions to help you make the best decision for your needs.
Option 1. AnyViewer: An all-in-one remote access solution for Windows
When selecting the best alternative to Remote Desktop Services on the market, it is critical to consider the features, tools, and security it provides. One such dependable alternative toRDPfor Windowsis AnyViewer. It supports Windows PCs and Windows Server and offers a user-friendly interface and improved functionality so that customers may benefit from excellent remote access over the Internet.
The following is a detailed comparison between RDP and AnyViewer regarding compatibility, security, features, and ease of use to see why AnyViewer is considered the best Windows RDP alternative.
Windows compatibility
RDP is not compatible with Windows Home/Standard editions, while AnyViewer server side supports Windows 11/10/8.1/8/7 all editions and Windows Server 2019/2016/2012 R2/2022. AnyViewer client side supports Windows, iOS, and Android devices.
Security
RDP is not, by nature, a secure setup. Making RDP available through the open Internet is where most issues with setting up Remote Desktop Protocol for remote work arise. Threat actors may gain unauthorized access by taking advantage of certain RDP-related vulnerabilities. As a result, when using RDP, you must take additional security precautions to safeguard your workstations and servers.
In contrast, AnyVieweris a secure option for remote access. It provides end-to-end security with 256-Bit Elliptic Curve Cryptography (ECC) encryption, preventing data leakage during the session. It enables connection in privacy mode so that you can remotely black the remote PC or disable the mouse/keyboard. You can decide whether your device is allowed to receive remote control. With these measures, AnyViewer never experienced a data breach issue.
Features
AnyViewer offers more features that can significantly improve your work efficiency.
| | | |
| --- | --- | --- |
| Features | Remote Desktop Services | AnyViewer |
| Unattended remote access | √ | √ |
| Multiple sessions | √ | √ |
| Multiple monitor navigation | √ | √ |
| Direct file transfer between devices | × | √ |
| Chat | × | √ |
| Remote lock/reboot/shut down with one click | × | √ |
| Ctrl Alt Deloption | × | √ |
Ease of use
Many users think that Remote Desktop Services are very complicated to set up. You need to get the IP address, username, and password to remote into another PC. If you establish a connection over the Internet, you need to use a VPN or perform port forwarding.
AnyVeiwer is relatively easy to use. You need to create an account, and then you can connect to your assigned devices with one click. Besides, using AnyViewer over the Internet requires no other settings like VPN or port forwarding.
Download AnyViewer on your devices to see how easy to use it.
Step 1. Open AnyViewer on the host device, create an account by clicking Sign up, and sign in.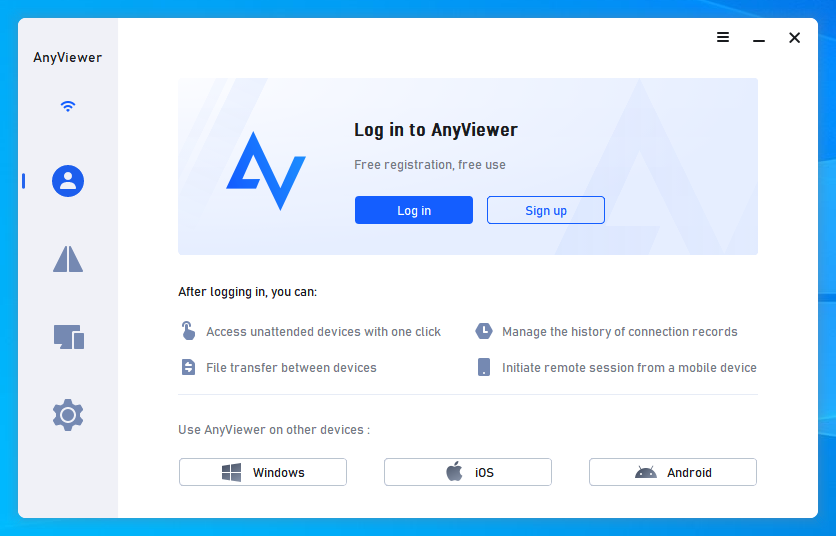 Step 2. Log in AnyVeiwer on the client device using the same login information as the host.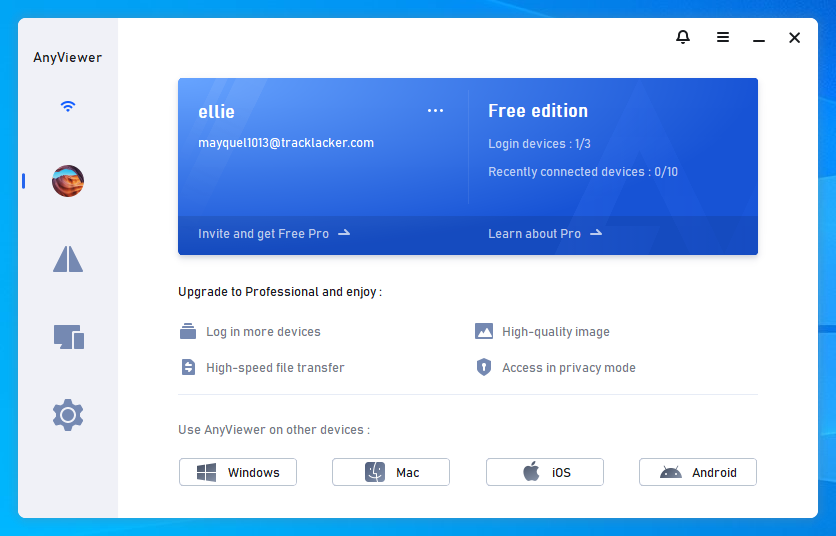 Step 3. Go to the Device interface to see the list of your assigned devices. Click the computer you want to connect to and click One-click control.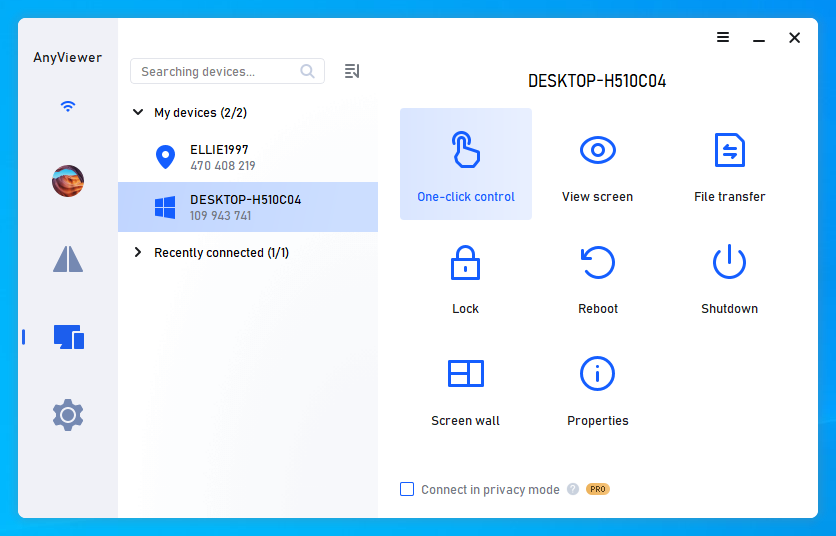 Tips: If you have more than two remote PCs, we advise upgrading your account. Then, for a low cost, you can establish up to 10 connections at once and gain access to up to 100 unattended devices.
Option 2. Chrome Remote Desktop: A cross-platform solution with limited features
If you need remote access using Linux or Mac devices, we recommend using Chrome Remote Desktop. It is a free web-based Google extension. You can easily use it on Google Chrome without additional downloading.
Chrome Remote Desktop is pretty safe for regular use. All information will be transmitted directly from the client to the host during the remote session using Chrome Remote Desktop.
However, Chrome Remote Desktop does not have enough features. For example, multiple sessions, direct file transfer, and chat are not supported.
Here is how you can use Chrome Remote Desktop for remote access.
Step 1. Open Google Chrome on your machines and sign in with the same Google account.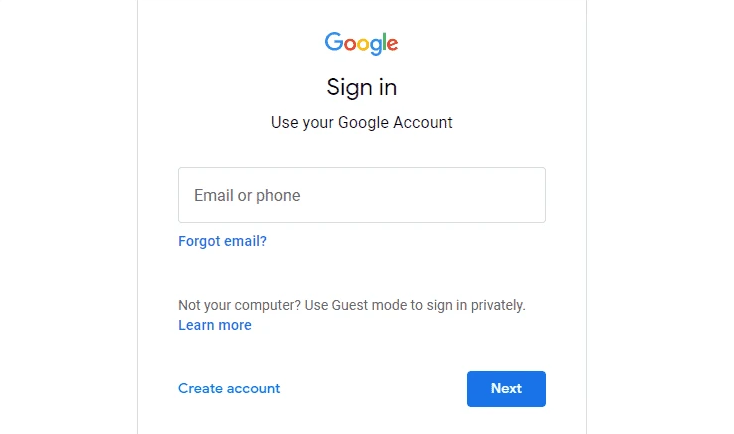 Step 2. Select Chrome Remote Desktop from the list of Google extensions and click the Add to Chrome button.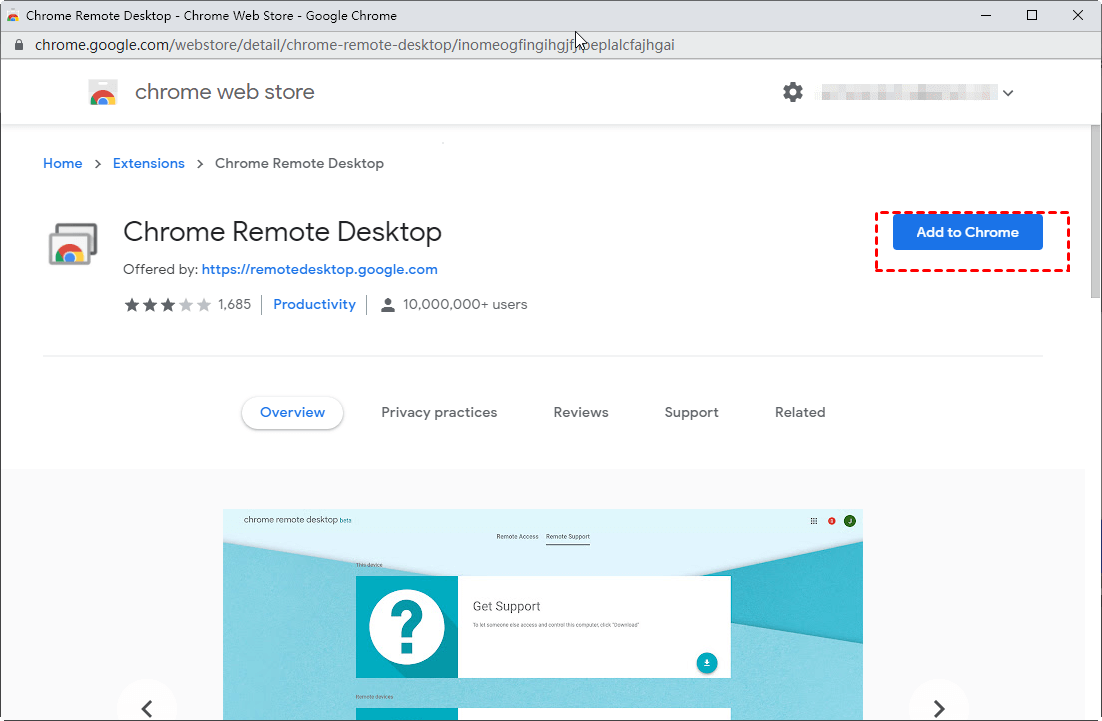 Step 3. Select the Remote Access tab when it is added and click the download option.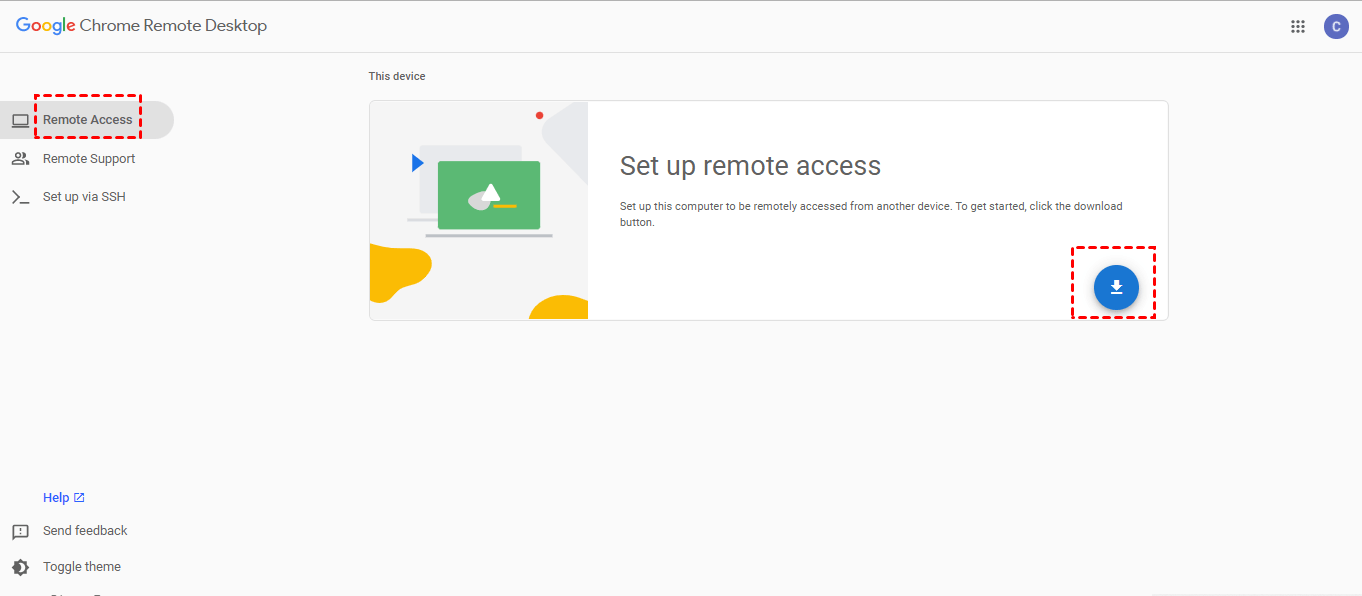 Step 4. Then click Accept & Install.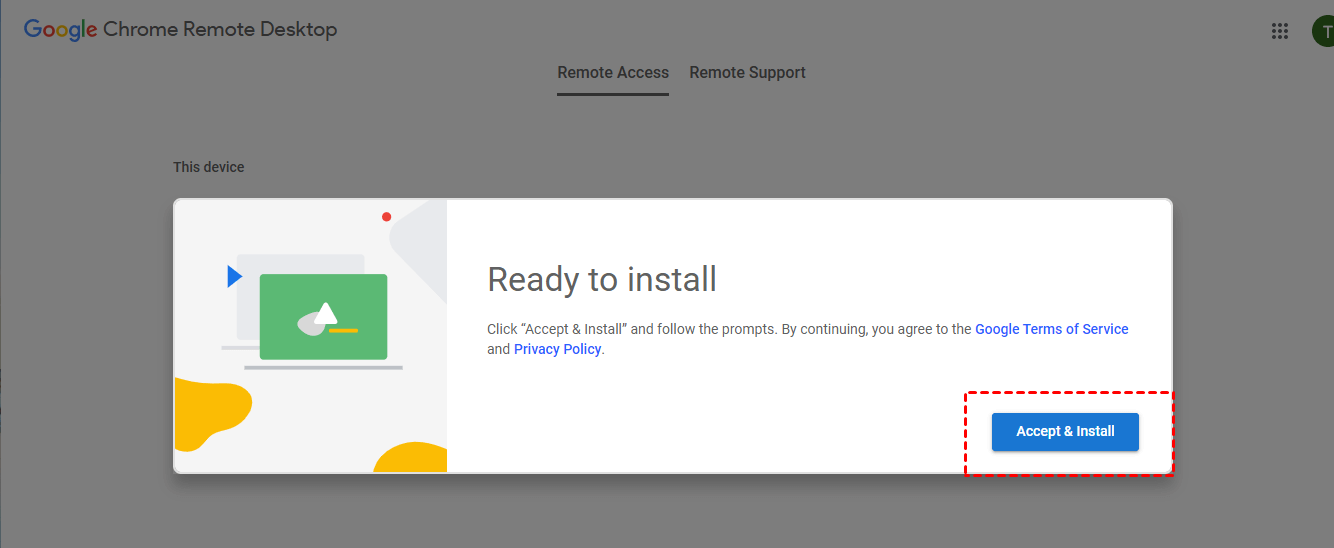 Step 5. Enter a name for your machine and then press the Next button.

Step 6. Enter and verify a PIN code, then click Start.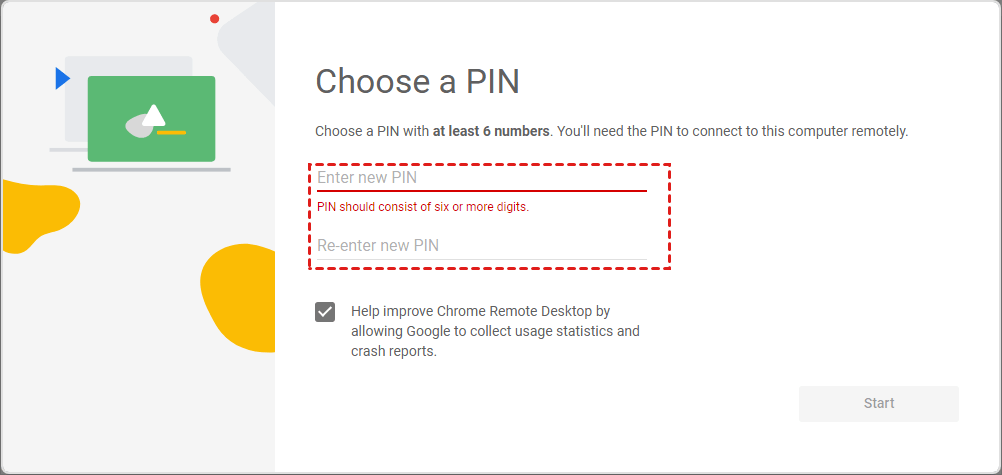 Step 7. A list of available devices is visible. Click the computer you want to connect to on the client device.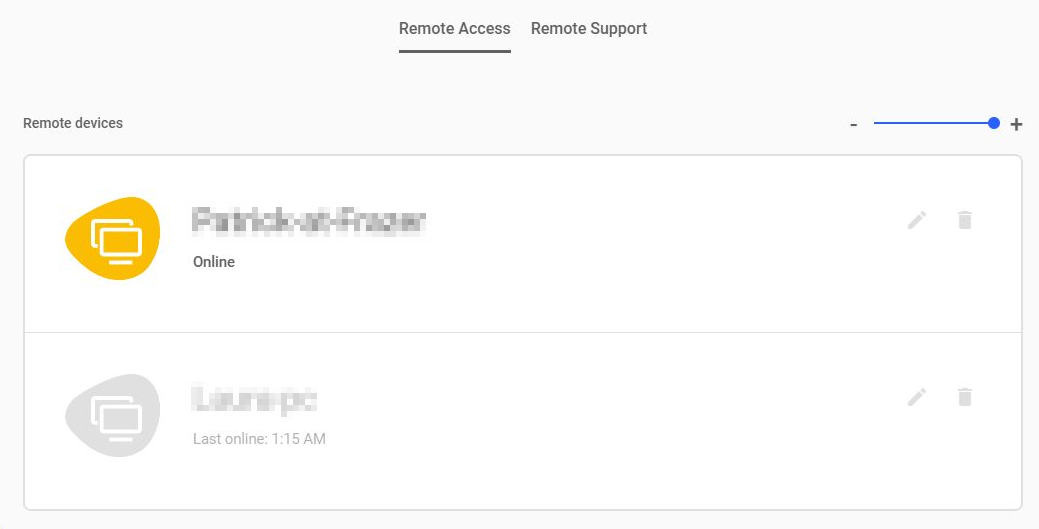 Step 8. Enter the PIN code and click the blue arrow to activate the remote control.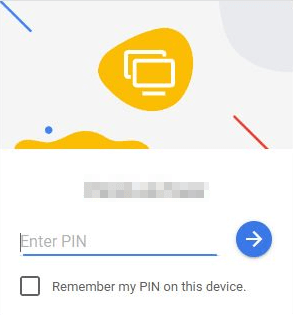 Conclusion
We mentioned two free alternatives to Remote Desktop Services: AnyViewer and Chrome Remote Desktop. If you are looking for an all-in-one solution that has an easy setup and supports safe connections between Windows PCs, AnyViewer could be the best. If you don't want to use third-party software or you want to perform remote access using Linux or Mac, we recommend using Chrome Remote Desktop.