What is the alternative to Remote Desktop Connection?
Remote DesktopConnection is one of the most popular remote desktop solutions that allow users to access a remote computer from anywhere. Even if it is widely used, some users want to find a Remote Desktop Alternative. Why?
✍Remote Desktop requires a series of setup process. Users need to enable remote access, get the IP address, computer name, and computer password, and set up firewall settings to achieve remote connections.
✍Remote Desktop requires that the two devices be on the same network, otherwise, users need to set up port forwarding, which is complicated.
✍Remote Desktop can't be used to connect to Windows Home computers and Windows Standard computers.
Therefore, users want an easier, simpler, and more compatible remote desktop software. What is the alternative to Remote Desktop Connection?
Free Remote Desktop alternatives [5 options]
Next, we'll introduce 5 free Remote Desktop alternatives. You can choose according to your own needs.
Option 1. Professional remote desktop software for Windows - AnyViewer
AnyViewer is a free Windows remote desktop software that provides secure remote access and remote support for almost all Windows versions, including Windows Home and Windows Standard editions. Besides, it is easy to use. Once both computers are logged into the same AnyViewer account, the user can start unattended remote access from one device to another with one click.
Besides, AnyViewer also supports iOS and Android for free. You can remotely access a computer from an iPhone or an Android phone without paying. Let's see how to remotely access another computer without permission via AnyViewer.
Step 1. Install and run AnyViewer on both of your computers. Navigate to Log in and then Sign up on the Controller computer (if you have already registered on the official website, you can log in directly).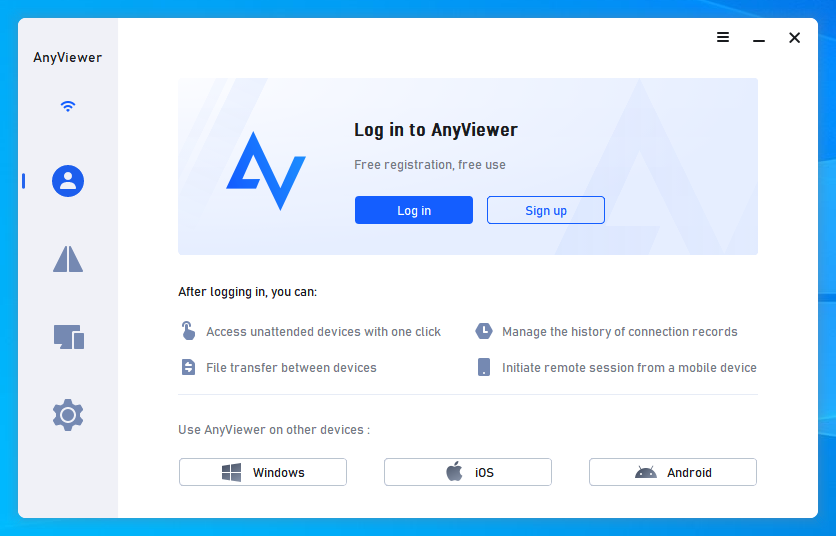 Step 2. Fill out the sign-up form.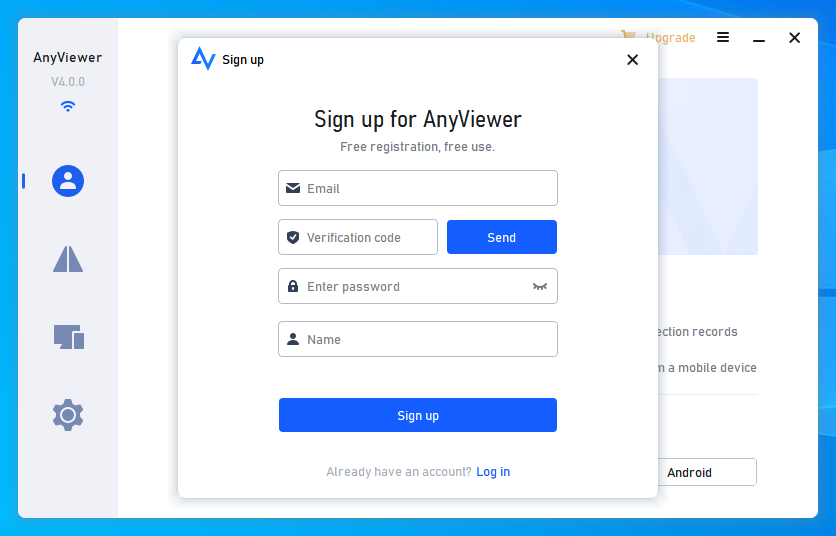 Step 3. You should now see that you have successfully logged into AnyViewer. Your device will be assigned to the account to which you have logged in automatically.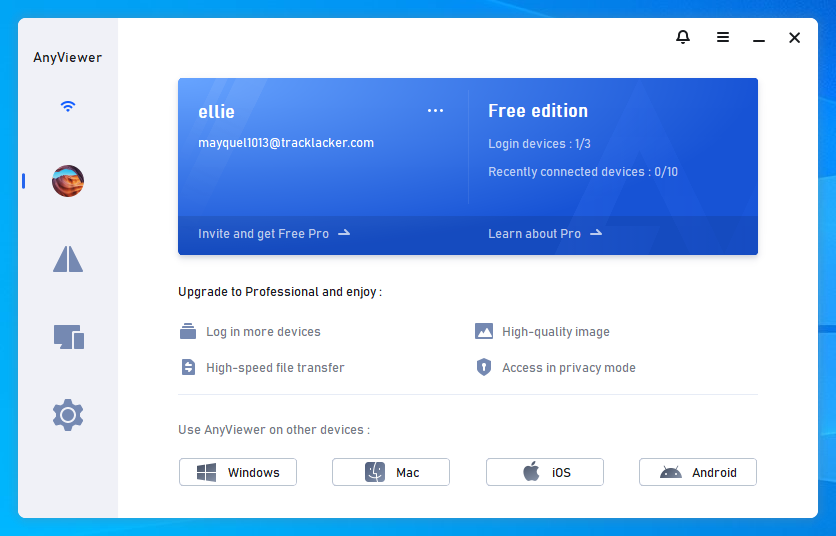 Step 4. Log in to the same AnyViewer account on the two devices, then you can click One-click control to achieve a direct connection, click View the screen to see another's screen, or click File transfer to share files between computers.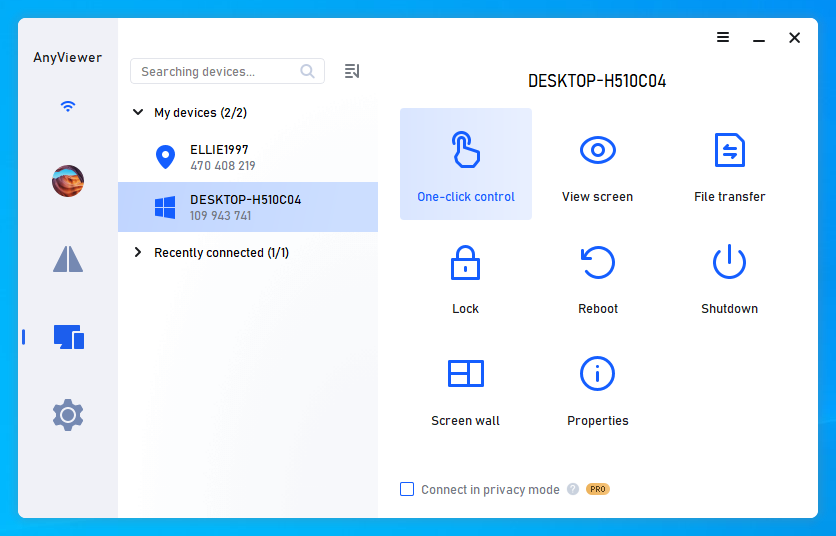 Notes:✎...

Additionally, you can change your account's plan to a Professional or Enterprise one. What a business or professional plan can provide for you is:

More devices will be allowed to assign to the same account for unattended remote access.
More connection channels for more devices to be able to start remote connection at the same time.
One device can connect to more devices simultaneously.
Black the remote PC screen and disable the remote keyboard & mouse click to protect privacy.
Transfer 1TB files at 10 MB/s.
Option 2. Free Google Chrome extension - Chrome Remote Desktop
Chrome Remote Desktop is a remote control software developed by Google. It is widely compatible with different operating systems, like macOS, OS X, Chrome OS, Windows, and Linux. It only requires you to have Google Chrome installed on both computers and have a Google account, you can add Chrome Remote Desktop as an extension and start remote connection via it.
Step 1. On both computers, sign in to the same Google Account if you are not logged in. Then, open the Chrome Remote Desktop web page.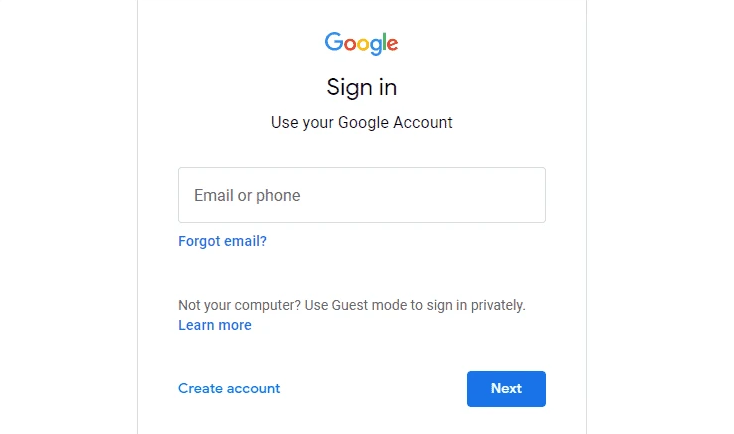 Step 2. Click Remote Access first and then click the blue download button.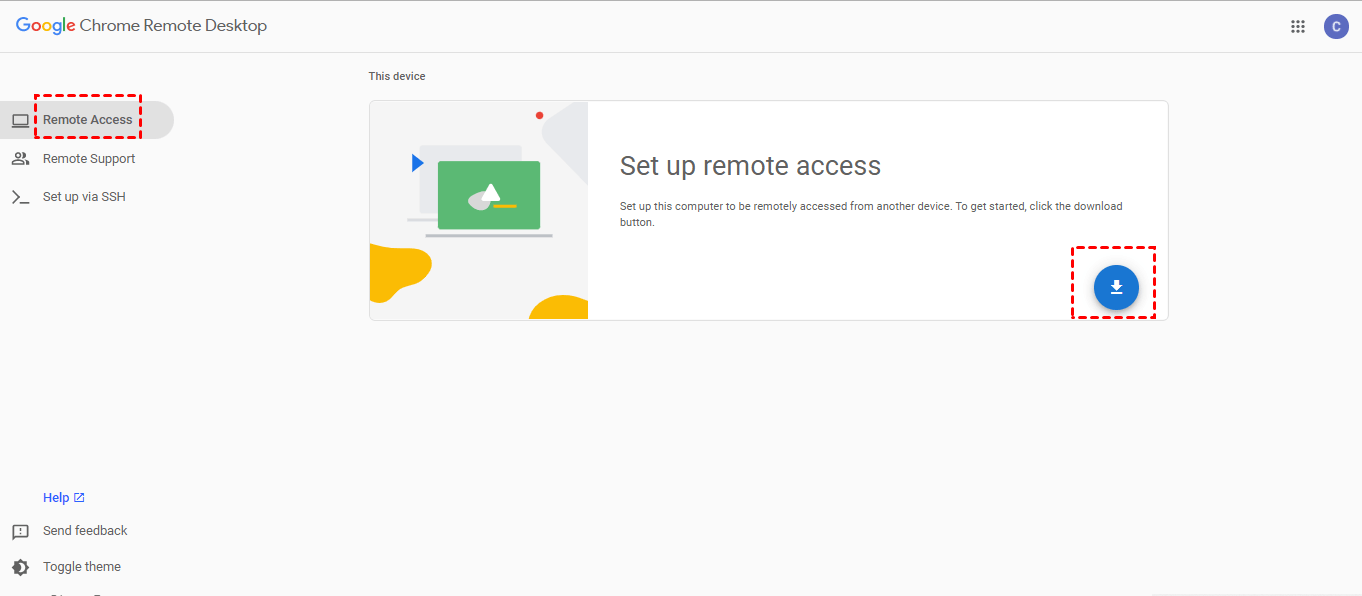 Step 3. Click on Add to Chrome to add the Chrome Remote Desktop in your Chrome browser.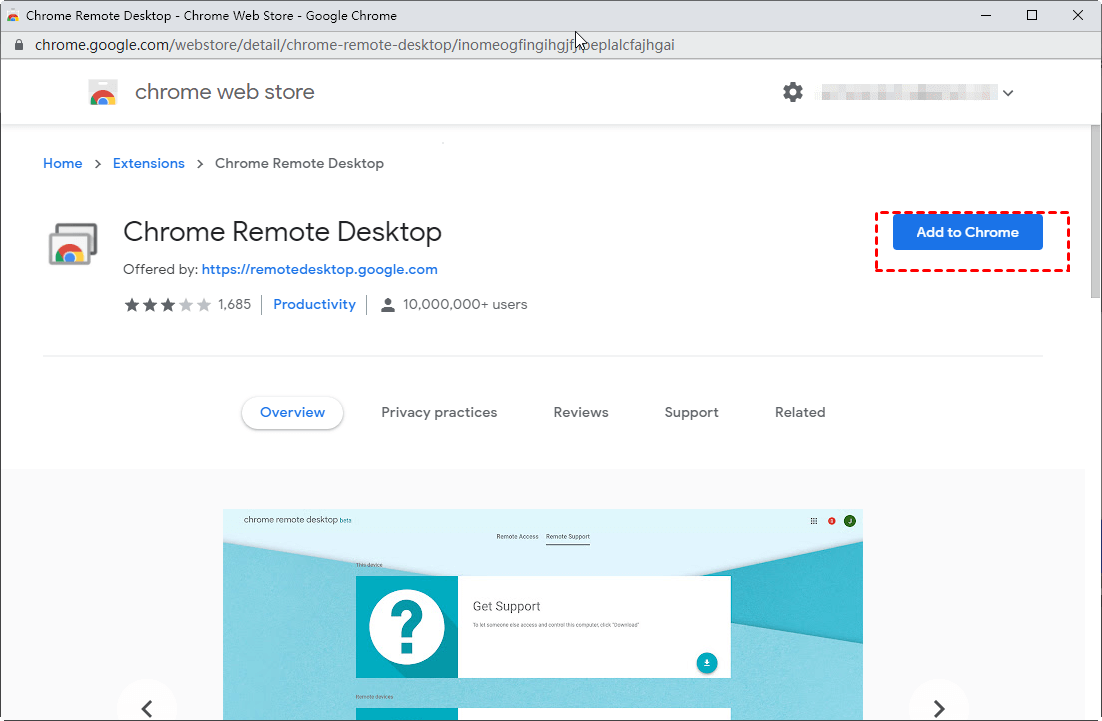 Step 4. Click Add extension to confirm the download.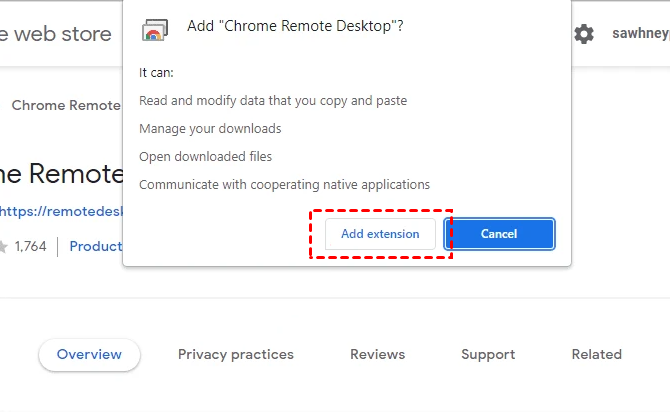 Step 5. Click Accept & Install.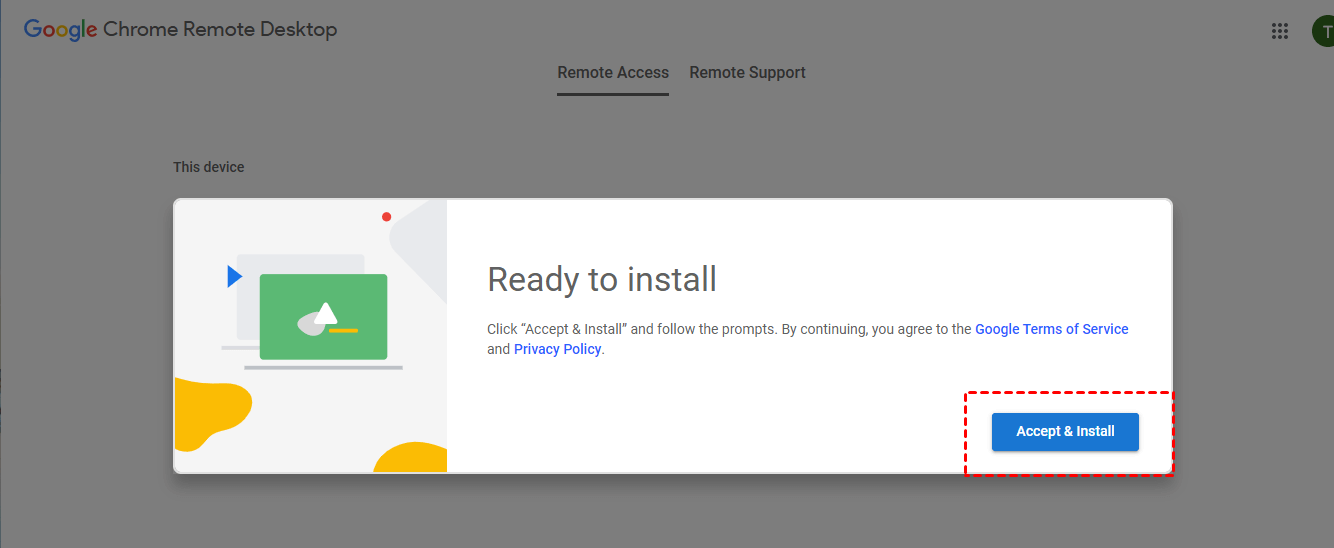 Step 6. Enter a name for your computer and then click Next.

Step 7. Choose a PIN with at least 6 numbers, and then enter it twice to start the program.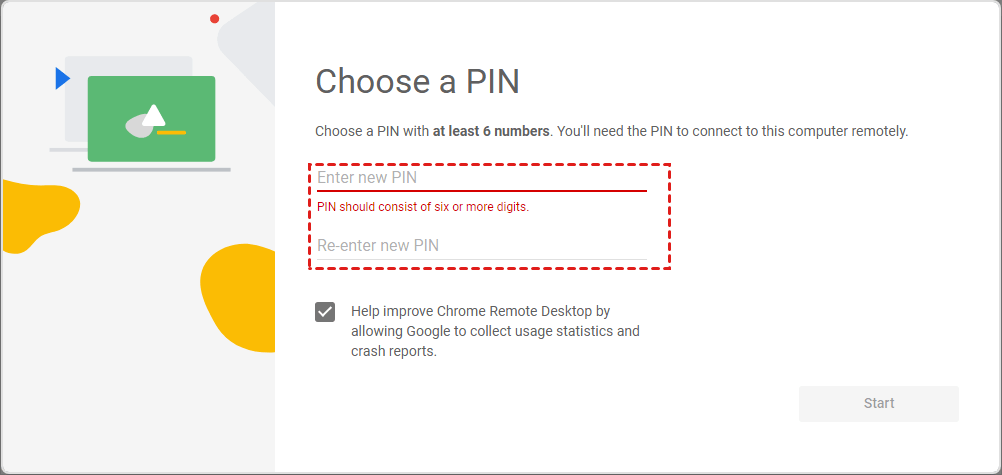 Step 8. After both computers have successfully created their PINs, you can see the available computers here on the client computer. Click the computer you want to connect to.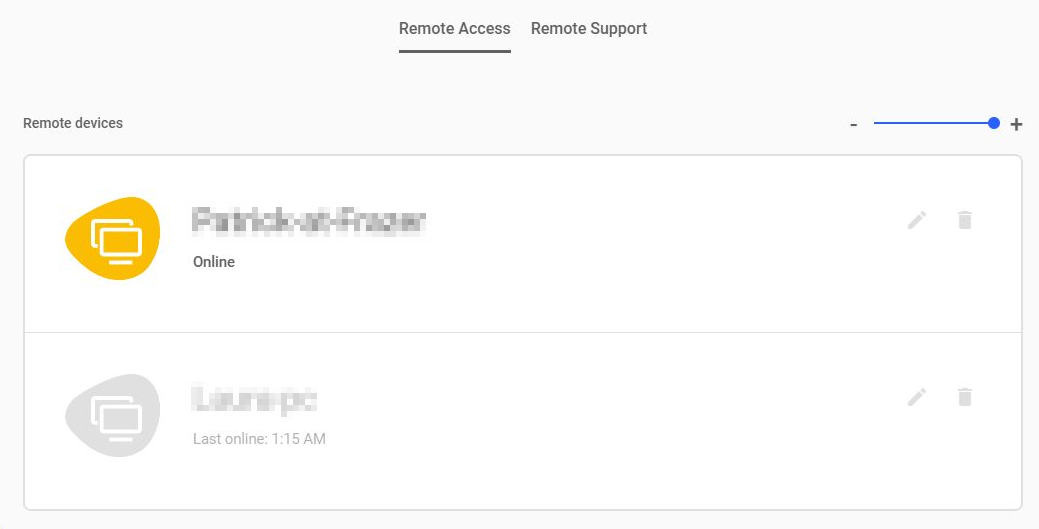 Step 9. Enter the PIN of the host computer, then click the blue arrow. Then you can start to control it.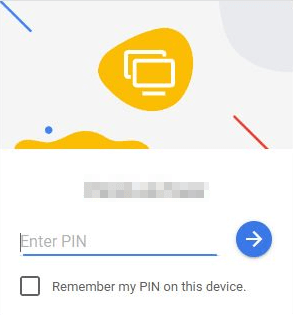 Option 3. Remote desktop tool free for Windows only - Jump Desktop
Jump Desktop is made to function flawlessly on Windows, Mac, iOS, and Android-based devices. While it is paid for Mac, iOS, and Android, it is free for Windows computers. So if you use a Windows system and need to connect to a Windows computer, you can choose Jump Desktop.
But Jump Desktop for Mac, iOS, and Android charge differently, and the payments don't share. That means if you need to connect to a Mac from an iOS device, you need to purchase it twice. This is not very friendly for multi-device users.
Step 1. Download Jump Desktop Connect from its official site on your device, and install and open it.
Step 2. Click the Add a remote access user link and sign into your Jump Desktop account.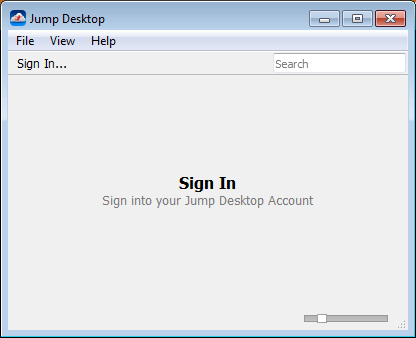 Step 3. When you're done, Jump Desktop Connect will list you as a remote access user.
Step 4. Download the Jump Desktop app on another device. Launch the app and sign into the same Jump Desktop account you used when setting up your computer. Then tap your computer's icon to connect.
Option 4. Remote desktop tool free for personal use - TeamViewer
TeamViewer is another application that can be used for remote control. It has a free version for private use. But if you use it for commercial purposes, you need to buy a paid license.
We should note you that situations like a customer paying you for providing support and accessing a company computer for work-related activities will be detected by TeamViewer for a commercial purpose. It will block your connection after a few minutes. Therefore, if you need to work from home, TeamViewer may not be the best choice.
Download and install TeamViewer on the client and host computers respectively. Launch it and then follow the step below.
Step 1. Select the purpose (commercial or personal) for downloading this software during installation. Here, take the free version of individual users as an example.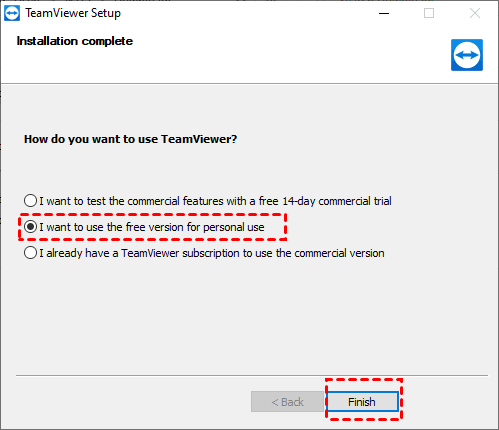 Step 2. Run TeamViewer on both computers. Select Login in the main interface. You need to create your own TeamViewer account for the first time. Click Next to complete account registration (you also need to verify the account before use).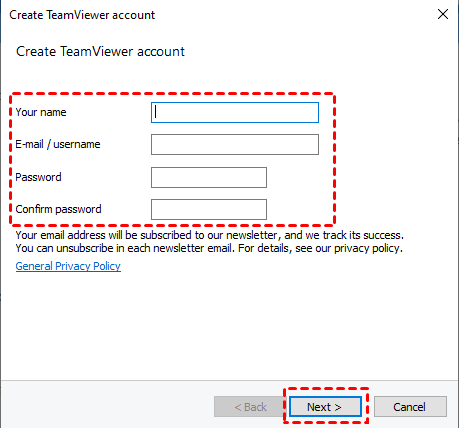 Step 3. Click Remote Control on the left side of the TeamViewer main interface on the client computer, enter the ID of the host computer under Partner ID, and click Connect.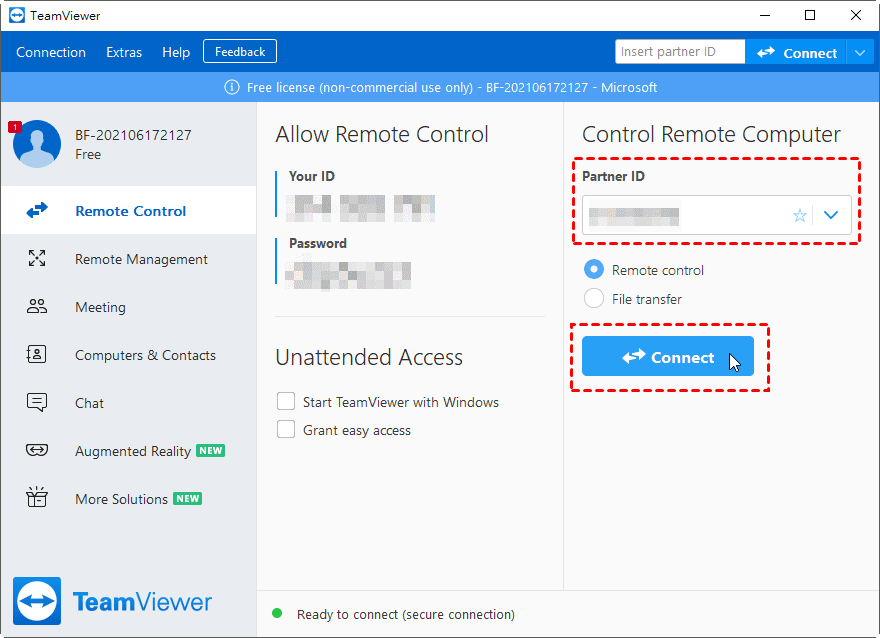 Step 4. Enter the password of the host computer in the TeamViewer Authenticationwindow to realize the remote control.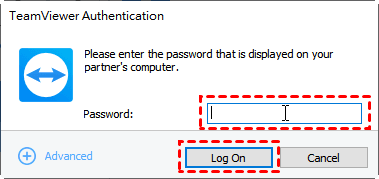 Option 5. Remote desktop tool free for non-professional use - AnyDesk
Like TeamViewer, AnyDesk is also free for non-professional use. Providing excellent IT Support for customers and clients or maintaining and monitoring computers or controlling high-performance machines in a business environment will be detected as professional usage. You'll need to buy a paid license.
Besides, AnyDesk free version has very limited features. For example, remote restart, text chat, phone support, etc., are not available. By the way, these features are available on AnyViewer free version.
Step 1. Download and install AnyDesk on the client and host computers respectively.
Step 2. Open it, then you can see your address which can be used for remote access. On the client computer, enter the address of the host computer in the blank box and then click Connect.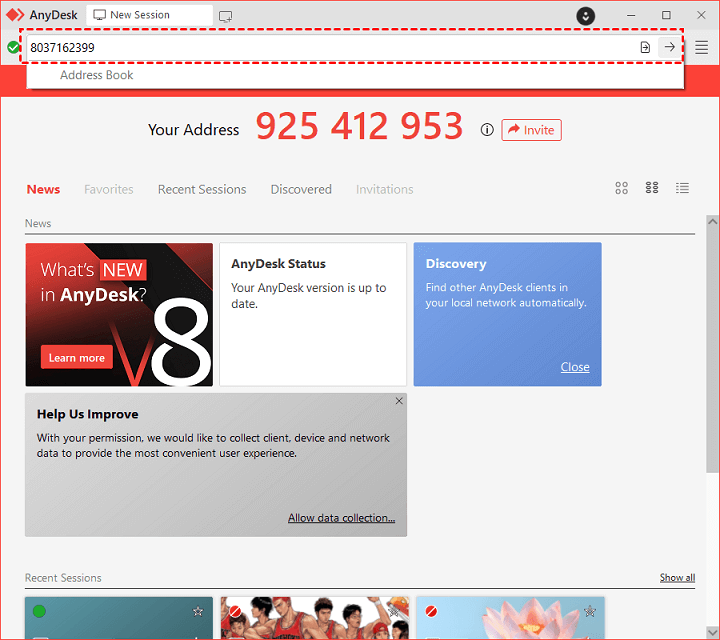 Step 3. On the host computer, the recipient will receive a pop-up window. Click Accept to establish the remote connection.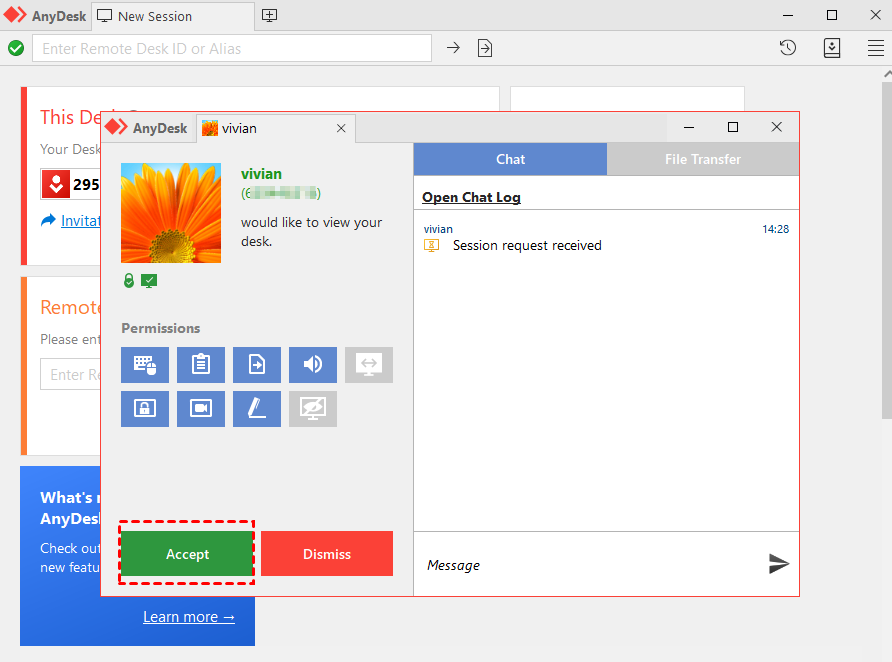 ✍Note: AnyDesk also supports unattended remote access. You can enable it and set your password for unattended remote access in settings.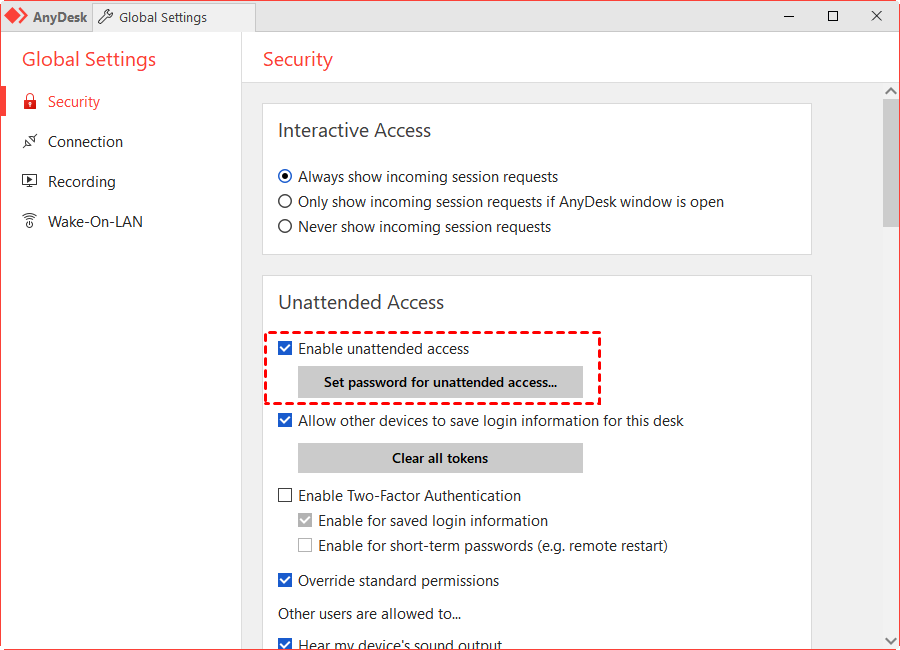 Closing words
This post primarily introduces five free Remote Desktopalternatives. If you're a Windows user, we highly recommend you choose AnyViewer. Its free version comes with a number of practical features. If you're using macOS or Linux, you are advised to choose Chrome Remote Desktop, which is totally free. Jump Desktop, TeamViewer, and AnyDesk all provide users with a free version, but they have different limitations.
Comprehensively, AnyViewer is the best choice if you need a free alternative to Remote Desktop Connection.