Why need Windows Remote Assistance alternative?
I've used Windows Remote Assistance on Windows 10 to get me and my clients into a support session and remotely control the desktop. But recently, I've encountered Remote Assistance not working problem very often. I've tried to find the solutions but failed. This really annoys me. So can anyone recommend a Windows Remote Assistance alternative to me?"
- Question from Reddit
According to feedback from some users, Remote Assistance not working problem is not uncommon. They always encounter all kinds of Remote Assistance problems which makes them eager to find a Windows Remote Assistance alternative. Fox examples:
Best Windows Remote Assistance Alternative: AnyViewer
Now, we'll recommend the best Windows 10 Remote Assistance alternative, AnyViewer, to you. AnyViewer is a free third-party remote control software for Windows. It is a perfect alternative to Remote Assistance for the following reasons:
Compatibility. It's compatible with kinds of Windows systems from Windows 7 to the latest Windows 11. Unattended remote connection. You can remotely access your devices without anyone's permission.
iOS version. It also has an iOS version, you are able to remotely control PCs from your iPhone or iPad.
Security. It is secured by Elliptic Curve Cryptography (ECC) encryption, protecting your data from leakage.
Fast connection. It is developed by a strong technical team, providing you fast remote connection with high image quality.
Free of charge. It is a tool that provides users with free services.
To protect your data security and privacy, AnyViewer provides you with two options to provide remote assistance.
Option 1. Unattended remote assistance
If you're planning to provide remote assistance to your families or closest friends, you can log in to the same account on both devices to achieve unattended remote assistance.
Step 1. Download, install, and launch AnyViewer on both computers.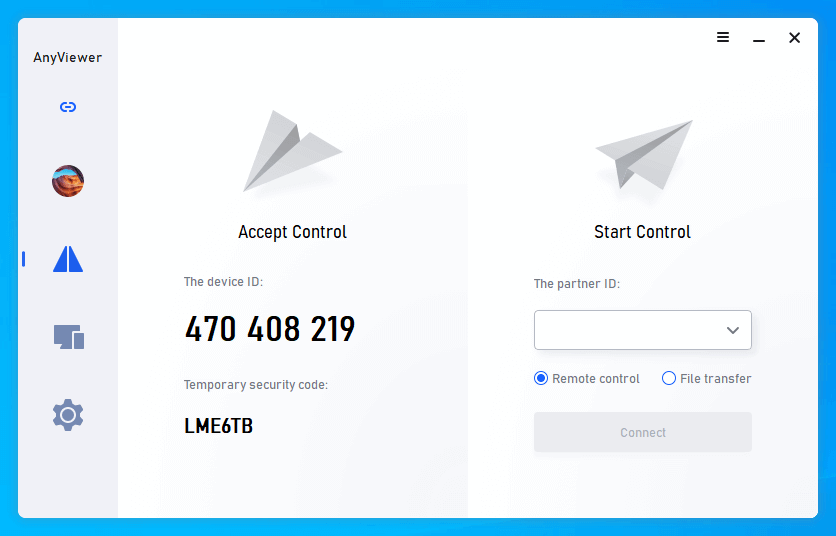 Step 2. Go to Log in, and then click Sign up. (If you already have signed up on its official website, you can log in directly.)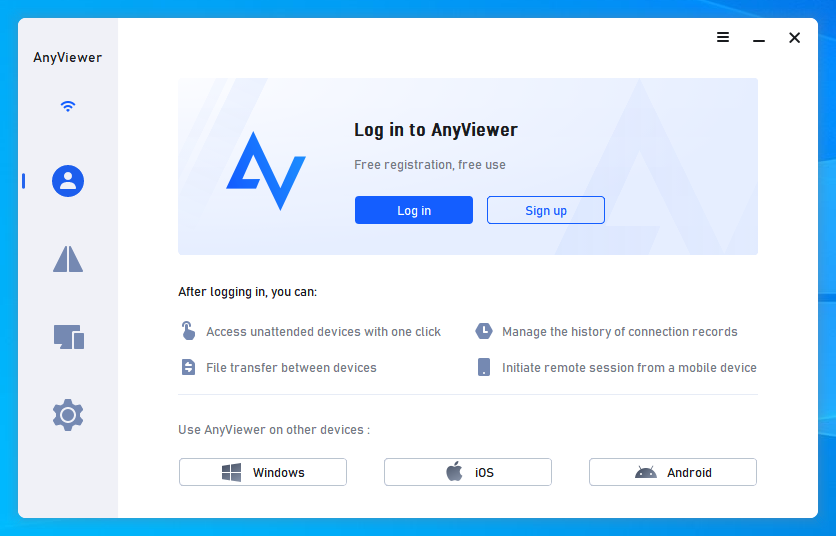 Step 3. Fill in the signup information.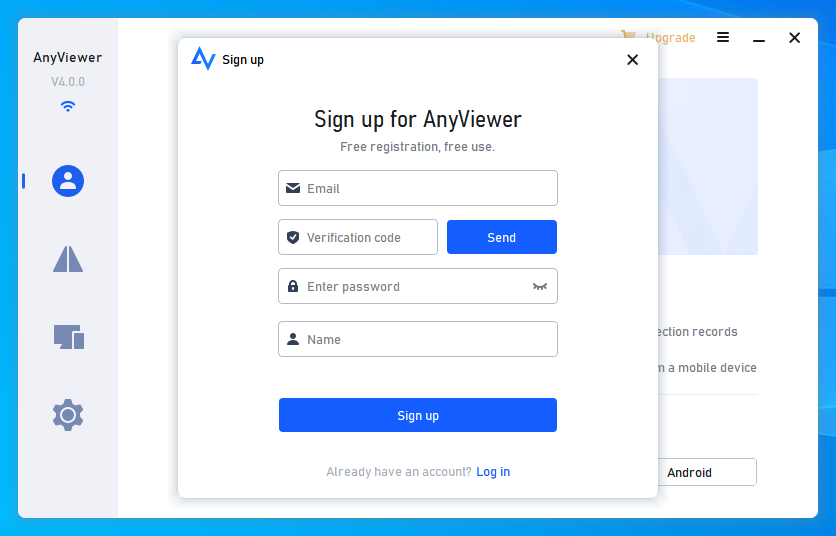 Step 4. Then you can see you successfully logged in to AnyViewer. Your device will automatically be assigned to the account you've logged in to.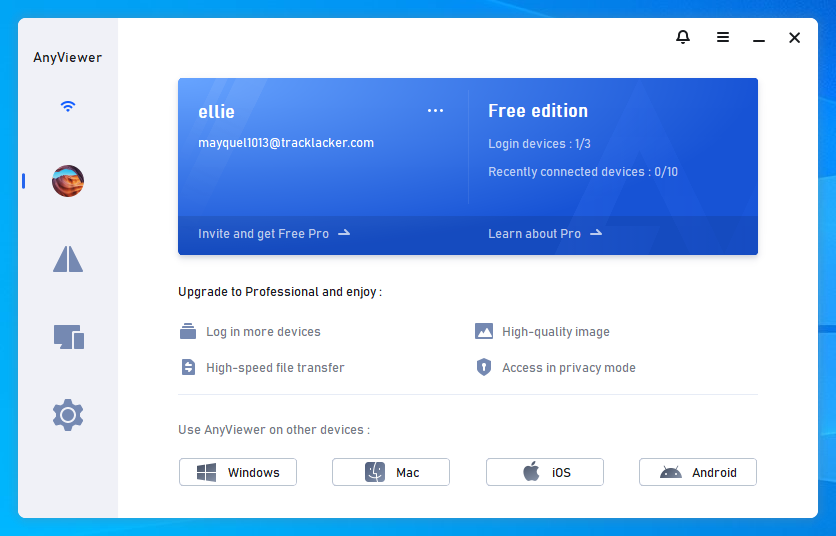 Step 5. Log in to the same AnyViewer account on the other device, then you can achieve unattended remote assistance by clicking One-click control.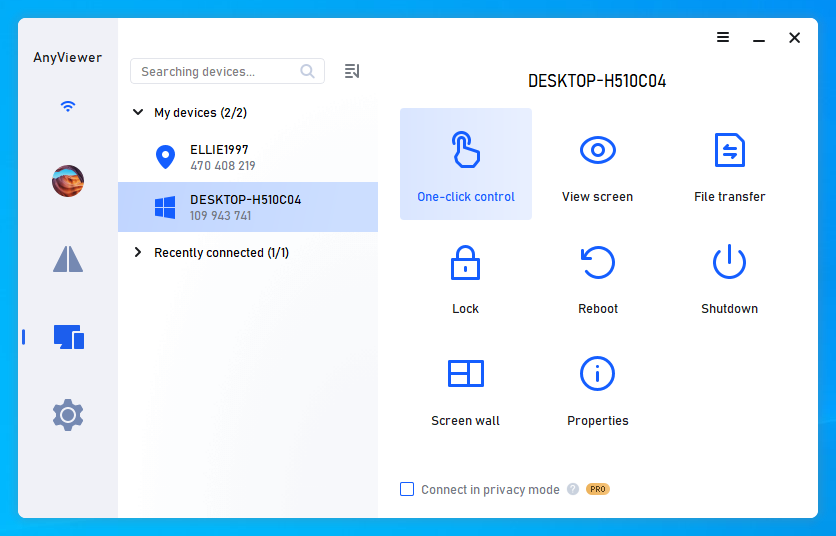 Notes:✎...

You can upgrade your account to a Professional or Enterprise plan. Then you'll have the following rights:

Assign more devices to achieve unattended remote access to more devices.
Connect to another computer in privacy mode, which means you can black the screen and block the mouse and keyboard of the remote computer.
Transfer files at a faster speed. Transfer speed for a free account is 500 KB/s, and for a paid account is up to 10 MB/s.
Option 2. Attended remote assistance
If the person you're trying to assist or you'll receive assistance from is a stranger, then you can send or ask him to send a control request to protect your information security.
Step 1. Download, install, and launch AnyViewer on both computers.
Step 2. On the client computer, input the security code of the host computer and then click Connect.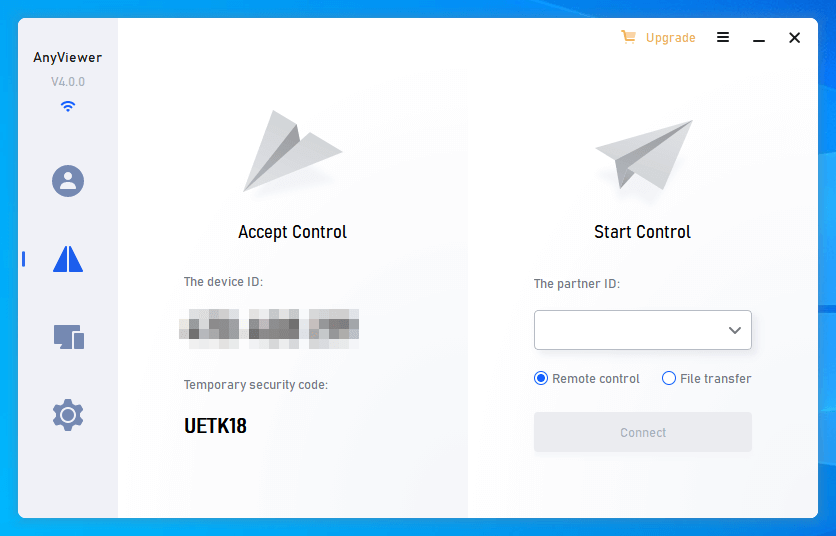 Step 3. Choose Send a control request to your partner and click OK.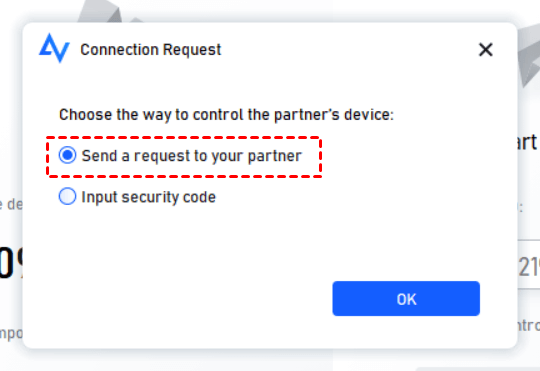 Step 4. On the host computer, click Allow to achieve remote assistance.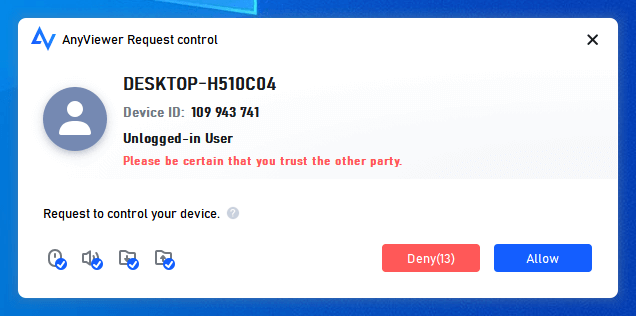 Now, you can provide remote assistance to the other computer. It is worth mentioning that AnyViewer also has some practical functions. You can troubleshoot problems by quickly opening Task Manager to see what is occupying CPU storage, running CMD to fix corrupted file systems, and so on.

Conclusion
If you're tired of Remote Assistance and are looking for the best Windows Remote Assistance alternative, here in this post, we recommend AnyViewer to you. The predominant advantages of AnyViewer have been specified. If you are interested, give it a try.