What is rdpclip.exe?
What is rdpclip.exe? Rdpclip.exe, a notable executable file, oversees the smooth functioning of a process known as Rdpclip, short for Remote Desktop Clipboard. The purpose of Rdpclip, or RDP Clip Monitor, is to facilitate seamless clipboard sharing between the user's local computer and a remote desktop they are controlling from a different location. It's important to note that while the process operates on the remote desktop, it does not execute on the local computer.
What is the use of rdpclip.exe?
What is the use of rdpclip.exe? The utilization of rdpclip.exe encompasses several practical functions, including:
►Facilitating seamless file transfer: Rdpclip empowers users to effortlessly copy and paste files between their local computer (localhost) and the remote desktop they are accessing.
►Streamlining data exchange: This functionality extends beyond single file transfers, allowing users to simultaneously copy and paste multiple files and directories. To accomplish this, Rdpclip leverages a tool known as File Copy, which grants users access to essential Terminal services like cut, copy, and paste.
►Expanded capabilities in Windows 2000: In addition to enabling the transfer of text, Terminal services in Windows 2000 empower users to seamlessly transfer graphics between their machine and the server. This enhancement provides a comprehensive platform for the exchange of both textual and graphical content.
How to enable copy and paste in RDP
What does rdpclip.exe do? Rdpclip.exe serves the purpose of facilitating seamless text copying and pasting between your local computer and a remote computer when connected through Remote Desktop. To enable this feature, you can follow the steps outlined below:
Step 1. Search for "Remote Desktop Connection" in the Search box on your client computer and open the application.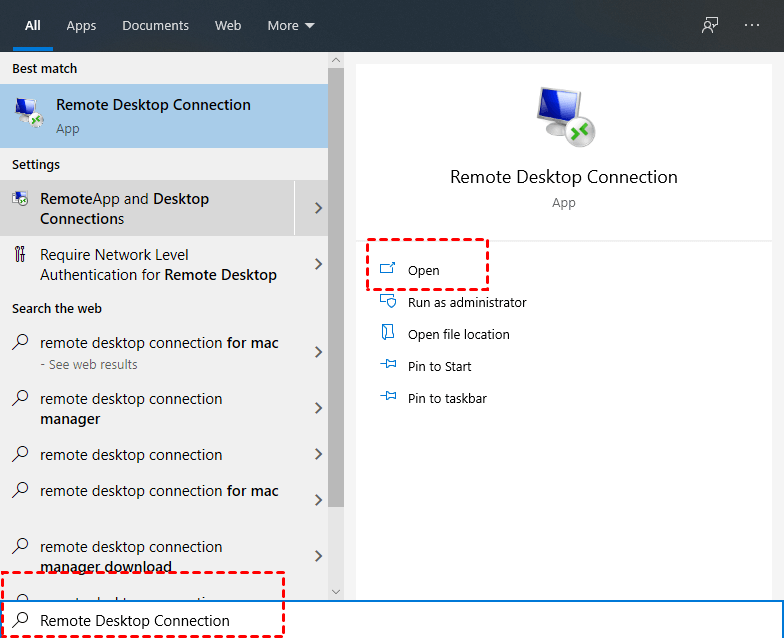 Step 2. Navigate to the Local Resources tab. Locate the Clipboard option and select "More."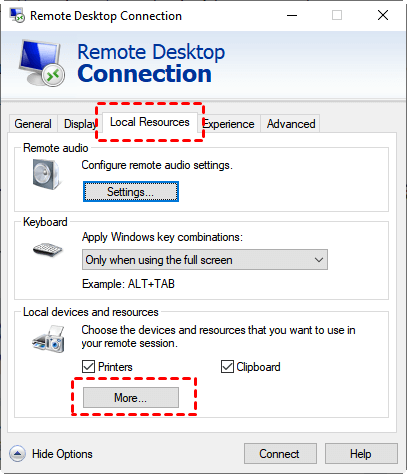 Step 3. Ensure that the Drives option is also checked, and then click OK to confirm the changes.
How to fix rdpclip.exe errors
When users encounter RDP clipboard not working on a remote computer, it is often attributed to an issue with the Rdpclip process. To address this problem, the following steps can be taken:
Step 1. Press Ctrl+Shift+Esc to open the Task Manager window.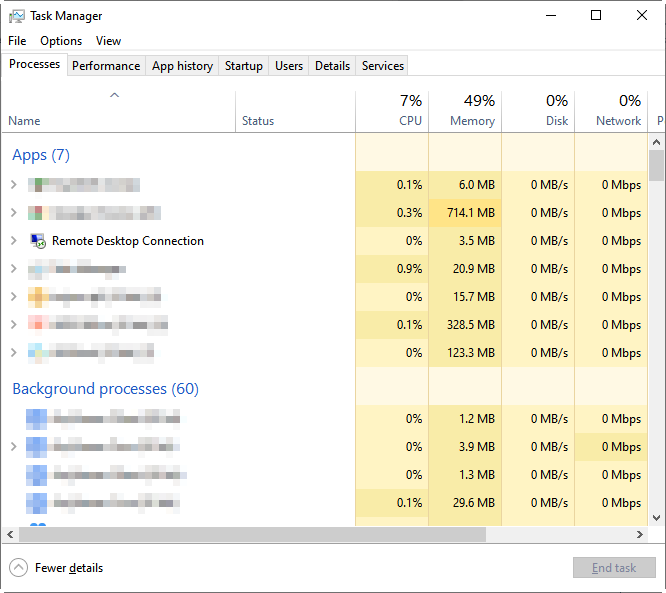 Step 2. Navigate to the Details tab and locate the task labeled "rdpclip.exe".
Step 3. Right-click on the "rdpclip.exe" task and select "End task" to terminate the process.
Step 4. Access the File menu and choose "Run new task".
Step 5. A window titled "Create new task" will appear. Type "rdpclip.exe" into the provided box and click OK to restart the Remote Desktop Clipboard.
Is rdpclip.exe a virus or malware?
As long as the main executable file of rdclip.exe is located in its default location, it does not pose a threat to the computer. However, it is important to consider the following points when assessing whether rdpclip.exe is potentially malicious or a virus:
►If a file named rdpclip.exe is discovered within a sub-folder of C:\Windows, there is an 80% likelihood of it being a computer threat. This file is not recognized as a Windows core file, it is hidden, and it appears to be compressed.
►If a file named rdpclip.exe is located directly in the C:\Windows folder, there is a 66% chance of it being a potential threat. Even though the file resides in the Windows folder, it is not recognized as a Windows core file, and it remains hidden.
How to remove or uninstall rdpclip.exe
In the event that you identify rdpclip.exe as a potential threat to your computer, you have the option to manually uninstall it. Follow the steps below:
Step 1. Click on the Windows Start Button, then type the word "uninstall" in the search bar. Select the "Add or remove programs" option.
Step 2. Locate the rdpclip program and click on it. Choose the "Uninstall" option to initiate the removal process.
Get the ultimate RDP alternative for secure, error-free remote access
Considering the potential risks associated with rdpclip.exe, why not consider switching to a reliable RDP alternative that not only supports remote copy-paste but also provides a host of additional features? AnyViewer, a robust remote access software, is here to revolutionize your remote connections and collaboration.
With AnyViewer, you can effortlessly copy and paste between devices during a remote session. If you need to transfer large files, AnyViewer offers a convenient one-click file transfer feature, eliminating the need to establish a connection beforehand.
Moreover, AnyViewer boasts several advantages over traditional RDP. For instance, it supports Windows home/standard editions on the host side, which are not compatible with RDPhost. AnyViewer also goes beyond basic functionality by offering advanced features like multiple sessions, one-click remote control, and real-time chat.
Experience a world of convenience, efficiency, and reliability by downloading AnyViewer for free on your devices.
Step 1. Launch AnyViewer on the remote computer and create a new account. Log in using the credentials you just registered to gain access to your account.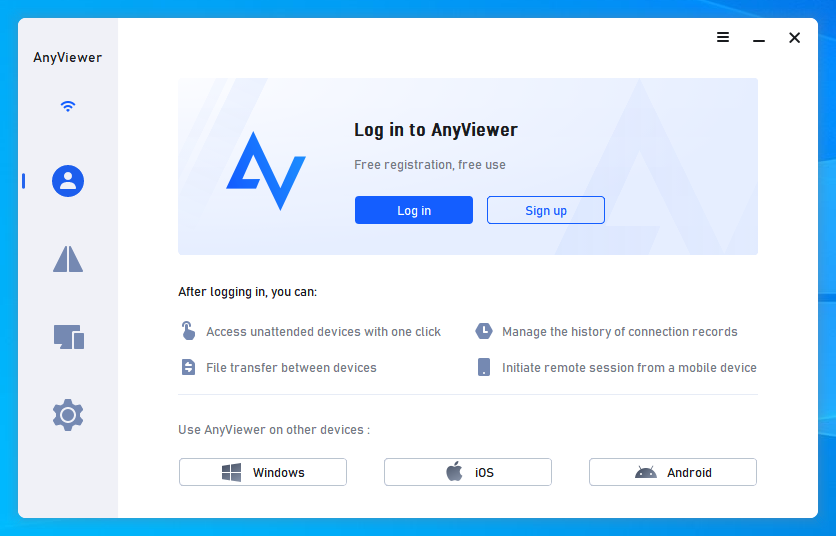 Step 2. On your local computer, open AnyViewer and sign in using the account you recently created. AnyViewer will automatically assign the remote computer to your account.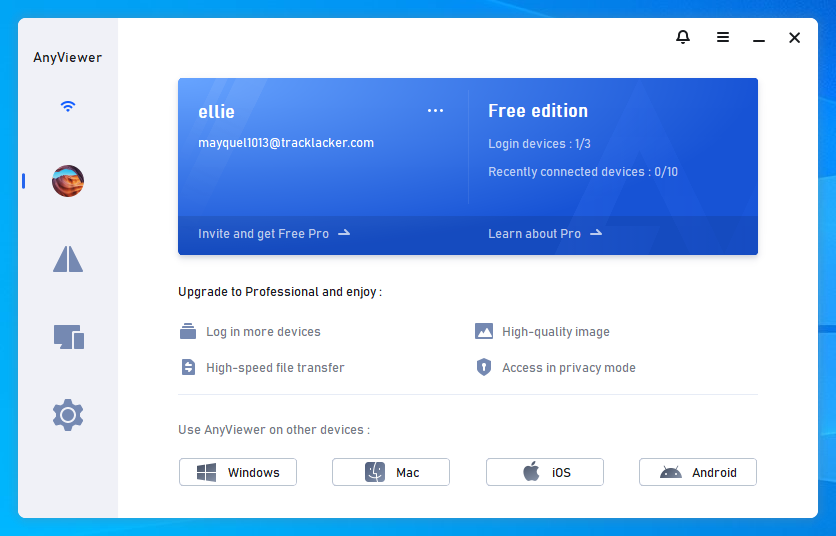 Step 3. Navigate to the "Device" section. Choose the specific computer you wish to connect to and opt for the convenient "One-click control" feature to establish a connection effortlessly.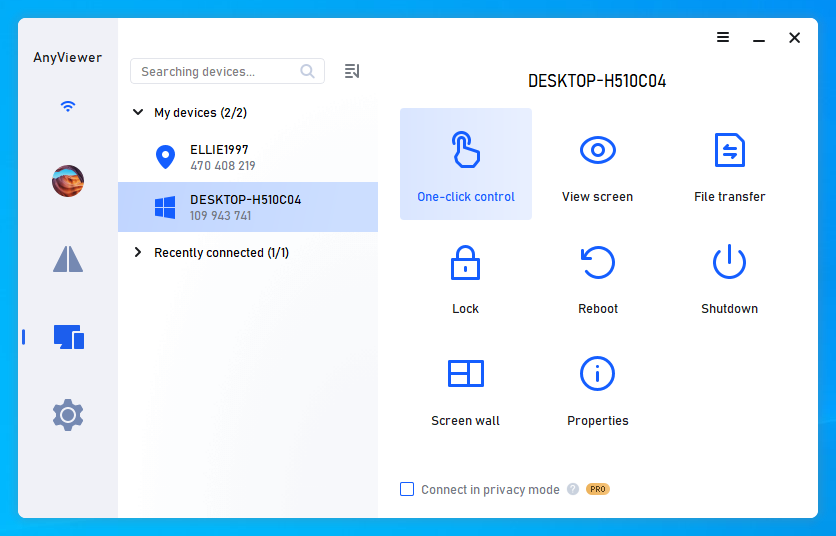 Tips:
If you possess more than two remote PCs, it is highly recommended to consider
upgrading your account
. By upgrading, you unlock the capability to establish up to 10 simultaneous connections and gain access to as many as 100 unattended devices. Take advantage of this opportunity to optimize your remote computing experience with these expanded capabilities.
Conclusion
What is rdpclip.exe? It allows you to copy and paste between devices in an RDP session with ease. But why stop there? Elevate your experience with AnyViewer—your ultimate remote desktop companion. Experience convenience like never before!