Is RDP encrypted or not?
Hey folks! I recently started exploring RDP for accessing my office computer remotely. I'd like to know if Windows RDP provides encryption out-of-the-box. I want to make sure my data and sessions are secure during remote access. Is RDP encrypted or are any additional steps required to ensure a secure connection? Thanks!"
- Question from a user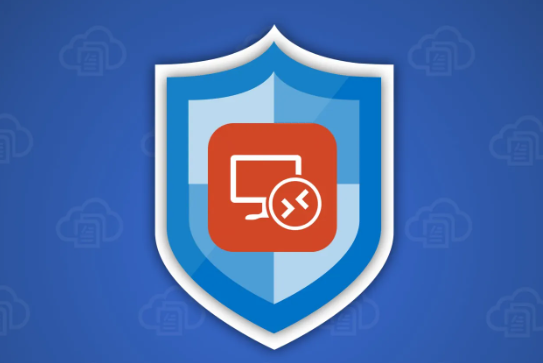 Is Windows RDP encrypted by default?
Is RDP encrypted by default? Yes, RDP does come with default encryption, but it's essential to note a few important considerations. Older versions of RDP software may not fully support the highest level of encryption available today. This becomes particularly challenging in remote desktop environments where legacy clients are present, as they may not be compatible with advanced encryption standards.
To ensure optimal security in your remote desktop setup, it is crucial to thoroughly assess all clients within your network and implement the most robust encryption available. You have the flexibility to customize security levels by configuring encryption settings.
How secure is Windows Remote Desktop?
What encryption does RDP use? RDP utilizes RSA's RD4 encryption to safeguard the data exchanged between the local and remote desktops. Administrators can choose between a 56-bit or a more secure 128-bit encryption key for data encryption.
By establishing an encrypted channel, Remote Desktop sessions effectively prevent unauthorized individuals from eavesdropping on your network and accessing your session. However, older versions of RDP exhibit a vulnerability in their session encryption method, which can potentially enable unauthorized access through a man-in-the-middle attack.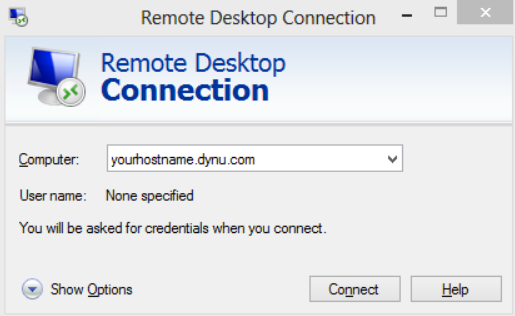 To enhance the protection of Remote Desktop connections, SSL/TLS can be employed in various Windows operating systems. It's important to note that Microsoft no longer supports allsystems, rendering them non-compliant with Campus security standards. Consequently, security exceptions are required for unsupported systems.
How to better secure your Remote Desktop connections
When granting remote administrator access, it is essential to acknowledge the potential risk of unauthorized RDP system access. Here are some tips to secure your Remote Desktop connections.
►Strengthen your Remote Desktop network with robust passwords: Regardless of the encryption employed by your software, a hacker can exploit weak passwords associated with authorized accounts. Changing a strong password throughout your network is the initial defense against unauthorized access via remote desktop.
►Keep your RDP program up to date: If you wonder, "Is RDP encrypted?" it is equally important to consider the currency of your RDP version. Outdated software versions pose a significant security risk. Ensure that automatic Microsoft Updates are enabled and audited to guarantee the regular updating of your client and server software.
►Implement network-level authentication: Most security resources highly recommend utilizing network-level authentication (NLA) when using RDP. NLA adds layer of authentication, ensuring that a remote connection is established only after successful authentication.
►Restrict login access for remote desktop: One inherent security vulnerability in RDP is the default allowance for all Administrator accounts to log in. To create a fully secure environment, it is imperative to limit access exclusively to the necessary Administrator accounts. Although RDP offers convenience since it is readily available on Microsoft PCs, overlooking the default Administrator access setting can leave your remote desktop environment susceptible to attacks.
Say Goodbye to RDP Worries: Try the safest remote access solution
Although RDP enjoys widespread usage and availability, there may be better choices.
Within an RDP ecosystem, legacy clients can limit the overall encryption levels, outdated software can create weakened entry points, and inadequate authentication requirements and default administrator access can result in uncertainty regarding who has access to your remote desktop environment. These security vulnerabilities inherent in RDP significantly increase your susceptibility to attacks.
For a Remote Desktop alternative that offers comprehensive encryption and enhanced security, consider switching to AnyViewer.
The powerful remote access software AnyViewer is designed with a cutting-edge encryption protocol that surpasses industry standards to ensure your confidential information remains impervious to prying eyes. AnyViewer utilizes end-to-end encryption, rendering intercepted information indecipherable to unauthorized individuals.
Additionally, AnyViewer offers several key advantages compared to RDP:
♦ Ease of use. AnyViewer simplifies the remote access process by providing one-click unattended access across the internet without needing IP address or port forwarding configurations.
♦ Windows Home/Standard support. AnyViewer's server-side functionality is compatible with Windows 11, 10, 8.1, 8, 7 (all editions), as well as Windows Server 2019, 2016, 2012 R2, and 2022. On the client side, AnyViewer supports Windows, iOS, and Android devices.
♦ Enhanced features. AnyViewer offers a range of additional features that are not available in RDP. These include remote desktop file transfer, support for multiple sessions, instant chat functionality, and more.
Download AnyViewer on your computers to unlock the productivity you won't want to miss!
Step 1. Launch AnyViewer on the host computer. Create a new account and log in.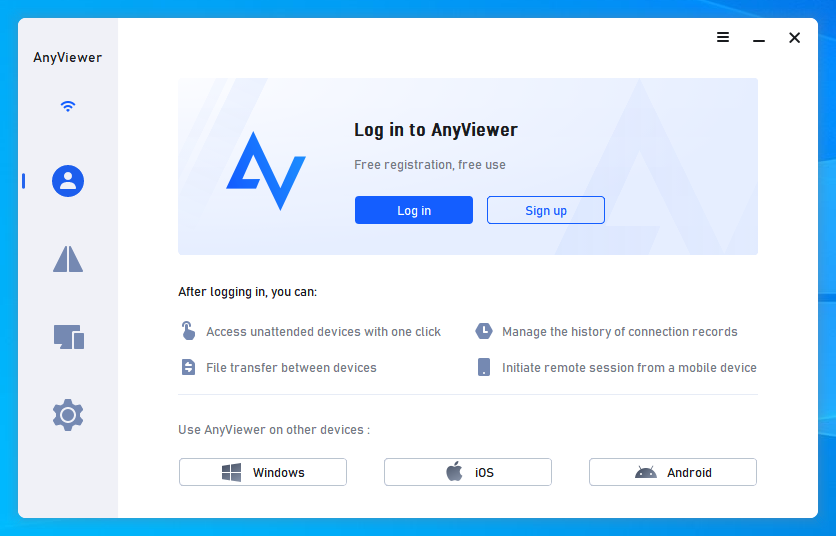 Step 2. On the client computer, open AnyViewer and sign in using the account you created in the previous step. The client computer will automatically assign itself with your account upon successful login.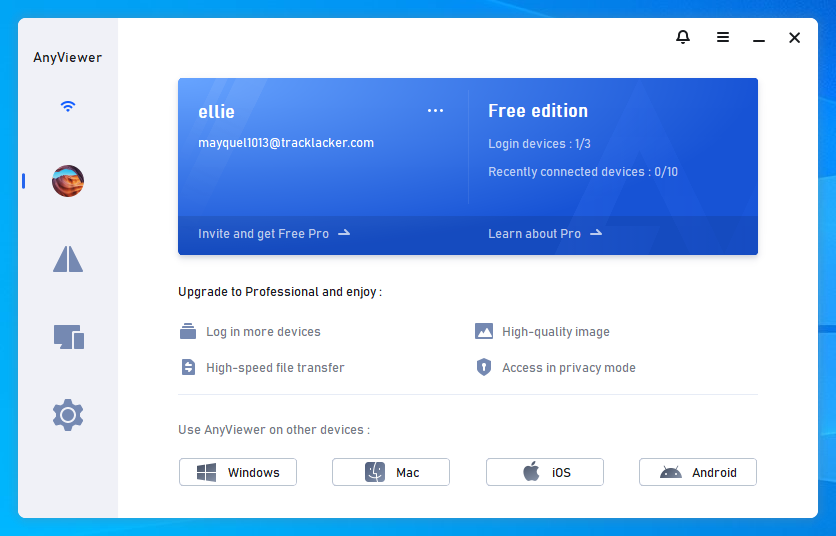 Step 3. Navigate to the Device section, which houses a list of available devices. Locate the specific device you wish to connect to and select the One-click control option to establish a connection.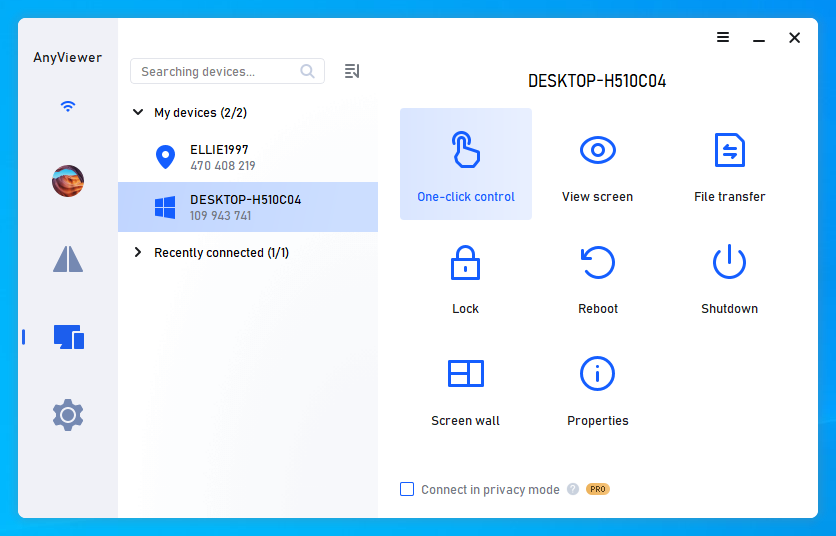 Notes:✎...If you have over two remote PCs, AnyViewer offers flexible and cost-effective licensing choices tailored to different needs. These licenses provide a range of advantages, including:

Enable easy access to up to 100 devices with a single click.
Simultaneous connection to 10 devices for efficient multitasking.
Seamless transfer of large files without limitations, supporting file sizes of up to 1TB per file.
Enhanced security through the privacy mode feature, which conceals the host PC screen, and deactivates the keyboard and mouse.
Conclusion
Is RDP encrypted? After careful analysis, it is evident that RDP provides encryption for secure access. However, for an enhanced remote desktop experience with added features, I highly recommend considering AnyViewer. Its user-friendly interface and advanced encryption protocols ensure a seamless and secure connection, making it the optimal choice for effortless remote access. Give AnyViewer a try and elevate your remote desktop interactions today!