How do I fix a Remote Desktop License Issue?
Hello there, I installed the Remote Desktop license in Windows Server 2019, but when I remote to the server, it displays the warning below. How can I do to fix Remote Desktop License Issue 60 minutes on Windows Server 2019? Thanks."
- Question from Microsoft Community

How to fix Remote Desktop License Issue 60 minutes on Windows Server 2019/2022
If you're getting the error Remote Desktop License Issue 60 minutes on Windows Server 2019, don't worry; here are the tested solutions to fix this issue.
Solution 1. Add your server to the domain
One of the reasons that this Windows Server 2019 Remote Desktop License Issue 60 minutes appear is that you have activated the RDS User CAL license (Per user), but your server is not part of the domain. So the first solution is to add your server to the domain.
Step 1. Press Win + R, then type "sysdm.cpl" into the command prompt. This command will bring up the System Properties window.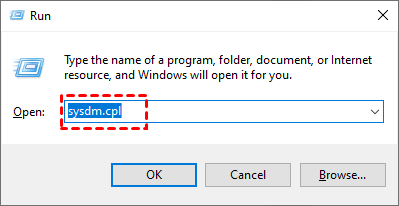 Step 2. Click the Change button on the System Properties screen, and the Computer Name/Domain Changes dialog box will appear.
Step 3. Change the computer from Member of Workgroup to Member of Domain, input the domain name, and click OK. The computer will then try to connect to a domain controller and join the domain.
Step 4. If the computer can communicate with a domain controller, it will prompt you for a username and password, as illustrated below. After entering a user account with permission to add this computer to the domain, click OK.
Step 5. If everything goes well, you will see the message below welcoming you to the domain.
Step 6. Click OK once more to confirm that the computer needs to be restarted.
Solution 2. Check the server license setting
There are two types of CALs you will be using, Per User or Per Device. Make sure you purchase and install client access licenses that are the same type as the licensing mode you have chosen. A Per Device client access license cannot be used on a server configured to use Per User client access licenses, and vice versa. Here's how to check whether the licensing mode is set to Per User or Per Device.
Step 1. Press Win + R, then run the command "gpedit.msc".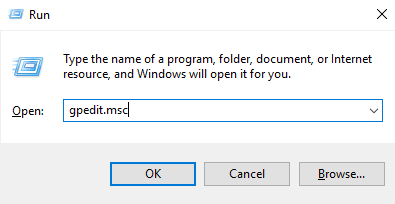 Step 2. Go to Computer Configuration > Administrative Templates > Windows Components > Remote Desktop Services > Remote Desktop Session Host > Licensing. Double-click Set the Remote Desktop licensing mode.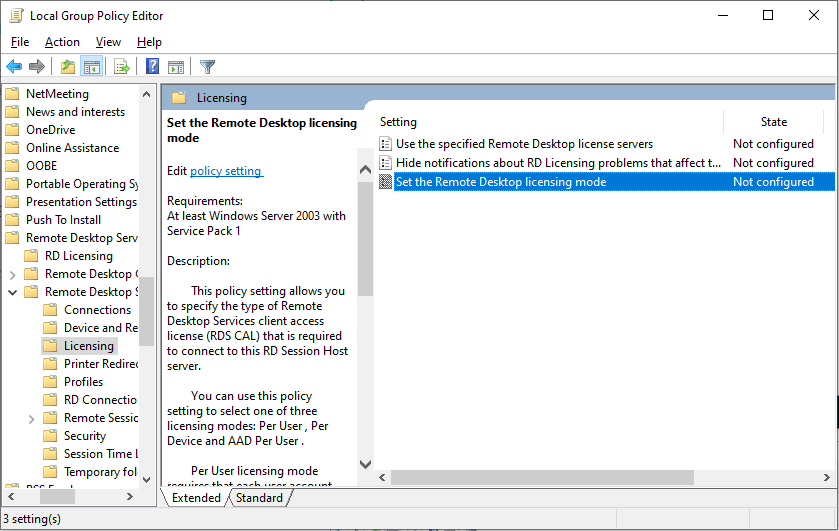 Step 3. Change its status to Enabled. In the drop-down menu, select "Per Device" if the server has an RDS Per Device CAL; select "Per User" if the server has an RDS Per User CAL.
Step 4. Click OK and restart your server.
Solution 3. Consider using a Remote Desktop alternative
The final option is to try a Remote Desktop alternative. For example, the free, simple, and secure remote desktop softwareAnyViewer. It has the following advantages over Remote Desktop.
Simple to set up. AnyViewer has an easy-to-use interface and setup process; even a computer novice can get started quickly.
Widely supported for Windows. AnyViewer is compatible with computers running Windows Home and Windows Standard.
Multi-sessions. AnyViewer supports two remote sessions at once.
Instant communication. During remote sessions, AnyViewer allows users to chat remotely.
Step 1. Install and run AnyViewer on both of your computers. Navigate to Log in and then Sign up on the Controller computer (if you have already registered on the official website, you can log in directly).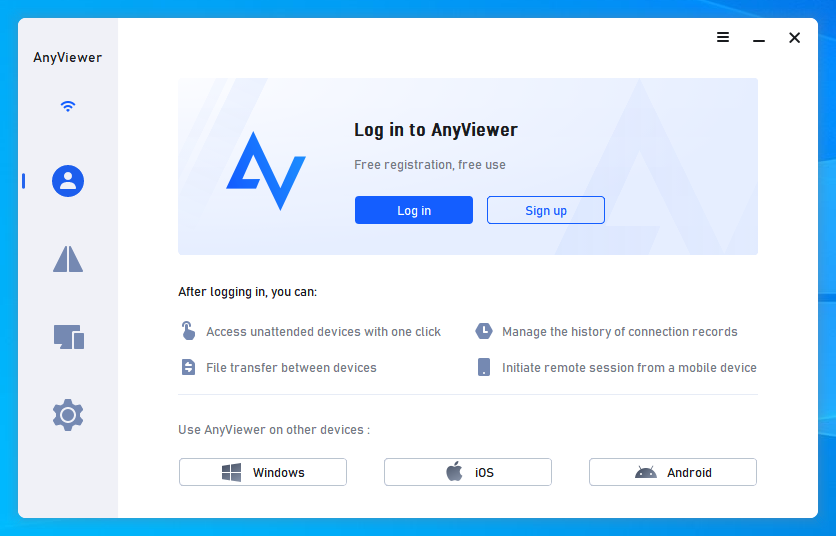 Step 2. Fill out the sign-up form.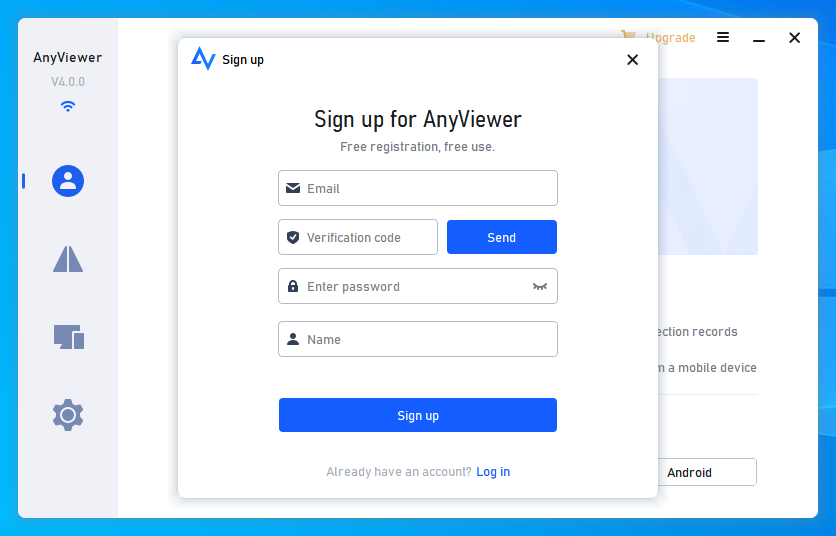 Step 3. You should now see that you have successfully logged into AnyViewer. Your device will be assigned to the account to which you have logged in automatically.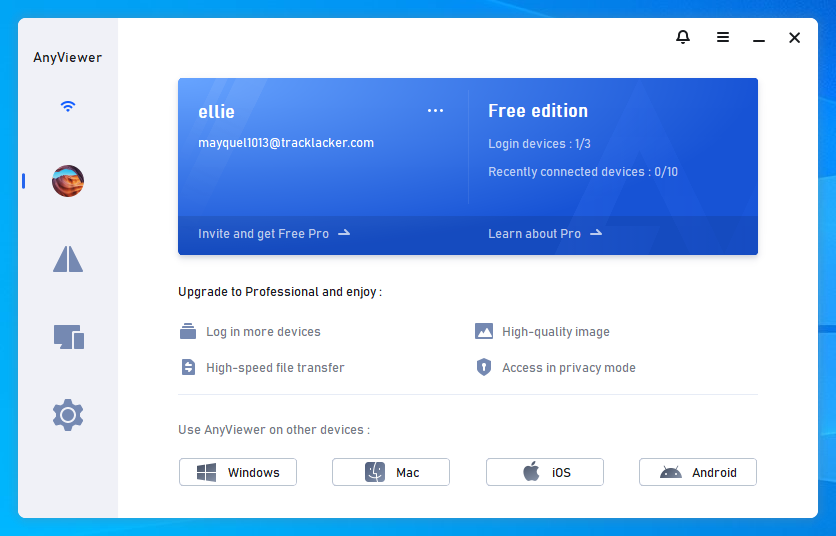 Step 4. Log in to the same AnyViewer account on the two devices; then, you can click One-click control to achieve unattended remote access, click View the screen to see another's screen or click File transfer to share files between computers.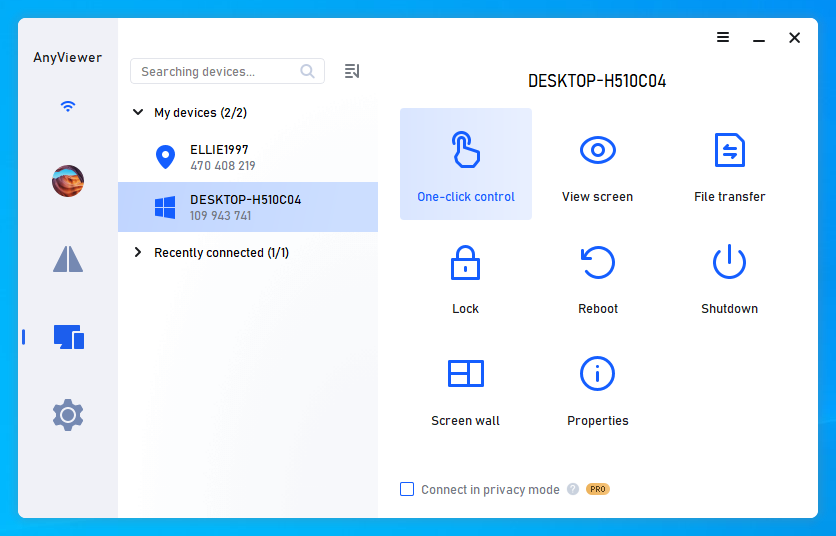 Notes:✎...

Additionally, you can change your account's plan to a Professional or Enterprise one. What a business or professional plan can provide for you is:

More devices will be allowed to assign to the same account for unattended remote access.
More connection channels for more devices to be able to start remote connection at the same time.
One device can connect to more devices simultaneously.
Black the remote PC screen and disable the remote keyboard & mouse click to protect privacy.
Transfer 1TB files at 10 MB/s.
The bottom line
Hopefully, you can solve the Remote Desktop License Issue 60 minutes on Windows Server 2019 and 2022 successfully using the above solutions. If not, try the best Remote Desktop alternative AnyViewer is also a good choice.