The issue: The Windows Remote Assistance feature is not installed
Hi. I can't locate the Remote Assistance remote connection, and I'm encountering an issue that says the Windows Remote Assistance feature is not installedon my computer. I urgently need assistance as I rely on this feature for remote support. Please guide me on how to fix this problem. Any help would be greatly appreciated! Thank you in advance!"
- Question from a user
How to fix Remote Assistance is not installed on this computer [4 solutions]
Users may encounter an issue where Remote Assistance not working, accompanied by an error message stating, "The Windows Remote Assistance feature is not installed on this computer."
Several factors can contribute to this problem, such as the absence of configuration for Windows Remote Assistance on the intended computer, firewall, or antivirus software obstructing its functionality, network or DNS settings, and complications that impede the smooth operation of Windows Remote Assistance.
If you find yourself facing this challenge, rest assured that there are four simple solutions you can try out.
Solution 1. Check whether Remote Assistance is activated
To ensure that Remote Assistance is activated on your computer, follow these steps:
Step 1. Right-click the "This PC" icon on your desktop.Next, select "Properties" from the bottom of the displayed list.
Step 2. On the left-hand side of the window, locate and click "Remote settings."
Step 3.Within the "System Properties" window, navigate to the "Remote" tab. Ensure that the option "Allow Remote Assistance connections to this computer" is selected.
Solution 2. Restart the remote computer
A simple remote computer restart can often resolve Windows Remote Assistance not working. To do so, follow these steps:
Step 1. Prioritize saving unsaved work on the remote computer and close all open applications.
Step 2. Access the Start menu and locate the Power button.
Step 3. Select the "Restart" option and patiently await the computer to reboot.
Step 4. Once the computer has successfully restarted, make another attempt to utilize the Remote Assistance feature.
When you cannot physically access the remote computer or lack assistance in performing the restart, you can remotely restart the server using CMD.
Step 1. On your local computer, initiate a search for "cmd" via the Start menu, and choose "Run as administrator."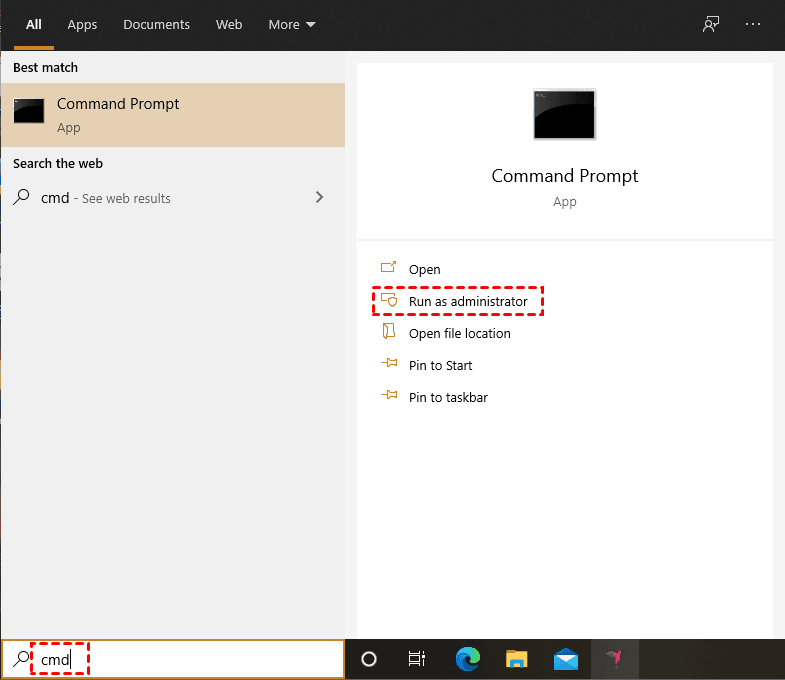 Step 2. In the Command Prompt, enter "shutdown /?" to view a list of available shutdown commands.
Step 3. Use the command "shutdown /m \COMPUTERNAME /r" to remotely restart your designated computer.
►Note: Ensure to replace "COMPUTERNAME" with the relevant PC name or IP address of the remote computer.
Solution 3. Allow Remote Assistance in firewall and antivirus software
Windows Firewall and third-party antivirus software may block Remote Assistance connections. To ensure that Remote Assistance is allowed through your firewall and antivirus software, follow these instructions:
Step 1. Launch the Control Panel and access the "System and Security" section. Locate and select "Windows Defender Firewall." In the left pane, click "Allow an app or feature through Windows Defender Firewall."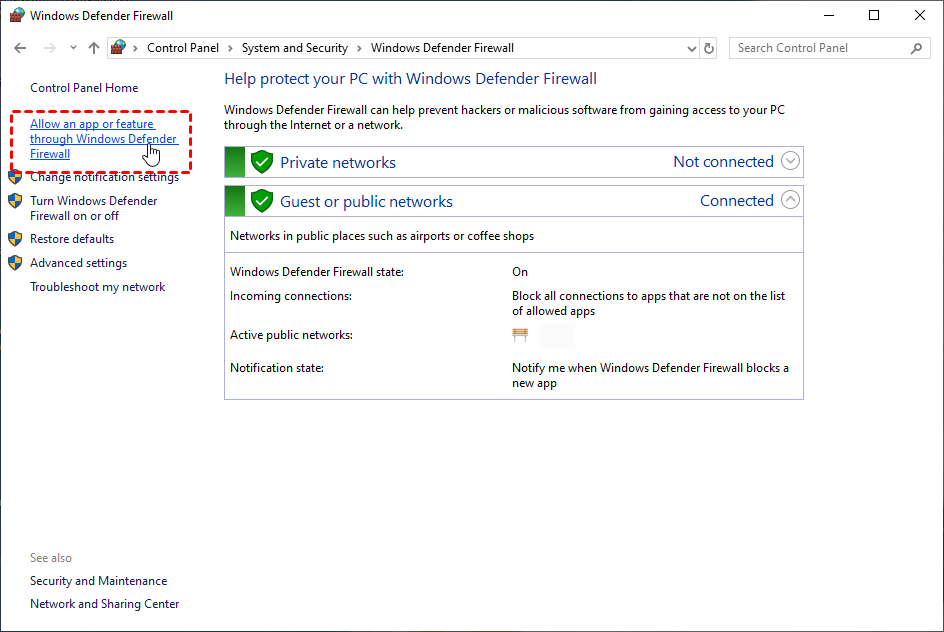 Step 2. Click "Change settings" and find "Remote Assistance." Place a checkmark next to it, and then finalize the process by clicking "OK."
Solution 4. Flush DNS cache
At times, Remote Assistance may encounter issues due to a corrupted DNS. To resolve this, follow these steps to flush the DNS cache:
Step 1. Press the "Win + R" keys simultaneously, type "cmd," and then press "OK."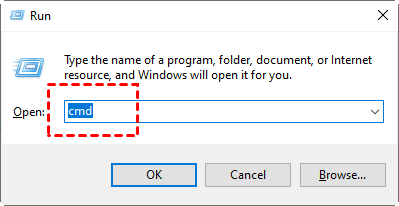 Step 2. Enter the following commands one by one:
ipconfig/release
ipconfig/renew
ipconfig/flushdns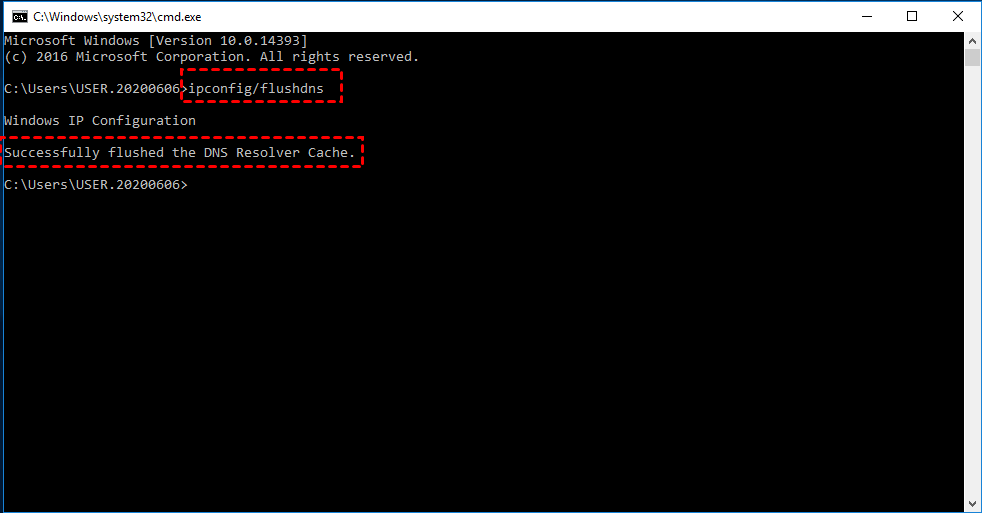 No more errors: Experience a reliable Remote Assistance alternative [easy & safe]
Encountering errors like "The Windows Remote Assistance feature is not installed" can be frustrating and hinder productivity. Fear not! We bring you AnyViewer, the best Remote Assistance alternative. With its user-friendly interface and seamless performance, AnyViewer is poised to revolutionize your remote assistance experience.
Furthermore, as the best remote access software, AnyViewer offers a comprehensive remote solution with free capabilities such as one-click unattended access, remote desktop file transfer, multiple sessions, and more.
AnyViewer requires no technical skills. Download it on your devicesto boost work efficiency.
Step 1. Open AnyViewer on the remote computer. Proceed to create a new account and log in.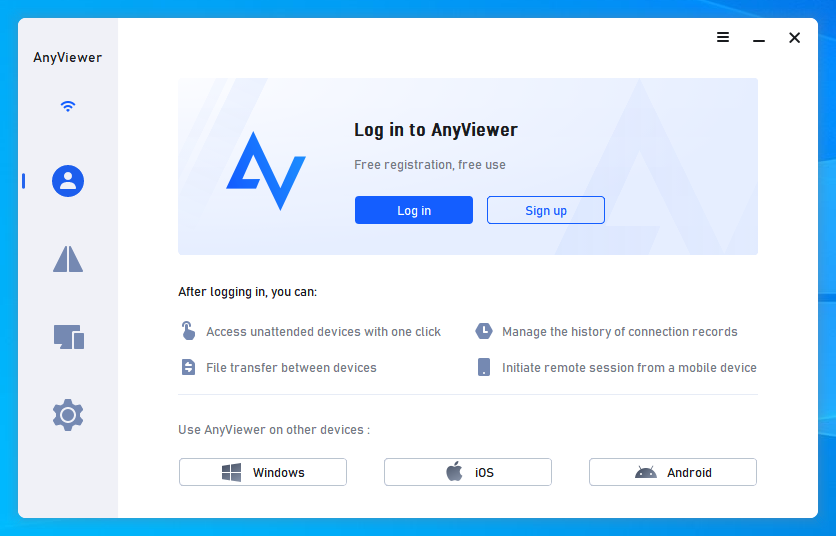 Step 2. On your local computer, launch AnyViewer and sign in using the same account you just created. The program will automatically assign the computer to your account.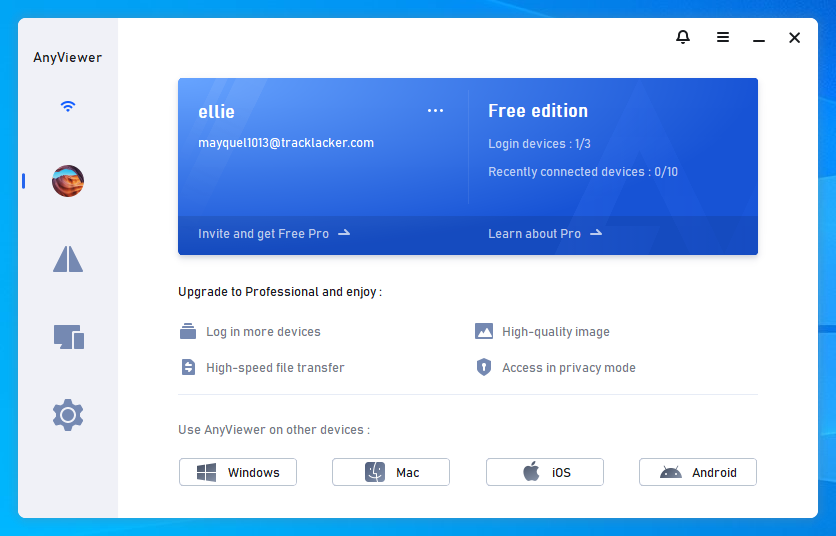 Step 3. Navigate to the Device section. Select the computer you wish to connect to and opt for the One-click control option to establish a connection.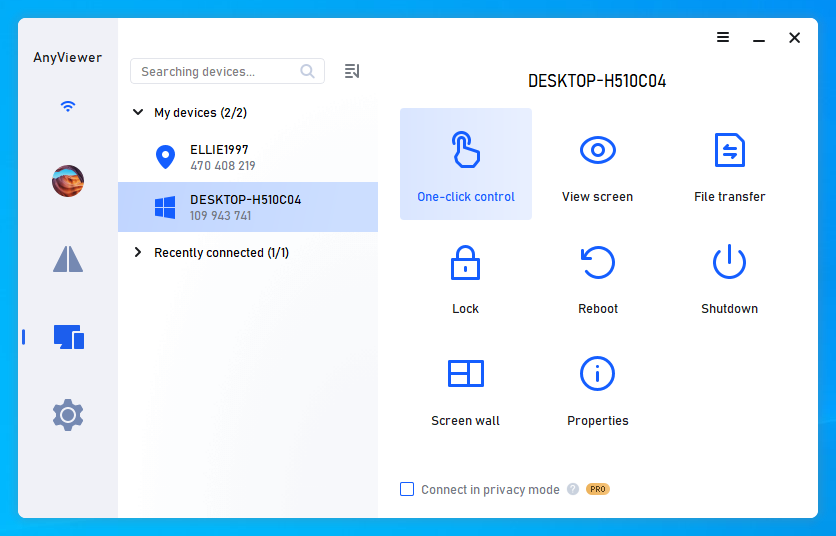 Notes:✎...If you need to manage multiple remote PCs, we recommend upgrading your account to flexible, cost-effective licensing options designed to cater to diverse needs. These licenses provide various benefits, including:

Easy access to a maximum of 100 assigned devices with just a single click.
Simultaneous connections to up to 10 devices, enabling efficient multitasking.
Seamless file transfers without any limitations, allowing for file sizes of up to 1TB per file.
Enhanced security through the privacy mode feature, which conceals the host PC screen and disables the keyboard and mouse, ensuring increased privacy and protection.
Conclusion
Following the abovementioned solutions, you can effectively address "theWindows Remote Assistance feature is not installed" error. If you want to avoid such errors, an excellent alternative to consider is AnyViewer. With its user-friendly interface and powerful functionality, AnyViewer allows seamless remote assistance, making remote access a breeze. Don't let technical hiccups hinder your productivity, and embrace the convenience and reliability of AnyViewer today!